The Best Gas Grills of 2023
Not everyone has the space or time for a full barbecue, but if you've got a patio and a hungry crowd, you're going to want to get a gas grill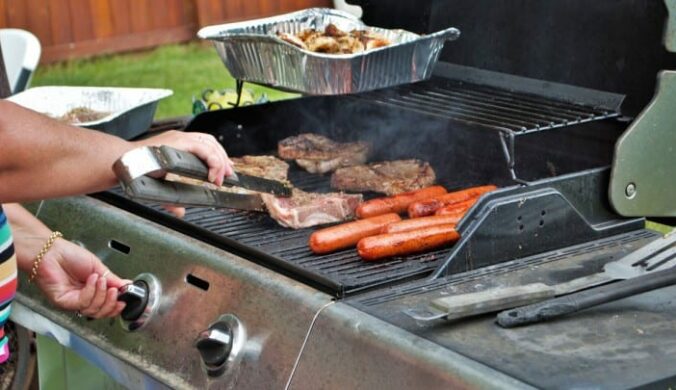 Barbecues are simply the best! They bring together all the things we love dearly — friends, family, and delicious food — in one space. Whether you're getting the grilling done yourself or are on the receiving end of a yummy grilled meal, you should understand the importance of a perfectly grilled dish.
The flavorful taste should not be too mild to be considered grilled and not too charred that it tastes overly smokey and dry. A perfectly grilled meal has its roast evenly distributed without taking away from the juicy taste of the inside ingredients. A huge factor that makes this possible is the kind of grill used in cooking.
Gas grills offer the beauty of grilling without the burnt bits and flared flames. They are modern pieces of equipment that make the grilling experience stress-free and considerably safer. Read on to find out the best gas grills on the market, tried and tested by yours truly.
How We Picked
Number of Burners

Do you consider yourself the host with the most guests? If you do, then the number of burners on a grill should be one of the most important factors, as that determines how many things you can prepare simultaneously.

Lid Coverage

Are you planning on throwing a big party and having a lot of loved ones over for a tasty barbecue? The coverage of a grill's lid determines how much can be cooked and stored at a time.

Fuel Type

It's not just enough to say a grill is gas-based. There are different kinds of gas fuel, so gas grills are also powered by different fuel types, and this is very important as it determines the outcome of your cook.

Cost-Effectiveness

Grills are not the cheapest equipment to buy, and gas grills are even more expensive. Regardless of that fact, it is our objective to suggest grills that offer the best features and give the best value for their price tags.
Our Top Picks
Our Top Pick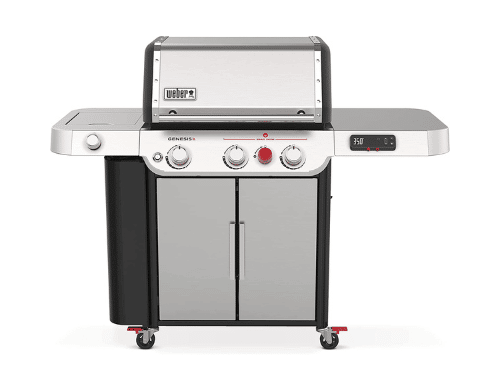 This futuristic gas grill gives you all the control in the palm of your hand.
Our top pick is just like the cool, smart kid everyone wants to be around. It takes 'stress-free' to another level with its intuitive smart technology makeup. This gas grill consists of three large burners, a searing station, two side tables, and even a cabinet. To top it off, the Genesis II EX-335 GBS Smart Barbecue is compatible with any smartphone through WiFi, and you can use its software to monitor your cooking from wherever you are. There are also two options for fuel type, giving you the ability to fully personalize your grilling experience.
A futuristic gas grill, more than capable of handling its own grilling.
Our Runner-Up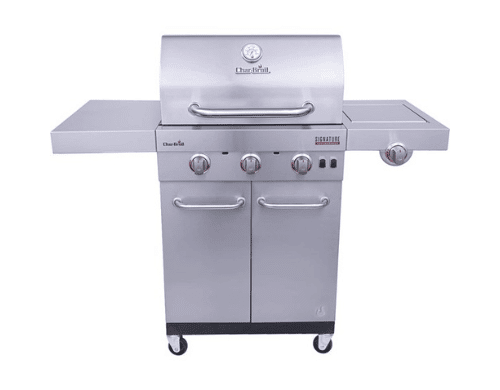 A feature-packed grill offering an even-grilling experience.
The Char-Broil Commercial 3-burner offers quality cooking and all the right features at almost half the price of our top pick. This liquid propane and natural gas grill boasts infrared technology, which evenly cooks your dish and prevents flare-ups. It sports a decently-sized cooking area that can fit up to 24 burgers. Our runner-up also features a side burner, a side table, and cabinet storage.
A mid-range grill that gets the job done and guarantees an evenly distributed taste.
Most Cost-Effective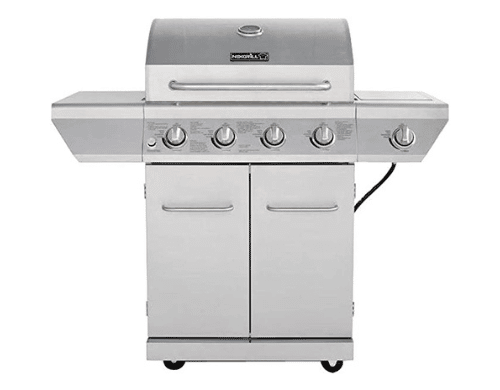 The perfect hosting grill with incredible roasting power in a clean stainless steel package.
Our third pick is unarguably the best affordable gas grill on the market. Although it may not have all the LED illuminated bells and whistles found in our other picks, the Nexgrill 4-Burner Propane Gas Grill gives you a massive cooking area, powered by incredible burners, wrapped in a clean stainless steel body. It is adequate for hosting a large family function or a cozy barbecue dinner. This pick also sports a powerful side burner, a side table, and cabinet storage.
Phenomenal roasting power and cooking space at the most budget-friendly price.
Everything We Recommend
Our Top Pick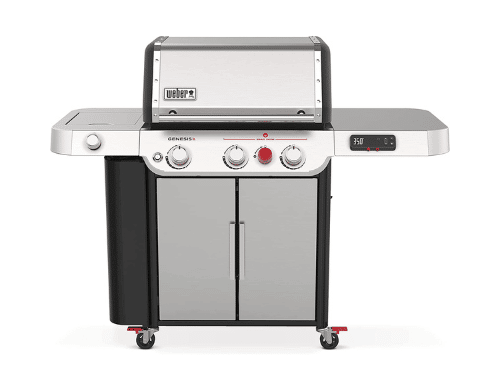 This futuristic gas grill gives you all the control in the palm of your hand.
$1,599.00
Our Runner-Up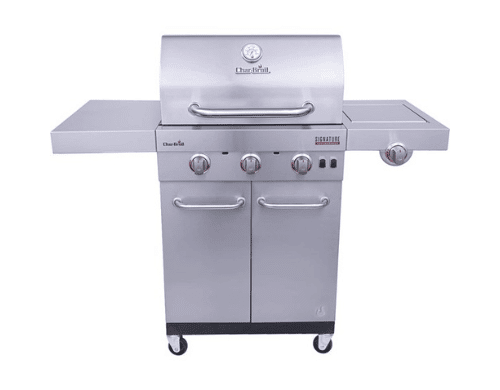 A feature-packed grill offering an even-grilling experience.
Most Cost-Effective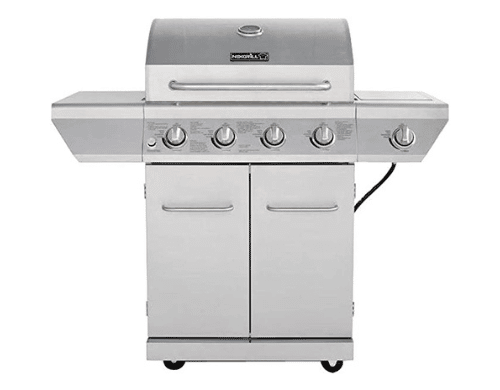 The perfect hosting grill with incredible roasting power in a clean stainless steel package.
$504.99
Who This Is For
Gas grills are for people looking to add some ease and preciseness to their grilling experience, or beginners trying to get into the grilling game. These products are the most straightforward grilling equipment to use and have all the right facilities to make your dish stand out! Whether you love hosting a barbecue or simply love having grilled dinners now and then with family and friends, you will find these products the best fit for you.
What are gas grills?
Gas grills are grills that cook food using different types of gas fuel, as opposed to regular charcoal-powered grills. These pieces of equipment are fueled by either liquid propane or natural gas, come in movable cart designs, and often provide other features that upgrade your grilling experiences, such as WiFi connectivity, porcelain-coated racks, and storage compartments. This, however, also means that gas grills are the more expensive option, which is a downfall traded for unbeatable perks like less smoke, minimal flare-ups, more control, and straightforward setup and cooking processes.
Can I BBQ on a gas grill?
Providing a straightforward answer to this is quite tricky because it is dependent on a lot of factors. Before you get scared off, the short answer to this is yes, but it requires a lot of extra effort on your end as gas grills are not built to smoke meat. As the charcoal power is taken away, so is the smokey, slightly charred taste you get with food prepared on charcoal grills. However, there are some things you can do to produce that barbecue flavor using your propane gas grill, such as combusting wood chunks or chips while grilling, or purchasing a dedicated smoker, although some high-end gas grills come with built-in smoker boxes, or even simply lowering your lid. There are several resources online that provide methods and detailed steps on how to grill quality barbecue meat on a gas grill.
Different fuel types for gas grills
Gas grills come in two major fuel types — natural gas and liquid propane — and in some cases, a grill manufacturer may have either option available depending on your preference, or have both options built into the gas systems so you can easily switch to suit your needs. Natural gas is a mixture of gases that occur naturally and are extracted from your home's natural gas line in the ground. This means that you will never have to worry about running out of gas or refilling a tank as your grill is connected to a fixed gas line. This option is also cheaper, but you may require the help of a professional to hook it up.
On the other hand, propane gas is a byproduct of processed natural gas and oil refining. This fuel is purchased in refillable tanks, often referred to as "gas cylinders." These cylinders can then be attached to, under, or hooked onto the side of your gas grill. It is then hooked up to your grill through a hose and requires more frequent refills. Deciding which fuel type is best for you depends on your surrounding conditions. If you have a natural gas line flowing through your home or close to it, then it would serve as a feasible, more cost-effective choice. However, if the fixed natural gas line is far from your home, you should opt for a propane-powered gas grill as the initial cost of connecting to the selected gas line might take you out of pocket. If you also love taking your grill to other locations, such as the beach or a loved one's home, a propane tank is a more portable and manageable option.
Why You Should Trust Us
In some ways, we are all grillers at heart. Even if you don't know how to grill or have a taste for grilled food, you should be a sucker for barbecues because they are a good reason to get family and loved ones together. In any case, one thing is clear, where there's grilling, there's a good time, and our memories would not have been possible without a solid, reliable grill. We understand the importance of having durable equipment that gets the job done while making the process less stressful and easier. With that in mind, we have gone out of our way to research, test, and try several gas grills to suggest the best on the market and help you make better, well-informed decisions.
How We Picked
If you're a beginner griller, you most likely don't know what to look for when selecting your next grilling companion. Luckily for you, we had all levels of grillers in mind when making our decisions and made sure to prioritize key unmissable features your next gas grill must have.
Number of burners
It doesn't matter if you have a small family, a large one, or live all by yourself. The right grill should be able to adapt to any small to medium-scale situation without giving you much of a cooking hassle. We rarely ever cook single-ingredient dishes, and most of the time we require multiple spaces to cook different food items simultaneously and quickly. This is why this feature is so important, because the more burners your grill has, the more things you can cook at a time.
Lid weight
If you love a good old-fashioned smoked barbecue flavor, the lid of your gas grill is a very important tool for making that happen. While opening your grill's lid reduces heat and smoke, lowering it can convert your grill into a smoking oven for cooking chicken, ribs, and other barbecue proteins. You should be able to switch between flavors seamlessly, and a grill with a heavy lid only makes the possibility more tedious.
Lid coverage
After you do decide you want a smokey finish, you wouldn't want some of your proteins hanging on the sidelines while others get their grill on. This also applies to safety precautionary measures because the more covered your grill is, the more protected it, you, and other people are. Therefore, your grill's lid should be wide enough to cover the entire primary cooking area of your grill.
Fuel type
As we discussed earlier, there are two major fuel types you can find in gas grills — natural gas and liquid propane. Selecting the type for you depends on surrounding conditions, but you should always be able to choose. Most of our selected grills come in both fuel options, leaving you spoiled for choice.
Price vs. quality
Although gas grills are generally the more expensive grilling option, it is our duty to give you the best options in a variety of price ranges that offer top-quality and value for money. This way, your generous investment will give great returns for many years to come.
Style/design
Compact, portable, clean, and stainless are important qualities that contribute to a well-designed gas grill, and who says they can only come in one color? We have suggested grills that are styled to seamlessly blend into the aesthetics of your backyard, patio, and wherever else you want to get your grilling done.
Height
Just as gas grills come in different colors and shapes, they also come in different sizes and heights. You don't want your grill to be too high or too low for you to handle with ease, and that is why we chose grills that are just the right height for most users.
Size
How compact would you like your future gas grill to be? The size of a gas grill depends on several things, such as the number of burners, the presence of side tables and storage units, and so on. In any case, a grill should be compactly constructed to easily fit into any given location.
Durability
Stainless steel and porcelain-coated cast-iron grates are the strongest and most durable materials used in building gas grills. All our selected grills are made and finished with top-quality materials, built to last for years to come, and backed by solid warranties.
Max. temperature
Although this feature can be misleading, it is less about how hot your grill can get and more about the maximum amount of heat it can generate. This efficiency rating is measured per burner in BTUs and is also responsible for how quickly food gets cooked. So, the higher your grill's BTU, the hotter it can get and the quicker your food gets cooked.
Adjustability and controls
This factor is what scares most people away from grilling. With charcoal grills, the control is completely up to you, and it's easy to lose it and get an unevenly roasted grill. However, gas grills offer better control through several adjustable knobs and buttons to ease the cooking process. Some advanced grills even allow you to connect to them through WiFi and control things like temperature through an app on your mobile device.
Care and Maintenance
Caring for your gas grill is an all-inclusive, holistic, detailed experience due to its multiple components. The main things to consider are the care for the grill itself and the care for the fuel tank that powers your grill.
Caring for your gas grill
Proper routine and deep cleaning of your grill can go a long way to preserving its lifeline. Here are the steps you can take to make that happen.
Clean your cooking grates before and after each use with a cleaning solution (warm water and dish soap) and a stiff wire brush or nylon grill brush in the case of porcelain-coated cast-iron grates. Before doing this, turn the grill on and wait until the smoke clears to burn off any excess gunk, and also wait for it to cool down before cleaning.
Empty grease pans after every use and store the excess oil away for reuse.
Apply vegetable oil on clean grates before use, using tongs and paper towels.
Wash your grill lid, exterior, control knobs, and warming racks with the aforementioned cleaning solution and a sponge or wash rag to remove excess food residue.
Rinse them down with clean water and apply stainless polish to exterior steel surfaces if necessary.
For thorough cleaning disconnect your fuel tank, remove burners and grates then scrub them down with warm, soapy water and a nylon scrubbing pad.
When your grill is fully dried and cooled down, protect it with a waterproof cover.
Caring for your fuel tank
When it comes to your fuel tank, the important thing to look out for is leaks and take precautions against possible fire and safety hazards. The rules of thumb for doing this are keeping your tank safe and away from children or animals (some grills have cabinet storage or places for your gas tank) and not igniting a fire close to the tank.
Furthermore, you are advised to check for gas leaks along your propane gas lines and connections on a monthly basis. Do this by running some soapy water along the connections with the gas turned on. If bubbles form, there's a leak that needs to be attended to, either by tightening the connection or replacing the line. Also, ensure you refer to your gauge to know when your gas might be running out, as it's advisable to refill it before it's completely empty. You can refill your tanks at home improvement stores or at refill/gas stations.
How long should a gas grill last?
A quick way to tell how long your grill can stay with you is by the number of warranty years provided by its manufacturer. The longer the warranty, the more durable the grill most likely is. In general, a top-quality gas grill should last you five to fifteen years.
Can I leave my gas grill outside?
Like most people, we are sure you don't want your grill to take up too much space in your home and are hoping to place it somewhere outside, possibly your backyard or patio. While it is safe and fine to leave your grill outside, it is best to place it in an area that is at least slightly shielded from the sun, and also ensure you always protect it with a waterproof cover when it is cooled down and not in use. Most manufacturers supply their grills with a suitable cover, so you may not even have to worry about making a separate purchase.