The Best French Press for 2023
You have not had coffee until you've had it from a French press.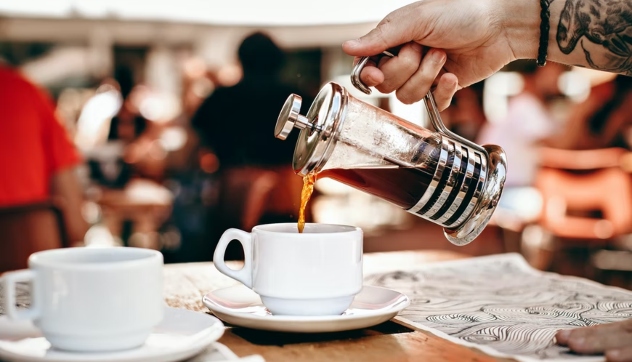 There are a lot of people out there that like coffee. Now, there are some of us that are coffee enthusiasts, and we are looking for that intense flavor that you just can't get with instant coffee. Purchasing an automatic coffee maker can be more expensive and will take a lot of space in your kitchen, so what should you do? The best option is to get a French press. This will enhance the flavor of the coffee, it is a more affordable option, and it will give you that fancy look that is always welcome.
Getting one of these will not only help to dress up your coffee table but will also take you on a flavor trip that will make you wonder why you didn't get one before. So, join us in our endeavor to search for the best French press for you.
How We Picked
Size/Capacity

It's important to know how much coffee you need to prepare. Does the whole family need to have that caffeine fix in the morning? Are you going to entertain? And with that, you will need to take into consideration the size of the French press that you are going to acquire.



Filter Type

It is significant to know that the French Press does not require an extra filter. There are two types of filters, a finer one that can be harder to clean or the ones that have smaller holes in them, which does the trick but can let some grains pass by.



Durability/Material

Most French Presses are made of glass and stainless steel, but you can find more affordable options that can have plastic pieces on them. When it comes to durability, we always recommend metallic ones.



Cost-Effectiveness

The main point of comparing different items is always to find the best option for you, considering your budget and the product that can fit your needs.


Our Top Picks
Best Pick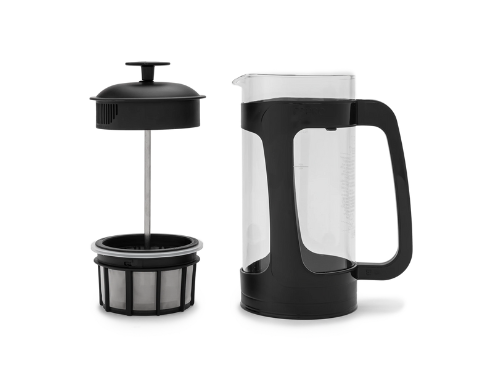 One of the best in the market.
It was founded by two coffee enthusiasts with the single purpose of making great coffee accessible to everyone.


A great choice for your daily morning routine, it is efficient, super easy to clean, and has that home style with a modern touch. Who said that a French press needed to be expensive?
Just try it and you will never let it go. It challenges the system by being different.

Runner Up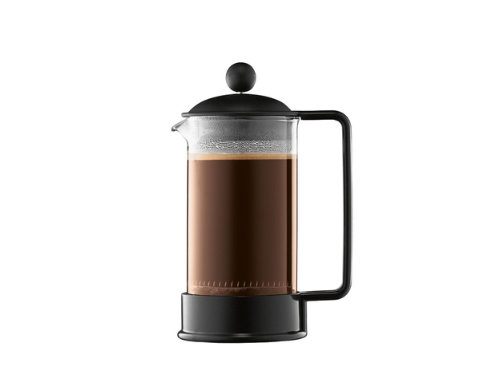 The borosilicate glass helps extract the full flavor from your coffee beans.
This is by a family-owned company that was founded in 1944 in Denmark, and is a worthy choice.
It has a special glass that makes all the chemical processes inside extra pure. This results in superb coffee, full of flavor, and it will help you appreciate coffee at a different level. With a classic view, it will embellish your table.
Most Cost-Effective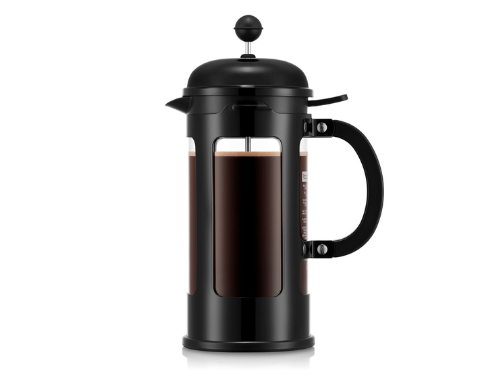 An iconic product of the brand has been a reliable staple for some years now.
All product designs stay true to functionality and quality but consider innovation as well.
The classic style that started it all. It was the first, but that does not mean that is a thing of the past. This French press has been one of the leaders in the market for quite a while now. Even if you have never heard of the brand, at least you will recognize the style and the shape of the press. French presses are what they are today because of this product.

Everything We Recommend
Best Pick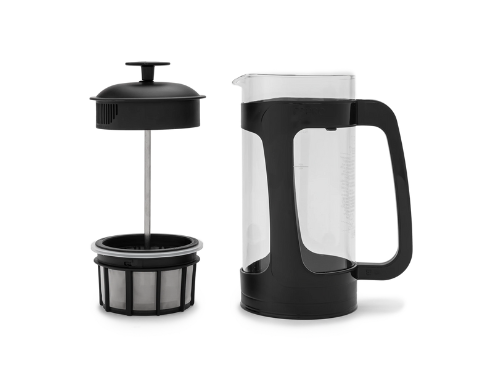 One of the best in the market.
Runner Up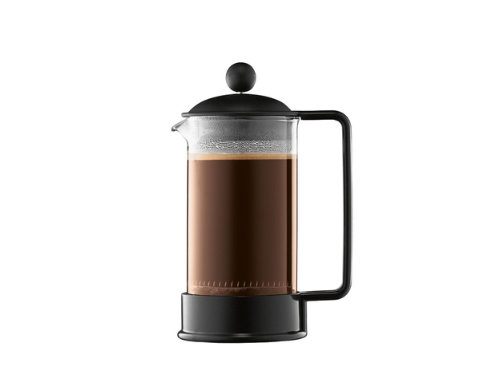 The borosilicate glass helps extract the full flavor from your coffee beans.
Most Cost-Effective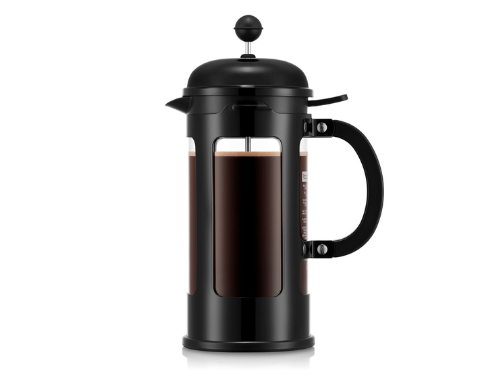 An iconic product of the brand has been a reliable staple for some years now.
Who This Is For
First and foremost, this is for every coffee lover that enjoys having a full-flavored cup of your preferred beverage at home, without needing to visit specialized coffee places, or purchase expensive machines that will take up too much room.
What is a French Press?
There have been records of this type of device since the 1800s, but the first patent wasn't published until 1924. It is a device that has the single purpose of brewing coffee beans by placing them in the beaker and adding hot water. Afterwards you plunge it slowly to maximize flavor by extracting the oils and flavonoids off the beans. It can also be used to infuse loose tea.
Pros and Cons of Using a French Press
The French Press presents more pros than cons, since it can provide a better texture of the beverage that you are preparing, and you do not need to prepare a full size if you don't want to. Smaller quantities can be prepared by modifying the quantities on it.
There is a green option, since you do not require having special filters either, so you take that expense out of your list, or you can buy more coffee beans with that as well. And it is portable, no need to miss your coffee while you are on vacation or away from home.
Why You Should Trust Us
We all know the delights that coffee can bring us. Whether it's to wake up, or simply as a refresher to get us through the work day. We've compiled a list of the best French presses based on extensive research and a thorough investigation of their properties. We have also examined several reviews by customers to decipher which is the best. You can be sure that our research can be trusted and that your interests were taken into consideration, not only in style but also in cost-effectiveness, product specifications and uses.
How We Picked
The size and the capacity were taken into consideration. Usually this will depend on how much coffee you consume, or how much you are willing to prepare at a time, if you are doing it for yourself or if somebody else is joining. We found that a press that can serve four cups (0.95 l) is the most convenient.
Filter
The filter type is the main thing that you need to consider when purchasing a French press, because the finer the filter, the fewer grains left over you will have. In addition there are some filters in which you can add a paper filter, so you can avoid having some natural oils in the mix with your brew.
Material
Most of the presses are made of glass and stainless steel, whereas others are completely made of stainless steel to prevent odors and stains. There are others made of porcelain or that have a glazed finish. We preferred the ones made of glass because the brew tastes so much better. However, the ones made of porcelain can retain heat for a longer period.
Valves
Now that we are talking about materials, some presses have an isolation valve on the filter to prevent the brew from being overdone. Therefore, preventing the mix from becoming bitter because of overexposure. As mentioned before, the filter is the most important part of the French Press, so the filtration quality is something that you need to keep in mind, so we are looking for those that did not leave a lot of grains floating around.
Style
By getting a French Press, your coffee table will be more stylish. Now in this regard, there are a lot of designs that will stand out, and there are a lot of different types to look for. This category is very personal. You might want to get your coffee set to get something that matches the style that you already have.
Price vs. Quality
We always come back to the old price versus quality category. We strived to obtain results for the very best, so you can stick to your budget while indulging while making an informed decision.
Care and Maintenance
How to clean
You can wash it in warm, soapy water before every use and dry it thoroughly. Most of the parts are dishwasher-safe. You can use either warm water, soap, baking soda, or vinegar after multiple uses. When your press starts to look dirty, you can deep clean it by taking it apart and cleaning piece by piece.
How often you should clean
Clean after every use. Otherwise, the next brew can come out bitter
How to store safely
Just place it right next to your favorite cup in a safe area.
Preventing staining or unwanted odors
Baking soda is your greatest ally when it comes to deep cleaning your press. Just add water to the baking soda and scrub lightly. Try using baking soda every few weeks to remove grime. You can also use some vinegar for disinfectant and deep cleaning.
How to use a French Press
Start by putting some freshly ground coffee beans in the beaker, and adding hot water. Usually 1.1 oz. (30 g) of coffee to 17 US fl oz (500 ml). Afterward, you will need to plunge it slowly. The water temperature needs to be between 199–205 °F (93–96 °C), You can modify your own mix more or less to taste. Some people recommend that the ground be pre-infused with a small amount of hot water, but it will all depend on your personal preference. After four minutes, your brew is ready to be served.