The Best Foot Spa for 2023
With these best foot spas, you can get a spa treatment from the comfort of your own home.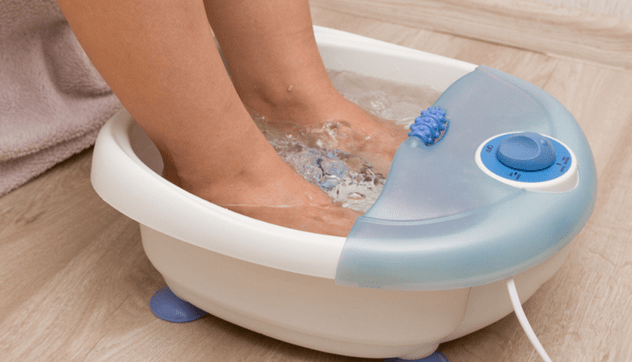 When you think about it, we put our feet through a lot and thank them considerably less often than we should. You might ask how best we can take care of our feet. Well, there are plenty of ways, but taking care of them when we should is definitely at the top of the list. 
What better way to take care of your feet other than constant cleaning and exfoliation of dead cells to let your feet breathe?  Foot spas are such a convenient way to make sure that your feet are taken care of. At the end of a long day, you can sit and enjoy a peaceful soak that will leave you feeling relaxed. Different foot spas have different capabilities, and finding the best match for your own comfort should be a priority. 
How We Picked
Size and Capacity

Just like our feet, foot spas come in different shapes and sizes. It is paramount that you select a foot spa that will fit your feet and assure you of comfort anytime you use it. The capacity of your foot spa will determine its ease of use.

Ease of Use

A spa that is easy to use will not give you a headache as you operate it. The simplicity of the interface and the effectiveness of specific commands determine how quickly you understand your spa. We believe that a foot spa should be easy to use, considering that you will use it a lot.

Additional Features

Some options on this list and also out there in the market have various additional features that are added on to make your experience even better whenever you use these foot spas. It's all a matter of what additional features you feel will capture your interest and serve you to your satisfaction.

Cost-Effectiveness

At the end of the day, we understand that everyone is on a specific and different budget from everyone else. Depending on how much you are willing to spend, there is something for everyone on this list; we have a wide range of options for you to choose from.
Our Top Picks
Best Pick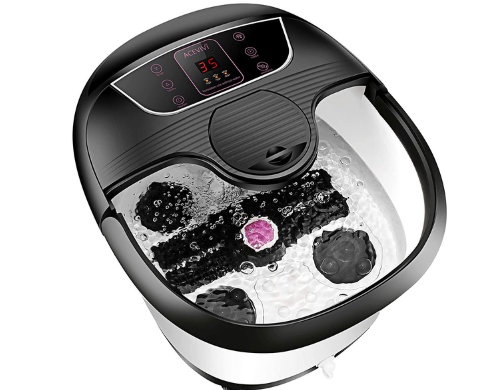 This foot spa comes with plenty of additional features that are not offered by most options out there on the market.
This top-rated option comes with bubbles for comfort, detachable wheels, and a handle for ease of portability, all topped off with fast heating and adjustable temperature, meaning you have less of a hassle getting it to your desired temperature for comfort.
This is the true definition of comfort and perfectly fits both men's and women's feet with utmost ease. It is equipped with a detachable basin cover, a carrying handle, a drainage pipe, and four detachable universal wheels. This makes it very easy to use, relaxing, and even easier to clean and store after use.
Runner Up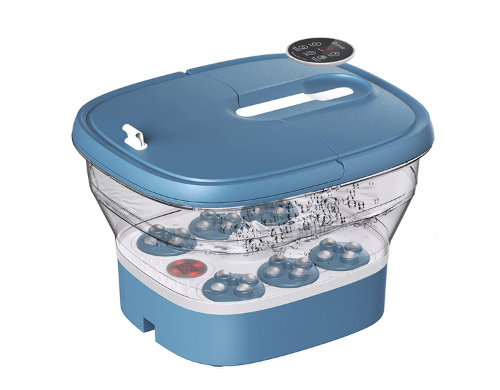 This foot bath is equipped with six groups of 3D massage roller balls and three modes of automatic massage frequencies, which are, great for relaxing when you feel tired.
The convenience that comes with this foot spa is unmatched. It is remote-controlled and foldable, meaning you don't have to sacrifice your comfort or space once you purchase this highly efficient machine.
This foot spa is remote-controlled meaning once you sit, you do not need to move an inch. You neither need to sacrifice your comfort or your storage space once you purchase this spa. It is also foldable, meaning you can store it in a convenient spot that will not take up too much of your space.
Most Cost-Effective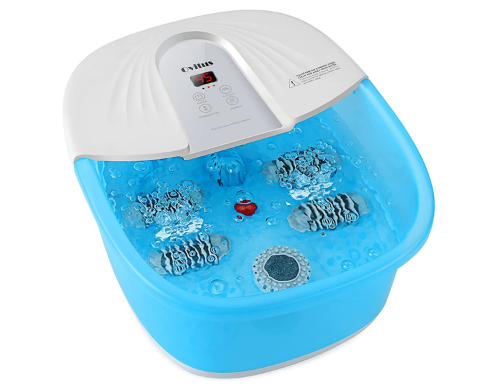 This option offers you fast heating thus minimizing your waiting time especially when all you want to do is relax.
This foot spa offers you a fast-heating bubble massage backed by vibrating shiatsu rollers, which work hand in hand with a pedicure stone to give you a heavenly and calming experience.
It comes with a massaging pedicure stone that soothes your feet as you sit back and relax your mind. It also offers a bubble bath, vibration, and infrared light that work together to give you a relaxing experience. The cord is super long, allowing you to position this spa wherever you desire and feel comfortable. The shiatsu rollers are designed to scrub off dead skin cells, leaving your feet smooth and soothed.
Everything We Recommend
Best Pick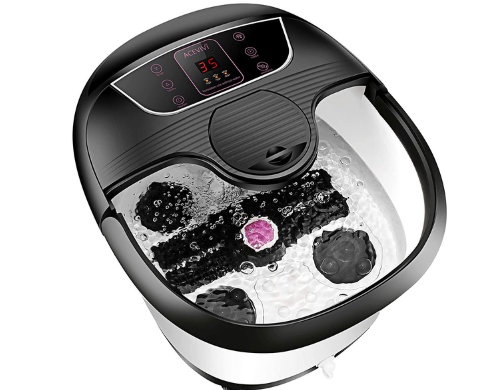 This foot spa comes with plenty of additional features that are not offered by most options out there on the market.
$126.66
Runner Up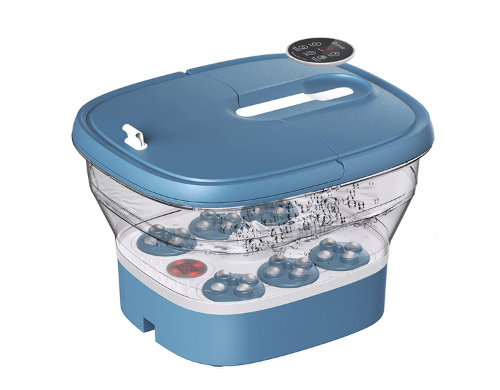 This foot bath is equipped with six groups of 3D massage roller balls and three modes of automatic massage frequencies, which are, great for relaxing when you feel tired.
$84.99 ($84.99 / Count)
Most Cost-Effective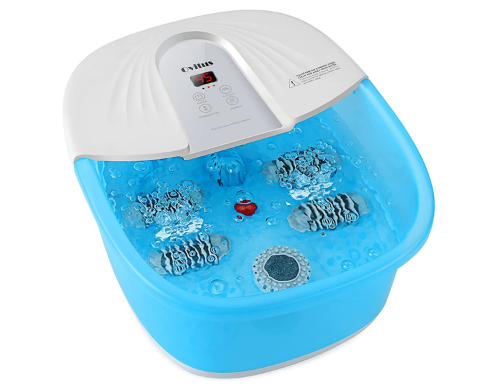 This option offers you fast heating thus minimizing your waiting time especially when all you want to do is relax.
$39.99 ($39.99 / Count)
Who This Is For
This review is meant for anyone and everyone looking to purchase a foot spa for whatever reason. Whether you are completely new to this, looking for an upgrade, or looking to replace an old machine, the wide variety of options we offer you here will suit your needs.
Is buying a foot spa worth it?
This question heavily lies upon you to decide; we strongly believe that it is worth it to purchase one. A foot spa can greatly improve your health, help you regulate your weight, reduce stress, and help you sleep better. Nothing beats a deep foot massage at the end of a long day when you have sore feet and all you need is to relax. It is time to take care of your feet in the best way possible.
Benefits over simply soaking in a bath or bowl
Using a foot spa has numerous effects over just soaking your feet in a bath or a bowl. You could compare it with simply letting water flow over dirt and actually scrubbing the dirt off. A massage is generally a great stress reliever; after a long day of endless walking, standing, or hiking it would be a lot more relaxing to have your feet massaged rather than just sitting them in warm water for hours. The exfoliating scrub stones and vibrating action of a foot spa make it an ideal foot massager always ready for use.
Benefits of using a foot spa
There are plenty of benefits to using a foot spa machine. It has been proven to help ease blood circulation in the feet and congested areas of these limbs. This is especially important for people with diseases such as diabetes and arthritis since it promotes better muscle and tissue growth.
They also help in the relaxation of your feet through their massaging action. Through this, you can sleep better hence fight depression, and improve your mood due to the release of endorphins.
Muscle relaxant
Sometimes due to our sedentary lifestyle, muscles in the feet hardly get any exercise which results in impaired blood circulation caused by tight and uncomfortable shoes. Also, for athletes and people who stand on their feet for long periods of time, a foot spa can work miracles for either of these groups of people. It helps to relax their muscles and increase circulation.
Exfoliation
The exfoliating stones in these foot spas help to scrub away the dead cells on your feet that build up with time. It is completely normal to build up these dead cells and sometimes it leads to dry skin. Regular exfoliation keeps your skin smooth and soft.
Cleaning
Sometimes we might feel that cleaning of feet takes lots of energy involving lots of time. Foot spas make it so easy to clean your feet. With this machine, you can easily clean your feet all while seated getting even better results.
Relief from skin conditions
Foot spas can offer relief from skin conditions such as sores and corns on your feet. The scrubbing and exfoliating motions of these machines help you to keep these problems in check.
Why You Should Trust Us
We took the time to analyze countless answers and customer feedback to understand and have an in-depth view of what these products are about. We considered the ease of setup, price, warranty, quality of the product, and delivery of work to come up with this list of affordable foot spas that are worth your money.
How We Picked
Here are a number of factors we took into consideration while coming up with this list.
Size: The size of your foot in relation to your foot size is important. Consider buying a foot spa that is right for your foot size so that water does not spill out of your machine while in use.
Material: The material of the scrubbers, rolls, and exfoliators in your foot spa is also something you should have in mind. Different materials are best for different or various functions. We picked comfortable materials for you to rest your feet against with ease.
Ease of use: We considered the ease of use when it comes to picking the right option for you. It is better to have a simple and understandable interface that doesn't give you a headache every time you use it. Some of the options on this list are even remote-controlled!
Waterproof controls: It would not make sense to have controls that are not waterproof considering you will fill up this machine with water and also need to wash or drain it. These options have waterproof controls to ensure the safety and durability of the foot spa.
Toe-Touch-Sensitive buttons: When you are comfortable in your seat relaxing, it sounds like quite a hassle to get up and start making adjustments or even turn off the machine. To guarantee relaxation and comfort, these controls are toe-touch sensitive meaning you can just stretch your leg and change whatever you need.
Heating options: Different heating options offer you different temperatures to maintain meaning you get to pick what you desire or what makes you feel comfortable.
Bubble features: The bubble feature makes these foot spas more interesting. They make the whole experience more relaxing, soothing, and calming.
Style/Design: An efficient style and design will give you an easier time when it comes to storage, portability, and functionality too. Handles make it easier to carry around the machine, the ability to fold makes it easier to store the foot spa, and the toe-touch sensitive controls/remote controls make it easier to operate the machine while relaxed.
Massage pedals: More massage pedals generally mean more areas of your feet covered at different angles, basically, more massage.
Water circulation: This will directly affect how easy it is to maintain a specific temperature of the water during your relaxation time. It also helps water to heat faster hence better circulation is better for your foot spa.
Jet strength: Stronger jets mean faster water circulation and more force against your feet. If you prefer this, then you should go for stronger jets of water.
Power: You will want to consider the power consumption of what you purchase. Make sure it is within your set limits if you are keen on the regulation of consumption.
Battery life, if wireless: Most foot spas are directly plugged into power, in some cases you will find battery-powered foot spas. Their battery life is just as important as any other feature to consider.
Care and Maintenance
Beware not to aggravate the skin further
Too much of anything definitely turns poisonous. It would be wise to know when to stop. Overly soaking your feet for long hours as exfoliation continues might make your condition worse. You might end up with scalds or bruises due to this.
Dangers of using soaps and creams on cracked or damaged skin
Soaps and creams are meant for external use rather than internal use. It is not safe to expose these chemicals to open wounds or damaged skin. It is wiser to seek medical guidance from the appropriate experts on what to do in such a case to ensure you do not aggravate the condition even more.
How hot to have the water in a foot spa
Remember to set a suitable temperature in your spa; this may range from person to person but the bottom line is to maintain a temperature that will not burn you or cause any harm. Normally this is somewhere around (95℉~118℉).
How long do you intend to soak your feet
The best recommended time for soaking your feet or using your foot spa is 20- 30 minutes in one sitting. If you wish to continue, take a break before repeating the same process. This is best done to avoid pruning your feet which is quite uncomfortable.
Preventing pruning
A foot skin condition by the name warm water immersion results after exposure to warm and wet conditions for more than 48 hours and is characterized by blanching, maceration, and wrinkling of the soles, padding of toes, and sides of the feet. To avoid this, you simply use your spa more responsibly and soak your feet for shorter periods.
Is pruning bad?
If repeatedly occurring, this can lead to the development of trench foot, which involves chronic pain, numbness, and blotchy skin. It is advisable that you control your soaking times.