The Best Food Storage Containers for 2023
Whether you want to freeze or store food in the pantry, these food storage containers will not disappoint.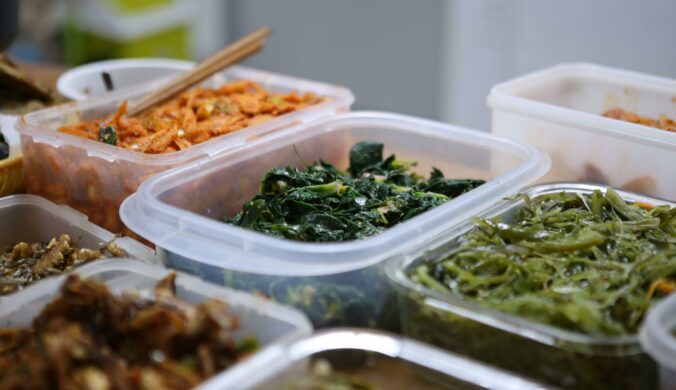 A good food storage container is useful for storing pre-made meals in the fridge, packing leftovers for a light meal, and even reheating and presenting food. When storing liquids like soup, it is preferable to choose a container that has a tight seal to prevent leaks. Also, stackable options are a great option because they help save on fridge or shelf space. Having the appropriate containers for storing food can make it much simpler to find things in your pantry and refrigerator, and it will also reduce the likelihood that food will go bad.
How We Picked
Type of Material

We examined glass containers, which block odors and are usually safe to use in the oven. Plastic containers are also excellent because they are lighter and less likely to break.

Airtight and Leakproof

Having food storage containers with airtight, leak-proof lids is important because they keep your food fresh for longer.

Heat Safe

Having a container that can withstand high temperatures is convenient since it eliminates the need to switch containers before reheating food.

Cost-Effective

No one likes to spend more than they have to on something like a food container, but given how often they'll be used, inexpensive options may not be the safest bet.
Our Top Picks
Want the best microwaveable, airtight container? You needn't look any further.
Our Runner-Up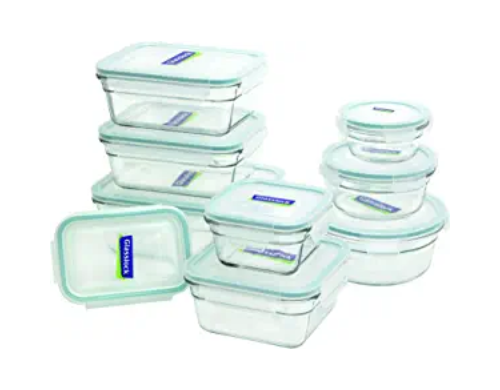 While these containers are more expensive compared to plastic ones, they are perfect for storing food without retaining any smell.
Thanks to their numerous advantages, including the airtight construction and the fact that they can be used in the microwave, oven, and freezer, these containers are quite versatile. The glass material is more durable than plastic, and they can be cleaned in the dishwasher without any damage. Last but not least, they have a very gorgeous look that more than justifies the cost.
These environmentally friendly containers are both attractive and practical.
Most Cost-Effective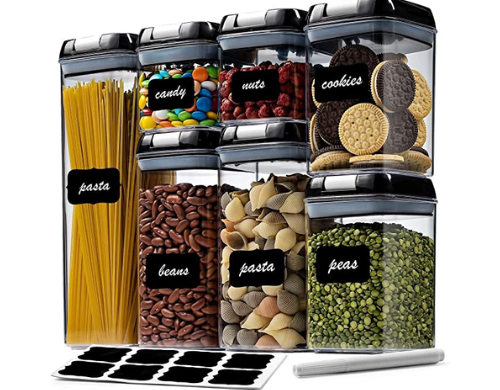 This inexpensive set has a simple but secure click closure, is stackable, and is available in a variety of sizes.
The lids of Seseno's seven-pack food storage container are both watertight and airtight. The quick locks ensure that the container is securely sealed, protecting your food from pests, moisture, and air oxidation. It comes in sizes that are appropriate for your needs.

The Seseno is made of high-quality food-grade plastic that is BPA-free, non-toxic, and free of any other potentially hazardous ingredients.
Everything We Recommend
Our Top Pick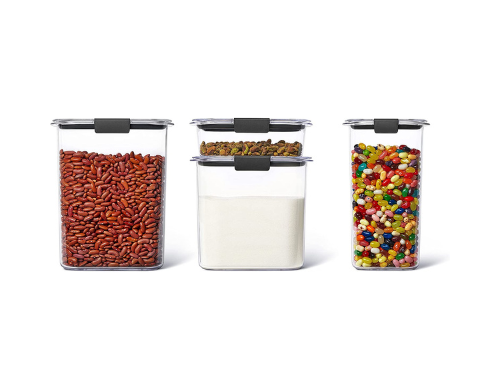 $46.99 ($5.87 / Count)
Our Runner-Up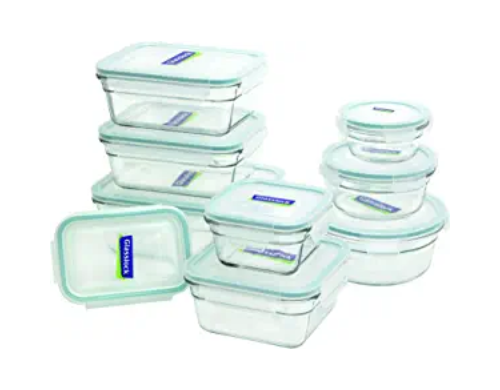 While these containers are more expensive compared to plastic ones, they are perfect for storing food without retaining any smell.
$53.99
Most Cost-Effective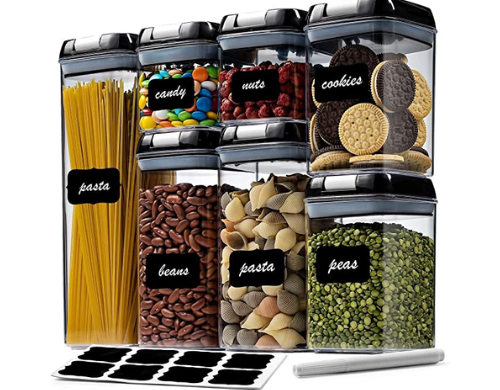 This inexpensive set has a simple but secure click closure, is stackable, and is available in a variety of sizes.
Who This Is For
Having a reliable way to store food is a godsend for anyone who cooks at home. They are not only a safe place to preserve leftovers, but also a great place to keep dry and moist components from going stale. The finest containers for storing food are able to withstand drops without breaking or spilling their contents, are resistant to spilling, and have tight seals that keep insects and other vermin out of the pantry.
Glass vs. plastic
Glass containers are entirely transparent, easy to clean, and versatile. But they're the heaviest, which is something to think about if you plan on bringing meals frequently. Those made of plastic are both see-through and lightweight. If you have a dishwasher, they clean up easily, but washing them by hand might be a nuisance.
Why You Should Trust Us
Glass and plastic, the two most used materials for food storage containers, each have their advantages and disadvantages. As a result, we've discovered the best high-quality, airtight, spill-proof food containers for extending shelf life, preventing food spoilage, and keeping food organized.
How We Picked
Finding the perfect food storage container may be difficult, especially when faced with the overwhelming variety offered by internet retailers. To simplify matters, we combed through consumer reviews of several food storage options and compiled feedback on the value provided by these products. Materials, such as plastic and glass, were evaluated on a variety of factors, such as the quality of their construction, the type of lid, the amount of space they provided, their stackability, how simple it was to clean them, and how well they functioned. We also checked for leaks and durability under impact. You can trust our methods and select the ideal food storage container for you thanks to all the first-hand accounts provided by consumers.
We spent time researching many different options for glass and plastic food storage containers, as well as whether the materials are transparent enough to see through the contents. Sealability, leak resistance, and stain resistance were all factors we considered while selecting the best food storage containers. Whether or not they can be placed in a microwave, dishwasher, or refrigerator is also a criterion we evaluate. Furthermore, you want something that has been thoughtfully created, with attention paid to both its functionality and aesthetics. To further guarantee that you get the most value for your money, we scoured the web for the best bargains and sales on the market to locate the most cost-effective option without sacrificing quality or functionality in a food storage container.
Care and Maintenance
Plastic containers are convenient for putting food away, but they can retain odors and stains from whatever was stored inside previously. Since heat makes plastic even more permeable to stains and smells, it's best to avoid microwaving plastic food storage containers or putting hot food straight into them.
Light stains can be removed from plastic containers by soaking them in a solution of vinegar and water. Another option is to use baking soda and vinegar to clean the containers. You should always clean your containers as soon as you can.
You may pat them dry with a tea towel after washing to avoid wet stains on the plastic, but it's best to let them air dry in the open to avoid mildewy smells.
Once the food storage containers have been cleaned, they should be stored in dark, dry, and cool conditions (between 50 and 70 degrees Fahrenheit) in a cabinet or pantry, away from direct sunlight, while they are not in use. Rapid degradation occurs when temperatures are allowed to rise over a certain threshold or when they are allowed to fluctuate frequently. Keep perishables away from sources of heat like pipes and appliances by putting them in the coldest cupboards in the kitchen. If you need more storage but have none available, look to under-bed drawers and spare-room closets.