The Best Folding Table for 2023
A folding table isn't the most exciting piece of furniture you can buy, but it serves a purpose, and these are the best you can get!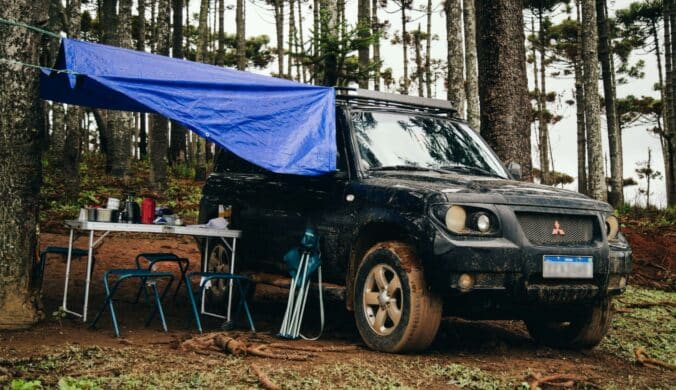 While tables are commonly synonymous with being heavy and space-consuming, we can't say the same about foldable tables. Tables are an important accessory in every home, school, and place of worship. And, their versatility is worth noting. Are all the chairs occupied? Find some space on the table. Need to get work done? There's a table. Study time? More like table time. Outdoor cooking and picnics? Tables can help.
What if you could use a table for all these functions and many more wherever, whenever without expending too much energy transporting them from one place to another? That's why foldable tables come in – to eliminate the need for you to move that beautiful, detailed Italian table in your study to the patio on days when there's an outdoor activity.
Foldable tables are not super fancy but they barely take up much space and are strong enough to take a beating. We've compiled a list of the creme de la creme of foldable tables for your perusal.
How We Picked
Sturdy

While a foldable table is designed to be portable and malleable, it must also be sturdy. Nobody wants a table that will fall apart with the slightest pressure.

Lightweight and Portable

The whole point of a foldable table is that it can be easily moved around. As a result, the table must be lightweight and portable.

Durability

A table is not something you want to keep replacing. Tables that can take a beating and last through cycles of work are ideal for you.

Cost-Effectiveness

Most times, foldable tables are an afterthought. We made sure that the tables on our list are well priced and offer decent features.
Our Top Picks
Our Top Pick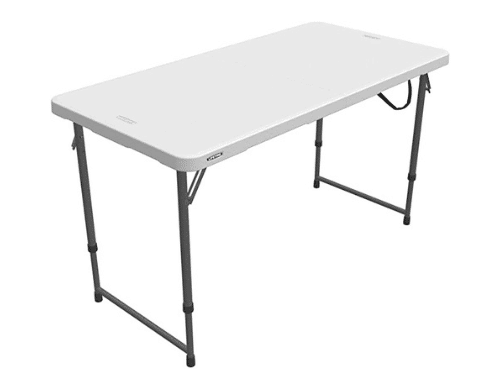 Lifetime tables recognize the fact that not everyone is the same height.
As it says in the name, this LIFETIME table is adjustable to match your needs and provides great user experiences for people of different heights. This feature, along with its being easy to disassemble make it a favorite for anyone in search of workbenches, boardgame surfaces, or even dining tables.
This choice is strong and fairly priced; It's absolutely worth it!
Our Runner-Up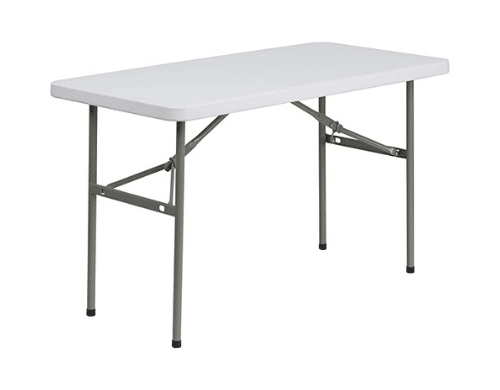 Flash tables promise lots of hours of work without dents or sagging in the middle.
This Flash Furniture table is right for as much as you can think of. It's particularly great for holding pet homes, a work desk to kickstart your journey to transition into remote working, an art table, a sewing counter, and a gaming table. The possibilities with this table seem endless!
The nice woody look of this plastic table brings a vibe that fits right into many aesthetics.
Most Cost-Effective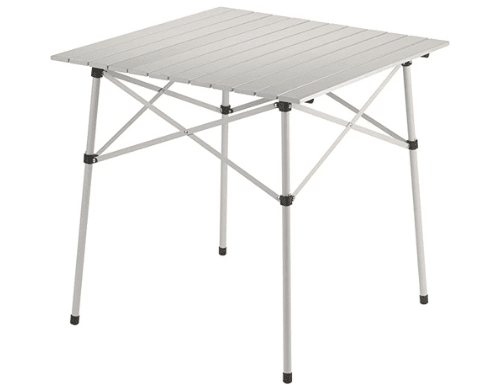 The adventurer's best companion.
Coleman camping tables are the perfect road trip, camping, or tailgating companion. Strong enough to hold your grill, bowls, and plates, or all the drinks you need thanks to its solid aluminum build. To improve mobility even further, this table comes with a slip-on carry bag.
In search of a budget-friendly option that still kills it? You're right in time.
Everything We Recommend
Our Top Pick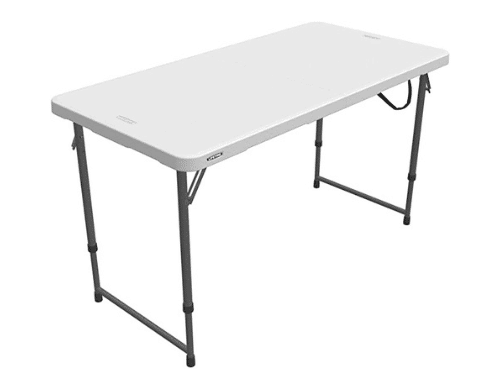 Lifetime tables recognize the fact that not everyone is the same height.
$46.98
Our Runner-Up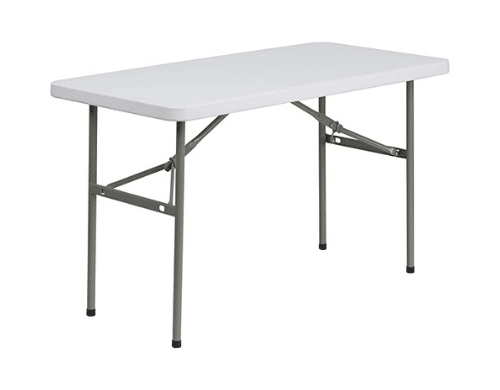 Flash tables promise lots of hours of work without dents or sagging in the middle.
$56.00
Most Cost-Effective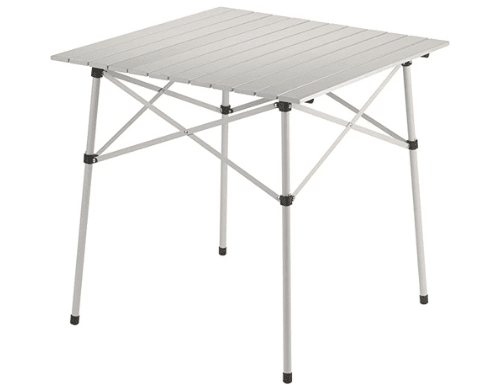 The adventurer's best companion.
$39.97
Who This Is For
These tables are for everyone; students setting up their dorm apartments, recreational chefs who like to host friends for roasts or barbecue dinners every once in a while, families who spend time together on beach days or road trips, organizations and offices where work can happen anywhere at any time, excited teenagers and stressed out millennials who enjoy hosting games nights, and all other people who simply want tables they don't have to worry much about moving around in case the need to do so pops up.
Are They Meant For Indoors Or Outdoors?
One of the good things about most foldable tables, including the ones on our list, is their versatility and ability to fit in almost any event or setting indoors or outdoors. The ones on our list are strong, sturdy, and equipped with features that help them stay put and diligently carry out their duties without being blown away by the wind.
Do I Really Need One?
If you're reading this, you most likely need one. Folding tables are such that you could never regret having one of great quality because you may not need it now, but chances are you will at some point. Why not be prepared?
Why You Should Trust Us
We have studied all kinds of products and have, over time, developed an eye for quality and standout features to look for that untrained eyes are unlikely to spot. People who have trusted up ended up with good deals on top-shelf products that they still use and enjoy to this moment.
Not only do we help you find the best deals and save money, but you'd also end up with a table that has a thousand and one uses and can last almost as many months. No countertop or table situation will ever catch you unprepared again.
How We Picked
In unearthing the gems in this list for your service, we investigated hundreds of tables from tens of brands and manufacturers and made extensive comparisons based on metrics that made it easy to find the outright best foldable tables.
Top of the list and chief selection pointer was sturdiness. Of what use is a table if it can't hold items and withstand weight? Tables that crash and give up after little usage are nowhere near this list and should be nowhere near your home. In the best case scenario, they make you spend extra on fixing or getting a new table or both, and in the worst case scenario, you or someone else could end up hurt.
When considering size, we acknowledged that no size is the perfect one-size-fits-all glove that works right in all scenarios. Too big and you could run into a storage problem foldable tables are meant to help you avoid, and too small and you could be out of space on a random day when you have to vend at a local sports day or trade fair event. Depending on the need, we sorted these tables out and selected ones that are a great size for their most common uses. Some of our picks come in varying sizes just in case you need the same design and quality in larger or smaller sizes.
We considered weight and gave preference to lightweight tables that make mobility easy while still retaining their sturdiness and top-notch quality. Heavy tables are a logistical nightmare and we want you to be free from these shackles.
In addition, the portability of each table was examined and only the best and easiest to relocate are on our list for you.
The attention we showed to features like portability, weight, sturdiness, and size did not take away from how much we considered design and aesthetics. Boring, same-old, same-old tables we pushed aside in favor of tables with more expressive concepts and design. From minimalist to metallic, corporate, and rough, we picked designs that show something and are sure picks to stand out and express a bit of your mood and personality.
Prices are often subjective. With the data available, we curated tables that fall into price ranges that are affordable by significant amounts of the population to keep things balanced.
To ensure you get tables that are here for both a long time and a good time, we picked brands that offer longer and more customer-appealing warranty programs.
We ensured the tables we picked can take a hit or some heat. These tables were constructed from materials that can withstand harsh weather conditions and many years of top-notch service within the limits of ethical usage. They can hold significant amounts of weight and work under extreme heat or heavy downpours without as much as a dent. Enjoy!
Care and Maintenance
Cleaning is one thing you have to do frequently to enjoy the tables in their full element and glory. To get them sparkling after every use, use a duster to get rid of larger dirt particles, and then use some disinfecting cleaning wipes or a combination of vinegar, washing soap, and water to fight tough stains and get your table looking new again.
For storage, folding tables can fit almost anywhere. You just have to make sure the place is dry and cool. As a tip to prevent damage, keep foldable tables on their sides or edges until you need to unfold and use them.