The Best Folding Bike of 2023
With these top-rated folding bikes, you won't have to worry about storage space or transportation.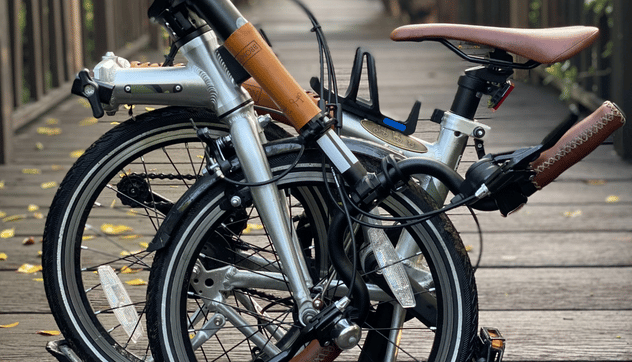 Although traditional bikes offer a convenient way to get from place to place while getting in some exercise along the way, their (often large) size makes them bulky and difficult to store at home and even harder to carry on the go. Thankfully, folding bikes provide a clever way around this common problem, and you can now carry around your bike just as you would a suitcase!
Folding bikes look a lot like their normal counterparts, but their ability to be folded into a quarter of their original size makes them a space-saving dream. This efficient design can also maximize your thirst for adventure since you can tag it along as you go for hikes and other off-road adventures. So why not take a look at our selection of the top-rated folding bikes on the market right now and find your match?
How We Picked
Size of Wheels

The size of the wheels influences the foldability of the bike, among other things. Larger wheels are heavier and do not fold as neatly as smaller ones. Also, if you intend to use your bike for off-road adventures, your wheels should be larger than those of someone who intends to ride in urban areas.

Number of Gears

If you plan to use your folding bike for off-road adventures, more gear means you have more options to switch up how you tackle different terrains. If you plan to use it in an urban setting, then this might not be a priority factor for you.

Size + Weight

The size and weight greatly determine how much effort is required to ride the bike and whether you can move or transport it easily. The key is to match it to your chosen activity and your physical capability so that you have an easier time carrying it around. The size will also determine the amount of storage space that your bike will take up.

Price

We all have different budgets to spend on specific items, and this is totally fine. No matter the budget you have allocated for this purchase, we believe we have something for everyone on this list.
Our Top Picks
Top Pick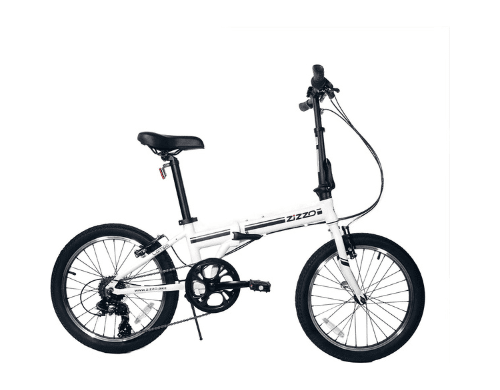 A lightweight bike with a very comfortable seat, perfect for maneuvering around town quickly and with ease.
This is a 20-inch model that comes with 7 speeds, meaning that it is highly versatile and can be used with equal ease when going uphill, downhill, or on a level road.
The fact that it weighs just 28 pounds means that you can fold it up in a matter of seconds and then easily store it just about anywhere. It can easily fit in most car trunks, and the fact that it doesn't have plenty of accessories means it is less bulky. It neatly folds up to give you a compact look, allowing you to carry it wherever. If you like stylish bikes, this is a great choice.
Runner Up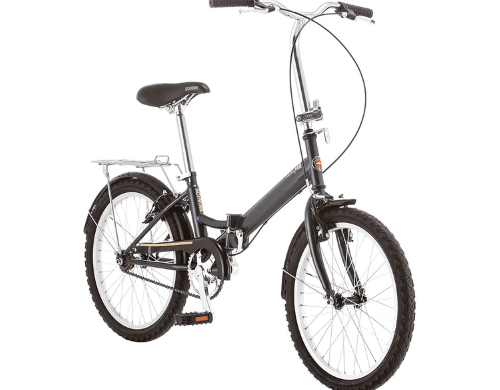 If you love a stroll around the park enjoying nature, then this single-speed foldable bike is perfect for you.
This single-speed folding bike comes with an accessorized backspace that allows you to carry around any extra luggage you might have with ease.
This option comes with a vinyl pack for you to carry it around, has splash-proof fenders, and, to top it all off, a cargo rack at the back with a stand too. It is a lightweight option and is hence easy to fold and unfold for this reason.
Most Cost-Effective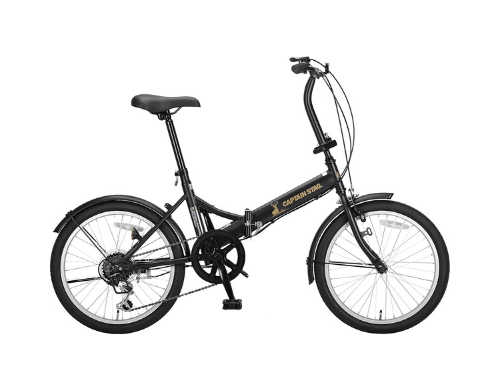 If you are on a tight budget but still want to get amazing value for your money, this option has you covered.
You will enjoy assembling this bargain bike that has six speeds, a stylish design, and accessories.
This folding bike has six speeds, which makes it an excellent option since you can put it to the test both in urban and off-road terrain and it will still hold up well. The frame is made of steel, meaning it is a bit heavier as compared to other options on this list. It also comes accessorized with a fender. If you enjoy assembling the final product yourself, then this is an amazing choice for you.
Everything We Recommend
Best Pick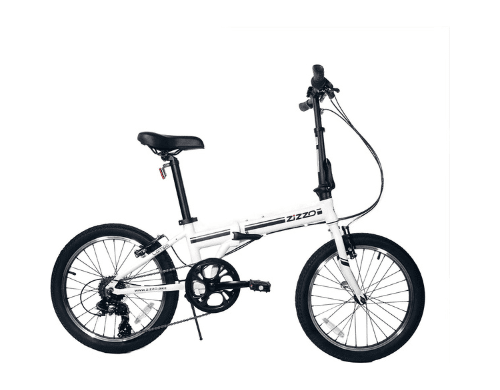 A lightweight bike with a very comfortable seat, perfect for maneuvering around town quickly and with ease.
$329.99
Runner Up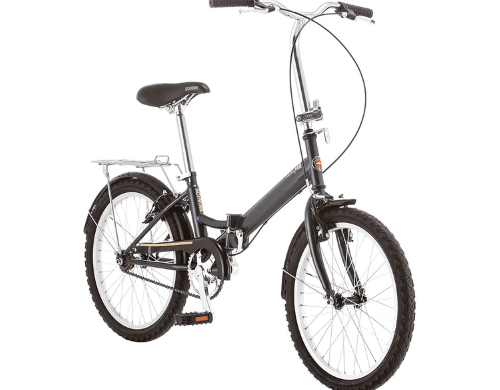 If you love a stroll around the park enjoying nature, then this single-speed foldable bike is perfect for you.
$369.99
Most Cost-Effective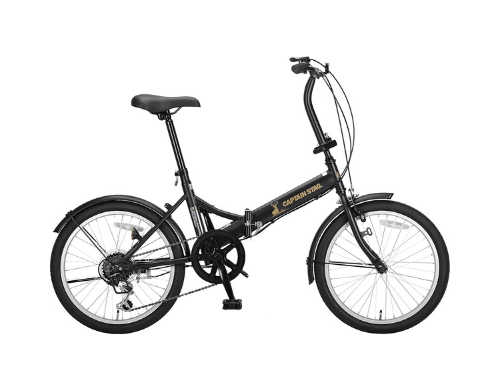 If you are on a tight budget but still want to get amazing value for your money, this option has you covered.
Who This Is For
This review is meant for anyone out there looking to save space and experience convenience with the latest modern-day advancements by purchasing a folding bike.
Folding bikes vs regular bikes – what's the difference?
The best way to differentiate folding bikes from other bikes is obviously through the name: they fold while the others don't. The ability of these machines to become suitcase-sized makes them perfect for taking them with you on any trip or even building as long as you have somewhere to place them. It also means that you can easily pack it in your car trunk to go hiking with. These bikes are a game changer when it comes to convenience and saving storage room in your house. It's just like a bag you can drop or pick and place anywhere you find fit in your house!
Is it worth splurging on?
Well, this all depends on how ready you are to make your commute around town convenient. This purchase will change the way you move around. It is easier to beat traffic jams with such an efficient machine on your hands.
Is it similar to a mountain bike?
These folding bikes are similar to mountain bikes in plenty of ways, actually almost all, except for a few features here and there. One is foldable, while the other is not. They may also differ in the weight they can handle and their weight themselves but at the end of the day, one is easier to carry around like a briefcase while the other is not.
Can folding bikes climb?
Yes, they can. To simply put it, the ease of climbing will depend on your technique of using the right gear and your prowess too. Folding bikes climb hills as easily as a regular bikes with similar gearing or speeds. However, many folding bikes are sold with narrow gear ranges, which at times are no match for the extra-low gears that most standard bikes have, meaning your friend with a standard bike might have an easier time compared to you.
Naturally, your fitness level will also be a major factor. In other words, you might need major upgrades to compete with a standard bike that is specifically designed for climbing. Not all hope is lost though, unless you are doing some serious rock hopping and exploration of steep areas, a folding bike will serve you just as well as any other standard bike so do not be discouraged.
Why You Should Trust Us
We understand how hard it can be to decide on such a purchase. This is why we took our time to go through countless customer feedback and test these products to ascertain that we are providing you with a list of nothing but the best options out there in the market currently.
How We Picked
When choosing your folding bike, we considered what's most important to you and considered plenty of scenarios and uses for these bikes to give you an all-around list full of options to choose from.
Type and size of wheels: We selected wheel sizes based on how you plan to use your folding bike. If you will be using public transport more often than not, the better it is to go for a smaller and more compact bike. If you're after long-distance performance, you'll want something with larger wheels and a wider gear range to serve you better on different terrains.
A number of gears: The number of gears will definitely determine the use of your foldable bike. A single-speed bike is not suitable for rugged terrain but is better suited for rides around town and non-hilly areas.
Design/style: The style and design of a foldable bike give it a unique look. The material it is made of and how it is made will determine the maximum weight it can handle. Accessories such as cargo racks and fenders may also come in handy more often than you think.
Comfort: Adjustable saddle height and a wide saddle itself are some of the first things that determine how comfortable a bike is. Therefore, we considered bikes that even have an extra use for the saddle to adjust and use as an extra stand for your bike.
Inclusion of fenders: They come in handy during those rainy days when it is muddy and there is plenty of water all over to keep you clean by avoiding splashes.
Ease of use: These bikes are foldable, which is their main point of convenience, and the ease of this process is important. A bike that you can unfold or fold in 30 seconds or less is an ideal one for use, especially in busy cities where there is plenty of human traffic. A lighter bike will also be easier to unfold or fold. Finally, the mechanism of folding is also a factor, so make sure the bike you choose is easy to handle.
Size: The size of the bike will determine how much space you can save and how easily you can carry it around once you fold it. A bigger bike will need more effort to carry around so keep that in mind and check the size.
Weight: This will greatly determine how much effort is required to ride your bike and whether you can carry it around with ease. Generally speaking, a lighter bike is much easier to ride compared to a heavier one, which is why race bikes are so slender and light. The key is to match the bike you choose to your chosen activity and your physical capability. In other words, choose your battles wisely.
Durability: The products on this list have been deemed durable by previous customers. Some of the bikes on this list even have a warranty, so this guarantees their durability to you as a customer.
Storage: Not everyone is lucky enough to have a garage or enough space in the house to store their bike. One of the advantages of having a folding bike is its ability to be stored in every corner of your place due to its small size as compared to a standard bike. You will never have to worry about extra space to park your bike since you can utilize even the smallest spaces around the house to store it.
Drivetrains with chains: In simple terms, a bicycle drivetrain is a wheel consisting of a pedal-powered crank that turns the rear wheel using a chain and gears. Different sizes of the drivetrain give you different efficiencies; bigger drivetrains are more efficient since you peddle less over a given distance.
Care and Maintenance
How to clean the body – which cleaning agents and materials to use and avoid
Your bike is mostly a collection of moving parts, and when exposed to mud, grime, and debris without proper cleaning, these parts begin to deteriorate. You should therefore have a regular maintenance schedule (monthly, weekly, or more often depending on your type of riding).
If you are a biker who spends a lot of time riding in wet and muddy conditions, or if you ride hard, fast, and often, then you should plan to clean your bike more frequently. Use diluted dishwashing soap or pre-formulated bike wash cleaner for frame cleaning. You will need to mix the detergent with water and scrub the dirty parts of your bike. You can always use a soft brush to scrub the tires in case the dirt is stubborn. After this, rinse your bike thoroughly using clean water to wash off the detergent. Finally, you can either dry it using a clean towel or just leave it in the sun to dry with time.
Tire care
Generally, it involves a lot, from constantly checking for tear and wear, cleaning the tires properly, maintaining the right tire pressure, and choosing the right roads to use. If you are careless with your tires, then you will have a harder time keeping them in good condition. Clean them as often as you clean the bike. Maintain the right tire pressure by not over-inflating. Finally, pick safer roads to use unless you are out in the wild, where it isn't much you can do about it. Avoid spiky roads or areas with sharp objects like stones.
When and how to lubricate different parts
The moment the oiled moving parts start looking black and greasy, that's a sure sign that a clean lube is needed. It will also save you plenty of hustle when washing the vinyl bag if you have one. Another sign is hearing excessive amounts of chain noise when you're pedaling or making cracking sounds. A well-lubricated bike barely makes any noise, a smooth ride all the way.
Keeping your bike parts properly cleaned and lubricated is the only sure way to enjoy durability and hence lower maintenance costs. Lubrication not only protects moving parts from excessive wear caused by friction but also helps to prevent rusting and corrosion of these moving parts.
However, over-lubricating can lead to poor performance and component damage; too much of anything is poisonous. The excess lubricant will attract dirt and other abrasive particles that will damage your bike. Make sure that the excess lube is always carefully wiped away before the bicycle is ridden.
Where and how to store your bike
If you no longer need to use your bike for quite some time, it is advisable to store it in the right manner. Tires are especially prone to deterioration as compared to other parts of the bike. The first step is to clean the bike before storing it. You will then need to inflate the tires to the recommended pressure and regularly check on them to keep an eye out for bulges and cracks. They will deflate over time, so there is no need to worry about that.
Keep the tires off the ground, especially on cemented floors, using a bike rack or anything you can find to insulate the rubber against contact with the floor to prevent dry rot that comes as a result of loss of moisture. You can also easily turn your bike upside down and have it balanced using the handlebars and saddle, it will still suffice. Wipe the grease and lubricants off the moving parts and apply a new one just to be sure it is clean and free of debris. Finally, store your bike in a relatively dry room without high amounts of moisture to prevent any rusting of parts. It will not hurt to give your bike a regular check-up every once in a while to see how it is holding up. This will help you identify any issues early enough to deal with them.