The Best Flea Treatment for Cats and Dogs for 2023
Fleas and ticks are the worst nightmare of our dogs and cats. They attack, annoy and damage the health of your pet to the point…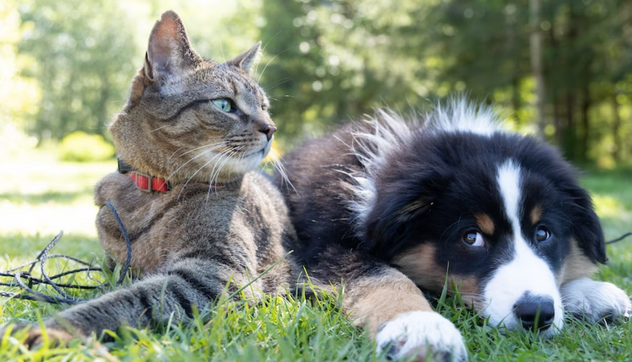 Fleas and ticks are the worst nightmare of our dogs and cats. They attack, annoy and damage the health of your pet to the point of causing diseases that can be fatal. Both fleas and ticks are ectoparasites, they attach themselves to the bodies of warm-blooded vertebrate animals to feed. These creatures live in the soil and grass and are very active in hot weather, so it is common for your pets to get them during a walk or when playing in the yard. Although controlling them likely seems complicated and even dangerous, it is possible to buy products for the control and treatment of these that will give you the peace of mind you need.
It is necessary to choose carefully the flea treatment for cats and dogs, they must be safe for your pet and your family, as well as effective. It is also important to evaluate that they are easy to use and that their effect is long-lasting. We know you care about your pet's health and happiness, so we'll help you pick the right flea treatment for your faithful four-legged friend, as well as recommend some of the best ones you can buy.
How We Picked
Effectiveness of treatment

A flea treatment that doesn't remove fleas and ticks is useless. However, each treatment has different levels of effectiveness. That's why we've concentrated on picking the most effective and safest for you and your pet.

Easy to administer

Some flea control products can be difficult to administer and even dangerous. The difficulty of application and danger can discourage you from using them, putting your pet's life at risk. This is why we have chosen flea treatments that are easy to use and safe.

Length/Speed of treatment

A long-lasting and fast-acting treatment is necessary to attack both severe and simple infestations and protect your pet for a longer period.

Cost-Effectiveness

The costs of flea treatments tend not to be too expensive, which is why we can afford to invest in those that offer excellent results and come from recognized brands that guarantee your pet's safety.
Who This Is For
Abnormal breathing.

Excessively low or high body temperature.
Keep in mind that cats can consume pyrethrin from oral, respiratory, and topical routes, including grooming a canine companion that has been treated for ticks and fleas, so it is necessary to use safe treatments on your dog if you have a pet cat as well.
Does My Pet's Age Influence The Type Or Amount Of Treatment To Be Given?
Of course, it does. An old, sick, and weak dog and a puppy do not metabolize the toxins of some tick and flea treatments in the same way and can become seriously ill even if the recommended doses are used.
In these cases, it is advisable to use products suitable for puppies and elderly dogs and consult your veterinarian who, based on their history, will decide if it is the best product for your pet. Don't forget that many dogs may have liver or kidney conditions that prevent them from metabolizing products suitable for their age, so it is important to always have veterinary support in these cases.
If you don't dare to try a treatment for fleas or ticks in puppies or elderly dogs, then you should keep your home free of these pests. You can fumigate your home and keep them away until the toxic substances are gone, use non-toxic nFlea treatment for cats and dogs is a must for any responsible pet owner who is concerned about the health of their pets. Both ticks and fleas can transmit a variety of serious diseases to your pet and even your family. You may think that keeping your pet at arm's length and even outdoors may be enough, but the truth is that, in addition to being irresponsible (unless it is a working animal such as livestock guardians), this strategy does not serve to keep these pests away from your home.
The best way to keep your pet healthy and free it from the discomfort caused by the bites and their consequences, as well as to give you peace of mind and free your home from these infestations, is to use tick and flea control and extermination treatments. It is important to eliminate both adult fleas and ticks as well as their offspring and eggs, as some treatments only attack certain stages and need to be repeated to make sure you get rid of them all and prevent them from reproducing again and infecting your pet.
Different Forms of Flea Treatment
There are different forms of treatment for fleas and ticks. If we take a general view, we can divide them into treatments aimed at our pets and those aimed at our home and garden. It is advisable to combine them both to obtain results.
In the case of the treatment for our dogs and cats, this can be presented in:
Shampoo: bath shampoos are recommended to combat light infestations. They are usually slightly toxic, you must leave them to act for a few minutes and then rinse them well. They act immediately and eliminate ticks and fleas on the skin.
Gel: known as pipettes. They are deposited on the nape of your pet's neck with the intention that they are absorbed through the skin and that our pet does not lick itself, since this could cause an intoxication, generally, the protection time of the pipettes is three to four weeks.
Talc: It is recommended for light infestations and to prevent them. It is typically a moderately toxic talcum powder that you should distribute on your pet's skin. They can alleviate itching and some symptoms caused by ticks and flea bites.
Injections: There are no safe injections to eliminate ticks in dogs. Some veterinarians use certain substances, such as ivermectin, to kill ticks. This substance is used in livestock to eliminate these parasites, but it is not safe for removing ticks on pets, especially for some susceptible breeds. If you plan to use it on your pet, it should be applied by a good veterinarian, only on resistant breeds and in recommended amounts.
Collars: Dog tick collars are effective and comfortable since they are composed of plastic support containing insecticide. This system has been a classic for preventing parasites for more than 20 years. They have a long-lasting effect, but some dogs may be allergic to them, and they can be toxic for puppies or dogs that tend to remove the collar and chew it.
Oral pills: they are administered orally according to the size of the pet and affect the body that can last from one to three months. It is important to receive the advice of your veterinarian to indicate the most appropriate treatment for your pet. If you have small children, these medications reduce the risk of contact with these pests after their application and since they are not toxic, they can play with their pets without any risk of coming into contact with dangerous substances.
Sprays: they can be directed to your pets or your home. Those directed to your pet have an immediate effect, so they are useful if you go out to the countryside or to an area where you suspect that there will be these parasites. However, their effect is not very long-lasting. Sprays directed at home help you to eliminate infestations, those that destroy the eggs of these parasites are highly recommended, thus breaking their reproduction cycle and protecting your pet for a longer period.
Can I Use Standard Dog Flea Treatment On Cats? 
No, it's a risk. We all know that fleas and ticks can transmit diseases, take up residence in your home and cause great discomfort to your pets. However, pets are all different, not just in species, but in size. It may seem like a good idea to give the same treatment to dogs and cats, but except for some products indicated for both species, it is not advisable to give a flea treatment for dogs to a cat, as it can cause their death.
There are many factors to consider when using products for fleas and ticks. It is dangerous and even lethal to use specific medications for dogs on cats. This is because both species have hepatic metabolisms, and many substances that are safe for dogs are toxic for cats. These types of warnings are found on medication labels and even if the use is allowed in both dogs and cats, you must carefully read the instructions, even if the product is designed specifically for cats.
The great danger to cats from medications and fleas products for dogs is due to pyrethrins, a blending of six chemicals that is toxic if consumed. Pyrethrins have a synthetic derivative known as pyrethroids, one of which, permethrin, is used in phlegm and tick products and is often lethal to cats.
Permethrin is found in insecticides, topical products and collars for ticks and fleas, preventative environmental pest treatments, repellent-treated clothing, and more.
If a cat comes into contact with pyrethrin symptoms may include:
Excessive salivation.

Hiding.

Vomiting.

Anxious behaviors.

Tremors.

Seizures.

Lack of coordination.
atural remedies and check your pet thoroughly after every walk.
Why You Should Trust Us
We care deeply about your pet's health and that is why we have thoroughly researched all kinds of treatments against ticks, fleas, and other pests that can attack them and affect their health. We have selected only those products that we consider moderately safe to use on dogs and cats of different ages, as well as those that are completely safe to use at home, especially if you have children who spend a lot of time with pets.
In our research we found that the most effective treatment is prevention, we must check our pet after every walk, especially in seasons when the temperature is high. If a single fertilized female comes home, it can lay millions of eggs and cause an infestation. It is also not advisable to crush these creatures, you will release eggs that will eventually hatch. If you remove some ticks from your dog, it is best to place them in a container with soapy water and let them die.
If the infestation is in progress, you should combine a flea treatment on your pets with a light treatment at home. You can also use tick sprays and ticks as prevention in your home, especially if you have neighbors with pets.
How We Picked
When choosing flea treatment for cats and dogs, we considered several aspects:
Effectiveness of treatment
Thinking about the many species of ticks and fleas that can attack our pets and infest our home can be overwhelming. Flea and tick species can be verified by your vet and this can be used to choose a treatment for your pet.
In our list, you will find treatments effective against the most common species you may encounter on your dogs and cats. However, some are not effective against deer ticks and other species.
Easy to administer
Tick and flea treatments come in different forms. You can find gels, collars, wet wipes, shampoos, oral medication, pills, and more. Some are easier to administer than others, as well as safer than others. Generally, those that are applied to your pet's skin can be toxic to their owners, especially children, while pills and treats are usually the easiest and safest. However, it is advisable to consult your veterinarian, who will recommend the best treatment for your pet.
Length/Speed of treatment
Longer treatments tend to be very toxic to your pet and will reflect on the health of your pet's liver. That is why it is advisable to choose treatments that act quickly and efficiently and that you do not have to repeat them too often.
In the case of powders, gels, shampoos, and collars, we have extensive treatments in which it is advisable to frequently evaluate the health of your pet's liver. If you pick tablets or chewable treatments, these are offered on a quarterly or semi-annual basis and are typically safer for your pets.
Price vs Quality
The price of tick and flea treatments can vary depending on the brand and the level of effectiveness of the product, yet they are usually quite affordable. It is advisable to splurge on these types of treatments and pick only the best, safest, and most effective for your pets.
Form of medicine
The type of medicine to pick will depend on the type of ticks and ticks to attack, the stage of their life cycle they are in, your needs, and those of your pet. Generally, pill treatments are the most recommended, especially if you have children. It is also advisable to choose spray treatments for both your pet and your home, some of which help eliminate ticks and fleas and their eggs. This type of treatment tends to be safe and made with natural substances.
Other options available are shampoos, powders, gels, and collars, these can be somewhat toxic to your pet, but very effective in eliminating heavy infestations or preventing them if your pet lives in tick-ridden areas or the hot season is approaching.
Intensity of fleas
The intensity of the infestation defines the type of treatment to pick. In very severe infestations, it is advisable to offer an oral or chewable treatment to the dog or cat, especially if they are weak or too old to withstand specialized shampoos or baths. If the pet is young and healthy, it may be advisable to attack the infestation with shampoo, gel, or spray, spotless your home, and fumigate the garden.
If the infestation is light, you can use collars, especially if your dog enjoys long walks or spends hours in the garden.
Amount of treatment in comparison to pet's weight
Pills, chewable treatments, and specialized baths should be applied according to your pet's weight, age, and health status. It is advisable to read the product label carefully and know your pet's weight. If you do not know it or do not feel confident when dosing the product, you can consult your veterinarian about the recommended dosage or ask the clinic for treatment for him.
Age of pet
Most tick and flea treatments are not safe until seven or eight months of age in puppies, and you should still check that the product is suitable for puppies. Furthermore, old dogs may have adverse reactions to some treatments, so after a certain age, you should avoid them or be cautious when applying them. You should also keep in mind that dogs with allergies or other health conditions may have reactions to tick treatments, especially those that are applied to the skin, have specific flavorings, or have substances that can cause seizures. It is necessary to be careful if your dog is pregnant or nursing, as it can affect the puppies and their general health.
Care and maintenance
When to give treatment
Ticks and fleas appear when the warmer seasons of the year arrive. Spring is the time when these creatures reproduce in the fur of our pets, when this season arrives you should start checking your pet's skin. As soon as you notice the first tick or if your dog shows any symptoms, it is time to start treatment and prevent future infestations in your home.
The main evidence that your dog or cat is infested with ticks is the constant need to scratch with claws and teeth. The itching will be very uncomfortable and will not be relieved by scratching, as ticks and ticks cling to the skin tightly.
We recommend you check the areas where the skin is thinner, i.e., the neck, ears, groin, and perianal area, among others, as ticks and fleas easily find blood there.
The appearance of an effusion on the skin of the animal is also a symptom. This is because, once on the animal's skin, ticks break the tissue searching for blood. Another much more serious symptom is paralysis in the area of the body where the tick is attached.
How often to give treatment
It is recommended to apply treatments as frequently as indicated on the package. Some products are single applications or monthly. Consult the package and your veterinarian and never use a product more than twice without evaluating your pet's overall health, as many products can be toxic to your pet's liver and kidneys.
How long does flea treatment last?
It will depend on the type of treatment. Gels and collars can last up to a month or two, and pills have effectiveness for flea and tick elimination and prevention for up to six months depending on the brand. Dips and powders have a temporary action and only work when applied to your dog's or cat's skin.
We must emphasize that you should avoid at all costs giving any tick and flea treatment if your pet:
Has a history of seizures
Some poisons can exacerbate seizures in your pet and endanger its life. In these cases, you should try natural remedies.
Pregnant pets may be susceptible to the toxins present in some tick and flea treatments. It can also be passed on to growing puppies and negatively affect their health and even endanger their lives.
Older dogs tend to have problems metabolizing certain substances and can quickly become intoxicated with treatment doses that were effective and harmless in the past. If you have an older dog, avoid any tick and flea treatments.
Is taking other medication
If your dog is taking any medication, especially dewormers or some antibiotics, it is important to avoid using tick and flea treatments. Consult your veterinarian to avoid interactions and negative effects.
How to safely administer
Each type of tick and flea control treatment has its steps for safe administration. Be sure to read the instructions carefully and follow your veterinarian's advice.
One of the steps you should follow regardless of the type of treatment is to wash your hands carefully before and after administering flea treatment. This way you will avoid contaminating the product as you apply it or offer it to your pet, and you will not distribute the toxins around your home or worse, into your skin, eyes, and mouth.
Symptoms to look out for after flea treatment
After treating your pets for ticks and fleas, you should look out for the following symptoms:
Excessive salivation.

Diarrhea.

Nervous behavior.

Cramping.

Convulsions.

Skin allergies.

Lack of appetite.

Depression.

Vomiting.
We should note that the F.D.A. issued an alert in 2018 about tick and flea products containing isoxazoline, as they have been associated with neurological reactions, including tremors, loss of muscle control, and seizures. Most dogs and cats do not have bad reactions to these products, but seizures can occur even if they have not happened before. You should be on the lookout for these and see your veterinarian if they occur.
See your veterinarian immediately if your dog exhibits nervous behavior, diarrhea, lack of appetite, depression, vomiting, seizures, tremors, and loss of muscle control. He will need treatment to counteract the effects of the toxins affecting him.
How to prevent the spreading of fleas in your home
One of the most common pests that can stalk our home are ticks, blood-feeding insects that can cause severe itching and endanger the health of our children or pets. It is important to maintain proper hygiene in the home and prevent these infestations from endangering our well-being.
Some steps you should follow to prevent flea infestations in your home are the following:
Deworm your pet: any domestic mammal can be attacked by ticks. Purchase products formulated for each animal, considering size and age. Remember to consult your veterinarian about the most appropriate brand and follow the product's instructions. Since dogs are the animals that can most easily bring ticks into the home, it is necessary to establish a deworming schedule to prevent a possible infestation.
Clean your pet's objects: your pet's objects and the places where he usually rests should be thoroughly cleaned the same day you apply the deworming product. Otherwise, ticks will climb back onto the coat. Vacuum all fabric objects (bedding, blankets, toys, clothes, etc.), then use a steamer, and finally, wash with two washing machine cycles using hot water. Water bowls, plastic toys, combs, etc., should be washed with hot water and a pet-safe cleaning product.
Disinfect your home: A thorough cleaning of the house is essential to get rid of ticks. Large ticks are easy to see, but a small one that survives can cause a big problem. To remove eggs, larvae, and small ticks from your home, vacuum all spaces, with special emphasis on the backs of furniture, as well as cushions, carpets, curtains, and corners. All fabric garments, including pillowcases, should be steamed and then washed in hot water in two washing machine cycles. Repeat the procedure with all the family's clothes, but do not wash them together with furniture textiles. After vacuuming, remember to close the bag and discard it. Otherwise, ticks will come out again.