The Best Filtered Water Bottle for 2023
These bottles promise to remove any harmful substances, and keep your favorite beverages ice-cold all day!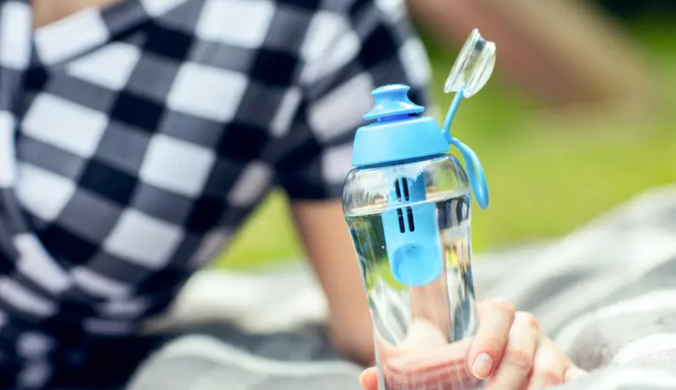 Filtered water bottles are the ideal travel companion to ensure that you keep safely hydrated on any trip. Having access to clean water is crucial to avoiding the potentially fatal effects of dehydration, regardless of whether you're traveling abroad, hiking in the mountains, or just going to your neighborhood gym.
Beyond just hydrating, filtered water bottles have other advantages. They provide peace of mind by ensuring you won't risk getting sick from contaminated water. In the long run, they are less expensive and more environmentally friendly than single-use water bottles.
When selecting a filtered water bottle, it's crucial to find a reputable and well-tested brand; otherwise, you risk significant health consequences. There are many options available that are effective, for sure, but they may lack reliability. This list will help you narrow down your options from among the many filtered water bottles that are now available to the best ones on the market.
How We Picked
Filtering Mechanism

The best filtered water bottle on the market will even eliminate viruses, heavy metals, pesticides, and microplastics. Because of this, you can obtain drinkable water from any source, regardless of how filthy it is. Finding a filter with the highest level of filtration capability is crucial if you want to feel secure.

Taste

The quality of good, filtered water should be a prime concern. Consider buying a filtered water bottle based on the taste (and odor) of the water it produces because it will remove nasty compounds like chlorine dioxide and heavy metals, which is perfect for filtering water that has already been deemed "safe."

Durability

A filtered water bottle's construction material is important because it affects the bottle's durability and ergonomics. Hard, sturdy plastics are significantly more durable than soft plastics and stainless steel because your bottle will get some bumps and bruises along the journey.

Cost-Effectiveness

Nobody in their right mind would want to spend a lot of money on a filtered water bottle that doesn't fulfill their demands, but choosing a cheap one would probably result in a low-quality item that lowers the quality of your filtered water, which eventually puts your health at risk.
Our Top Picks
Our Top Pick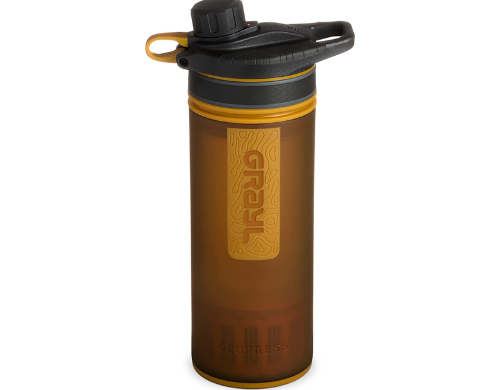 GRAYL stands out from the others thanks to its all-around ability to transform any water into invigorating, life-saving water.
The GRAYL Geopress filtered water bottle is our best choice if you want a one-filter-fits-all option. In addition to filtering out common bacteria and protozoa, it also gets rid of microplastics, chemicals, pesticides, and heavy metals. This makes it the best filter water bottle and outstanding for any water filter. It doesn't need batteries or pumping; all you have to do is fill it up, push the button, and drink. As a result, the flow rate is incredibly rapid and convenient because no longer waiting is required.
Although more expensive, this option is entirely worth your money
Our Runner-Up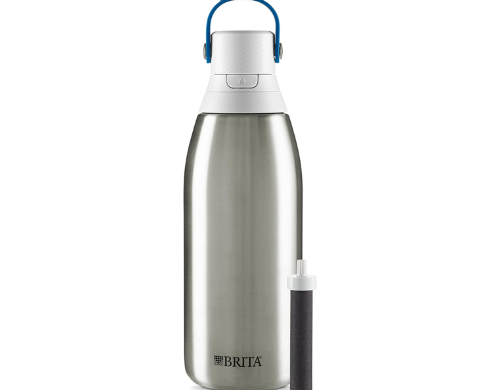 Brita's filtered water bottle provides good water and hassle-free hydration on the move, thanks to its removable filter that reduces chlorine taste and odor.
The water in this 32-ounce Brita water bottle stays ice cold for 24 hours. The carbon block filter is directly inside the straightforward stainless-steel construction with double-wall insulation. The leak-proof top keeps dirt and debris outside and water within. Open the lid and sip through the straw for a refreshing drink at the gym, a work meeting, or a music concert.
Stylish and reliable insulated filtered water bottle available in eight colors
Most Cost-Effective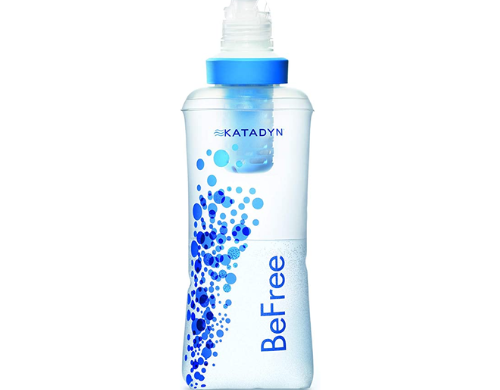 Best for outdoor activities, Katadyn is an inexpensive collapsible flask that only takes up a small amount of room in your gear bag.
The Katadyn BeFree bottle is an obvious option for our top lightweight pick because it can be collapsed to fit into even the smallest and tightest spaces. Instead of a conventional water bottle, this filter keeps water in a collapsible flask pack, which can be readily shaped into any backpack, bag, or purse. To surpass EPA regulations, its hollow microfilter has been tested for protection against bacteria, protozoa, and dangerous organisms. Due to its small size and speedy hydration in under a minute, this bottle is ideal for outdoor activities like backpacking and hiking.
Want a quality, budget-friendly option? Look nowhere else!
Everything We Recommend
Our Top Pick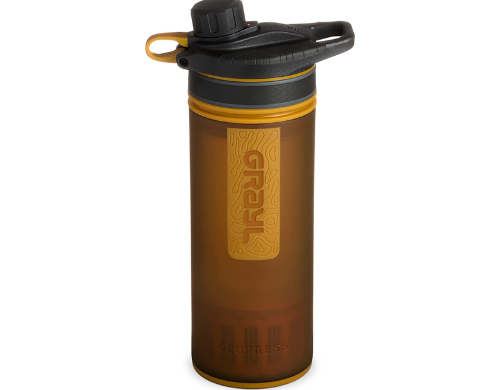 GRAYL stands out from the others thanks to its all-around ability to transform any water into invigorating, life-saving water.
$89.95
Our Runner-Up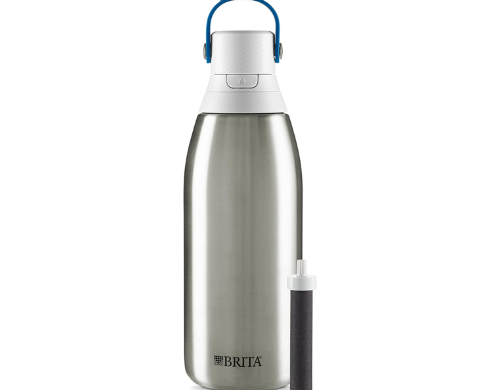 Brita's filtered water bottle provides good water and hassle-free hydration on the move, thanks to its removable filter that reduces chlorine taste and odor.
$41.49
Most Cost-Effective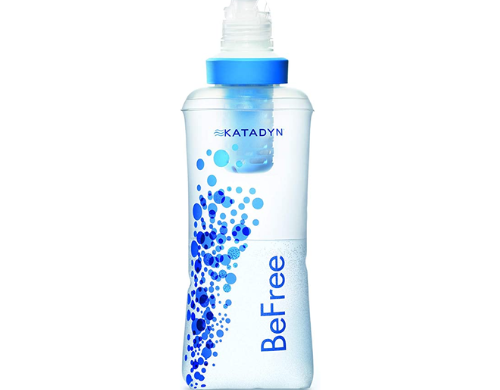 Best for outdoor activities, Katadyn is an inexpensive collapsible flask that only takes up a small amount of room in your gear bag.
$36.96
Who This Is For
Anyone who wishes to improve their water quality with a functional, reliable solution, regardless of budgetary limitations. Whether going on a day trip, spending a few weeks in the backcountry, or even searching for a portable, daily solution to tap water toxins like lead and chlorine, having access to safe drinking water is one of the most important things you can do.
No matter where you obtain your water, you never know what you will get. While boiling water can help make it drinkable, doing so needs a lot of equipment, and carrying around huge amounts of clean water isn't exactly practical, especially while on the move. That is why a filtered water bottle is essential if:
you go hiking, trekking, or on other outdoor trips
you visit other countries where you are unfamiliar with the water procedures, and it might be contaminated
you are concerned about tap water quality
you enjoy drinking bottled water but want to limit your plastic waste
Bottled water vs filtered water – what's the difference?
Regular bottled water provides good and clean water, but you must bring many of them in your bag while going outdoors. However, filtered water bottles let you quickly filter any water source and are reusable. As a result, you only need to carry one empty filter bottle, saving up a lot of room and lighting your load.
When you're ready to travel the world, there's already a lot to put your money on. Using bottled water will be an expensive alternative because you will need to purchase many bottles. Contrarily, purchasing a single filter bottle will enable you to enjoy safe and clean water while saving you money that can be used to purchase other items.
Additionally, everything should be enjoyed, but not at the expense of damaging the environment or your health. Plastic water bottles used for everyday purposes cannot be reused. You put them in the garbage once you're finished with them. As a result, there is an increase in plastic trash, which is terrible for the environment.
On the other hand, water bottles with filters are refillable, enabling you to use the same bottle in the long term by just replacing its filter. We know you don't want to risk your safety to protect the environment. Rest assured because a filtering water bottle takes care of everything, stopping you from consuming dangerous germs or chemicals, and reducing the amount of trash that enters the environment.
Is it worth splurging on?
To put it short, spending more money on this kind of product is worthwhile as you are investing the money to guarantee that your water is safe to drink. Even while many tap and groundwater sources are entirely safe, consuming water from an unknown source is never worth the risk. Even though a water supply appears clean, it may include hazardous bacteria, viruses, protozoa, or other microscopic organisms that are invisible to human sight and make the water unfit for human use. And even with the Safe Drinking Water Act in place, tap water still has the potential to have toxins like lead, chlorine, arsenic, pesticides, and even bits from faulty wastewater treatment. In light of this, why not try a filtered water bottle instead? Filtered water is always healthier for you whether you intend to drink local municipal water or natural water from rivers, streams, lakes, and other sources.
Even if you have a particular location in mind, you may never be sure of the water's purity. Whether you're going to the gym, a distant area in Southeast Asia, or your office, the water from a spring or a tap, for instance, is bound to have chlorine at the very least in terms of flavor and odor. With a dependable water bottle equipped with a filter, you'll never have to worry about water quality, bringing peace of mind and helping prevent health problems. Filtered water bottles can make any water drinkable by removing potentially dangerous chemicals, germs, viruses, and more. The price is reasonable. Instead, you stop spending as much money on bottled water. It is the most practical, easy-to-use, and environmentally responsible option compared to disinfection tables, UV light wands, hard pump filters, and boiling procedures.
Why You Should Trust Us
A consumer may find it overwhelming to choose the best-filtered water bottle from the wide selection offered online. There are several alternatives for filtered water bottles, many of which use marketing jargon to divert your attention. To relieve you of this load, we have thoroughly reviewed the essential end-user experiences. We've done extensive research to find the best-filtered water bottles for you out of the wide range of brands, filtration options, designs, and prices.
How We Picked
Nobody enjoys drinking water from a low-quality source with an unpleasant flavor, a slimy feeling, or both. As a result, when we listed our top recommendations of filtered water bottles, we strictly adhered to the criteria we had established for the filtered water bottle we reviewed. These included:
Filtering mechanism
To get the most use out of your filtered water bottle, choose a design with a long-lasting, high-quality water filter. Some water bottles use multiple-level filtering processes to eliminate dangerous microorganisms and purify the water. Others eradicate the mineral or chlorine flavor. If you're only using the bottle to filter workplace tap water, certain more expensive filters, such as those meant to remove dirt from unclean lake water, are optional.
Most filters are made of activated carbon, which is a common substance. But there are significant differences in filtering levels. The longer you can use a filter before replacing it, the higher its quality must be. Search for a filter that can effectively remove impurities from water while also enhancing flavor and odor. The filter in your bottle should last for around two months on average. To benefit from drinking safe water from your bottle in the long run, you must regularly change your filter.
Taste
After filtration, water should be odorless, colorless, and, of course, tasteless. We chose filtered water bottles that can provide this level of quality.
Ease of use
A filtered water bottle should be simple to use. Some filtered bottles filter the water as you sip it through the straw, while another method pushes the liquid through the filter. Some bottles feature a typical opening that you must tilt to use, which is frequently more practical than a filter straw.
Ease of cleaning
If you wish your filtered water bottle to be used as long as possible, you must be able to frequently clean it to maintain it in excellent shape. Some water filtration bottles are simpler to clean than others; for added convenience, some may be put in the dishwasher. Before buying a product, you can read the reviews to see whether anyone has reported a cleaning or hygiene issue with the bottle.
Shape and size
Size and shape depend on your preferences and the kind of activity you're undertaking. Filtered water bottles are available in various shapes and sizes, and your intended purpose will determine the best option for you. If you want to bring a water bottle with you on a trip abroad, consider a more compact and lightweight one. However, size and weight may be less crucial if you plan to bring your bottle around the local neighborhood daily.
Design and style
There are many different styles and types of water bottles with filters. Each filtered water bottle has a unique design that helps it perform its intended function. A water bottle could have a bigger capacity and a carrying loop for daily usage. Those intended for harsh situations may be made of polypropylene, a tough material that will not dent if dropped. Color and ornamental design are also important considerations.
Price
The cost of receiving clean water through these filters varies substantially, even though they all serve the same primary purpose. Furthermore, when your health is at stake, buying a cheap bottle from an unproven brand is not worth it. A filtered water bottle should be relatively inexpensive, though. We wanted to make sure you could receive quality without worrying about money.
Type of material
Like conventional reusable water bottles, filtered water bottles are made of various materials, the most popular being plastic and metal. It is entirely up to individual choice and intended usage when deciding which material to use; however, if you choose plastic, be sure it is free of harmful chemicals like BPA. Some water filter bottles are composed of lighter, more malleable polymers that can be folded up. Metal water bottles may be heavier and more clunky than plastic bottles, but they tend to be insulated and will keep your water cooler. For some purposes, certain materials will work better than others. The technology it uses, how dependable it is, and how thoroughly experts have tested it are what matter most.
Care and Maintenance
Is it machine washable?
Most bottles—NOT the filters or purifiers—should be safe to use in the dishwasher, but you should follow the manufacturer's instructions precisely. To avoid damage, some manufacturers advise, for instance, that you place the water bottle on the high rack of a dishwasher. Therefore, look for suggested maintenance guidelines on the manufacturer's website before buying a new filtered water bottle. If a filtered water bottle is dishwasher safe, it will often say so in the product description.
Water bottle labels that are dishwasher-safe come in a variety of forms. Your water bottle may feature the wording "dishwasher safe" or one of the following symbols on the bottom:
– a square with an emblem of a cup and fork within
– a square with a wine glass and water drops within
– a plate or some plates with water drops or dotted lines above
If your water bottle can be machine washed, please take the filter off before putting it in the dishwasher. Except for UV light purifiers, most filters and purifiers can endure brief rinses in fresh, room-temperature water. Any extreme heat, cold, or force can harm the filter's sensitive constituents and render it useless.
How to wash and dry
Cleaning most filtered water bottles is as easy as cleaning most normal ones. But, since the materials used in the bottle and the filtering/purifying elements vary significantly from one model to another, always consult the manufacturer's recommendations for your specific bottle. Simple soap and water should work if you want to wash your water bottle daily.
Usually, all you need to do is remove the filter, put the bottle in a gentle dishwashing solution, and use a sponge and a bottle brush to clean every nook and cranny. Due to its difficulty to wash, the bottom of the bottle occasionally becomes a breeding ground for germs and mold. By cleaning it often, odor-producing germs won't spread too rapidly. Then, allow them to air dry at room temperature.
Try to clean the filter as well, but you can't clean it from the inside. With a clean, moist cloth, wipe the filter casing's outside. Ensure you don't wash the filter with any soap or other chemical treatments except as approved by the manufacturer. Never place a filtering or purifying assembly in a dishwasher or freezer or submerge it in extremely hot or cold liquids (including clear water).
Where and how to store when not in use
With so many choices for excellent filtered water bottles, it's simple to amass a sizable collection. Keeping the kitchen organized is a typical challenge. The mess may be overwhelming, from broken caps to overflowing reusable filtered water bottles. The first thing to remember is to store the bottles only once they are totally dry. In many cases, leftover water causes bacterial growth and general muck. To be extra sure, keep the bottles upside down so that any water that could have gotten left behind might drop out.
A wine rack may be used to display your collection. For this method, the bottles must be resting on their sides, so properly dry them off beforehand. Another helpful item is movable bins that you can access from your pantry. They won't tumble over, and you can quickly view all of your options because they double as a drawer. Keep the caps of your bottles in a smaller container within the larger one if you want to store them upside down. If your bottle's lid cannot be removed, keep it open when storing.
Last but not least, place drawer dividers in a drawer tall enough to support your bottles while making sure the lids are left open to allow for adequate drying. If you intend to keep the filter for a while, give it a quick cleaning under running water and let it air dry. Then, you can put it in a ziplock bag and keep it in the kitchen cupboard.
In case of odor
Filtered water bottles are much better than single-use plastic water bottles since they are ecologically friendly. However, the major drawback is that people aren't cleaning them correctly, which causes them to grow an odor that discourages people from using them. Or even from buying new ones, which may get expensive over time and produce more trash. Glass and plastic frequently hold onto smells. Fortunately, food-grade 18/8 stainless steel is typically a better option. Nevertheless, reusable bottles without self-cleaning technology might get so dirty that they can make you ill.
There are several methods to eliminate the odor from your water bottle:
Soak in hot water
After leaving the bottle unwashed for more than a day, a thorough overnight soak in hot water should eliminate any slight stink. The following day, wash with warm, soapy water and do a sniff test to determine whether the odor has subsided. Try the next step if the smell persists.
Soak in a solution of baking soda
Due to its deodorizing properties, baking soda is frequently used in various cleaning procedures. Pour warm water into your bottle and then add 2 heaping tablespoons of baking soda. Let it sit for a few hours or, even better, overnight for optimal effects. After a thorough rinse, do another sniff test on your bottle. Still smells strange? Try the following technique.
Soak in white vinegar
Surprisingly, vinegar's astringent qualities enable it to effectively neutralize smells. If you don't have enough white vinegar, you can dilute it with warm water and leave it in your water bottle overnight. Rinse with warm, soapy water in the morning. There may occasionally be a vinegar smell after the soak, but don't worry—an additional overnight soak in hot water should eliminate the scent.