The Best Faucet Mounted Water Filters of 2023
Eliminate contamination of your tap water with the best faucet-mounted water filters.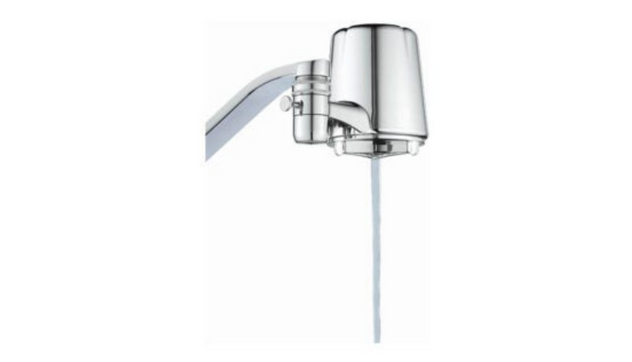 Faucet-mounted water filters are the best option for households who drink their water right through from their tap. This is because they can filter out contaminants in tap water so you can drink, cook, or wash dishes with cleaner water. This filter removes more contaminants than normal pitcher filters because of the water pressure in the pipes. It means the filter can be denser and make it more effective. The faucet-mounted water filters also last longer than pitcher filters. The faucet-mounted water filter lasts up to three months or for up to 100 gallons of water while the pitcher filter only lasts two months or 40 gallons.
There are several considerations to select the best faucet-mounted water filter for your home. Here we'll guide you to find the top options on the market.
How We Picked
Filter volume capacity

It's important to consider the faucet-mounted water filter volume capacity because the volume indicates the expiration date of how often you need to replace your filter with the new one. If it has a bigger capacity, you will spend less money to frequently replace the mounted water filter.


Water quality and taste

You do not want to pick the wrong one because the water will be consumed by you and your beloved ones. With a good quality faucet-mounted water filter, the water will be odorless and no contamination can affect the water taste.


A.N.S.I./N.S.F. Certified

It is important to find out whether the faucet-mounted water is A.N.S.I./N.S.F. certified or not. Because it means the filter has been tested in an accredited lab and has been found to reduce a given contaminant below the E.P.A.-mandated level for drinking water.


Price

The price needs to be considered because your faucet-mounted water filter can be expired. It can be used for like three months or after 100 gallons then you need to replace it afterward by buying the new one.

Who This Is For
Faucet-mounted water filter is for people who want to filter and eliminate the contaminants from their drinking water. As we know that tap water can contain many potential particles and contaminants in it. This is a big concern to those who consume water every day for washing the dishes and for people who drink straight from the tap/faucet. They may end up drinking poisonous water that's not good for their health. Some faucet-mounted water filters can also filter micro bacteria inside the water so you can safely drink and wash the dishes with your faucet water.
Faucet Filter vs. Water Filter Pitcher
If you prefer to drink filtered water straight away from the faucet, the faucet-mounted water filter is perfect for you. It is more practical and can help you save money, especially if you have a big family. If you don't mind waiting longer to filter your water to get cleaner water and also you want to remove contaminants with a portable option, a water filter pitcher is suitable for you. The water filter pitcher is dishwasher safe and also can be put inside your refrigerator for a cool drink.
The faucet-mounted water filter is mounted or attached to a faucet and purifies water by reducing the contaminants inside the water. It needs to be installed and requires no permanent changes to plumbing, so that's why it's perfect for rentals. They usually use activated carbon, K.D.F. filter media, and also sometimes ion exchange resin for filtering water. This system makes your drinking water safe for consumption. When you switch on the faucet, the water will pass through the filter media and will absorb certain contaminants, and pull them out of the water. The filtered water then flows out of your faucet and is ready to be consumed.
The water filter pitcher is a pitcher that contains a filter that usually uses activated carbon or combined media and has two chambers. To pass from one chamber to another the water must flow through the filter first. The water filter pitcher relies on gravity for filtration, when you pour your water from the spout, you'll have the filtered water that's ready to be consumed.
Is It Worth Spending On?
First, you can test your water to discover what potential contaminants may be found in it. You may check it on your local Consumer Confidence Report (C.C.R.) to identify the possible contaminants in your local tap water, especially if your water smells and tastes bad. Or for the safest solution, you can send the water sample to a certified lab to get an accurate result. Faucet-mounted water filters are a cheap solution to access pure drinking water from your home tap. It can save a lot of money because you can stop drinking bottled water. It is worth it to drink cleaner water at an affordable price.
Horizontal-Oriented vs. Vertical-Oriented
There's no difference between horizontal- or vertical-oriented faucet-mounted water filters. The option is in your hands. If you like it to be vertical, you can go with the vertical one, and also vice versa. The shape orientation is for aesthetics only. It has a similar purpose and can filter the water in the same way. What is important to consider is what the filter is inside and whether it works efficiently, not whether it is horizontal or vertical.
Why You Should Trust Us
There are so many faucet-mounted water filters on the market. There are also some familiar and unfamiliar brands available on the marketplace. We only selected the top brands that have been trusted by a lot of people and have been used for many generations. What we pick has been known widely and some of you may already use it to filter your faucet water.
How We Picked
There are several considerations we used when picking the best faucet water filter. The things we need to consider include A.N.S.I./N.S.F. certification, water quality, water taste, reliability, ease of installation, ease to clean, size, style/design, price, and durability. Those are how we know whether a faucet-mounted water filter is legit or not.
A.N.S.I./N.S.F. certifications can be the benchmark to see the performance of the water filtration system. Once you know what contaminants are in your water, we can look for the specific A.N.S.I./N.S.F. certifications to ensure the faucet-mounted water filter can remove or reduce the impurities. The certification means that the company is trusted and confident to give the best products to the customers.
To know the water quality of faucet-mounted water, we had to test it. But An easy test at home is by simply using the filter by drinking water from it. If it is odorless and does not have a weird taste then you can say that the water has good quality.
We know that the faucet-mounted water filter has an expiration date. It can be measured by its gallon capacity. Mostly, after more than two months, the water starts to come out slower and may taste unpleasant. That means the filter is probably clogged up to work effectively, and we need to replace it with the new one. But after you replace it with the new one, the water taste will come back pleasantly normal.
After how long does the faucet-mounted water filter need to be replaced? It is different from one product to another. Some products provide longer longevity, which means that you can replace them longer than the average time. It can save you money not to buy the new filter too often. However, the filter usually needs to be replaced after two or three months of usage for 100-200 gallons capacity.
Faucet-mounted water filters are very easy to install. All of the products mentioned here come with no tooling requirement for installation. It means that installing the water filter is easy and you do not need to call a plumber to help you with the pipes. It also saves money!
The faucet-mounted water filter has to be easy to clean. The debris and contaminants need to be removed from the filter and also clean the canister housing. We should remove the debris inside the canister too before reassembling the filter. Cleaning the filter can extend its lifespan, which means you can save money.
With a smaller filter, people may think it will perform less effectively and efficiently, but it's wrong. It is less important than the material of the filter. Activated carbon can trap particles of 0.3 microns and higher. The water filtered will directly flow out of the other end because the system is attached directly to a faucet. The water pressure forces the water to filter at high speed, so you can drink the water immediately when you turn on your faucet.
The style and design can be selected based on your preference, we prefer to have the stainless steel faucet-mounted water filter rather than the plastic one. You can choose whether it is vertical or horizontal, but it works the same. The stainless/chrome filter casing will last longer and be more durable because it protects the filter body and prevents the interior filter from dust. So basically, the style or design has to be less considered because it won't affect the function.
The price sometimes tells the quality, the more expensive, the better the quality is. It can also be true, but the most important thing is your needs. Does the faucet-mounted water filter work properly for your water source? Because by using this filter, you can save a lot of your money from drinking water bottles.
A faucet-mounted water filter exterior can be made from plastic or stainless steel. A stainless exterior will last longer than plastic. The interior of the cartridge filter needs to be replaced every one to three months. If it has a bigger capacity then it will last you a long time to replace and save more money.
Care and maintenance
What you need to consider is that a faucet-mounted water filter consists of the exterior and the interior. The exterior is called a canister, the outside casing holds the interior filter. While the filter is the interior, where the cartridge filtering system is. We need to clean both of them properly by first removing the faucet filter that is attached. You can twist the cover off to detach it. Second, you can examine the filter, if you clean it more often at least once a month it will make your faucet-mounted water filter last longer. If you've already seen it as a sign of torn up then you need to swap it out for a new filter. You can see the signs of its rust and the water starting to have an unpleasant smell. After removing the filter, you can empty your filter debris and dirt that were trapped inside. Cleaning the canister housing is an important step afterward. You can use mild dish soap or three cups of water combined with one cup of vinegar and leave it to soak overnight for deeper cleaning. After cleaning, you can run it under the water to remove any remaining dirt or debris. After you make sure all of them are cleaned well, you can reassemble the filtration system and install it onto your faucet. After being installed, switch on your faucet and leave the water to run for five minutes. It's for getting rid of any algae or dirt from the aerator. It depends on your faucet-mounted water filter product's lifespan and the capacity that you're using. You can replace the filter after two to three months or if it's needed.