The Best Fake Potted Plants for 2023
Give fake potted plants a try before you decide against them!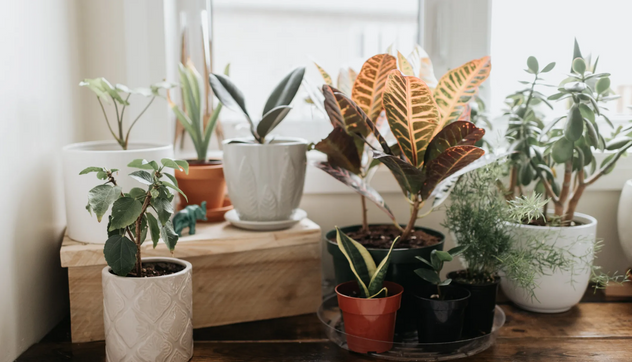 Do you still believe that fake plants are tacky? Fake plants are a cool trend supported by designers, celebrities, and influencers. They're also low-maintenance. When you get a fake plant you just dust it like the other furniture inhabiting your place. Easy, right?
Fake plants are durable and cost-effective. When it comes to taking care of your plant, surprise, there is no extra care. Ideal for busy and forgetful humans!
Fake plants are versatile. Arrange the plants wherever in your place as the weather doesn't play a role here. Isn't that fantastic?
Fake plants are pet friendly. There's no need to select specific plants while worrying about the effect they could have on your pet. This also applies to people with allergies. Whether you don't have time to take care of natural plants, or you don't want to bother, fake plants are for you!
How We Picked
Realism

What makes an artificial plant great is its similarity with the natural plant. The features to look at are the leaves, the trunk, the color, and the overall shape.

Material

Plastic is the preferable material for fake plants because it's more durable than fabrics or silk. The point of choosing an artificial plant is its durability.

Maintenance

When you get an artificial plant you're looking for the comfort that doesn't come with natural plants: no soil, no water. They're low maintenance, just dusting.

Cost-Effectiveness

A fake plant is a long-term investment. Because you only need to buy your plants once a year. And most importantly, they don't break or wilt in the way.
Who This Is For
Who doesn't want an apartment full of plants? Who doesn't envy mainstream movies with plenty of plants in the living room? Who doesn't feel happier surrounded by plants?
Fake plants are a long-term and low-maintenance solution for both your indoor and outdoor home.
When you get a fake plant you are buying plants once. This is a time-saving and cost-effective advantage in front of natural plants.
Because taking care of a fake plant requires almost no effort and extra investment, it's undoubtedly a convenient option.
Mental Health Benefits of Having plants – Fake or Real – In Your Home
According to researchers, being surrounded by green spaces has multiple benefits.
Overall, you will be more positive and hopeful when confronting life and happiness. This is the main reason why people buy plants. There are also other benefits, including but not limited to reducing stress, contributing to fighting illnesses (depression, post-traumas, or dementia), and increasing creativity and concentration.
Are Fake Plants Worth It?
Like other decorative items, being tacky or not goes with the personal taste and the quality of the product.
For a while now, celebrities and influencers have been using fake plants, so the concept is no longer associated with cheap products.
Back in the time, the tech was not as advanced as before, so the fake plants used to look very artificial. Nowadays there is a big range of manufacturers using different materials that can conquer the most skeptical plant-lover.
Why You Should Trust Us
National Today is a source you can trust. First, we check what users' reviews of major e-commerce are. Then, what the manufacturer says in their official channels. Last, we can create an opinion that gets supported with evidence.
How We Picked
What makes an artificial plant great is its similarity with the natural plant. You need to confront how natural and artificial plants look by themselves.
The best scenario is to go shopping and browse your faux plant target. Touch, look, and at the same time, compare it with the real plant picture.
After analyzing the features, always keep in mind the natural plant as a reference.
The points we looked at to determine our top picks included:
Color and Shape
The decisive features when choosing are color and shape. Because the shape of the leaves is mainly what gives realism to the plant. The color should also be similar to the natural flower or plant.
Material
The material is important because it determines durability. Plastic plants are more realistic and durable than fabric plants. So always go for plastic.
Furthermore, a lot of existing plants already have similar textures to plastic, such as
aloe.
Realism
Realism comes with the quality of the materials and the good imitation of the leaves and trunk both shape and color.
To avoid tacky fake plants don't buy colors or textures that seem glossy, as well as models that include natural details, like raindrops.
The best way to add style to your fake plant is to treat it like a natural plant. For example, use a vase that typically pairs with the type of plant. Or add faux moss if not included in your plant.
Size
When it comes to sizes, potted plants are more realistic than other types of faux plants. Mostly this is because the potted natural plant is easy to copy, like palm trees, cactuses, bamboo, grass, etc.
Choose a potted plant that fits your spot size. For a small space maybe choose mini cactuses. For a big spot probably go with a Palm Tree.
Weight
Plastic plants don't have a lot of weight because plastic is a light material. So, the weight comes from the vase material. Keep in mind that there is no soil in the fake plants, so the faux moss doesn't add weight. Because there is no weight, don't place your artificial plant in windy corners, and if you do, use a heavy vase to avoid the plant from falling.
Care and maintenance
The enemy of fake plants is dust. So to keep your plant looking real, just dust now and then.
It's such a low-maintenance product that you probably have the cleaning tool already at home, such as a microfiber duster.
The frequency to clean is the same as any other decorative, weekly dusting, quarterly, and deep cleaning.
To deep clean plastic fake plants, you can use three popular methods: shower and dry, leaf-by-leaf, and vinegar and spray.
There is no need, but if you want extra care, manufacturers recommend using a leaf shine product. This prevents dust and adds shine for some weeks. But remember, the point of getting fake plants is that they need very little care.