The Best Espresso Machine for 2023
You can start your day with the frothiest espresso shot possible thanks to these best coffee grinders and their accessories.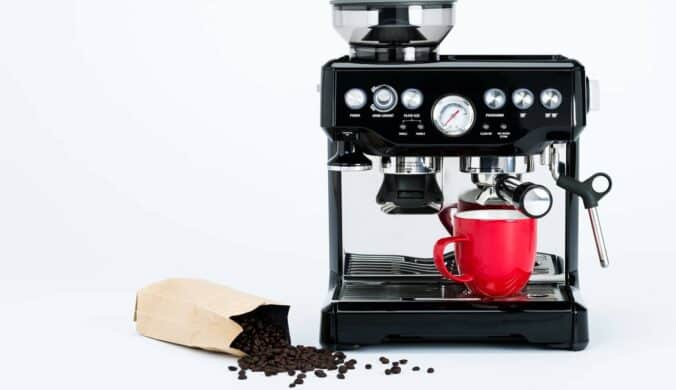 How you start your morning often sets the tone for the rest of the day, and for those days when we wake up a bit groggy and unmotivated, there's usually one thing that is guaranteed to do the trick — coffee!
A shot of espresso a day keeps the tiredness away! Today, we are getting into the grind of it all with the top espresso machines and accessories available on the market. These machines are beginner-friendly and suitable for all users, from casual coffee drinkers to professional barristers who are always itching to show off their creativity. Their grind quality and impeccable frothing are sure to leave you coming back for more after each brew.
How We Picked
Cup Size and Capacity

How much coffee do you usually need for a hard reboot? With our top picks, you can brew enough coffee to get you and other members of your household going for the day.

Quality of Grind

The yummiest cup of coffee begins with the finest grind of beans. Our chosen machines give you the best quality of coffee grinds to make sure your espresso always comes out on top.

Noise and Speed

It's stressful enough having to roll out of bed each day and go about your routine, so you shouldn't have to spend all the time in the world or wake up the entire house just to get some decent coffee.

Cost-Effectiveness

The goal is to feel like you're having the best Starbucks coffee right from your home, without spending as much to get it. We have chosen machines that give you the best value for money and will save you money in the long run.
Our Top Picks
Our Top Pick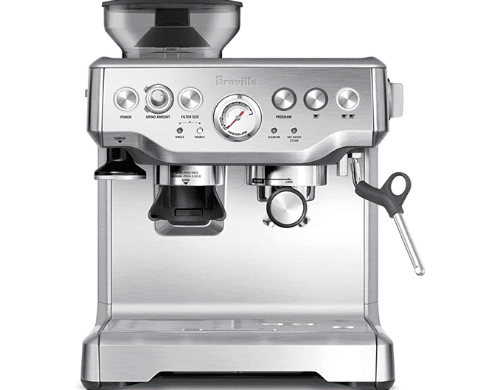 An all-in-one machine that seamlessly and quickly satisfies all your coffee needs.
One thing the Breville Barista Express espresso machine is known for is delivering quality cups of coffee with each brew. With this machine, you have the freedom to control integral parts of the espresso-making process and brew coffee that fits your exact taste. It is also the perfect beginner-friendly option as it includes a burr grinder, digital temperature control, and manual milk steaming all in one! Although the Breville Barista Express has a bit of a learning curve, the results make the patience all worth it.
The best all-in-one machine, taking you from bean to espresso in less than a minute.
Our Runner-Up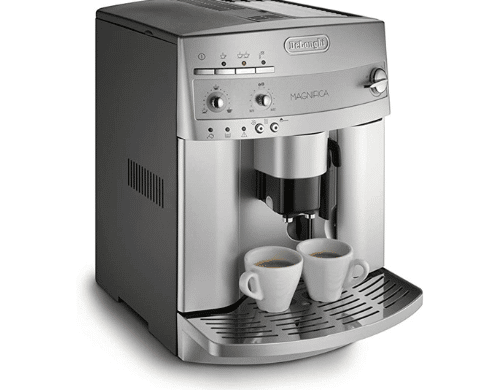 A machine that thinks for itself and delivers top-tier coffee options every time.
If you're a beginner and are looking for a machine that just gets the job done with little to no effort from you, then allow us to introduce you to your perfect match! The De'Longhi Magnifica Espresso Machine is a highly intuitive all-in-one espresso maker. This machine features push-button controls that are easy to learn and automate the coffee-making process with barely any input from your end. It doesn't just stop at espressos. The De'Longhi Magnifica Espresso Machine is fit for making all types of creamy coffee delights, from cappuccinos to lattes.
An intuitive machine fit for making espressos, cappuccinos, lattes, and other creamy coffee options.
Most Cost-Effectiveness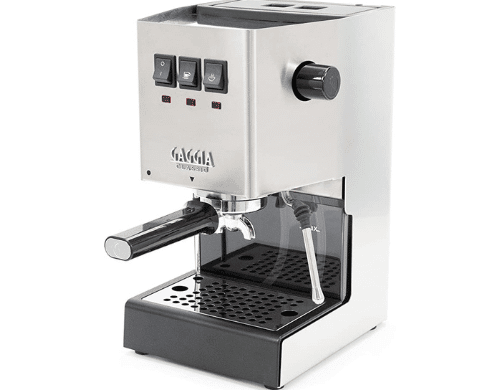 Become a home barista with this easy-to-use, cafe-worthy coffee-making machine.
This machine is the most suitable option for aspiring home baristas. The Gaggia Classic Pro Espresso machine serves commercial cafe-quality coffee at an entry-level price. If you're looking for a machine that takes the guesswork out of brewing and offers straightforward functionality, then this is the one for you. With its roots grounded in the origins of espresso itself — Italy — you are sure to get premium coffee quality worth bragging about.
The straightforward choice offers top-quality espresso shots with minimal effort.
Everything We Recommend
Our Top Pick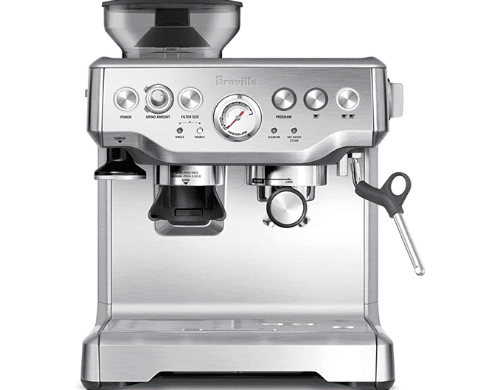 An all-in-one machine that seamlessly and quickly satisfies all your coffee needs.
$749.95
Our Runner-Up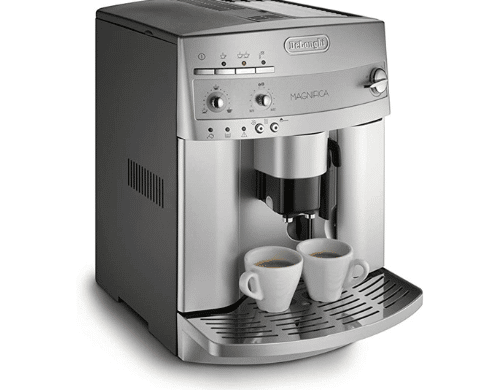 A machine that thinks for itself and delivers top-tier coffee options every time.
$799.95
Most Cost-Effectiveness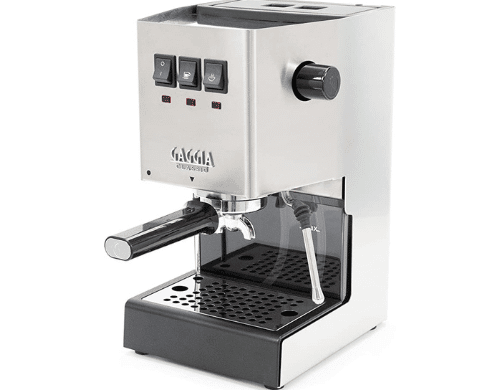 Become a home barista with this easy-to-use, cafe-worthy coffee-making machine.
$433.98
Who This Is For
These products are for coffee lovers and particularly for individuals that just can't go without their daily shot of espresso. If you're tired of having to wait in long lines at your neighborhood coffee shops, our selected beginner-friendly home espresso machines are sure to ease your stresses, save your time, and turn you into the best barista there is.
Must-have accessories for a home coffee machine
It is not just enough to get a coffee machine, you must have the necessary accessories and equipment that will make the job a whole lot easier. Our selected espresso machines mostly come with a majority of the equipment listed below, however, in the case they don't, here are some important tools to have before using your home coffee machine:
Coffee grinder – Some coffee/espresso machines come with an integrated grinder, however in the chance they do not, you may require a separate grinder if you aren't a fan of ground coffee and like your process to go from bean to coffee.
Tamper – This accessory is used to evenly compress coffee grounds into your espresso portafilter basket. The more evenly the grounds are packed, the higher the quality of the shot.
Tamping mat – Now that we've established the purpose of a tamper, where do you get the tamping done? That's where a tamping mat comes in. These silicone/rubber mats are surfaces used to protect your countertop and tamper while undergoing heavy tamping. They also provide an easy place to store your tamper when not in use.
Knock Box – You may not understand the relevance of this tool until you're struggling to take the puck out of your espresso basket and into the trash. A knock box is used to easily knock out/discard spent coffee grounds after the espresso has been pulled from them.
Milk Pitcher/Jug – This accessory often comes with the machines. However, if you are looking to broaden your creative barista skills, you may want to get a separate one for steaming and decorating your lattes, cappuccinos, and other frothy coffee drinks. We recommend going for one with a handle and a narrow spout for more precise coffee art.
Serving cups – The right serving cups go a long way towards elevating your coffee-drinking experience as a whole. So, whether they are shot glasses or average coffee cups, make sure you are getting the right one for your needs.
Cleaning products – If you already own or have previously owned a coffee machine, then you know how important it is to frequently clean them. The right cleaning tools go a long way towards making that possible. You'll need cleaning liquid/powder/tablets, descaling liquids/tablets, grinder cleaner, and microfiber cloths/towels.
Other items that are nice to have but not entirely necessary if you have a home coffee machine are a weighing scale, electric kettle, leveler, puck screen, funnel, measuring cups, and water filters if you are based in a location prone to hard water.
Is making coffee at home cheaper than buying one?
At the initial purchase, buying a coffee/espresso machine might seem like an out-of-pocket expense, but honestly, what great and useful product doesn't? In the long run, owning a coffee machine and making your delicious cups at home will save you a lot of money compared to buying coffee outside, especially if you're an avid coffee drinker. Depending on location, a cup of coffee can range anywhere from $1 – $5 per cup. In contrast, making coffee at home will cost you 18 cents per cup at most. Another thing to consider is that a well-maintained machine can last you for many years to come, so just think about how much money you could save in all that time.
Why You Should Trust Us
With our busy schedules and tasking responsibilities, more often than not, we need some motivation and a lot of energy to get through the day. One of the easiest and most popular ways to recharge is by having a cup of coffee, or better yet, a quick shot of espresso. We understand the detail and precision that goes into perfectly blended and brewed coffee, and also recognize the importance of having the right set of tools to get the job done. That is why we have sourced only the best espresso machine grinders and accessories on the market, so you can have cafe-style coffee every day without leaving your house or joining unnecessary Starbuck queues.
How We Picked
Here are a few factors we seriously considered when making our decisions for this article.
Cup size
The size of the cup you use for drinking your espresso is just as important as the size of the portafilter basket for making the espresso. Adequate cup size for espresso measures between 2-3oz, and if your cup is too big, you risk the crema spreading out too quickly. Our chosen espresso machines are programmed to deliver shots that make the best espresso quality.
Water capacity
If you drink a lot of coffee or have a lot of family and friends over, it can be tedious to constantly refill water for brewing. Your next espresso machine should have ample water capacity that can deliver several cups/shots without needing to be refilled.
Max. temperature
The temperature of a well-brewed espresso goes a long way toward affecting the quality of the drink. When selecting our top espresso machines, we not only considered how hot they can get but also how well they regulate temperature to produce the perfect coffee drink.
Speed
One of the top reasons for getting a home coffee machine is to save time. The best machines not only reach their maximum temperatures quickly but also deliver your cup(s) of coffee without taking long.
Noise
Your entire neighborhood doesn't need to know when you're brewing your coffee. Machines that produce little to no noise are the best choice.
Fineness of grind
The finer the coffee grind, the higher the quality of the coffee drink. Our top picks grind coffee beans to fine grounds that make your beverages even more enjoyable.
Adjustability
How easy is it to select preferences or switch processes with your current coffee machine? Well, with ours, they are easily adjustable to suit whatever needs and cravings you may have at the time.
Frothing capabilities
Weakly whisked froth can quickly take a well-brewed coffee from cafe-level to amateur hour. That is why it is so important that your home coffee machine has high-quality frothing and steaming capabilities to give you the creme de la creme of creams.
Quality of end product (coffee)
This factor is pretty self-explanatory. If a coffee machine doesn't deliver top-quality coffee, then it does not fulfill its primary purpose and can practically be considered useless.
Style/design
When a lot of people consider getting a coffee machine for their homes, they often cannot seem to picture just how it'll look in their kitchen. The machines discussed in this article have clean designs that can fit and blend into any kitchen.
Size
Another cause for concern often lies in how these machines can fit into kitchens, especially those pressed for space. With our top picks, you can eliminate that fear because they are compact enough to fit into just about any space.
Placement
The highlighted machines in this article can be easily placed on any kitchen countertop in any specific location of your choice.
Price vs quality
As usual, we strive to give you suggestions that offer the best value for money within their price range and are affordable enough so you don't have to break the bank.
Accessories
Just as we mentioned earlier, there are several important accessories you cannot do without when it comes to owning a coffee/espresso machine. Our top picks already come integrated with most of these tools — tamper, filters, jugs for water and milk, cleaning products, scale, knock box — so you have fewer things to worry about.
Care and Maintenance
Failure to properly care for your home espresso machine can result in poor performance. You can experience several maintenance issues, such as poor/inconsistent brew quality, blocked pipes and filters, offputting flavors, and expensive repair costs. How often you clean your machine depends on the kind of cleaning you want to carry out. Routine cleaning should be done after every use of the machine, while deep cleaning can be carried out weekly for frequent coffee drinkers or bi-weekly for casual drinkers.
How to care for your home coffee machine (daily routine)
After each shot, knock out any spent puck into your knock box or bin if the former is unavailable to prevent oil from sticking onto your portafilter basket.
Wipe down your steam wand with a damp microfiber cloth to prevent coagulated milk.
Rinse the portafilter for two to three seconds after each shot and wipe it down with a clean rag.
How to care for your home coffee machine (weekly/bi-weekly routine)
Study your user manual for more specific, guided instructions on how to clean your machine, and make sure to avoid internal coils by all means, especially when on and hot, so as not to short the circuit. Carrying out a weekly/bi-weekly back flush helps your machine stay in tip-top condition. Here's how you can go about it:
Remove your portafilter and insert a blind filter (this usually comes with your machine).
Scrub the group heads with a machine brush to loosen and remove coffee grounds.
Insert your portafilter back into the group head and run hot water through it as you would for an espresso for about 10 seconds.
Turn the water off for five seconds.
Fill the portafilter with a cleaning agent recommended for your machine and repeat the two previous steps severally until the water runs clear.
Run fresh water through the portafilter while wiggling it in the group head to get rid of loose coffee grounds, oils, and leftover detergent.
Remove your portafilter's basket and scrub it with a machine brush while running it under hot water to get rid of coffee ground build-up.
Remove the tip of your steam wand and sit it in a mixture of warm water and detergent for at least 20 minutes.
Wipe down your wand with a damp microfiber cloth. Some machine brushes have nifty pin heads that allow you to clean inside the tube of your steam wand for any dry residue.
Carefully de-grit the shower head and dip tray by scrubbing them with the machine brush.
Allow all components to dry properly or wipe them down with a dry cloth before coupling them back together.
For the eternal body of your machine, simply wipe it down with a microfiber cloth and a cleaning solution of water and dish soap.