The Best Electric Cooktop for 2023
The safest and most modern way to cook your meals.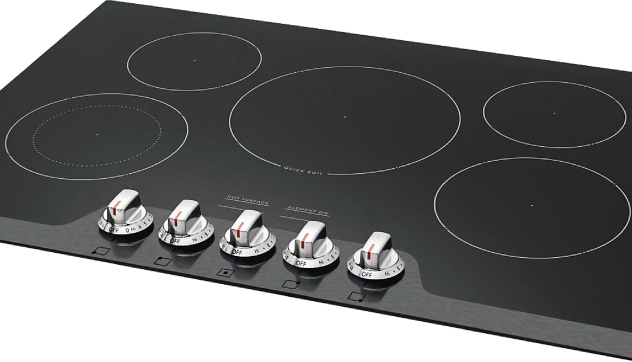 There are three basic types of cooktops that exist: gas, radiant electric, and induction. Each of them presents its own pros and cons, but practically speaking, all can get the job done if used properly. You may be looking for a new option to replace what you have been using or just looking to explore new options. Electric cooktops are the most modern form of energy in kitchens of this decade. Gas prices are on the rise and keeping up with refill prices can be very expensive.
We understand your choice to make the switch and we can already tell you that it is well worth it. Electric cooktops use induction heating to heat up your pots and pans instead of the surface of your cooktop. These cooktops are more energy-efficient compared to others because they heat up quicker and transfer energy directly onto your cookware.
Finally, they also cool down exceptionally quickly, therefore, reducing the risk of burns. These features make them an excellent choice for families with children.
Take a look at some of the top picks we have for you!
How We Picked
Temperature Controls

Cooktops are extra precise when it comes to temperature. Just like the conventional knobs on your gas cooker, these cooktops have specific temperature controls that help you set the cooking temperature of each meal because they all require different values of it. This will let you take control of each step of the cooking process with minimal room for mistakes.


Number of Cooktops

Realistically speaking, if you have a huge family or rather need more work done, you will need more cooktops to simultaneously get the job done. We believe that the more the cook tops the better, you can never regret having too many options to cook on. These cooktops vary in size, so more cooktops mean more options when it comes to size.



Safety Features

The number one thing you should be concerned about when it comes to cooktops is the safety of the product you are purchasing. These hot surfaces can pose a major risk to you or the person cooking if they are not well designed with the cook in mind. These safety features may seem basic but are critical in ensuring your safety in the kitchen.


Cost-Effectiveness

We all have different budgets and allocations of money when it comes to expenditure on such items. We understand this and that is why we have various options in store for you on this list. Each is unique when it comes to features and cost, all laid out for you to pick what your heart desires.

Our Top Picks
Best Pick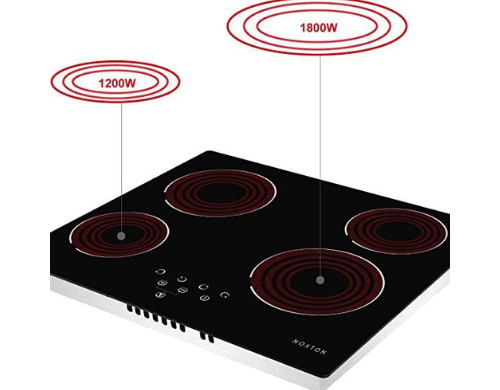 An affordable option with a stylish look.
Our top pick is a best seller on Amazon that comes with 4 high power burners each with different power output.
A very stylish ceramic cooktop that comes with four high power burners--1800W, 1200W, 1800W, and 1200W.The ceramic top is very easy to clean and does not easily stain. The smart touch buttons display and controls are strategically placed for easy use and fast access to them. This option comes with a scrape to aid you in the cleaning process too!
Runner Up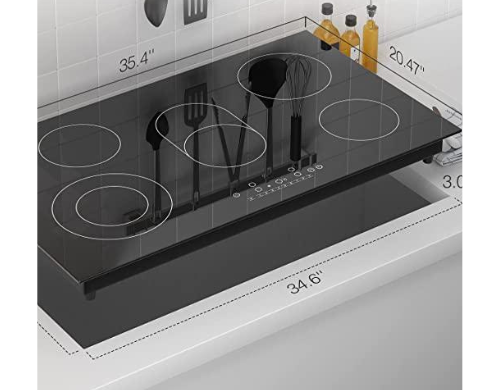 This cooktop is worth every penny.
Offers you 5 heating elements that have you covered even when you have plenty of meals to prepare.
With 9 heating levels and 5 elements, you can never go wrong. This runner-up option is a bit pricey but offers you unmatched effectiveness in your kitchen. It has a child lock and a well elaborate control panel. The power output of this cooktop is 8600W and still has an overheat protection feature. You get more space with a durable top that is quite easy to clean and wipe.

Most Cost-Effective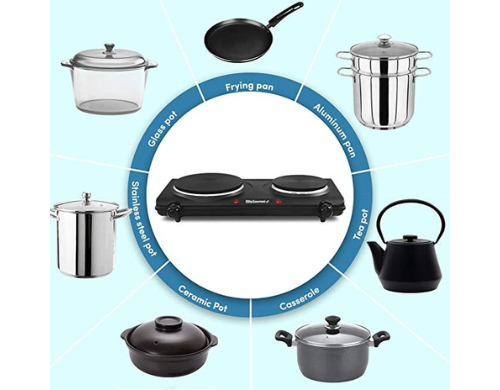 An inexpensive option that will serve you quite well.
The 2 heating elements are made of iron guaranteeing you quick heat transfer in addition to being quite easy to clean.

A compact cooktop that has 2 heating elements. It is simple and easy to operate or use. It offers you 1600 Watts and is very portable. It is compatible and safe for use with most cooking pot materials. It has an indicator light and temperature controls too even though they are manually operated. The iron plates are easy to clean and the setup I fitted with non-skid stand supports to minimize any drifting as you cook.

Everything We Recommend
Best Pick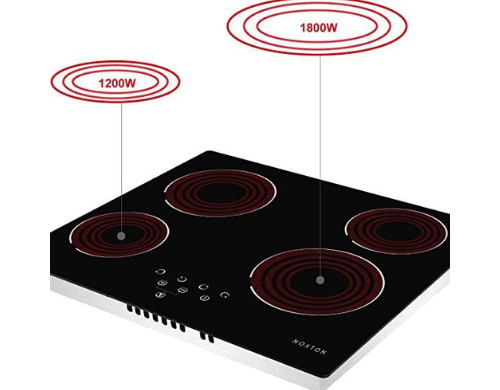 An affordable option with a stylish look.
$229.97
Runner Up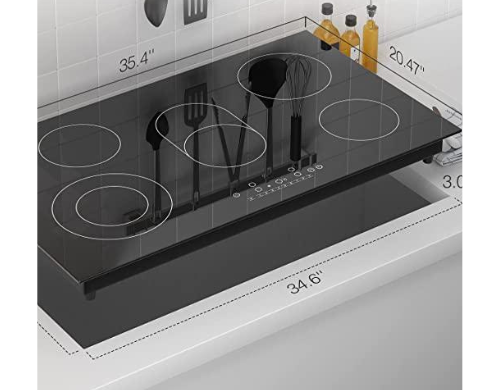 This cooktop is worth every penny.
$329.99
Most Cost-Effective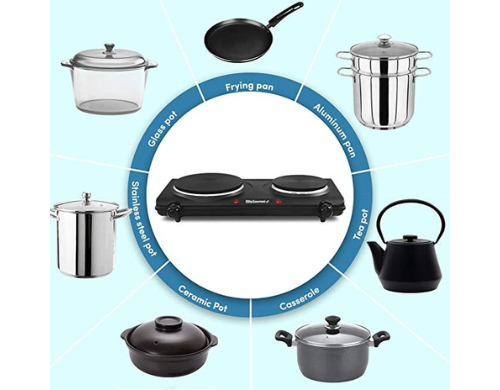 An inexpensive option that will serve you quite well.
$29.99
Who This Is For
This list is meant for anyone and everyone in the market looking to purchase an electric cooktop. The options on this list have been carefully selected for you to pick from and we can guarantee satisfaction with what you pick.
Electric vs Gas Cooktop
Gas cooktops work by an open flame while electric cooktops utilize metal heating elements. Both options have their benefits: gas stovetops tend to be highly responsive, allowing you to move between heat levels quickly and with ease. Electric cooktops on the other hand tend to have dry, even heat that's ideal for baking and roasting. This does not mean they cannot be used for cooking.
Can I use induction pans on an electric cooktop?
A short and precise answer to this question is yes, you can use induction cookware on an electric stove. Electric stoves work by heating the surface of your cooktop which in turn heats up the cookware you are using. This means any type of cookware that can work on gas cooktops can work on an electric stove!
Are electric cooktops energy efficient?
Studies clearly show that induction cooktops and electric cooktops are more energy efficient compared to conventional gas cooktops. Gas cooktops are about 40 %efficient while electric-coil and standard smooth-top electric cooktops are about 74 % efficient.
Induction cooktops are most efficient at 84 % efficient!
Why You Should Trust Us
It can be a tedious and frustrating process trying to find the right cooktop for you online instead of physically purchasing it. Therefore, we took the time to test out all these options listed below to come up with a comprehensive list that is backed by facts to guide you on your purchase.
How We Picked
Number of Cooktops
The more the merrier! You can never go wrong with more cooktops for you to utilize. Sometimes the family is huge, sometimes you need to cook different meals simultaneously, more cooktops come in handy!
Size of Cooktops
The size of cooktops is also as important as the number of cooktops you have. You need to have a balance and consider the size of your crockery. This will help you to decide the size of cooktops that you need.
Energy Usage
Electric cooktops are among the most effective ways of cooking in the current day and age. In the long run, their consumption of energy is not as high as that of gas cooktops. You may notice a rise in the consumption of electricity on your bills, but it is minimal compared to what you spend on gas within a month.
Temperature Controls
You will find precise temperature controls to be very effective as you cook. Just as conventional knobs work on your cooker, these are supposed to regulate the amount of heat being passed on or conducted to the cooking pot and consequently your food.
Display
The display will come in very handy when you need a precise temperature to cook a certain meal. It basically keeps you in the know about what is going on in the cooking process in terms of temperature, timing, and other parameters.
Easy to Clean
The surface of your cooktop should be easy to clean to avoid a build-up of debris and unwanted dirt. A smooth surface will give you an easier time when cleaning. Glass tops are usually the most common material used in the current market; stainless steel can also suffice.
Safety Features
Safety comes first and it is important that you consider the safety of what you purchase before confirming the purchase. Features such as warning alerts and color warnings are important in communicating the safety of your cooktop to avoid a major accident.
Auto Switch-off
This is among the safety features that make your cooktop more convenient and safer to use. Upon finishing the cooking process, sensors that detect when you remove your crockery are important to prevent excessive and unnecessary power consumption or minor accidents.
Child Lock
The child lock feature prevents any accidents, especially with kids who can easily get mischievous. Each brand has a unique child lock feature.
Timer
All this is part of the display on your cooktop. It will help you keep track of what you are cooking and the timing.
Alerts
Alerts help to remind you of important times such as when the food is done. Alerts also warn you of when the surface is hot to prevent any accidents.
Easy to Install
An easy-to-install option is most preferred for obvious reasons; you do not need a technician to set it up for you.
Care and Maintenance
How to clean
Every job demands the right tools. As such, it is paramount that you use the right tools to clean your cooktop. Normally a simple clean and wipe will suffice to leave your cooktop sparkling clean. In other cases when the cooktop is stained, it demands a different approach using vinegar and baking soda to remove the stains, especially when burnt.
How often to clean
It is best advised that you clean your cooktop each and every time you finish cooking. This will minimize the build-up of stains hence giving you an easier time maintaining it clean.
Do not put plastic or rubber cookware on the cooktop
This follows basic knowledge since plastic and rubber melt then burn in presence of high temperatures such as those of an electric cooktop. If you place plastic or rubber on a turned-on electric cooktop, it will not end well. The rubber or plastic will melt and stain your cooktop.
Dealing with fires
Fire safety should come first when dealing with heat and other hot surfaces. It is important that your household has a fire extinguisher ready and functional just in case.
Preventing fires
Avoid fires by doing your due diligence when dealing with cooktops. Avoid leaving clothes and paper near cooktops especially when hot. This may ignite a fire that will cause disastrous effects.
Ensure adequate ventilation
Ventilation is important even if you are using an electric cooktop. It helps to vent strong smells and chemicals from your indoor air to the outside of your home, keeping the air you breathe fresh. It also helps to keep your kitchen cabinets, walls, and ceiling from accumulating heavy grease and dirt as a result of cooking.