The Best Electric and Gas Ranges of 2023
This list of the most incredible electric and gas ranges available on the market will take your cooking to the next level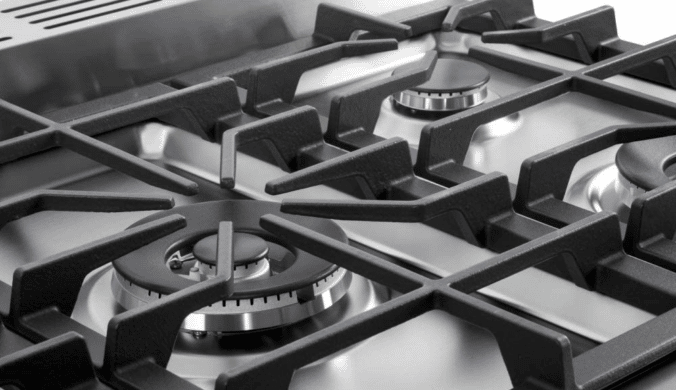 For many years, people have enjoyed cooking on gas ranges. The roaring flames and clean lines of gas ranges are often preferred over electric models. But in recent years, the convenience and speed of electric ranges have made them a more common sight in modern kitchens. However, the best gas and electric ranges will give you the best of both worlds.
These ranges are powered by both gas and electricity, allowing you to cook different meals using different methods. Considering all of the different features, design aesthetics, and price points, it's easy to get confused. Fortunately, this review should help you clear up any confusion about some of the best electric and gas ranges on the market today, as well as find one that meets your specific requirements.
How We Picked
Number of Stove Tops

The number of stove tops on a range determines how many dishes you can cook at a go. Most ranges come fitted with four, five, or six tops, and this gives you the freedom to pick the right range.

Efficiency

The efficiency of a range is measured by how fast and how well it cooks your dishes. The speed of cooking is determined by the level of heat it produces. However, the ability to customize the heat for various dishes and cooking methods determines how well it cooks.

Size and Kitchen Space

The amount of real estate in your kitchen determines the ideal size of a range. A range too big should only be bought for a large kitchen. However, a small range can be used in a small or large kitchen.

Cost-Effectiveness

To determine whether a range is cost-effective, examine its quality and efficiency against its buying and maintenance costs. Consequently, get a range that will give you value for your money.
Our Top Picks
Our Top Pick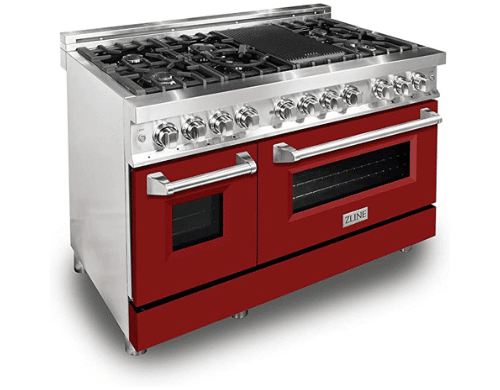 The matte finish on this range is quite attractive and will complement most kitchens.
The Zline 48" dual fuel range has an attractive matte finish that looks elegant in your kitchen. The finish also prevents water and spills from getting to the outer material of the range, staining it. It also makes it easy to clean the range by simply wiping it with a clean damp cloth. Therefore, it eliminates all excuses for keeping your range dirty.
This range will withstand long-term and frequent use thanks to the sturdy and durable stainless steel construction.
Our Runner-Up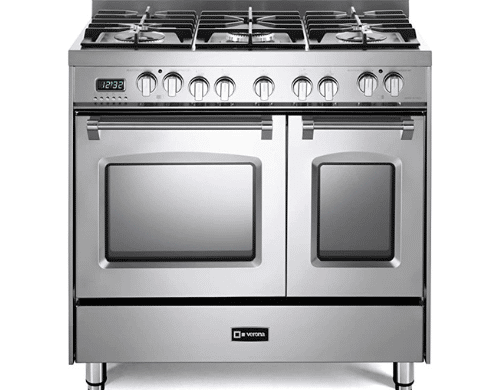 Five sealed gas burners allow you to cook up to five different types of dishes concurrently.
The stainless steel material is easy to clean to get rid of grease and spills. It is also sturdy and withstands long-term use as it resists corrosion and does not break or dent. All the burners also support electronic ignition. Consequently, you do not need to get a lighter to use this range.
You can cook up to five different dishes in this range, thanks to the five burners.
Most Cost-Effective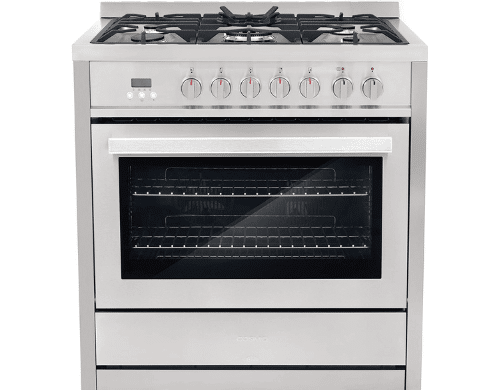 It has a sturdy stainless steel construction ensuring that it stands the test of time.
The COSMO COS-F965NF range has a thermostat that allows you to select different heat levels. Consequently, you can cook various dishes that require different heat levels. You can also use it to boil, steam, simmer, or experiment with different cooking methods. It also has five burners with which you can cook different dishes concurrently.
It comes in two colors to allow you to choose one that suits your decor.
Everything We Recommend
Our Top Pick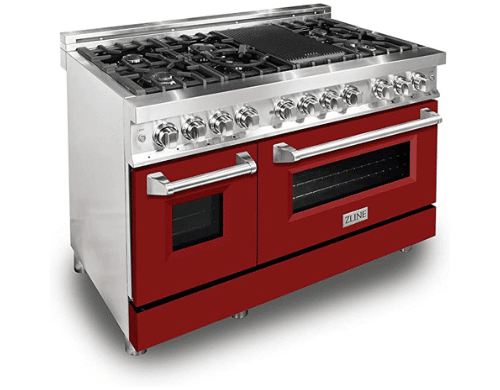 The matte finish on this range is quite attractive and will complement most kitchens.
Our Runner-Up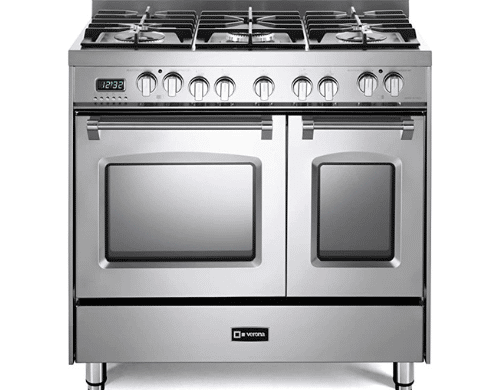 Five sealed gas burners allow you to cook up to five different types of dishes concurrently.
$3,999.00
Most Cost-Effective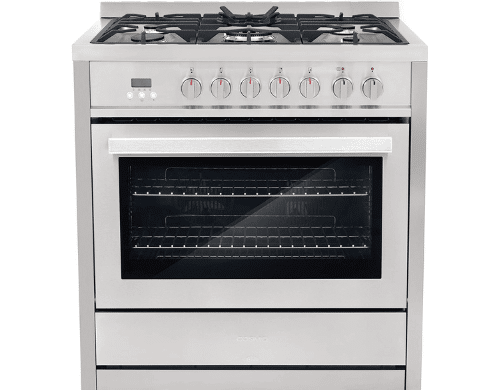 It has a sturdy stainless steel construction ensuring that it stands the test of time.
$1,849.99
Who This Is For
The electric and gas ranges reviewed here are ideal for use in different places. Some are ideal for domestic use, while others suit commercial purposes.
What is a gas or electric range?
A gas range has several burners and an oven, all of which are gas-fueled. An electric range, on the other hand, has several burners and an oven, all of which are fueled by electricity. There are also ranges that use both gas and electricity and are commonly referred to as dual fuel ranges. They have some burners that use gas and others that use fuel. Mostly, dual fuel ranges have ovens that are fueled by electricity.
Ranges vs. stove cookers
A stove cooker cooks food by directly heating the pot. Traditional stoves use wood or coal to produce heat, while modern stoves use gas or electricity. Usually, a stove only has one burner and no oven or grill. On the other hand, a range is a large stove with multiple burners, an oven, and some also have grills. Ranges use gas or electricity or both to produce heat.
How to measure the correct size range for your kitchen
The ideal size of a range is determined by the size of your kitchen. Take measurements from the floor to the countertop where you intend to place the range. Leave a ¼ inch to account for the feet of the appliance to determine the right height. To determine the right width, measure the space from left to right. Add ¼ inch to the measurement to leave enough space to move the range when need be. As a rule of thumb, leave 42 to 48 inches between the range and any cabinets above it.
Why You Should Trust Us
We review products autonomously to come up with the best pick. Our picks are not influenced by any brand or manufacturer. Rather, they are influenced by customer ratings and reviews, as well as their quality and efficiency.
How We Picked
Our picks have different numbers of stoves. Therefore, you get the liberty to choose one with the number that suits your needs and preferences. They are all efficient and will cook your meals fast. With adjustable heat levels, these ranges can cook different foods at different cooking times. They can also be used to make different recipes using different cooking methods, including frying, baking, and more.
Since they are of different sizes, the ranges reviewed here are suitable for users with kitchens of different sizes. Additionally, they have a sturdy construction and will serve you for a long time, giving value for money.
With their stylish designs, these ranges will give your kitchen a modern and elegant look. They are also easy to use and do not require prior experience or force you to undergo professional training. They come with an easy-to-read instruction manual that allows for easy installation.
Care and Maintenance
Different ranges have different designs and components. Therefore, they require different installation methods. To ensure a smooth operation, follow the instructions manual or have a professional install it for you.
A range is a sensitive appliance in your home that can affect your health either negatively or positively. Therefore, you need to clean it often to get rid of grease and potentially harmful dirt. Before cleaning your range, ensure that you turn off the power first to avoid electrocution. Add baking soda and cleaning solution to clean water. Spread the cleaning paste on the entire range, grill, and oven and let it sit there overnight. However, be keen not to spill the solution on the burners. On the following day, wipe the cleaning paste off, then spray vinegar. Wipe it again and replace the racks and cooker top.
Some ovens have catalytic liners fitted in the oven cavity. They absorb grease fast and expertly, thanks to the special chemicals they contain. All you need to do is to heat your oven to 392°F
or higher to dissolve the grease for absorption. To find out if your oven has catalytic liners, heat it to these temperatures and observe if the grease is absorbed. If it is, then it definitely has catalytic liners.
Always turn off your cooker after use to avoid gas leakage. Also, ensure that the pipe connected to the gas cylinder is tightly fixed to further prevent gas leakage. Use the correct cookware when cooking on the range. The wrong cookware can melt or leach harmful chemicals into your food. Additionally, if you have problems using or installing a range, get a gas engineer to do it for you.