The Best Earplugs for Sleeping for 2023
Sleep earplugs can help you fall asleep faster by blocking out noise.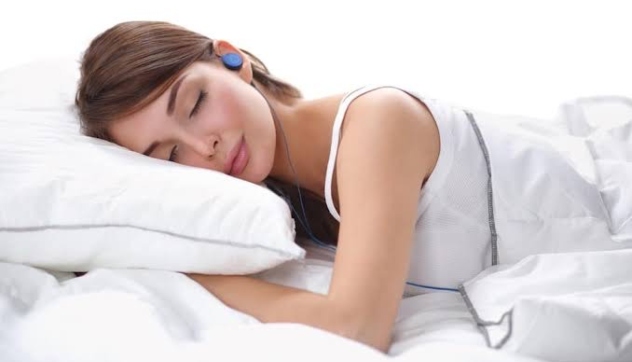 Are you sensitive to loud noise? Or do you have noisy neighbors who don't know the difference between morning and night? Then you need earplugs to help you block out the noise.
In this fast-paced and often noisy world, adequate rest can be elusive. The noise from snoring or random noise can disrupt sleep, cause stress, and affect overall health. Your body and mind need enough high-quality sleep to function properly and maintain good health, which can be accomplished with functional earplugs. 
With a comfortable earplug for sleeping or performing your day-to-day activities, you can reduce noise and anxiety and get the good night's sleep you need. Let's have a look at some great options.
How We Picked
Noise-Canceling Effectiveness

The most important reason for wearing earplugs is to block out any sounds or noises that are a nuisance in their immediate surroundings. Earplugs must be extremely functional for what they are known for.



Fit + Comfort

The ear is a sensitive body part, and individual ear shapes and sizes vary. Therefore, earplugs should come in different sizes and in comfortable materials to avoid soreness or friction.



Material

The softness and durability of the earplugs are dependent on the material used to make them. Typically, slow-recovery foam is used to make earplugs, as it offers comfort and protection. Wax earplugs are also great because they can mold the shape of your canal for a perfect fit.



Price

Generally, most earplugs are disposable after a few days or nights of usage. So they shouldn't cost more than a few bucks.


Our Top Picks
Best Pick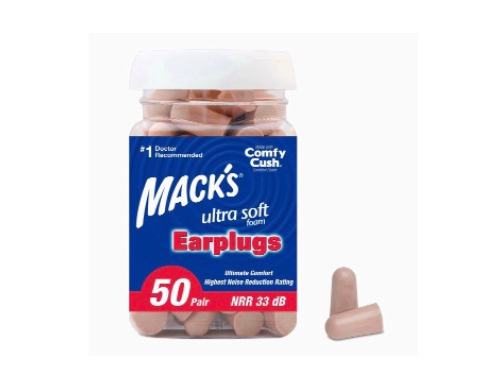 These earplugs expand and conform to various ear shapes and contours.
Mack's ergonomically shaped, super soft foam earplugs provide the safe, comfortable hearing protection and relief you require in a noisy environment.

As the number one recommended earplug brand in the U.S., Mack's earplugs live up to expectations. The fully leathered, high-pressure foam construction of this product provides excellent comfort and hygienic ear health.

Runner Up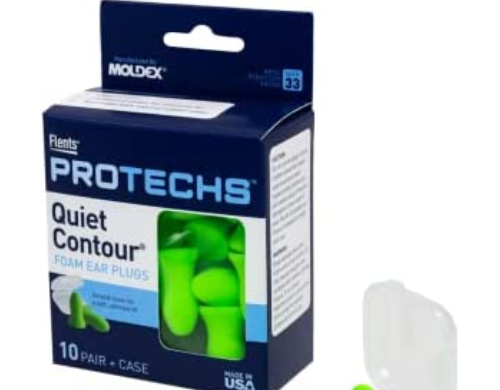 These earplugs have smooth, comfortable, extra soft, and light foam that tapers to your ear canal for a custom fit.
Flents Quiet Contour Foam are contoured for a snug fit and lowers the decibel level of common noises, making your world a little quieter.


Flents Quiet Contour is a well-thought earplug brand that prioritizes comfort. Flents make the shape of the earplugs in such a way that they snugly fit the ear contours, and you don't have to worry about them getting stuck in your ear. The earplugs offer hearing protection against heavy machinery and a loud environment. They come in different pack sizes, depending on your needs.

Most Cost-Effective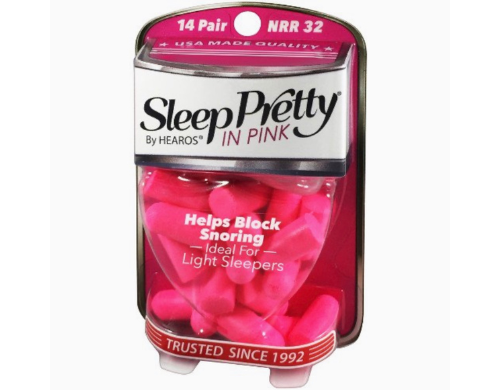 Hearos Sleep Pretty Earplug for Women
Hearos Sleep Pretty promises to provide a natural sleep solution by effectively blocking noises that would otherwise prevent you from falling and staying asleep.


With their incredibly soft skin for comfort, Hearos earplugs are the perfect original earplugs for women because they can be used for extended periods without being noticed. The noise reduction rating of 32 allows it to function as a general noise-reduction earplug.

Everything We Recommend
Best Pick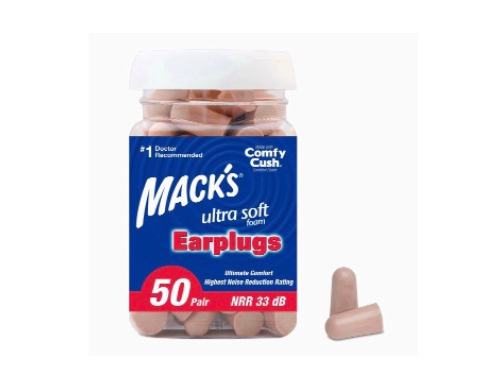 These earplugs expand and conform to various ear shapes and contours.
$8.99 ($0.18 / Count)
Runner Up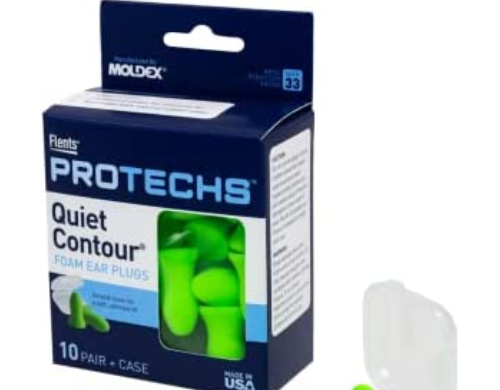 These earplugs have smooth, comfortable, extra soft, and light foam that tapers to your ear canal for a custom fit.
$5.99 ($0.60 / Count)
Most Cost-Effective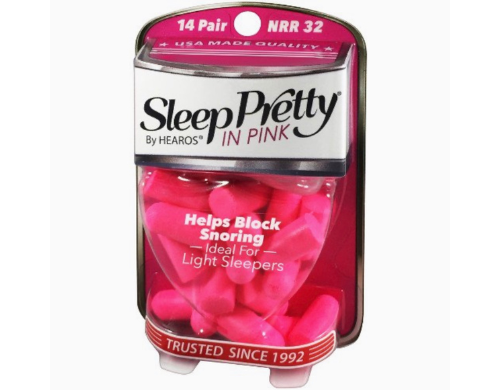 Hearos Sleep Pretty Earplug for Women
$7.99 ($0.29 / Count)
Who This Is For
Earplugs are recommended for those sensitive to loud noises, light sleepers, or anyone who needs to safeguard their hearing.
Disposable vs. reusable earplugs
Disposable earplugs are only occasionally beneficial and are made of soft foam for a better fit. They are cheaper but not durable or environmentally friendly for consistent use. They can also inflict ear infections if they are not used correctly.
Reusable earplugs are made of soft silicone or plastic material. They tend to be more durable compared to disposable earplugs, and unlike disposable ones, you are unlikely to be exposed to ear infections.
Is it safe to use earplugs every night?
Generally, earplugs are safe to use. However, it is imperative to use them properly whether you get reusable or disposable ones due to the potential effects that come with them. Earplugs can push earwax into your ear, leading to wax buildup, and sometimes causes infections like tinnitus or occasional ear loss.
Therefore, if an earplug is intended for single use, you should resist the temptation to reuse it. Cleaning reusable ones thoroughly is also a must.
Why You Should Trust Us
Most people desire the ecstasy of being able to block out awful noise and sound that interferes with a task at hand or a routine, which is only possible with useful earplugs. As a result, we have carefully chosen the best earplugs that, depending on your preferences, effectively cancel or minimize noise. These earplugs are competitively priced, comfortable, and soft.
How We Picked
Finding the ideal earplugs for you might be challenging due to the fact that everyone's ear shapes and sizes are different, in addition to the various types of earplugs and an overwhelming array of sizes, colors, and forms.
To make your search easier, we have scoured through the reviews of previous customers and compared their user's experiences over time of usage, accumulating their opinions on noise cancellation and the comfort of the earplug. These encounters range from the earplugs' ability to effectively eliminate sound to their ability to completely plug your ear for as long as possible without causing soreness.
With all these unfiltered opinions, given by a range of earplug users and individuals suffering from misophonia, you can trust our process to find the ideal earplugs to block out disturbing noise or sound interfering with your day-to-day activities.
We search through a variety of earplug brands made from soft foam and silicone materials just to find bliss and comfort for you. When making our picks, we carefully checked the earplugs that have up-to-par noise reduction, squishy softness, and are lightweight. In our evaluation, we ensure our picks display qualities of comfort and fit various ear shapes while at the same time being economical.
Care and Maintenance
For disposable earplugs:
Dispose of them after each use, as reusing them can cause irritation or infection.
For reusable earplugs:
Clean off filth or dirt on the surface of the earplugs. 

Soak it in warm, soapy water for a few minutes to loosen the dirt. 

Wipe or scrub earplugs to remove stuck earwax. 

Rinse and dry them with a clean towel. 

Store them in its case and leave them to air dry for subsequent use.
How often do you clean your earplugs?
This is based on how frequently you use them. However, it is suggested that you start cleaning them as soon as you notice any apparent dirt or ear wax buildup.
Why you should not share earplugs with others
Liable to bacteria: Earplugs can become bacteria-infested by any unclean surface or sticky ear wax. As a result, when an earplug is used by another person, the bacteria that is already present in it spreads and gets worse.

Yeast growth: Many yeasts found in fungi enjoy the warm, dark conditions found in the ear. If the earplug has any earwax on it that can be touched by another person when the earplug is shared, yeast in the ear can easily become adhered to it.
How long can I have my earplugs on
You can wear earplugs as long as the noise outside makes you feel uneasy or anxious. However,  to maintain correct ear hygiene and avoid infection, you must be mindful to routinely visit your doctor to check for any earwax buildup and also clean your earplug from time to time.
Where and how to store earplugs
When not in use, your earplugs should be kept in their original packaging or in a storage box to prevent them from collecting dirt, grease, or other debris that could impair their performance.