The Best Duvet Covers for 2023
With a fresh and new duvet cover, your bed will feel new again. Here are the best duvet covers for every bed size and style.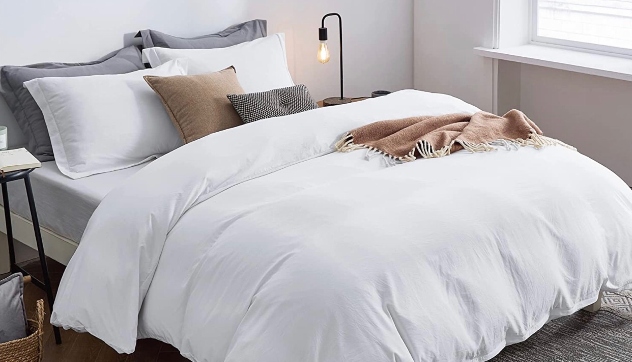 Many people regard their bedroom as a sacred oasis, and we can't help but agree. However, you may find it difficult to keep it pristine and stylish over time if you have to constantly worry about staining your duvet or comforter.
If this resonates with you, it's time to get a duvet cover. A duvet cover is a fabric cover that ties around your existing duvet insert to keep it clean for longer or to spruce up the look of your bedroom. As such, you do not have to constantly wash the duvet and render it lumpy and unattractive.
Duvet covers are available in a variety of materials, weights, and colors so it can be difficult to choose one that will suit your individual needs. Before you begin shopping for a new duvet cover, take a moment to consider what material would be best for your needs.
How We Picked
Material

The feel of your cover depends on the material used. It can be itchy, rough, or soft, and this determines how comfortable your cover is.



Softness

Duvet covers are protective fabrics for the duvet. The softness of the cover has to match the duvet to provide warmth and comfortable bedding for a relaxing sleep.


Durability

No one needs a cover that shrinks or frays after a few times of washing. For long-lasting use, the duvet cover has to be durable enough for all seasons



Price

It's pricey enough getting a duvet or comforter so we try as much as possible to recommend quality budget-friendly duvet covers to complement your luxury duvet and comforter.


Our Top Picks
Best Pick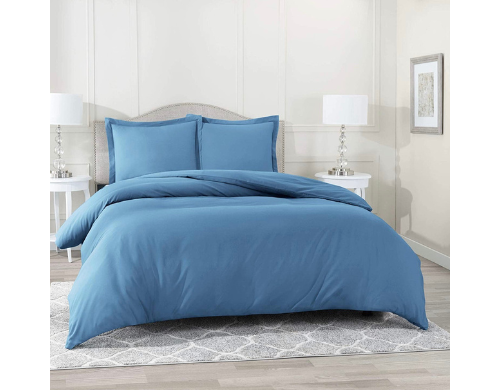 Wrinkle-free and versatile colors.
Nestl Bedding Duvet Cover is a soft microfiber cover with clear buttons that blends easily with the cover.


Nestl Bedding is an all-season machine wash duvet cover with a lightweight and ultra-soft feel that makes it cozy and comfortable for use. It is a well-made button-edge finish versatile range of vibrant colors that aligns with different individual needs.
Runner Up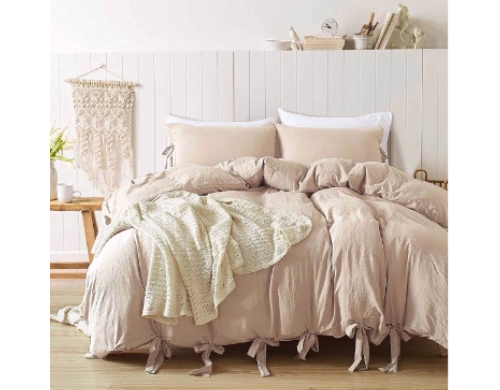 Cute and protective envelope design.
Annadaif Cotton Duvet Cover is a natural wrinkle cover with a chic design that gives it a classy feel.


Annadaif Cotton Duvet Cover is an aesthetically pleasing designed cover with a natural wrinkle fabric. The strap ties of the cover and shams and the envelope pillowcase give it a unique style of bowknot design leaving it with a clean edge finish. It is easy to clean and lightweight so you have to worry when you want to change them.

Most Cost-Effective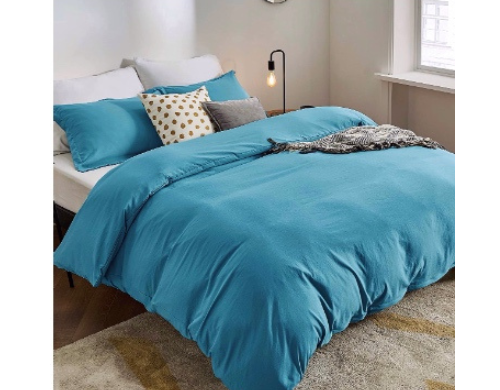 Inexpensive and easy to clean.
Bedsure Super soft Hypoallergenic is super soft and has multiple ties on the inside along the seam.


Bedsure Super Soft Hypoallergenic is a budget-friendly cover that offers a quality duvet cover. It is a zipper finish edge that makes it comfortable to easily change and remove the duvet insert. It is cool for hot sleepers and has multiple ties to firmly hold the insert.

Everything We Recommend
Best Pick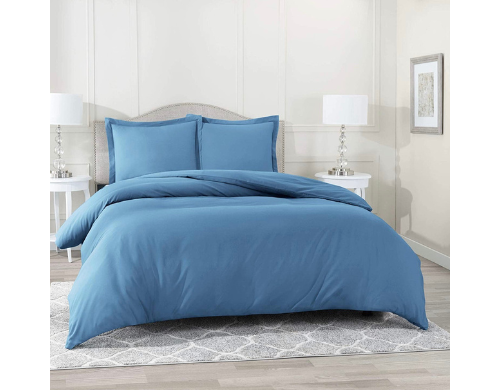 Wrinkle-free and versatile colors.
$26.49
Runner Up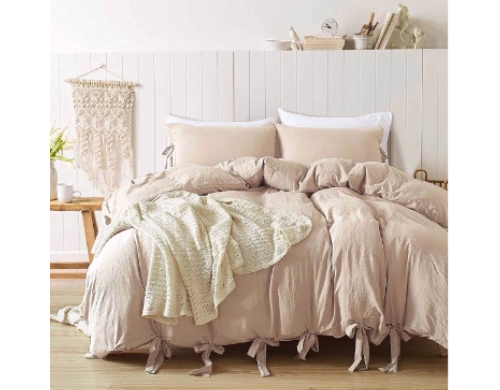 Cute and protective envelope design.
$36.99
Most Cost-Effective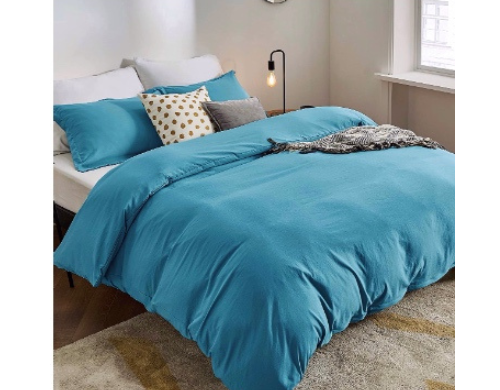 Inexpensive and easy to clean.
$27.99
Who This Is For
The product advertised here is for any individual who needs a cover to protect their duvet and does not have to worry about consistently washing bulky fabric and the long hours it takes to dry completely.
Comforter vs duvet
A lot of people are quite confused as to the difference between a duvet and a comforter. A comforter is like a one-piece quilted blanket filled with synthetic fibers for a bed. While a duvet is two different pieces an insert and cover of bedding are commonly filled with natural or synthetic fibers.
A duvet has an insert that serves as the fill, a duvet requires a duvet cover. But you can also use a cover for your comforter. Compared to a comforter, a duvet is fluffy and quite easy to wash. Comforters are usually larger than duvets. While duvets fit the bed properly, comforters are hung over the sides of the bed. However, both the comforter and duvet come in different bed sizes.
Is it an essential piece of bedding? Worth it?
Yes, it is worth it. Because duvets and comforters can be quite expensive and hard to wash, the duvet cover serves as the protective fabric that protects your luxury duvet and comforter.
A duvet cover is essential for bedding because it helps your comforter and duvet last longer. Using them without a duvet cover means they get stained easily and need consistent wash which in the long run, makes the fillings lumpy and less comfortable.
The duvet cover also helps switch up your bedroom style at a low cost.
It's natural to want a different decor or aesthetics for your bedroom at some point and what other way to achieve that without having to spend an outrageous amount of money to change your duvet or comforter?
A duvet cover gives room for that as they are available in different colors and are also inexpensive.
Why You Should Trust Us
Being able to protect your luxury duvet or comforter for long-lasting use and a constant relaxing sleep will be a dream come true. And can only be achieved with a quality duvet cover.
As such, we have carefully selected the best duvet cover that can protect your duvet and relieve you from having to worry about washing your duvet or comforter.
How We Picked
It's not easy finding the right duvet cover for you, with a broad and intimidating range of duvet covers available online.
To make it easier for you in your search, we have scoured through reviews of previous customers with different types of duvet brands available and compared their user's experiences over time usage, accumulating their opinions on the softness of the cover and compatibility of the material.
These experiences range from the ability to wash the duvet cover without fraying or shrinking to the ability to use the covers without them piling up.
With all these unfiltered opinions given by a range of duvet cover users, you can trust our process to find the perfect duvet cover for you to protect your duvet and comforter.
We searched through a variety of duvets covers made from microfiber, cotton, and polyester just to find comfort and relaxation for you. When making our picks, we carefully checked duvet covers that have ultra-softness, comfort, lightweight, and versatile color range.
In our evaluation, we ensure our picks display qualities of durability while at the same time being pocket friendly.
Care and Maintenance
Is a washing machine safe? How to wash and dry
Having a washing machine-safe duvet cover depends on the material and the type of cotton used for your cover. To know if your duvet cover is washing machine safe, check the covers' follow-come label for the care instructions.
How to wash and dry
Learning how to wash your duvet cover is important because of its sensitive material and user benefits against allergies, odor, or sweat.
Remove the cover from the duvet and fasten the zipper, button, or ties to avoid tangling in the washer. If any stains, pre-treat before washing the cover using a stain remover.
Use a mild detergent for better cleaning. And ensure to use warm water to wash your cover to kill all germs and bacteria.
How to store when not in use
After washing your duvet cover you will either use it for your duvet again or need to store it till the next season you will need it. When trying to store away your duvet cover ensure they are dry with no moisture that can cause mold in your cover. Ensure to store them in a dry location to avoid moisture.
Neatly fold your cover and place it in a storage bag, a vacuum bag, or a cotton bag which is the best option to avoid dust and bugs.