The Best Dryer for 2022
Laundry time won't be a chore anymore.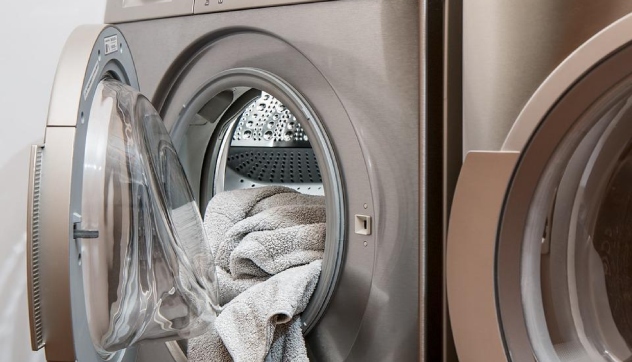 Laundry can be a real headache, especially when it comes to drying it. Drying our clothes outdoors is not always possible, either because the weather does not allow it, you do not have the time to wait for them to air dry or because you live in an apartment and do not have the space to do it.
Whatever your problem is, you can solve it with a dryer. Many people believe that the earlier models tended to shrink clothes or damage delicate fabrics. Fortunately, dryers have evolved, they are now more efficient and have special programs for each type of fabric.
So if you have chosen to save time and forget the stress of laundry, the time has come to buy a dryer, it is normal that all kinds of doubts come to mind: what types are available, what functions does each of them have, what should we look for when buying the best dryer, which one offers the best quality-price ratio on the market? This investment doesn't have to be complicated and to prove it to you, we have some of the best dryers for you, whether for an apartment, a home, or even a camper.
How We Picked
Size & capacity

About the capacity, it is important to note that, like that of the washing machine, it is measured in pounds of clothes that you can put in each time. It is for this reason that we have chosen dryers with a good capacity that take up as little space as possible.



Quick & efficient

The main purpose of a dryer is to help us save time. That's why it's vital to select models that work quickly, dry our clothes efficiently, and, of course, carefully with our finer fabrics.



Overall build and quality

Dryers are appliances of constant use, for this reason, it is vital to select models with a resistant design and excellent quality. In this way, we will be sure that we have made the right purchase and that we will have in our home equipment with an extended useful life.


Price

As with all household appliances, when assessing the cost we must consider not only the selling price but also its energy consumption and quality. It is important to choose dryers whose consumption is reduced because keep in mind that their useful life can be more than 10 years.

Our Top Picks
Best Pick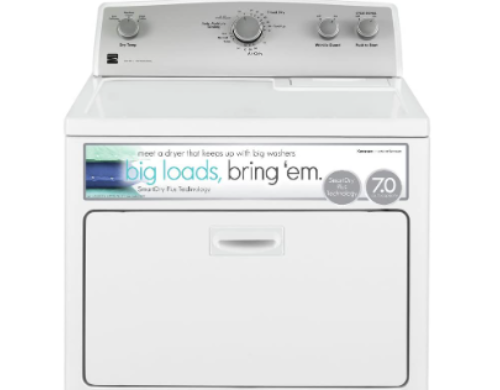 Family friendly steel alloy drum perfect for large loads.
Provides seven cubic feet of drying space that can take on almost any sized load.
The Kenmore Front Load Dryer is the best choice for families because it has a good-sized drum with a capacity of seven cubic feet. In addition, with this model, you don't have to worry about the integrity of your clothes, since the design of its drum prevents them from sticking to its walls. It also has sensors that evaluate the state of the clothes and adjust the temperature or stop the drying cycle as soon as they detect that they are perfectly dry.

Runner Up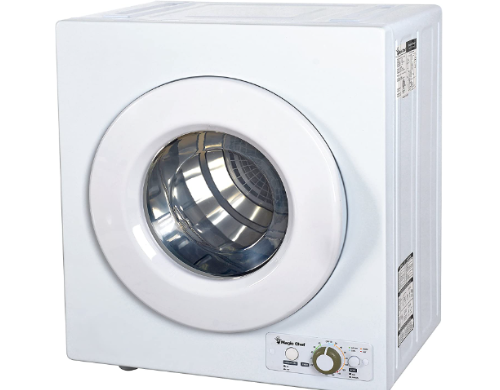 Easy to install, small in size and efficient in operation.
The best dryer for small spaces thanks to its 2.6 cubic feet of capacity and different installation possibilities.

This dryer has a stainless-steel drum and up to five drying options with high and low temperatures, which will give you the freedom to configure the drying process and adapt it to the different types of fabrics you need to dry. It also features an air filter to protect your clothes and the unit's internal systems, and a high-quality P.T.C. ceramic heating element for more efficient drying and better temperature control.

Most Cost-Effective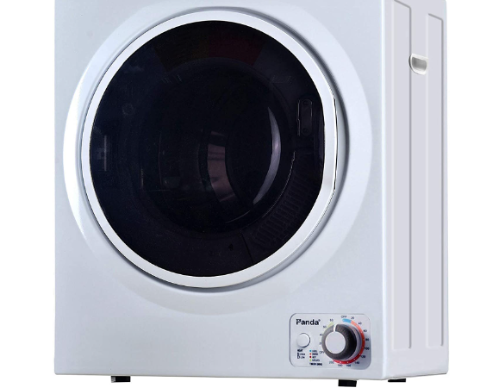 Small dryer, ideal for use with small loads of laundry and baby clothes.
The Panda dryer is perfect for apartments, small houses, and even campers.

The Panda dryer is the best choice for tiny spaces or as a secondary dryer in homes where laundry is very frequent. It is highly recommended for drying baby clothes, small loads of laundry, underwear, pajamas, gym clothes, and more. At the same time, this dryer is effortless to move, so if you want to take it on a trip in a camper, it is your best choice.
Everything We Recommend
Best Pick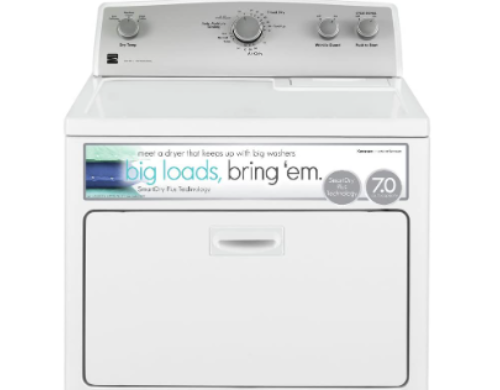 Family friendly steel alloy drum perfect for large loads.
$749.99
Runner Up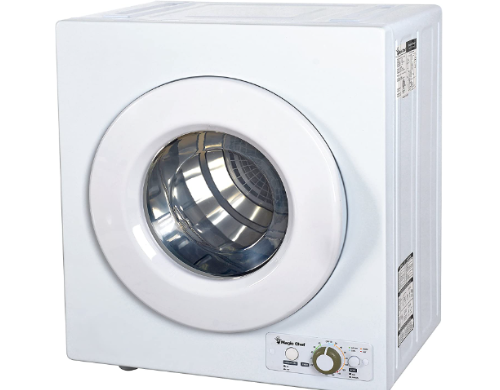 Easy to install, small in size and efficient in operation.
$421.71
Most Cost-Effective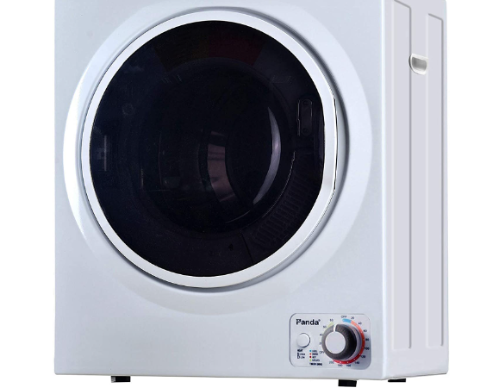 Small dryer, ideal for use with small loads of laundry and baby clothes.
$254.28
Who This Is For
Dryers are a vital appliance in cold and humid environments, as they help us to dry clothes and prevent them from acquiring bad odors if we try to dry them outdoors. They are also necessary in apartments, today it is very common to live in this type of property and space is increasingly reduced, leaving us no place to hang clothes.
Then we have to resort to hanging them in the living room, kitchen, and even in the rooms, where in addition to disorganizing the place, it does not receive adequate ventilation and acquires bad odors.
If you do not live in any of these conditions, you probably also need one. In any region, there is the winter and rainy season, a time in which it is almost impossible to dry clothes.
To save you all the discomfort that this can generate, you can always have a small portable dryer, the same that you can even take in a camper or your summer house and dry your clothes in just minutes.
Another great advantage of dryers that we don't usually consider is the time they save us.
Typically, washing clothes doesn't take too much time, but hanging them up to air dry, picking them up when finished, and folding them can take a lot of time, which you can invest in your family, your work, dreams, or business.
With a dryer, your clothes will be ready in half an hour to two hours, ready to fold and put away. So, if you want to save time on this household chore, tumble dryers are an excellent choice.
Condenser vs Vented Tumble Dryers
Condenser dryers use electric heating elements to heat the air. Once the air is hot, it passes into the drum along with the clothes to dry. The moist air from the clothes is drawn into a compartment called an exchanger, where the dryer removes the moisture through condensation. The moisture condenses and falls as water droplets on a tray.
Condensation dryers reuse the air by heating it, removing the moisture, and sending it back to the drum. This helps to save energy, as the dryer does not draw air from outside. It is not the same to heat the cold air from outside as it is to heat the air inside, which is already slightly warm.
Heat pumps or vented dryers are the most current models, they do not use electrical resistances and do not heat the air several times and as a result, they use much less energy. These dryers heat the outside air, circulate it inside the drum, extract the humid air, dehumidify it and reheat the outside air.
Condenser dryers are the most economical dryers. In addition, it is recommended that you choose a condenser dryer with a high-energy rating if you want to save a little on your electricity bill. In turn, vented dryers are somewhat more expensive, but they will help you save in the future.
However, you should keep in mind that the frequency with which you use your dryer will influence your savings.
For example, if you use your dryer infrequently (once or twice a week) it is advisable to select a condensing dryer. If you have a large family, and you need to do laundry frequently, a dryer with a heat pump is the best option, as it will help you to offset the price with energy savings.
Do I Really Need A Separate Dryer?
The washing machine and dryer are among the most important appliances in the home, but which is better, to have them separately or together? A washer-dryer can help you save time since you can do everything together without having to switch the clothes from one piece of equipment to another.
To find out whether it is worth buying a washer-dryer, we must consider its functionalities, size, and economic cost and compare all this with separate equipment.
One of the advantages of a washer-dryer is that we would avoid having two household appliances in the same place. So, if our home does not have much space, buying a washer and dryer would be a great option. It is also a good solution for those people who do not have a clothes rack at home or simply dislike hanging clothes outdoors.
In addition, having a dual operation is quite convenient, since we do not need to move the clothes to the dryer. The appliance itself gives us the possibility of programming washing or drying.
However, it has some disadvantages, such as the load capacity and that there are many more probabilities that a washer-dryer breaks down. They can be more economical equipment since you can invest more money in separate equipment, but they may require an investment in repairs and constant maintenance.
It is also worth noting that a separate washer and dryer better optimize the consumption of electricity and water. That is to say, the washer-dryer spends more energy since it does not have such a large load capacity.
On the other hand, in a washer and dryer together, we will have to perform more washes and two drying cycles for the clothes to be completely dry.
Another great advantage of a separate washer and dryer is the great freedom they provide. You can install the dryer in any available space and even take it with you if you have a camper or a summer house. This will also help you with moving, especially if you move a lot.
Why You Should Trust Us
We carefully select dryers to find the best ones for every type of household, from those with large families to small apartments and, of course, for those who live in campers or move frequently.
In turn, we consider a variety of factors, from the size or capacity to its efficiency and the speed with which the dryer does its job, a fundamental aspect to save time and money while you use it.
To all this, we must add that we evaluate the experiences of buyers, both their reactions to receiving the equipment and their experience using it.
We choose only models with good references, those that have presented few or no faults and, of course, equipment that fulfills perfectly its function. In this case, we verify that the dryers can dry clothes efficiently, that is, fast and without consuming excess energy.
How We Picked
When choosing the best tumble dryers of 2022 we considered a series of aspects that would define them, as well as features and tips to consider if you want to buy any other model:
Size & capacity
Space is essential, so you should make a previous study of the place you have available for its installation. A dryer has dimensions greater than or equal to those of a conventional washing machine, so you must have an available space of 23.62 × 23.62 × 31.49 inches to facilitate access to it.
If you do not have enough space, it is advisable to pick a washer-dryer, although they have some disadvantages, they will help you to take advantage of the space.
Another feature you should check is whether the dryer has any requirements when installing it. For example, if it is a vented dryer, consider the tube outlet, or if it is a condensing one with a drain option, it should be close to the water outlet.
The load capacity is the total cubic feet or weight of laundry that the dryer can optimally dry. It should be noted that the most common figures usually range from 13.22 pounds to 19.84 pounds.
Up to 15.43 pounds load: These dryers are suitable for households of two or three people, in which clothes can be dried. It is not recommended, however, to overfill them so as not to get overly wrinkled garments.
In this case, if you want to dry towels or pillows, it is better to do it in a separate cycle from the clothes.
17.63 pounds of load: these are the most common models and also the most sold because they are machines of a size adaptable to most of the spaces intended for them. They are ideal for drying all types of laundry. They are ideal for families of approximately three or four people.
More than 17.63 loads: they are suitable for households with more than four people. They are perfect for heavy and large items.
Quick & efficient
Although the dryer is one of the most energy-consuming appliances, we can find differences in energy consumption between brands and models of dryers. That is one of the reasons why energy efficiency labeling will help you choose a dryer according to your needs.
In addition to the energy efficiency scale (in levels A, B, C, D, E, F, or G), and the indicator on the efficiency level of the appliance, the label will also include detailed information on other product features.
It is advisable to pick a gas dryer, but if this is not possible, you can select an electric model labeled with level A or B in its energy efficiency, with a condensation drying option and humidity sensor.
Another aspect related to the efficiency of a dryer is the speed with which it dries clothes, which is defined by the power of the equipment. The higher the power, the faster the dryer will work and the more energy it will consume.
In general, models range from 1,000 to 2,000 watts (W). If you are not rushing, you can pick 1,000 W power models, if you want speed and aren't concerned about the cost of your bill, then pick more powerful models.
Overall build
The design of our dryer should be sturdy and firm. The best are those made of alloy steel, as they are very durable and will withstand the moisture, heat, and constant use that you can put them through.
The quality of construction determines the life of your dryer, as well as any possible moisture emission. The most durable models are stainless-steel drums, with stainless-steel door hinges, carbon brushless motors, self-cleaning condensers if possible, low moisture emissions, anti-vibration walls, and cleaning indicators.
Moisture sensor
The moisture sensor is a necessary device for the operation of the equipment and the drying quality of your laundry. When it comes in contact with your wet clothes, it creates a closed circuit that indicates to the equipment that the clothes are wet.
As the moisture dissipates, the current transmitted by the circuit is reduced, thereby controlling the operation of the dryer, the power required and the heat levels used. When the moisture sensor stops detecting moisture in the clothes, the dryer automatically turns off.
Price
You must be very clear about your budget when buying a dryer, so first, we must know how much it is worth. You should not only base it on the price of the equipment but also the energy consumption of this equipment.
An expensive dryer can have a low-energy consumption and with this, your electric or gas bills will be lowered, and you will not affect your budget too much and eventually, you will save money. Please keep in mind that a dryer can have a useful life of more than 10 years and that it is convenient to choose energy-saving and slightly more expensive models than economic models with high-energy consumption.
Design/style
Design or style may not be a significant aspect for some people. However, it is necessary to take it into account, especially if you want your kitchen or laundry room to look attractive or be a pleasant working space for you.
It is also necessary to take it into account if you have small spaces in your kitchen, camper, or laundry room because a design that is too bulky can detract from the space or be unattractive.
Programs
The programs of the dryers are an extra that can make them more attractive to the consumer, but that can help you to make the task of washing clothes more comfortable.
Drying programs: the more possibilities in the drying process, the better results we will get at the time of drying since it will adapt to our needs and fabrics effectively.
Anti-wrinkle program: this is a must-have program. The drum rotates a little after drying to avoid wrinkles in the clothes or as few as possible.
Self-cleaning: not all dryers have this program, it is the automatic filter cleaning function, which will bring convenience and reduce a step in the maintenance of the equipment, although cleaning the filter manually is not complicated.
Functions
Along with the dryer programs, we should also evaluate its functions, such as:
Fabric softener: Finishes the drying by placing fabric softener on the garments to leave them with a pleasant smell.
Anti-wrinkle: Leaves clothes lint-free through a hot setting.
Deodorizer: Prevents clothes from acquiring odors after drying.
Load indicator: Alerts you if the maximum capacity of the dryer has been reached. An essential indicator if you want to protect the equipment's motor.
Delayed start: Helps you program the dryer to start at a certain time.
Filter cleaning warning: This function warns you when the filter needs to be cleaned, and you will avoid cleaning the filter with each drying and do it only when the equipment requires it.
Type of door + hinge
This is a critical feature. Dryers have two types of doors, front-loading and top-loading. Front-loading can be cumbersome, especially if you install the appliance on the floor, while top-loading can be much more comfortable to use, but has a design that tends to take up a lot of space.
The safety features of the door are essential, if you have children at home you should choose models with child protection. And if you want to install it next to the washing machine or on this, you should look for models that allow reversing the opening direction, so you can square both.
Care and Maintenance
How to keep the exterior clean
Maintaining the exterior of your dryer is vital to protect its life and prevent any build-up of dirt or the development of rust. To clean the outside of your dryer, it is advisable to use microfiber towels and a specific cleaner or disinfectant for household appliances.
Before cleaning the dryer, it is important to unplug the appliance to avoid possible accidents. To achieve this, unplug the dryer at the back. Furthermore, if we have just used the dryer, we must wait for it to cool down, as it is dangerous to clean it if it is still hot.
How to keep the vent system clean
If you are cleaning your laundry room, it is time to deep clean the dryer vent. Knowing how to deep clean this part is not only about hygiene, but also about your safety, as it helps to prevent failures and blockages. This part of the dryer should be thoroughly cleaned once a year, so you will get dry clothes and more efficient operation of the equipment.
Look for cleaning supplies: you'll need a vacuum cleaner with a hose attachment, duct tape, broom and dustpan, drill, and dryer duct cleaning kit.
Take the dryer out, unplug it and disconnect the vent system clean: uninstall the dryer from the wall, unplug it and if it's a gas dryer, close the valve. Disconnect the duct from the dryer.
Vacuum vent system: install the hose attachment, turn on the vacuum, and vacuum around the vent inlet. Insert the hose into the exhaust duct and vacuum the area.
Attach the duct cleaning kit to the drill: if you want to go deeper, you can use dryer cleaning kits, you can find them on Amazon, and clean following the instructions on these attachments.
Sweep up the dirt: clean up the mess left by the cleaning very well. If the lint resists, you can use soapy water to clean it.
Check outside ventilation: check the floor or outside wall. If you are in an apartment, it may be difficult to reach this area, and you will not be able to clean. However, if the outside vent is on the floor, you can clean it with the duct cleaning kit and drill.
How often to check exhaust
A dryer is one of those appliances that can fail suddenly, especially when you need to dry a large load of laundry. If you don't check your dryer's exhaust, it can become clogged and force the appliance to overwork, which will cause rapid wear and tear and shorten its life.
In addition, you should clean the dryer vent for your safety. Flammable lint tends to accumulate in this area, and if you clean it frequently, you could become a victim of a fire.
It is advisable to leave the task of inspecting and cleaning the dryer vents to a professional and to call them at least once a year. However, if you use the equipment very frequently, it is advisable to consult a professional every six months.
There are telltale signs that it's time to clean the dryer exhaust, even if it's not yet time for maintenance:
Your clothes take a long time to dry, e.g., clothes that took only one cycle to dry now require two.

The clothes come out too hot.

The dryer gets hot to the touch during the drying cycle.

A funny smell escapes from the dryer when it is running.
Emptying the water tank
Dryers have a water tank in which the moisture that comes out of our clothes accumulates. To empty the water tank, we must first remove it, pull it gently and once it is out, empty it into the sink. Keep in mind that if the tank is full, the dryer cannot work. Once it is clean, insert the tank again and make sure it is properly installed.
If your dryer is connected to the drain, you will not have to carry out this maintenance process. Nor do you need to do it if you have a heat pump or vented dryer, as they remove water automatically.
Cleaning the condenser
The condenser of the dryer, also called the heat exchanger, is a component that you must take care of since the operation of the equipment depends on it. If the condenser has accumulated dirt, the dryer will not work as well. Some dryers have a self-cleaning condenser. 
To clean this component, it is best to use a vacuum cleaner, since in many dryers it cannot be removed. If your condenser can be removed, you should place a towel on the floor before removing it and once it is out, wash it thoroughly with warm water from the sink. Remove any accumulated lint with your hands and with extreme care, as it is a delicate part. Once clean, you must install it in its place.
Cleaning the tumble dryer drum
The drum of the dryer is its main part since it is the place where our clothes are dried, and therefore, a part in which dirt can accumulate, either because we have left something in a pocket of a garment or because even though we have washed the clothes, some particles remain. To clean the drum, we will use a cloth or clean cotton cloth that we will dampen with water and a little detergent, soap, white vinegar, or bleach. We will pass the cloth over the entire surface of the drum to remove all traces of dirt.
Cleaning the humidity sensors
This part is essential for the operation of the equipment and the finish of your clothes. This sensor is usually located at the front of the drum, often mounted on the lint filter housing.
To clean it, you should take a fixed piece of sandpaper and rub the moisture sensor to remove any dirt or lint that has adhered. Take a dry cloth, remove the remaining dirt and polish its surface.
Test the operation of the equipment, to achieve this you only need to check that the next time you wash clothes the automatic drying setting is active and that the drying process runs smoothly.