The Best Dog Harness of 2023
A dog harness makes it convenient and safe for you to take your canine companion out for walks!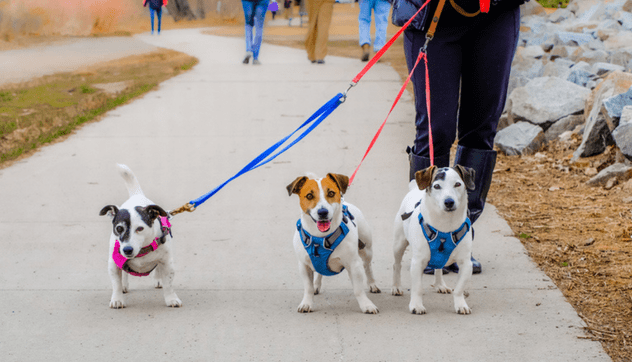 Dogs are our best friends and give us unconditional love and affection. However, they are also pretty curious and easily distracted, and it can become challenging to manage them when you take them for walks. No matter how well-trained your furry friend is, any random thing or any new smell is bound to catch its attention. Your dog may run into other dogs or struggle to free itself to chase that bird or that stray kitten. In such situations, it might become hard for you to control the animal charging ahead. A good dog harness will provide you with extra grip that a simple dog collar cannot. Unlike a traditional collar, a harness is also pretty safe for a dog's neck. Also, a good dog harness is a must if you take your canine to public spaces.
How We Picked
Durability

Durability is an indispensable factor. It's always important to make sure that your dog's harness will last for a long time. All our picks offer high durability.

Comfort

A good harness must be fitting and provide comfort to the animal. It shouldn't be too tight or too loose or have sharp edges that can injure the animal. We have picked only the best harnesses for you to consider.

Material

Material is of utmost importance. Always look for nylon or polyester for the restrainer and stainless steel for attaching the leash. This will help you have the harness for longer.

Cost-Effectiveness

A good harness should provide comfort and safety to your dog without draining your purse. It must be cost-effective and offer good quality within a budget. All our picks have a fine balance of value and money.
Our Top Picks
Best Pick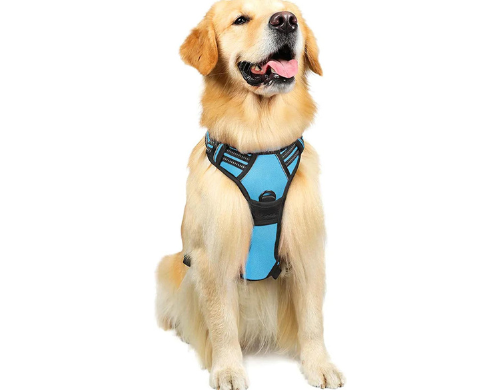 With two leash clips, this harness is not only affordable but also very useful.
The safety features of Rabbitgoo include two metal leash clips and four fully adjustable straps. It is among the best products on the market.
The Rabbitgoo harness provides superior control over your dog with its two metal leash clips. Its two fast-release buckles make it easy to take off, too. The chest attachment clip helps control the animal from rushing ahead, while the back attachment is useful for casual walks and hiking trips.
Runner Up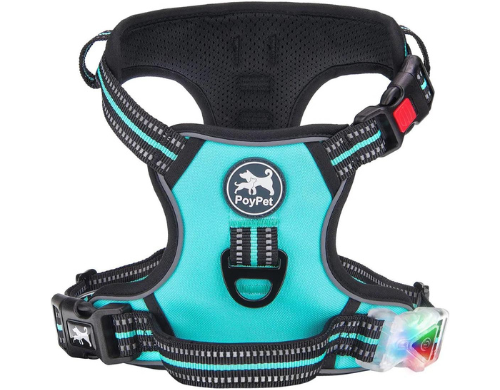 A reflective harness with a dual and elastic belly straps for optimum comfort.
To provide a better customer experience, PoyPet has LED-lighted harnesses that are perfect for night walks. The company is reputed and has been around since 2007.
This harness model has been around since the early 2000s but has been renewed and improved a couple of times recently. This harness provides great comfort for the dog and increases the owner's control with a unique design that stands out for being interesting and practical.
Most Cost-Effective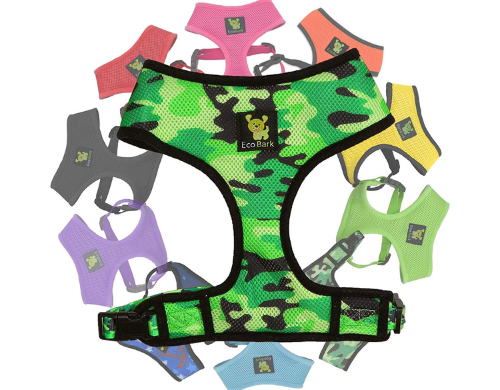 With double-padded fabric and breathable mesh, this chic harness provides maximum comfort and comes in various sizes.
EcoBark is a green harness company that searches for carbon footprints using recycled plastic. This double-padded harness is available in multiple colors.
Its lightweight and well-stitched design provide comfort and safety. It will help you manage your dog better without causing any trouble to the animal. It is environment-friendly, and its straps are made of recycled plastic. The company supports beach clean-ups, local shelters, and animal rights.
Everything We Recommend
Best Pick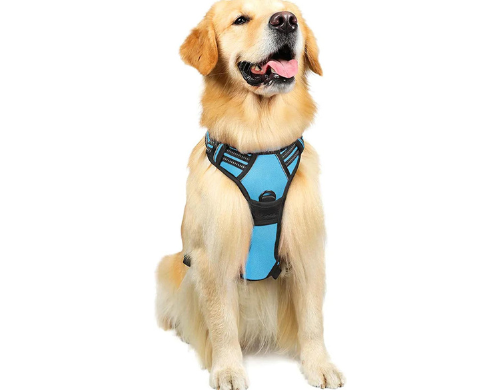 With two leash clips, this harness is not only affordable but also very useful.
$25.98
Runner Up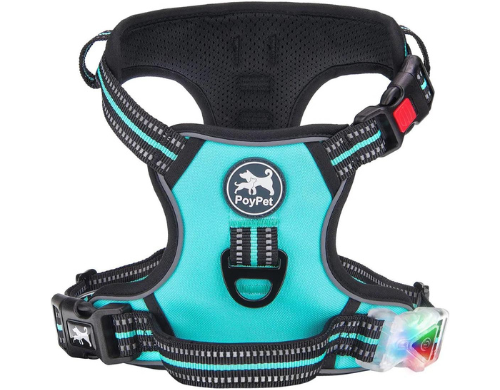 A reflective harness with a dual and elastic belly straps for optimum comfort.
$26.99 ($26.99 / Count)
Most Cost-Effective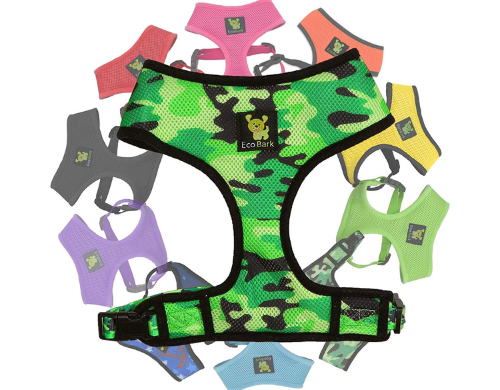 With double-padded fabric and breathable mesh, this chic harness provides maximum comfort and comes in various sizes.
$15.99 ($15.99 / Count)
Who This Is For
A dog harness is suitable for all dog owners, particularly those who find it difficult to control their energetic pets. Also, if you have a huge dog, such as a Great Dane or a Rottweiler, a strong dog harness becomes essential. If you enjoy taking walks or hiking trips with your furry friend, or take your pet to public spaces pretty often, you must consider buying a good dog harness. A restraining device will allow you to guide your dog and keep it safe and away from unnecessary triggers and distractions.
Are dog harnesses better than dog collars?
Dog collars are better for training purposes and are suitable for puppies or trained dogs. However, they can be dangerous too, as they put pressure on the dog's neck and can cause injuries to the animal if pulled too hard. A dog harness is a safe and far better choice.
Harness Styles
Vest: It is the most common choice because it is comfortable and easy to use. It comes in various sizes and multiple styles, colors, patterns, textures, and materials.
Webbed: Usually, they are more affordable but do not provide the best comfort. These are recommended for big and furry dogs. These are easy to put on and take off.
Front-Clip: This feature is specially designed for dogs that tend to pull hard on walks. Whenever the dog tries to rush ahead, the front clip generates a turn and prevents the animal from pulling further. This feature is suitable for training purposes.
Front and back Clip: These types of vests come with both a front and back clip. These are also suitable for training purposes.
Head: It is ideal for dogs that are excitable and love to dash ahead. If your dog barks at everything that moves or is uncomfortable around other dogs, this feature will be useful for you.
Why You Should Trust Us
Like humans, dogs have distinct personalities too; while some are fidgety, others are sensitive and calm. Half the battle is won when you understand your dog's basic personality. After that, just get a good harness and take your dog anywhere safely and easily. For temperamental and large pets, the harness becomes a necessity. We have prepared a list of the best dog harnesses and included only the best products so that you can pick them as per your requirements.
How We Picked
Practicality
Dog harnesses that do not take up a lot of space are considered the best. Practicality means that they are easy to wash and stay odor-free.
Durability
A durable harness lasts for years and can be reused. You can use it for the next furry friend that comes along. Sometimes, a durable harness can remind you of all the lovely moments you once shared with your late dog.
Comfort
Dogs love walks, so a harness that fits properly will prevent rashes and not damage the dog's skin. The material should also be considered, as dogs with shorter hair or thinner fur may need softer materials.
Adjustability
If only all puppies could stay the same size their entire lives, but they grow up fast! An adjustable harness can be used with dogs of all ages, shapes, and sizes.
Material
This is of utmost significance because when it comes to dogs, especially puppies, the material needs to be soft as well as sturdy because, given their teething issues, they tend to chew up most stuff.
Price vs. quality
There must be a balance between price and quality. A great dog harness should not cost a fortune, nor should an inexpensive harness last for just a few weeks. Our selected picks offer the best value for your money without compromising on the safety and comfort of your dog.
Care and Maintenance
Deciding which harness is best
For this, you need to understand the temperament of your dog; the size of the animal also matters. If you have an active dog, avoid web harnesses because the dog might get injured. If you have a large dog or if your dog is slightly aggressive or easily triggered, a secured harness with multiple clips is recommended.
How to get your dog used to a harness
There are two types of harnesses: those that go through the dog's head and those that go through the chest. If the dog tends to pull, you will need one with the leash clip on the front.
How to put on the harness
It depends on the harness and also on the position of the dog, whether it is standing or sitting. Slip the harness over your dog's head. The wider loop goes on first, and the narrower loop goes on next. Slip your dog's leg through the first leg hole of the harness. The leg should now be between the loops. Buckle the harness; if the buckle does not close, just loosen the strap. Once the harness is buckled, adjust it so that it fits properly. Remember the two-finger rule.
Washing and drying information
Most of the harnesses and straps can be machine-washed. To clean the brass, squeeze half a lemon into a bowl, add a teaspoonful of baking soda to create a thick paste, rub the paste in one direction, and rinse off. After that, dry with a clean, dry cloth and repeat as needed.