The Best Dog Gate of 2023
A dog gate keeps your dog from entering restricted areas and helps you keep your pet confined and safe.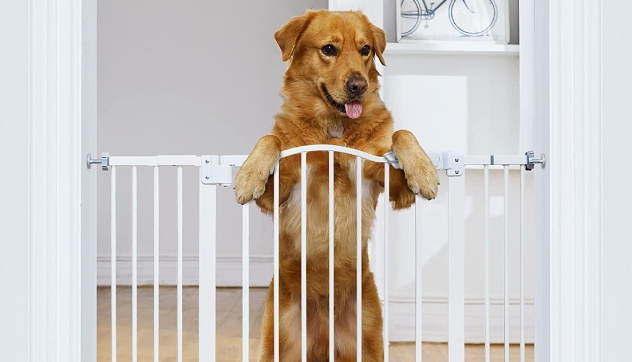 Owning a pet is one of the most fulfilling things to do in life. Having a dog brings pure affection and happiness to your house. However, your dog might need to be kept out of particular areas, which is why you need a dog gate. These gates can be useful for training your dog and for keeping your dog safe.
We have compiled a list of the top dog gates currently on the market after carefully taking into account numerous important factors. To give you the best dog gate options and help you make your decision, several brands were compared.
How We Picked
Durability

Dog gates are put to a lot of grueling use, so it makes sense to have a strong gate that ensures durability. We have selected only the most durable dog gates that can accommodate even larger dogs.


Size

A dog gate's size is crucial because it establishes the area that it will enclose and restrict access to. A gate that is too small won't work well to contain the dog, and a gate that is too big might be difficult to install or take up too much room. A gate intended for small dogs should not be used for larger dogs, as the larger dog could potentially jump over or push through the gate.



Ease of use

It's crucial to have a simple-to-operate dog gate because it makes it easier for you to enter restricted areas and to keep the dog in its designated area. It can be annoying to use a gate that is difficult to open or close.


Price

A good and sturdy dog gate must not be heavy on the pocket. It should offer a fine balance between quality and price. We have selected only the affordable ones for this list.


Our Top Picks
Best Pick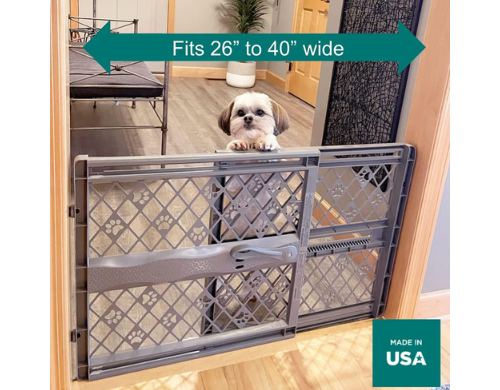 A fashionable and charming dog gate.
This uniquely chic and charming gate is made of plastic, which is long-lasting and sturdy.


With a beautiful finish that will complement any decor, the MYPET North States Portable Pet Gate comes in two shades. It is portable, tall, and will keep your dog safely confined to the space you want. It is made of durable plastic.

Runner Up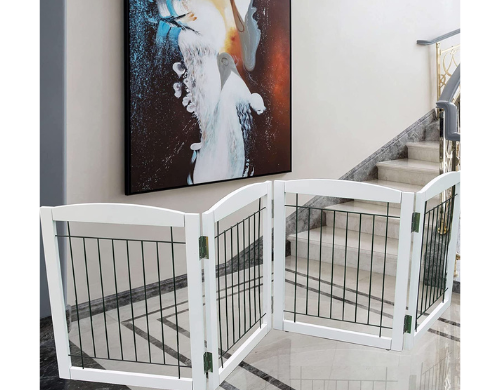 This sturdy and foldable dog gate with four panels can also be used as a room divider.
This stand-alone, four-panel selection looks elegant and requires no assembly.


This stand-alone, four-panel dog gate is foldable and can be used as a room divider. It folds out into a wide Z-shape and can be used in halls, as a double gate, in doorways, in bedrooms, or anywhere else in the house. Its non-slip rubber feet protect your floor from scratches.
Most Cost-Effective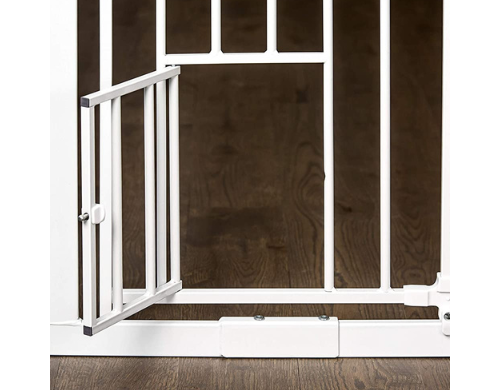 An affordable dog gate that does not compromise on quality.
With a contemporary design, this steel dog gate can be extended by four inches. It is easy to store and comes with a safety lock.


This walk-through dog gate is extendable by four inches! It features an easy-to-install pressure-mount design that is gentle on walls. This gate is rust-resistant and comes in two convenient sizes. It is pretty foldable and convenient to store as well!
Everything We Recommend
Best Pick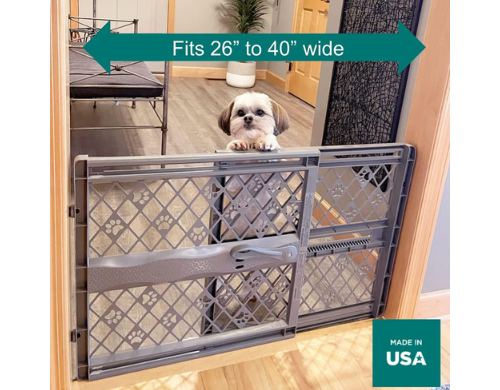 A fashionable and charming dog gate.
$17.38
Runner Up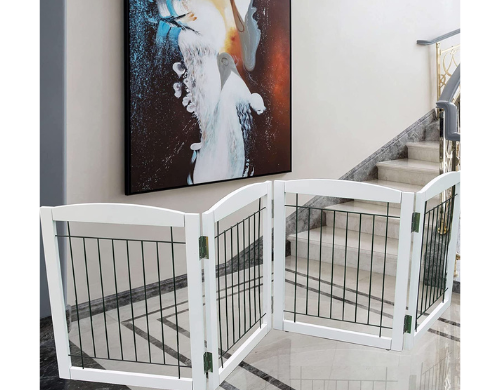 This sturdy and foldable dog gate with four panels can also be used as a room divider.
$99.99 ($6.25 / Ounce)
Most Cost-Effective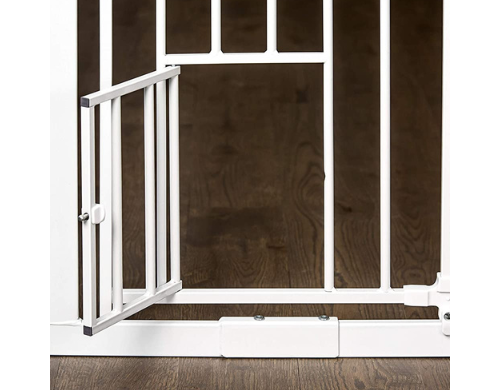 An affordable dog gate that does not compromise on quality.
$43.99
Who This Is For
The products described here are for those who own dogs and want to ensure their safety. If you do not want your dog to enter a particular area of the house, these gates are ideal for keeping your pet confined. These gates can be used to confine small dogs as well as ferocious and aggressive dogs.
Can a baby gate suffice?
Yes, a baby gate can double as a dog gate. It's crucial to check that the gate is sturdy enough to support the size and weight of your dog. Baby gates are typically made to contain infants and young children, whereas dog gates are made to contain larger, more powerful animals. Therefore, it's crucial to make sure the gate is strong enough to withstand the dog's weight and strength if you're using it to contain a dog.
Furthermore, a lot of baby gates have horizontal bars that might not be appropriate for dogs because they can climb over them. Therefore, before using a baby gate as a dog gate, make sure the design is appropriate for your dog's size and behavior. You can use a metal or wood dog gate that is strong enough to contain your dog and has a locking mechanism that your dog can't easily open.
Are they worth it?
Our research indicates that these dog gates are worth investing in. By exerting pressure on the door's frame walls, the pressure-mounted versions stay securely in any place. All the dog gates listed here are affordable, strong, and simple to install.
Why You Should Trust Us
Although various lower-quality dog gates are available on the market, our list includes only the best ones. We have examined every option on various significant factors to ensure that you get only the best picks to choose from. We have discarded those made of low-grade materials with flimsy frames. We have done our investigation judiciously to present you with the best dog gates.
How We Picked
We spent much time researching the various types of dog gates that are available. All these dog gates, including the ones that came close to being chosen, were included after a second assessment where we examined the reviews from confirmed customers. To give you the best options, we have done our best to conduct our research carefully and impartially.
Durability
When selecting a dog gate, durability is crucial to take into account because it affects how long the gate will last and how well it will withstand frequent use. Typically, strong materials like plastic, steel, fiberglass, and wood are used to create durable dog gates. These gates are extremely resistant to dents and scratches.
In order to prevent the dog from pushing or pulling the gate open, it's also crucial to make sure that it has a sturdy and reliable locking mechanism. It's also important to inspect the gate's construction; make sure it's sturdy and doesn't have any sharp edges or corners that could harm the dog.
Also, if you're using a gate that needs to be mounted, make sure the hardware that comes with it is strong enough to withstand the weight of the gate as well as the force of the dog pushing against it. Overall, a dog gate's durability is important because it ensures that the gate will remain functional and safe for your dog to use over time.
Height and width
For smaller dogs, the ideal dog gate should be about 12 inches tall; for medium-sized dogs, 28 inches; and for larger breeds, even higher. You want a gate that your dog won't be able to easily hop over, especially as they become familiar with the gate's function. As for the width of the gate, this depends on the length of the area into which you want to fit it.
Ease of set-up
We gave simple setup gates some thought. They can be installed quickly and easily without help from a professional or prior technical knowledge. A straightforward locking mechanism that can be opened and closed quickly and easily is typically found on an easy-to-use dog gate. This will make it less of a hassle for you, and you'll be more likely to use it consistently.
Design
Some dog gates are traditional in appearance, made of wood and metal, while others are more modern and sleek, made of plastic or even glass. Some gates are made to blend in with their surroundings, whereas others are made to stand out as a decorative feature in the home.
Overall, a dog gate's design is significant because it affects how well it will function for the unique requirements of the owner and dog as well as how well it will blend into the home. When selecting a dog gate, it's crucial to take into account the intended use, the unique requirements of the owner and dog, and the overall aesthetic of the house.
Weight
All our picks are lightweight and perfect for dogs of all sizes, from puppies to big, muscular dogs. The gates remain firmly anchored to the ground.
Versatile
All our picks stand out from the competition because of their adaptability. They are suitable for the homes of all dog owners. Although some of the gates have smaller latches that rely on spring systems to lock into place, they can be configured to firmly stay in place thanks to their designs.
Care and Maintenance
Your dog door flaps can be restored to like-new condition with some simple cleaning. The flaps may be cleaned rapidly and effortlessly.
Never use nitrogen glass cleaner on the flaps of your dog's gate. The vinyl makes them hazy because of the nitrogen. Use some dish detergent in warm water or a domestic cleaner without nitrogen, and all the debris, filth, and grease will be quickly removed.

Simply wash the grime and dirt away, then dry with a fresh cloth or piece of paper for flawless cleaning. If your dogs are finicky about the scent of the cleaner, rinse with clear water and dry.
Use high-quality wax on your clean covers to offer an extra layer of protection to your dog door covers. Your vinyl dog door flaps should be shielded from the sun and can be easily cleaned with wax.