The Best Dog Crate for 2023
Use a dog crate to keep your dog secure and shield your guests from harm.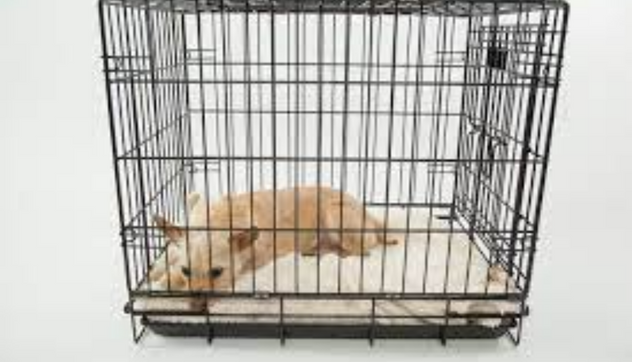 A dog crate is an essential addition to your home if you enjoy the company of furry friends in your house. It provides a safe environment where your dog cannot get out unless you allow it. This way, your furry friend cannot move to restricted areas where it can get hurt or lost.
Additionally, a dog crate protects guests coming to your home from dog attacks. Although your dog can easily bark and harass them from the vents, it cannot bite them. A crate is also friendly since it allows your dog to easily view its surroundings. Thus, it can bond with the people in your house and breathe comfortably. Read on to find more detailed information about dog crates.
How We Picked
Size of crate

The best crate for your dog should be big enough to accommodate it comfortably. Also, if you intend to keep more than one dog in a single crate, ensure that they have enough space to sit, sleep, and move with no trouble.

Durability of Crate Material

A dog crate made of sturdy, durable materials will serve you for a long time. It will comfortably withstand the weight of your dog for long hours without falling out of shape, Consequently, it will save you money that you would have needed to replace your crate after a short while.

Dog's Needs and temperament

Depending on your dog's breed, age, and size, different dog crates will be more suitable than others. An older, larger dog requires a larger crate. A highly temperamental dog breed also requires a large dog crate to allow enough space to fuss.

Hygiene and Comfort

The ideal dog crate should be comfortable for your dog. It should have a soft, well-padded surface to lay on. It should also be easy to clean to maintain hygiene and good health.
Who This Is For
The crates listed here are ideal for dogs of all sizes and breeds. They are made of safe materials that will not harm your dog's coat or health. You can also use them for all dogs of different temperaments. However, check the specific needs of your dog and ensure that you make the best choice.
What are dog crates?
Dog crates are also called "flight kennels" or "vari kennels." They are plastic or metallic enclosed pens where your dog can stay with no supervision. It acts as a dog bed and sanctuary and provides confinement for safety, security, travel, and prevention of destructive behavior. 
Are dog crates a good idea?
Dog crates are a good idea and enable you to house-train your dog easily. It also allows you to leave the house with some peace of mind, knowing that your dog and house equipment are safe. It protects your dog from developing bad habits. A dog crate also confines your furry friend at times when they are over-excited or fussy. 
Additionally, your dog enjoys privacy and security. They also learn how to control their bowels and associate elimination with the outdoors. You can use a dog crate to spare your dog from loneliness and frustration resulting from isolation. 
Dog crates vs. carrier cases
Dog crates are pens that provide your dog with a safe, private space of their own while at home. Carrier cases, on the other hand, are pens where you enclose your dog while transporting or traveling with it. They both have vents that allow proper breathing and visibility while resting or traveling.
While dog crates are primarily meant for shelter, you can also use them as transportation pens. Dog carriers, on the other hand, are meant for transportation and are not ideal for other purposes. Crates and carriers should both be made of comfortable materials that will not hurt or cause discomfort for your dog. 
In conclusion, dog crates are ideal for use at home, while dog carriers are best suited for transportation. 
Legality of dog crates (depending on the country)
Some countries allow the use of dog crates, while others do not. Therefore, before getting a dog crate for your dog, ensure that it is allowed in your country. This confirmation will protect you from getting on the wrong side of the law. 
In Sweden and Finland, dog crates are allowed by law only for transportation. However, crate training is restricted in these countries. In Germany, it is allowed to crate a dog for up to two hours but it is illegal to crate them permanently. 
Note that not all countries have their animal laws published on the web. You must, however, inquire from departments that deal with animal rights and freedoms in your country. Consequently, get one only if it is allowed.  
Why You Should Trust Us
We are an independent site whose mission is to provide truthful information and reviews about different products. We derive data from authentic sites and consumer reviews and only publish valid information.
How We Picked
We settled on our topics by evaluating different factors. Our top picks include crates of different sizes to accommodate different dog sizes with different needs and temperaments. They are all made of sturdy materials for durability and longevity. We only picked lightweight crates to allow easy portability. They all have reliable locks to keep your pet secure as you carry them around.
All our picks are also made of easy-to-clean materials to ensure that your pet is always in a clean environment. They also have additional features, such as removable trays for easy cleaning. We have also handpicked comfortable crates to ensure that your dog stays in a comfortable environment. You can place the crates in any location in your house. They are all comfortable and durable to give you the best value for your money.
Care and maintenance
Your dog crate will serve you effectively if you make a deliberate decision to learn the correct care and maintenance procedures. Clean the dog crate every two to four weeks or as soon as there is an accident in the crate. Remove every item in the crate, including blankets, beds, toys, bowls, and pillows, before cleaning. Clean all the items separately, depending on the material they are made of. Use clean water and a mild detergent, friendly to your dog's coat to clean the crate and the other items. Allow some time for the crate and the bedding to air before getting them back into the crate.
You can crate your dog all night, but ensure that you provide everything that they need during this time. Provide food, water, and warm bedding to keep your dog comfortable overnight. Also, let your dog out for some time before locking it up all night. Letting them lose is essential since it gives the dog some time to stretch and eliminate as necessary.
Avoid covering the crate completely, even when it is cold. Leave enough space for proper airflow to allow ventilation and aeration. Place your dog crate in a corner where it will not get in your way as you move around. However, ensure that the place is neither too hot nor too cold. The place should not be too drafty, close to a fireplace, a radiator, direct sunlight, or any heat source.
Sources and Research