The Best Diaper Pail of 2023
Get a diaper dial pail to prevent your house from smelling like a "porta potty."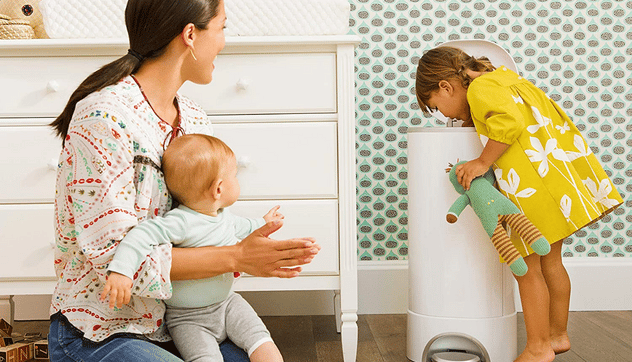 Lifestyle changes are inevitable whenever a newborn baby is brought home. For example, new parents must adjust their lives to operate on newborn standard time, which entails sleeping when the baby naps, monitoring how much food they are consuming, and tending to their "poop business." Babies go through plenty of diaper changes, and a diaper pail is an invaluable item.
To prevent your baby's nursery from smelling like a porta potty, these specialized cans use mechanisms to block offensive smells and absorb odors. Although a diaper pail is not necessary since traditional trash cans can hold diapers, it is a much better way to contain odors because they are specifically made to trap them. They are typically tall and narrow, so they may be put covertly next to a diaper changing table. They also have a more appealing appearance than garbage cans in nurseries. To prevent everyday changes, a good diaper pail should be simple to use and roomy within. To identify the finest, we have analyzed diaper pails from several companies, taking into account factors like odor control, capacity, convenience, and price.
How We Picked
Odour Minimizing

Odor filters may include odor-blocking inserts, discs, and liners, as well as built-in antibacterials. There are also filter inserts offered by other manufacturers for pails that do not come with odor filters. The finest diaper pails are those that can contain odors.

Size/Capacity

The diaper pail has a holding capacity ranging from 15 to 50 diapers, depending on size. The ideal size depends on how frequently you wish to empty the diaper pail. Also, the physical size of the pail affects placement. Make sure it's a great fit for your nursery or bedroom.

Easy to Use and Reload

Opening the pail and placing diapers inside should be simple to do, given that you will often be holding your baby. In a perfect world, a pail wouldn't need you to press a soiled diaper up against a wall or squeeze it through a small aperture. Additionally, setup should be simple, or at the very least quick, and it should be obvious how to empty the pail and put in a new liner or refill.

Price

The cost of diaper pails greatly varies depending on the materials used, the overall design, safety considerations, and the bundle options that allow for the inclusion of liners and inserts. While stainless steel variants can be a tad pricey, plastic pails tend to be more affordable.
Our Top Picks
Top Pick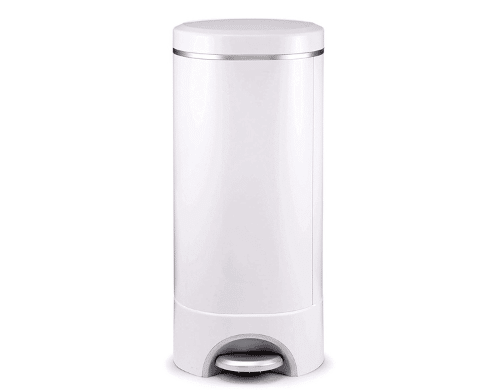 It is designed with an Arm & Hammer baking soda puck to keep your nursery fresh.
This is the best option for you if odor control is a major issue and you don't mind spending extra money on specialty bags.
The Munchkin Step diaper pail's major selling point, in addition to its large capacity, practical step-open mechanism, and understated style, is its ultimate odor control, which is, in our opinion, the most crucial feature of a good diaper pail. The Arm & Hammer baking soda puck that helps absorb odors and a light lavender scent that helps conceal any residual odors are the key ingredients in this diaper pail.
Runner Up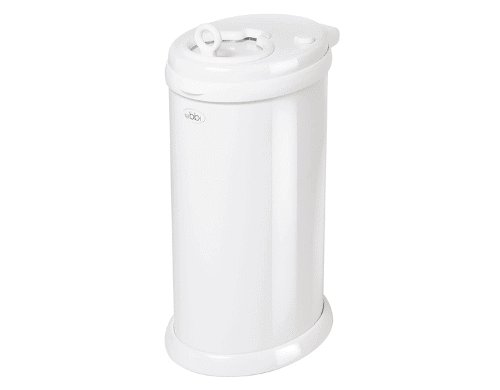 It's easy to use and efficient at eliminating nasty diaper odors.
With the design of this pick, emptying the pail is as simple as emptying a garbage can. No bag-cutting or further knot-tying is required.
The Ubbi Steel Diaper Pail finishes well with its lowest 3-year ownership cost, superior build quality, and a feature set that is simple to use. It uses regular kitchen garbage bags, so there's no need to seek out specialty refills or cartridges, and it stands above a sea of substandard pails and leaves you wondering why a steel diaper pail wasn't invented sooner.
Most Cost-Effective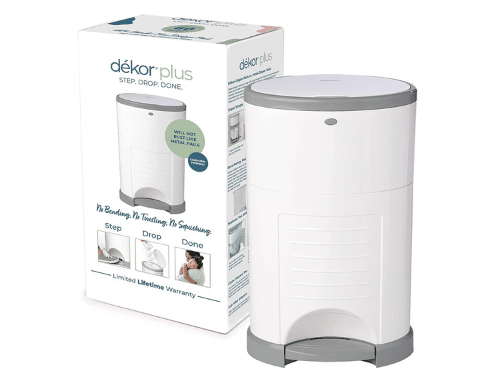 A fast and easy-to-use pail that supports hands-free operation.
The inexpensive Dekor Plus Hands-free diaper pail will stop odors from creeping into your nursery.
A cheap hands-free container that, when emptied of diapers, transforms into a garbage container. Step on the pedal and gently place the diaper in the entrance, and you're done. No need to force diapers through a tiny hole! The largest of the three sizes can carry more than five days' worth of diapers.
Everything We Recommend
Top Pick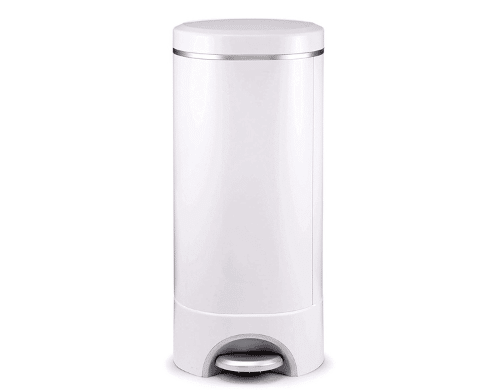 It is designed with an Arm & Hammer baking soda puck to keep your nursery fresh.
$70.95
Runner Up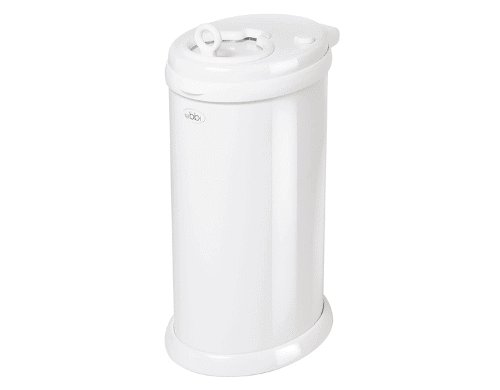 It's easy to use and efficient at eliminating nasty diaper odors.
$69.99
Most Cost-Effective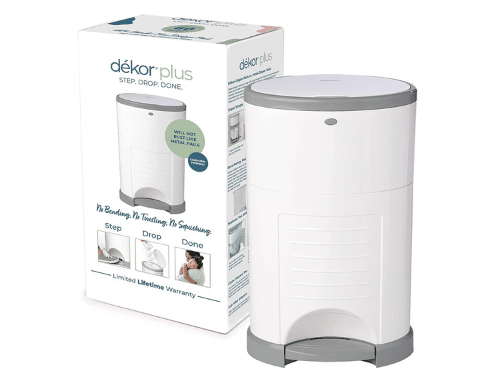 A fast and easy-to-use pail that supports hands-free operation.
$49.95
Who This Is For
The reviewed products are for any caregiver who wishes to dispose of used diapers close to the baby's main changing area and needs a container made especially for the task, as controlling the smell is crucial here. You can use an ordinary garbage can if you want to save money, but most people who attempt it later change their minds. By the time your little one is 3 years old, you will have thrown out about 5,000 dirty diapers, so having a designated diaper pail by the bedside table will help make the journey easier. Given the number of diapers, you'll actually use, expect to empty the trash at least 8 times per day in the first few months alone. A diaper pail will, however, limit the responsibility of transporting used diapers to a waste pickup area to only once or twice a week.
Diaper pails vs. regular trash cans
A majority of people are not aware of the disparity between a diaper pail and a trash can. Despite the fact that you may believe they are the same, they are actually very different.
A trash can is nothing more than a container for holding trash. A trash can is an object used to hold rubbish; it frequently has a lid and is constructed of steel, plastic, or ceramic. To make it easier for you to dispose of trash, they contain a lid that opens and closes, and you may open the lid of some trash cans with your foot instead of your hands by pressing a foot pedal. It's merely a location to store trash until you can get rid of it; it doesn't have any unique features or anything.
On the other hand, a diaper pail is made exclusively for keeping soiled diapers. The lid often locks tightly to keep the smell within, and some even contain a deodorizing agent to further regulate the smell. Most diaper pails include pedals that let you open the lid without having to use your hands. The deodorizing system in diaper pails, which are typically made of plastic, aids in reducing the smell of used diapers. They occupy less room than a trash can because they are typically tall and narrow. A diaper pail contains several liners or bags which you can use to line the pail rather than ordinary garbage bags. You can change the diapers without touching the soiled ones once the liner is full. Simply knot it off, then get rid of it. The pail can then be used again after being lined with a fresh one. Some diaper pails now have a self-sealing mechanism that automatically closes the bag after every use. This makes it simpler to get rid of the bags and helps to control odors.
Advantages of a diaper pail over a trash can
The unpleasant smell of a soiled diaper is well known to most parents. Unfortunately, this smell can quickly spread across a whole space, making it uncomfortable for both children and adults alike. Fortunately, there is a simple solution to this issue, and that is using a diaper pail. The odor-sealing capabilities of diaper pails let you maintain a clean and fresh scent in the nursery, and since they are usually bigger than a conventional trash can, you won't need to unload them as frequently. Most importantly, they may be able to lessen the likelihood of terrible diaper leaks. Even when things start to smell a little funny, you can use a diaper pail to keep your crib smelling fresh!
Typically, trash cans are composed of plastic, which is not biodegradable and takes a very long time to decompose. Considering that trash cans are frequently made of plastic, they will eventually wind up in a landfill. Contrarily, diaper pails are frequently constructed of biodegradable rubber or stainless steel, which are considerably more environmentally friendly materials.
Unlike garbage cans, diaper pails often have lids that keep odors inside. Therefore, they can contribute to the reduction of air pollution. So, diaper pails win out in terms of environmental friendliness. They might not, however, be the ideal option in every circumstance. For other people, trash cans might be a preferable option because they are typically less expensive and simpler to manage. All in all, the best option for you is the one that you can afford and is convenient for you and your family.
Is it worth splurging on?
Although you can use a conventional garbage can in your nursery, you could find that you end up breathing through your lips rather than your nose. There are a few ways you can effectively reduce the smell of used diapers, and they all involve getting rid of them. However, running every dirty diaper to an outdoor garbage can in the late hours of the night could become strenuous. An alternative is to use a diaper pail because these containers aid in reducing foul odors as they are made to trap in the potent smell of soiled diapers. Your diaper pail is an investment that will last for years because you will use it from the first day of your baby's life until they become toddlers. Additionally, after the diaper days are over, some diaper pails can be utilized as regular trash containers. Therefore, purchasing a quality diaper pail is worthwhile.
Why You Should Trust Us
There are tons of attractive diaper pails advertised on different retailer websites and in different stores, each one designed with different features and odor filtering mechanisms. Due to the variation in brands, sizes, capabilities, odor filtering mechanisms, and prices of these pails, it can be hard to select the right one, so we have conducted in-depth research to choose quality, attractive, easy-to-use, large capacity, maximum odor filtering, healthy, and reasonably priced diaper pails for you and your little one!
How We Picked
We spent hours online researching the best-selling diaper pails, which helped us narrow down our initial choice of diaper pails to 8. In order to narrow down the list, we looked at previously written guides and roundups as well as customer reviews posted on retailer websites. We eliminated pails that reviewers claimed were too small or ineffective at containing the smell of used diapers. Although several of the pails we looked at might be used well with cloth diapers, it wasn't a necessity for us; our main concern was finding pails that are the best at reducing odor, simple to use, and have a sufficient capacity for disposable diapers; four candidates remained after we had reduced the list from an initial survey of around eight pails.
The stench problem is typically addressed by diaper pails in a number of ways. The Munchkin used the Arm & Hammer baking soda puck that helps absorb odors and has a light lavender scent that helps conceal any residual odors, which is why it made it our best pick on the list. Some pails use a charcoal filter or a carbon filter to purify the air inside. The easier the task and the less stinky it is, the more bonus points the pail receives. After all, pulling a bag of dirty diapers out of the container was never going to be a fun chore.
There are numerous ways to open diaper pails, including handles, flip lids, and foot pedals. We chose diaper pails with a large enough hole to simply drop diapers inside, and that was simple to open without odors escaping. Nobody wants to clean poop off their palm after squeezing a dirty diaper into the pail. Despite the fact that diaper pails don't pose many safety issues, we chose sturdy pails to ensure that if you keep yours on an uneven platform, it won't fall on your kid. Before they start to overflow, you may need to empty some smaller pails of the soiled diapers every one to two days. Alternatively, really large pails may be able to store a week's worth of diapers or more, but when the diapers are gathered for a long time, the pails begin to smell. The room you have for a diaper pail will probably also influence your choice, so we took this into account when making our selections and chose pails that come in a variety of sizes.
The costs of purchasing each of the pails we chose were also compared, but your results may vary depending on how frequently you empty your pail, how you handle childcare, and, obviously, how much "poop" your child generates. Some diaper pail manufacturers include estimates of bag prices over time as well as estimates of bag capacity. However, we found that the latter was overly optimistic. Aesthetics matter because diaper pails are frequently put in conspicuous places, frequently in nurseries. We also searched for proof that the materials and patterns of our picks could withstand repeated use without looking tattered.
Care and Maintenance
Develop the habit of bundling used diapers into tidy, compact bundles to get the most use out of your diaper pail. This will effectively pack the bag inside the pail and further help contain the odor. It will also lessen your risk of exposure to loose contents. If it's helpful, you might even think about flushing any solid waste before disposing of your diapers. This will prevent odors and let you delay emptying your pail for a while. It's inevitable that the inside of your diaper pail will begin to smell if it does a good job of containing odors, so the pail should be air-dry, ideally overnight, and for obvious reasons, it is best to address any stains on your pail walls as soon as possible. If cleaning is required, Ubbi advises using a dry towel and, if washing with a damp cloth, making sure to let the pail fully dry before using it again.
The manufacturer advises against using bleach or detergent sprays, as they could get inside the screws and disintegrate the metal. They also advise against the use of abrasive liquid cleaners. In addition to applying a solution of vinegar, baking soda, and lemon, Munchkin advises cleansing their plastic pails with warm water and soap. You should clean the diaper pail after taking the diaper bag out. You can make your own vinegar-based spray or use a commercial one like Lysol. After this, you should give the diaper pail considerable time to air dry and let the inner space dry for as long as possible. Whether outdoors or in your bathtub, allow the pail to dry facing down. You might want to disinfect the diaper pail with either a baking soda mixture or products containing baking soda to help mask the odor. We strongly recommend storing your diaper pail in a store room when not in use and storing all cleaning products securely and out of your child's reach.
Sources and Research