The Best Diaper Bags for 2023
Grab a diaper bag to make your parenthood a lot easier when traveling or running errands.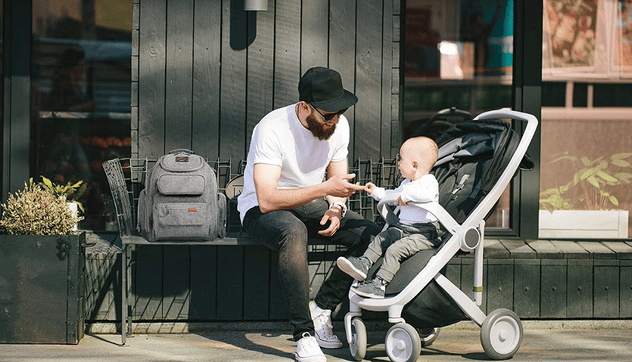 A diaper bag makes life easier for both parents and caregivers. At times, it's mind-boggling how much stuff such little humans need for a short trip outdoors. Although regular bags can carry your baby's items, diaper bags are specifically designed to carry all these items in a very organized manner and within comfortable reach.
Whether you want a gender-themed bag or something neutral and comfortable enough for a helping hand, there is no shortage of these life-saving bags. With tons of options, we have taken the time to research, test, and compare some of the best-selling diaper bags to help you choose the best one for you and your baby's needs.
How We Picked
Easy to Clean and Handle

Taking care of a baby is a messy affair and diaper bags are bound to get dirty quickly. As such, you need a bag that's easy to use and clean whenever the need arises. It should also be made from high-quality fabric to avoid fading or tearing after a few washes.


Price

You can find a quality diaper within your price range. We understand that and we have gathered good diaper bags that don't cost much.

Size

The most important feature of a diaper bag is its size and space. So, we focused primarily on providing you with spacious and compartmentalized bags to help you carry the baby's necessities in a more organized manner.

Comfortable to Take Around

Apart from being able to carry all your baby essentials, the diaper bag should also be convenient and comfortable. We picked diaper bags that come with a handle you can attach to your strollers.
Our Top Picks
Best Pick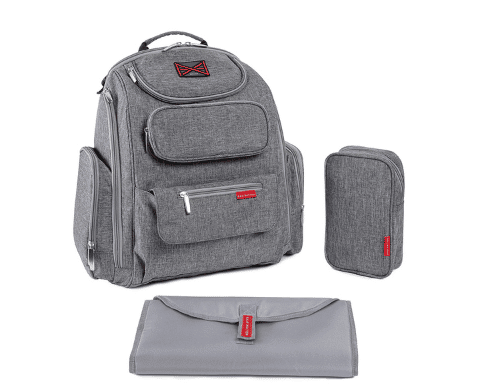 This gender-neutral diaper bag holds all your baby items with its large capacity.
It has stroller straps, padded backpack straps, and small compartments to keep everything organized.
The bag nation diaper bag is designed with high-quality fabric, reinforced stitching, and sturdy zippers to ensure it's durable, economical, and functional. It offers you a large storage space for you to fit all your baby stuff when you step out of the house. The backpack bag allows you to clear your hands of stuff to avoid losing anything. It is the ideal diaper bag for new parents and makes your life easier while you're outdoors.
Runner Up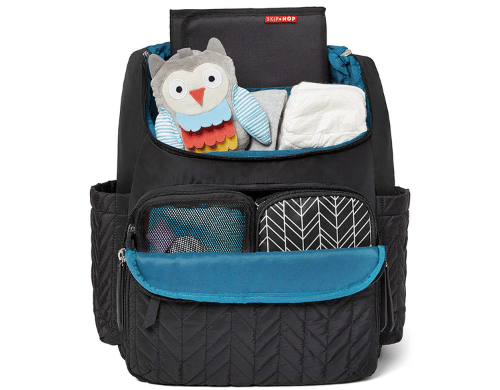 Enjoy a multi-function and lightweight diaper bag for your outgoings.
It has plenty of storage space and insulated pockets for your bottles to keep them warm.
The Skip Hop diaper bag is lightweight, spacious, and stylish. It comes in form of a backpack to free your hands when traveling. The bag is large enough to carry the baby essentials such as diapers, extra clothes, snacks, and an umbrella. The inner compartments are also water resistant to protect other items if any liquids spill inside the pockets. In addition, you also get spaces for your tablets and laptops.
Most Cost-Effective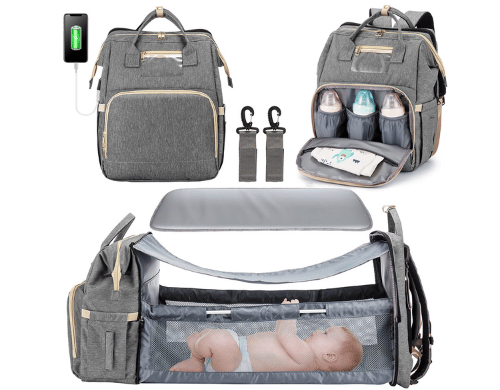 This diaper Bag has a built-in travel bassinet
This economic unit offers you a foldable baby bed, a spacious diaper bag, and changing station.
This multifunctional diaper bag allows you to carry your essentials and turns into a charging station. The bag is spacious with well-partitioned pockets to fit your items. It is made from high-quality fabric, strong zippers, comfortable straps, and reinforced seams. The bags come in multiple colors to choose from and are designed for convenience.
Everything We Recommend
Best Pick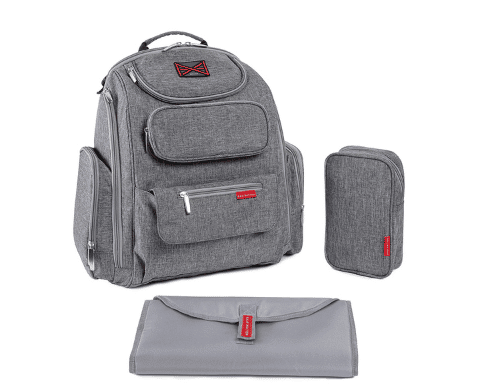 This gender-neutral diaper bag holds all your baby items with its large capacity.
$99.95
Runner Up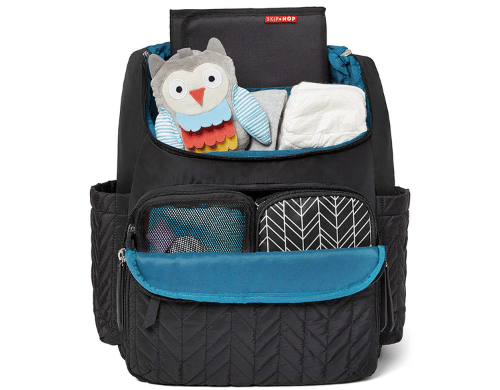 Enjoy a multi-function and lightweight diaper bag for your outgoings.
$74.99
Most Cost-Effective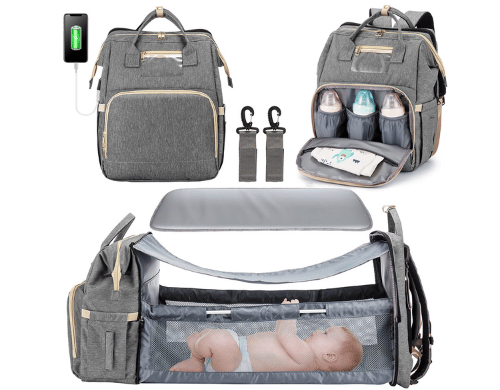 This diaper Bag has a built-in travel bassinet
$46.99
Who This Is For
Baby's essential stuff can be a lot and sometimes difficult to carry in a normal bag. If you are a parent, you ultimately need a diaper bag that will make traveling with your child's stuff a seamless experience. Diaper bags are not limited to women only. Men, too, can use them, whether helping your wife carry or going out with their kids. Moreover, there are plenty of comfortable, gender-neutral diaper bags, some of which we have reviewed here. That said, both men and women should feel comfortable reading this article to make better purchase decisions for their diaper bag needs.
Diaper bag vs backpack
Diaper bags have been around for some time and are continually evolving. Their basic use remains the same–to carry your baby's items and any other essentials you might need when you are out and about with your young one. Diaper bags come in varying styles and colors and can be cross-body, over the shoulder, or even a backpack- like the modern ones.
It is worth noting that diaper bags look and operate like backpacks. Diaper bags and backpacks have pockets and compartments, but diaper bags have sections specifically designed to hold baby stuff like wipes and even bottles.
You'll want to choose a good diaper bag if you fancy organization and style. But a backpack will be good for you if you want a place to stuff all your baby supplies.
Regular backups have a downside; they lack specific compartments like wipe dispensers, insulated pouches, or changing pads available in some diaper bags. However, you can have insulated pouches that clip onto regular backpacks, and travel wipes that you can store in a front pouch that is easy to reach. A regular backpack may work great when your baby turns into a toddler and you don't require much stuff.
Is it worth splurging on one?
You shouldn't feel guilty splurging on a perfect diaper bag. A diaper bag is a gift for your little one, and you will be carrying one as your purse for a while; hence it needs to survive the road, especially when you add another baby. If you are a working mom, you don't want to go into an office with a screaming bag but rather a diaper bag that functions as a normal work bag where you can also put your "purse things." Splurge on a quality diaper bag, and you won't regret this decision, as a diaper bag is essential for any mom.
Why You Should Trust Us
To learn more about how moms who have used diaper bags before think, we have personally viewed customer videos describing how they use the product. Their concerns also helped us come up with the next section of this article which talks about how we tested the top picks for you. Additionally, we have taken the time to thoroughly research each of the picks we have for you and compared them to other related diaper bags out there. We primarily focus on key features that brands include in the diaper bags and how they improve their overall rating.
How We Picked
Verified customers that have acquired these diaper bags from various stores have trustworthy views on some aspects we believe any diaper should have. It is also worth noting that no single diaper bag fits everybody's needs as we all look at their different aspects. Despite the features you are looking for in a diaper bag, this article discusses some of the unique features any best-selling diaper bag ought to have.
Size/capacity
Some parents like a big bag that can fit all the baby's stuff they need when they are out. Other parents fancy smaller ones, so they limit themselves from having to carry a few more pounds than what they are already carrying when leaving the house. While large diaper bags are fit for almost any occasion, they are good for vacations, weekends, or day trips. On the other hand, smaller bags are great for small trips or half days at the office that won't have you out for too long to need more stuff.
Design/style
A bag that won't shout to the world that "I am a mom" can be an ideal one. As much as you are a mom, you need not embrace looking unstylish. We recommend a bag that reflects your style since most moms often feel like they are losing their identity. Personal taste in design or style helps you remind yourself of the person you were before you became a mom.
Comfortable – to carry around
Your diaper bag ought to have the kind of straps that make it seamless to move around with. Whether handle straps, cross-body, or over the shoulder – this is a personal preference, and when you feel uneasy while lugging it around, you should try one that is easy on you. Moreover, you will spend a lot of time with your diaper back so that you might be comfortable with it. Diaper bags with stroller strips also provide comfort since you have them on your stroller and move quite easily.
Price
Although some diaper bags are expensive, it does not always mean they are better – they could also be better. Remember that buying the cheapest one you can find might not last as long as you want it to. We looked out for a middle-of-the-trip bag that is affordable and has quality features.
Easy to use and clean
Waterproof bags are great, especially when it comes to cleaning. Bottles you store in the bag often leak, and if it lacks lings that liquids can't penetrate through, they will leak over other items in that bag. – cleaning the whole bag rather than the affected compartment might show some difficulty. Some diaper bags can be cleaned by machine, spot-clean, or a wet wipe that gets it done, but you have to make a good decision here.
Additionally, zippers influence the ease of use of any diaper bag. With top zippers, you open them slowly, but they also prevent things from falling out of the bag in case you forgot to zip them up.
Durable
Since you'll need a diaper bag almost every day for a couple of years, you'll want to choose one that is durable. Durability is best measured by the kind of fabric that it is made with. Leather, neoprene, canvas, cotton, and nylon last longer. To be safe, avoid suede and light canvas fabrics since they require close attention and durability is doubtful.
Number of compartments
Several big and small compartments are the single most essential diaper bag features. You will need small compartments for toys and pacifiers and big compartments for large stuff. Additionally, you need more than one compartment to keep clean bottles separate from dirty clothes. The more the compartments, the more organized you stay.
Care and Maintenance
How to keep clean
For your diaper bag to remain clean, keep an instant stain remover agent such as the Tide To Go in your bag to clean stains as they arise.
Is it machine washable? How to wash and dry
Refer to the manufacturer manual to confirm if your type is machine washable or not. If it is machine washable, use the hand wash or gentle cycle on your machine with cold water and some extra rinse. Most diaper bags require air drying from direct sunlight to avoid fading the material color. Leather diaper bags are best cleaned with a clean dump cloth and gentle leather conditioner.
How to get rid of odors and stains
Sprinkling some baking soda in the bag or cloves reduces bad smells, unlike deodorizing sprays that only temporarily cover up odors. Baking soda can be cheaply acquired. To remove stains, use an instant stain remover or warm water mixed with gentle laundry detergent to spot clean both sides of your bag.
Where and how to store when not in use
Store your diaper bags in a location that you can access easily but out of children's reach. A hanger in your closet or on the wall is a good place where toddlers can't reach. Additionally, store the bag with all the pockets so they can get some air and be fresh for the next outdoor use.