The Best Desktop Organizers for 2023
Experience a functional and aesthetic desktop to help you work with ease and comfort with the best desktop organizers for 2023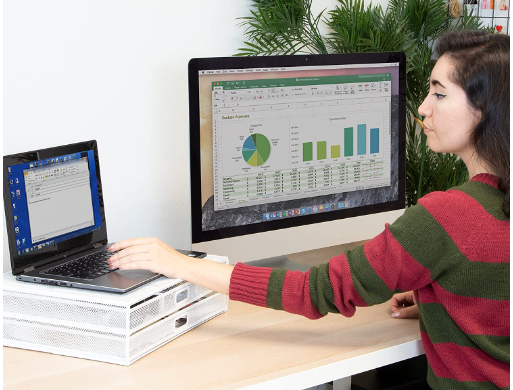 At a glance, desk organizers are containers with various compartments that you place in your workspace and use to store office supplies and important papers. For many people, they are nothing more than a place to keep scissors, notepads, markers, pens, and highlighters, but the truth is that they are much more.
A good desk organizer will help you make your workspace a much more enjoyable place. It allows you to customize it to your liking, have more space to work comfortably, and most importantly, organize your belongings in such a way that they are close to you according to your needs, this will make you much more productive and avoid the clutter. At the same time, a desk organizer is a great way to stay focused while you work, since you won't be distracted every time you require an implement, also, it will be easier for you to clean your workplace.
If you require a new desktop organizer or are looking to customize your workspace, we invite you to check out our list of the best desktop organizers. You will find just the one you need to make your desk a comfortable, clean, and productive space.
How We Picked
Number of Compartments

Both the number of compartments and their shape are vital aspects when choosing a desktop organizer, as this feature will limit how you will organize your belongings, as well as the quantity and shape of the objects to be stored. Some are large enough to hold notebooks and books, while others will hold a pencil at most. We have selected a wide variety of organizers, so you can pick the one that best suits the items you want to store and your work style.

Size

When selecting a good desk organizer you should consider the space you have available, as this will determine the size to buy. Secondly, you should consider the objects to be stored. In our selection, we make sure to consider different sizes to ensure not only your comfort but also the functionality of the organizer.

Build Quality

It is likely that you will be using your organizer frequently and will be storing important items in it. That's why we've made sure to choose organizers with the best possible build quality.

Cost-Effectiveness

A desk organizer is an investment in you; it will help you with your productivity at work and with the cleanliness of your space. Although their prices are not high, it is advisable to invest in good quality models and avoid cheap and not very durable designs. For this reason, we have selected organizers that are sturdy, well-designed, and excellent value for money.
Our Top Picks
Our Top Pick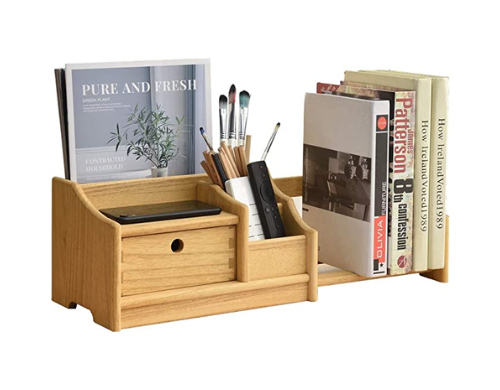 This wooden desk organizer is elegant, natural, and very resistant.
Organize your books, personal items, office accessories, and more with this stylish desktop organizer. It has several compartments and is made of real solid wood designed to last 30 years or more. Plus, its small drawer is perfect for storing small items or any personal items. Best of all, you don't need to assemble it, just unpack it, and you're ready to go.
Solid wood for your desktop.
Our Runner-Up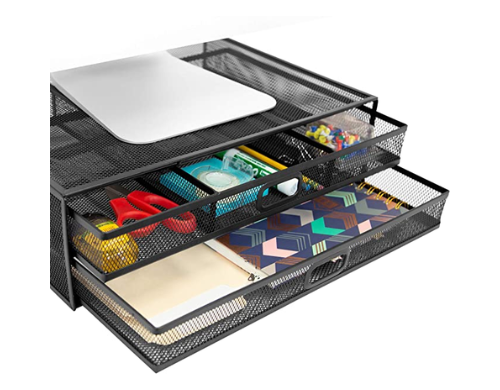 Two-in-one desk organizer, perfect to organize your office supplies and support your monitor or laptop.
This is the ideal desktop organizer for small desks and for those who want to elevate their monitors and laptops to adopt a more ergonomic and comfortable working position. You can assemble it with ease and rely on its strength, as it is made of strong and durable metal that can withstand up to 30 lbs. It has two drawers ideal for storing your belongings and office supplies.
Save space and place your laptop or monitor at a comfortable height for you.
Most Cost-Effective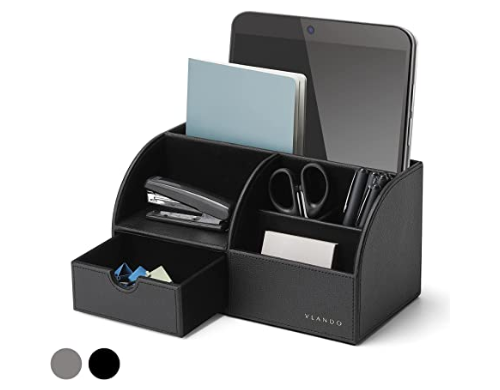 Leather organizer with drawers of different sizes to store all your office supplies and accessories.
Desktop organizer 6 in 1 is ideal for storing countless accessories and office supplies, from small items to a tablet if you need it. Its black leather cover gives it the perfect design for the soberest and elegant offices. In addition, it has a small size ideal for small desks and highly organized people who want a clean and spacious workspace.
Great desktop organizer for tiny workspaces
Everything We Recommend
Our Top Pick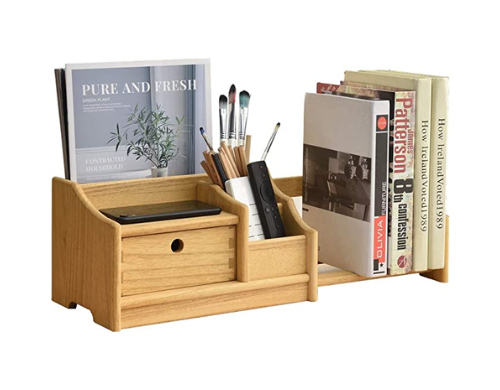 This wooden desk organizer is elegant, natural, and very resistant.
Our Runner-Up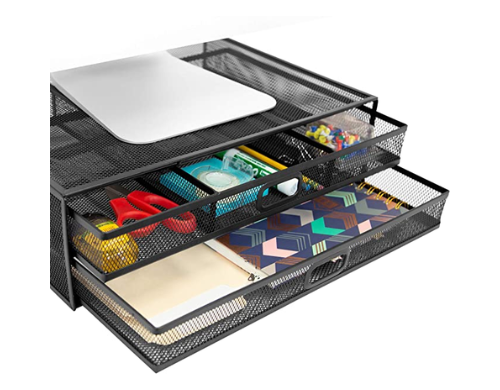 Two-in-one desk organizer, perfect to organize your office supplies and support your monitor or laptop.
$28.99
Most Cost-Effective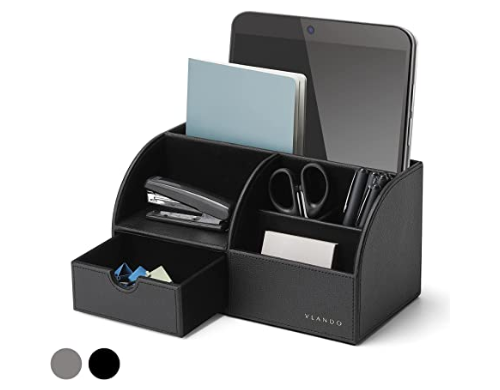 Leather organizer with drawers of different sizes to store all your office supplies and accessories.
$25.99
Who This Is For
A desk organizer is an essential office accessory that is absolutely necessary for our work and student life. Whether you study, work in an office, or work from home, this type of accessory will help you to be more productive and organized.
Desktop organizers are a very useful accessory if you have a home office, as they will help you to build a pleasant working space that will assist you to be more productive and get into the ideal mode to do your work. Remember that during home office it is easy to get distracted, having all our work implements at hand will reduce the waste of time and possible distractions that we will be prone to if we have to get up to look for any office accessory.
In case you work in an office, these types of organizers will not only help you organize your space but will also allow you to personalize it. A personalized and comfortable workspace will increase your mood during long working days. According to studies conducted in 2019, 94% of American workers suffer from stress in their workplace. If you belong to this group or want to avoid stress at work, you can implement small changes to help you deal with it. One of these is to organize your workspace; this will not only keep the place clean and reduce the risk of illnesses, but it will also make you more productive and with that, your stress levels will be significantly reduced.
A desktop organizer is also very useful when you share your desk with colleagues; this way you will keep your supplies in your space, and you will look professional to your clients and bosses.
Do I need a desktop organizer?
Yes, in the office or while studying, it is very common to need small items such as pencils, pens, clasps, paper clips, post-it notes, and more, and although these can be stored in a drawer on the desk, it is much more effective to keep them within reach. Furthermore, not all desks have drawers, and you will most likely have to keep all your supplies on top of your desk, which makes your workspace look unprofessional and disorganized.
And if you work from home and consider that aesthetics are not so relevant, let us remind you that a good workspace is vital to be efficient in the home office. Studies have shown that defining and organizing a workspace at home helps us focus on our work and avoid the distractions that the comfort of our home can offer.
A good desk organizer can offer you the following benefits:
You won't lose anything
If you keep everything in your organizer, it will be very difficult for you to lose important objects and work implements. This way you will not have to buy them again; you will save money and time, and you will finish your work sooner.
All your essential things will be at your fingertips: with a good organizer, you will have your indispensable things at hand, whether for studying or working, which will allow you to be more efficient and work comfortably.
You will enjoy more space on your desk
When we leave our objects cluttered all over the desk, they will take up more space and hinder our work. An organizer will help you regain that space.
You will be less distracted: your field of vision will be free of distractions such as dividers, erasers, and paper clips, and you will be able to concentrate on your work more easily.
Better hygiene
By keeping your items stored in one place, your desk will be easier to clean. Furthermore, cleaning your organizer will be easy, so you can keep your items free of dirt and germs as long as you maintain a good cleaning and hygiene scheme.
Desktop organizer vs other types of storage such as mini drawers
You may think that any accessory that helps you organize your desk is worthwhile. However, some are better than others and have different functionalities. Such is the case with desktop organizers and mini drawers.
Mini drawers are small pieces of furniture; most of them are made of plastic and, in some cases, wood. Some are large enough to be placed on the floor, and you can access them just by leaning over from your work chair. However, their size does not make them suitable for small desks or shared workspaces. Smaller models may be suitable for leaving on your desk, even if you must share them.
A desktop organizer, on the other hand, has only small, accessible drawers and specially designed spaces and compartments for storing all your office supplies.
In conclusion, we can briefly summarize the most important things about desktop organizers and mini drawers as follows:
Desktop organizers pros
You can store all your office supplies in them; they will be kept within your reach. Also, you can pick any model you like, because they come in a wide range of sizes and designs.
Desktop organizers cons
Desktop organizers can have a small storage space; some can only store a few papers or a tablet. Also, they can store plenty of germs if you don't clean them frequently.
Mini drawers pros
Mini drawers have a unique design and range in size from medium to large, so they offer good storage space for documents, folders, and papers. And since they are not used that often, they do not accumulate too much dirt, but still require some maintenance.
Mini drawers cons
They are not suitable for storing small objects and can take up too much space.
Why You Should Trust Us
We know very well what is involved in working and studying at a desk, and for that reason, we value clean, organized, and efficient workspaces. A desk organizer is vital even in the age of technology. You may think that thanks to computers, tablets, and smartphones post-it notes, paper clips, and pencils are no longer necessary, but the truth is that they are, even more so than before.
For many people, it is more effective to organize thanks to physical office supplies such as planners and post-it notes. There are all kinds of trends and strategies in this regard. In addition, important papers and documents are still needed when working or studying, so a desk organizer is still necessary.
With all these needs in mind, we have selected the best organizers on the market and evaluated them considering different criteria to choose only those that can offer you comfort, functionality, and most importantly, a safe and comfortable space to store your office supplies.
How We Picked
When choosing an office organizer, we consider some important criteria that differentiate the best and most efficient desktop organizers from those of lesser quality:
Number of compartments
Compartments are the spaces inside the organizer that you have available to place your items, and their number is a significant aspect. The number of compartments, as well as their shape, will determine how you will be able to optimize their use and what kind of objects you can store in them.
There are several types of compartments, usually, an organizer will have one or more of the following:
Flat: ideal for organizing larger instruments or instruments that need to be visible and accessible to you, such as staplers, labels, sticky notes, and so on.
Deep: they have a good distance to the bottom. Depending on their shape, they are ideal for storing pencils, markers, rulers, and more in a way that makes them accessible.
Closed: these are compartments with lids or covered by other surfaces or levels of the organizer. They are ideal for small, easily misplaced items such as paper clips, tacks, clips, staples, magnets, and more.
Open: these are shallow, uncovered compartments ideal for storing items you want to access quickly and easily.
Size – will it fit on an average work desk comfortably?
Before choosing the desk organizer you want, keep in mind your available space. Measure well the free space available in the place where you want to place it, since the characteristics that your ideal organizer must meet depend on this.
If you have a lot of space, you will not have many problems when making your decision, and you will be able to be guided by characteristics. On the other hand, if you do not have much space available, do not worry, several options will make your life easier and best of all. You can pick any of the organizers that we recommend, as they are suitable for both small spaces and large desks.
To evaluate the size of a desk organizer, you have to look at both its overall dimensions and the dimensions of the different compartments. Generally, the sizes differ from one model to another. Consequently, you have different areas of space for small targets such as pens, and others a bit larger for notebooks. Choose the model that suits your needs and work style.
Build quality – is it sturdy enough? What type of material is it?
Most organizers have a very sturdy design and are made of strong materials. However, some are better and more durable than others.
Wood: is one of the most common materials. Its great resistance gives it durability and safety.
Bamboo: nowadays, it is a material widely used for furniture because of its durability. It is usually used in desktop organizers with monitor support due to its great resistance to weight.
Metal: they are typically made of metal frames, which facilitates cleaning and helps you to visualize your belongings.
MDF: is a material elaborated with pressed wood fibers, as a result, the size of its particles is extremely reduced and consequently, it is possible to elaborate models with much more complex shapes than with wood or bamboo. MDF is a light, resistant and easy-to-maintain material. In addition, it is possible to find different finishes and tones.
Polystyrene / Plastic: it is a very resistant and economical material, like metal, you can visualize your objects very well.
When choosing the material of your organizer, it is advisable to combine it with the material of your desk. For example, if your desk is made of wood, your organizer should also be made of wood. If you use a different material, the organizer will stand out, but this will depend on your taste.
Price
Most desk organizers are frequently very inexpensive. This will give you a lot of freedom when picking the model for you, as you will find very resistant models with excellent designs for a very low price.
Design
The design of the desk organizer you pick will depend on your taste, your desk, and your workspace. The following features are included in this aspect:
Shape: it is possible to find square and round organizers. One feature of square desk organizers is that their dimensions provide space for notebooks or sticky notes. On the other hand, a round desk organizer is more recommended for vertical objects such as pens, scissors, and staplers, among others.
Additional functions: a desk organizer does not have to be limited only to pens, scissors, and sticky notes, it can have additional functions such as organizing wiring, and acting as a battery charger, among others.
Texture: This is an important aspect that directly affects the effectiveness of the organizer. For example, if you are going to store small items, it will be better to opt for a smooth texture, i.e., wood, plastic or similar. If you want greater visibility, you can choose a mesh texture, which is usually made of metal.
Care and Maintenance
How to clean
When cleaning a desk organizer, it is important to unplug any electrical items that are near it or are part of it. Remember that some may have special chargers and designs to organize the cables.
Then you should remove all your office supplies from it and store them in a safe place. Once empty, it is time to clean the organizer, always considering the type of material it is made of.
If it is made of wood, plastic, or metal, it is advisable to use a cloth dampened with neutral antibacterial soap. Remove with a cloth dampened with water and dry very well with a paper towel.
If it is a leather-covered organizer or similar, it is advisable to use a cleaner designed for this type of material and follow the instructions on the package.
Next, you should clean your office supplies. To achieve this you can use disinfectant or wet wipes, let them dry and distribute them again in the organizer.
Where to place
It is advisable to place your desk organizer on the side of your dominant hand. This will make your work more efficient, save you time and prevent you from having to reach across desks, piles of documents, and files to reach an item. This is also an excellent strategy to avoid accidents such as knocking over coffee, your smartphone, documents, or any other object on the desk.
You should also make sure that you place your organizer in such a way that there is free space on your desk to place documents, either to sign them, write on them, or transcribe them to the computer.
Where to store when not in use
Whether you are going on vacation or want to store your organizer after work to make it easier for the cleaning staff, it is recommended that you store your organizer in a drawer on your desk. Leave space for it and don't worry, it will become a habit to put it away when you are done.
If your organizer is too big, or you don't have a desk with drawers, you can take it home with you on vacation. Leave it in a small corner of the closet, where it can't get into an accident. You can also cover it with a bag to prevent dirt from accumulating on it.