The Best Desk Lamp for 2022
Lamps add instant sophistication to any room – and there are plenty of different kinds to choose from.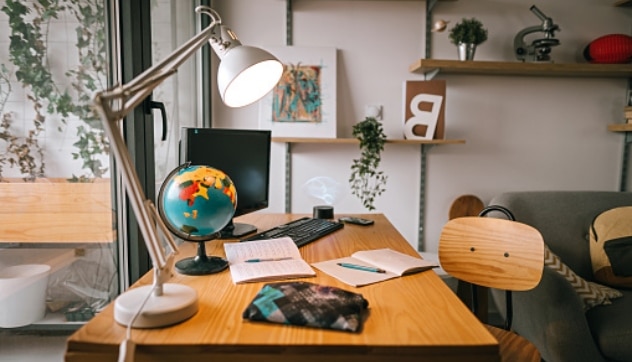 The best desk lamp is an indispensable tool for illuminating your workplace. Whether you're working from home or from the office, having the right desk lamp will help you focus more on your work.
Proper lighting relieves eye strain and helps you focus on the task at hand. The best desk lamps can do more than illuminate your desk, they can also create the right atmosphere for working.
With so many designs and types on the market, it can be arduous to know which one is right for your lifestyle. From elegant lamps with wireless charging to convenient motion-sensing lamps for hands-free operation, there is a lamp for everyone.
If you like a smart lifestyle, you can opt for a smart desk lamp that connects to your smart device for customization.
Also, if you use it every day, it's worth showing off and investing in a long-lasting, high-quality product. This is why we have reviewed the best desk lamps for every desk, room, lifestyle, and budget for you and your family.
How We Picked
Adjustability

One of the main considerations when choosing a desk lamp is its adjustability. Adjustable desk lamps allow you to fine-tune beam placement for specific applications and minimize glare.

This minimizes both ambient and work lighting, and the ability to adjust the focus of the lamp adds value and versatility.

Light Strength

The light strength is measured in lumens (lm), which tells the power of the light. Low-power LEDs can produce brighter light using less power, so they have more lumens per watt. Desk lamps with a 6-9W LED lamp and about 45lm is a good all-around brightness, durable lamp.

Energy Efficient

Energy consumption is a big concern these days, but specially designed energy-saving lamps convert low energy into brighter light. So we looked at low-power models for general lighting or work lighting.

Cost-Effectiveness

Though desk lamps are perceived to be part of the cheapest house items with the technological advancements in desk lamps today, you can now see a desk lamp of over $200.

So we considered desk lamps that have great value for the price offered.
Our Top Picks
Best Pick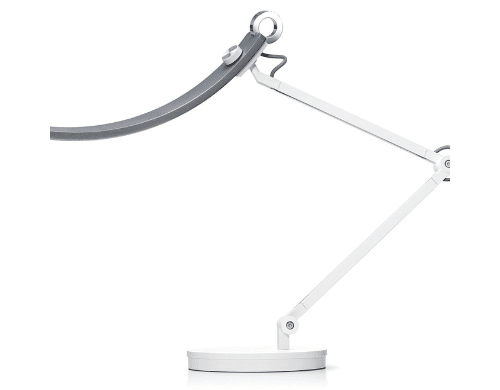 Expensive compared to other lamps but worth every penny.
The lamp head is mounted on a ball joint so you can rotate it in any direction.
The BenQ lamp has an ambient light detector, so it automatically regulates its gleam to suit your environment. The wide LED head also means this light offers plenty of coverage, so you can see everything on your desk.
Runner Up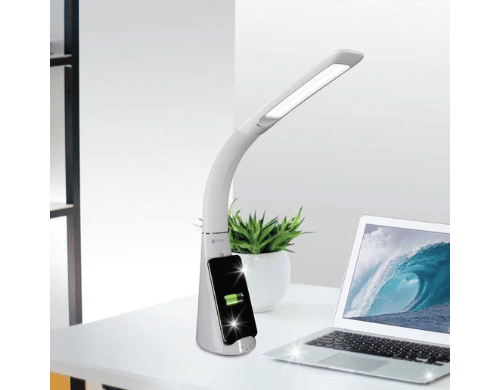 A smart lamp optimized for current work dynamics.
This lamp emits a powerful dose of clean white light, making it ideal for long working hours.
This lamp was built to combat not just the spread of germs, but also the spread of flu, colds, and other respiratory issues. It also offers a wireless charging pad to help reduce the number of wires crisscrossing your workstation.
Most Cost-Effective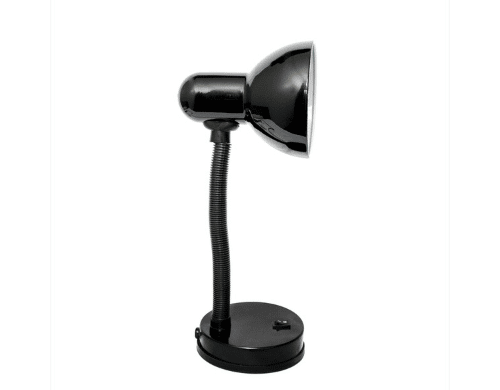 This pick is the most affordable desk lamp which offers high value for its price.
It has a minimalist design, to match any desk accessories you already have.
With so many colors to pick from, the Simple Designs Basic Desk Lamp is worth purchasing.
Everything We Recommend
Best Pick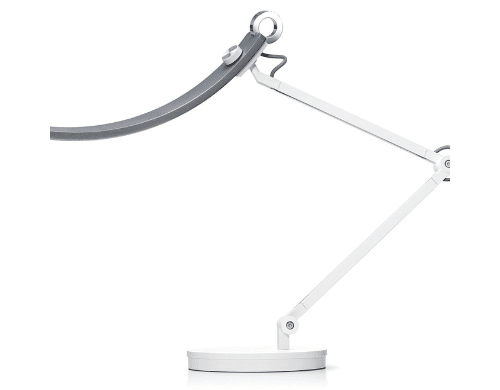 Expensive compared to other lamps but worth every penny.
$229.00
Runner Up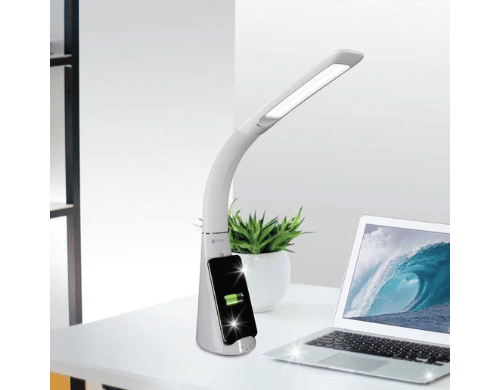 A smart lamp optimized for current work dynamics.
$84.00
Most Cost-Effective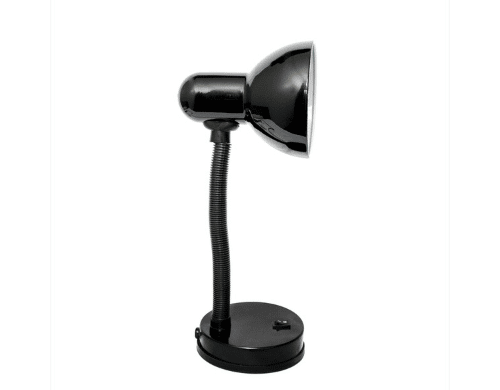 This pick is the most affordable desk lamp which offers high value for its price.
$9.71
Who This Is For
The products reviewed here are aimed at those working from home or in the office and have been looking for the right desk lamp to help them focus more on their task.
Different Types Of Lamp Desks
There are different types of desk lamps on the market, ranging from elegant lamps with wireless charging to convenient motion-sensing lamps for hands-free operation. Some of these desk lamps include:
Tripod Lamps
Tripod lamps are well known for their three-legged stand. The outstanding sleek hardware gives it a unique and stylish look. The unique shape can provide ample lighting as well and it is perfect for living rooms or bedrooms needing additional lighting.
The main advantage of tripod lamps is that the pedestal is very stable and produces reliable lighting. These lamps are designed to illuminate the entire room but the downside of tripod lamps is that they take up quite a bit of space as the three legs take up a bunch of space.
This can make it difficult to place a tripod lamp in an already cluttered home or small apartment.
Tree Lamps
Tree lamps are one of the most popular types of lighting, and they come in a variety of designs. The tree lamp is a definite focal point for the room and provides a series of branches that can be aimed in many directions.
Typically, this style of light has a central stand with several lights branching from the base in different directions, similar to tree branches. It's a great choice if you need directional or ambient light.
Generally, the branches will be adjustable or gooseneck allowing you to direct the light in any direction you want. Many of them even give you the option to activate a single branch. These features make a tree lamp useful for almost any room in your home, as it is capable of illuminating a large space or just a specific spot.
It all depends on how you position and use it. One of its possible downsides is that this light can be bulky or take up more space. Also, this style is not usually available in smaller table lamp sizes.
Buffet Lamps
These lights are typically slim, tall, and over 32 inches tall. They are often referred to as the highest version of table lamps and are designed to be placed on a buffet table to direct the light down to the tabletop to illuminate the food if you choose to use this type of lamp on your dining table but they are also very perfect in brightening your entire home.
You can also use this lamp in your office, where it won't take up too much space on your already cramped desk. One of its limitations is that it only illuminates a small spot in the room, so it may not be bright enough to illuminate other areas of the house.
So while it might be perfect for lighting up your buffet or a few documents on your desk, it's probably not the best choice to be the main light source in your living room.
Gooseneck Lamps
The gooseneck lamp is available in two designs: a flexible neck that can be regulated to various degrees and a conventional bent fixed metal neck. You can find them in both table lamps and gooseneck floor lamps, which are very affordable and versatile.
The main advantage of this style of lamp is that the neck can be bent, allowing you to aim at the light point. They are great for bedside tables or reading lights as they can get enough light to read a book without waking up others in the room.
Ironically, this could also be the biggest drawback. It's not the best choice as the main light source for a room, as it focuses all the light on one specific area.
Piano Lamps
Piano lamps are typically used to illuminate the music and organ keys of a piano or electric keyboard but are designed in such a way as to prevent the glare of the bulb from blinding the musician.
These lights come in a variety of sizes, shapes, and designs to meet the specific needs of the pianist. However, they all generally have a slim design with horizontal bulbs and a hood that directs all light downwards.
With a minimalist design, piano lamps sometimes come with swivel arms to allow the musician to move the light around if needed.
Although originally intended for musicians, this style of lamp can also be very useful as a desk or reading lamp. Because the light from this lamp is minimal and directed at an object, it works well on a desk or to help you complete a specific task.
This is beneficial if you are using it for a specific purpose, such as reading a book or playing the piano, but if you want a lamp that can light up an entire room, then a different type of lamp will be more suitable.
Boom Arm Lamps
With a layout synonymous with the microphone stand you see in recording studios, the swing arm illuminator is a tall, straight fixture with an adjustable swivel arm.
Many of these lights will have a dome-shaped head that holds the bulb. With plenty of utility features and sleek modern lines, this popular lamp brings a modern yet nostalgic look to your space. One of the main advantages of swing arm lights is their versatility, they can be maneuvered and the light can be adjusted both vertically and horizontally.
One of the main downsides of swing arm lights is that they can be unstable and a bit jerky, like some of the other styles mentioned above. If this is the style you want, you should look for a model with a heavier or wider base that can provide more stability and prevent it from tipping over.
This is especially important if there will be pets or small children around.
Arc Lamps
These lamps have a thin body and long arcuate arms with a shade that extends outward from the body. It is best suited for corners where light can reach the table or sofa.
One of the advantages of this option is that it takes up very little space and, thanks to the arches, it provides functional working lighting, while retaining the main elements of the room. You can find this style of lighting in all kinds of traditional and modern designs.
Although the decorative and unique shape serves as an accent, one of the downsides is that they are more prone to tipping over than standard lamps.
Due to their weight placement and shape, this type of lamp is not as durable as other similar lamps. It is recommended to place this item in a corner or space where it is less likely to tip over.
Swing Arm Lamps
Swivel arm lamps come in a variety of sizes and shapes and can be put on a tabletop or standing on the floor. The swing arm lamp can be equipped with an adjustable function arm. These levers can be adjusted and repositioned to suit specific requirements.
If you need a closer light to complete your project, you can move your hand to light it where you want it. The great thing about this style is that it is very versatile, unlike other styles that are non-adjustable. This allows more light to be aimed than other types of lamps.
Because this light is focused, most of the time it only illuminates a small area, not the entire room. This may be ideal if you are looking for a table lamp, but a swing arm floor lamp may be too dark to bring many benefits to your home.
Why You Should Trust Us
There are tons of lamps advertised on the net today, each one fulfilling different illumination and designed for different spaces and desks.
Due to the variation in brand, adjustability, luminance, technology, and quality of these desk lamps, we have conducted in-depth research to choose quality, reliable, healthful, and reasonable desk lamps just for you!
How We Picked
In other to select the right desk lamp that is suitable for you, we did in-depth research on different types of desk lamps and their various strength and weaknesses.
We made inquiries from experts and past users to get their opinions and experiences on the different designs of desk lamps. We scoured through customers' reviews on Amazon to get their firsthand opinion on each lamp selected.
While making our picks, we put into consideration the size of the desk lamp being reviewed, we picked desk lamps of different sizes to cater to different needs and spaces.
While with a strong stand to avoid ve a strong stand to avoid it tripping off the desk while in use or when you are not looking. We checked for lamps that have a strong power life to last you for a long period.
As it won't be fair to spend so much money on electricity bills after having invested in an efficient desk lamp, we selected lamps that consume low power/energy while maintaining an excellent luminance. The light strength which is measured in lumens (lm), tells the power of the lamp.
Low-power LEDs can generate brighter light using less power, so they have more lumens per watt.
So we picked lamps with 6-9W LED and about 45lm which is a reasonable brightness strength.
We avoided bulky lamps that occupy valuable desk space. We also searched for products that alleviate common problems in the workplace, such as bacteria, eyestrain, and lack of lighting.
All of these picks feature LEDs for efficiency and color consistency. Lamps with LED bulbs are considered because they are energy efficient (suitable for the environment and electricity bills), have a long life, do not get hot, and often have controllable brightness and color temperature settings.
It is often hard to reach the switch button if the power switch is on the cord. It won't be fair if you have a lamp and the switch button is on the cord hanging down behind your desk so we picked lamps with power sensors and those that have their power switch on the base and is easily accessible.
Since the working environment can change from hour to hour, we recommended only desk lamps that can adapt to any task.
All of these desk lamps have adjustable brightness features so you don't have to dazzle or squint at a light bulb that's too stiff when working late at night.
Some picks are design-oriented for those who value aesthetics, while others come with a phone charger or watch that offers additional features. Instead of balancing office supplies, you can combine your essentials into one multifunctional product.
And you can always trust us to look for the best bargain available in the market so you won't have to spend a fortune to get an efficient and effective desk lamp.
Care and Maintenance
Regardless of the ways, state-of-the-art, or problematic the layout is, modern lamps have comparable wiring and construction.
So their care and maintenance are similar. However, before doing anything, ensure you consult the manufacturer's manual for precautions.
To maintain your table lamp looking fine and sparkly, you need to clean them from time to time. You have to clean it at least three to four times a week (depending on the environment and frequency of use).
To keep away from any undesirable incident, unplug the lamp from its electricity supply like power or battery before cleansing your lamp. Always wipe the lamp with a smooth, dry fabric and ensure the cleansing materials used are tolerant and free from grits.
Desk lamps are particularly made with plastic, metals, ceramic, and wood so do not use any abrasive, acid, bleach, alcohol-based, or solvent-based cleaners as they can harm the lamp.
If your desk lamp was in use a few minutes before the cleaning time, the bulb will still be warm and this may have heated up the glass as well. Therefore, allow the bulb to calm down for like 10 mins before you begin cleaning.
Avoid folding the cord to prevent damage and do not place the lamp in an area where liquids can pour or spill on it to avoid sparks and damage. Staring at vivid lighting can harm your eyes, so keep away from staring overly into the bulb.
When the retina's mild-sensing cells are stimulated from staring directly at a bulb, they initiate big quantities of signaling chemicals, injuring your eyes in the process.
To change a lamp bulb, ensure the bulb is switched off and the fixture is off. If the bulb continues to be hot, wait for it to calm down before continuing.
Ensure you've got the right structure of the bulb and do not place a screw repair right into a slot fixture and vice versa. Handle with care because the glass on the bulbs has a tendency to be very thin.
Check that the brand new bulb you're using doesn't exceed the maximum electricity count of the lamp fixture as this may cause a spark and probably reason a fire.
If you're uncertain of which fixture to use or whether or not the electricity count of your new bulb is appropriate for your lamp, take a look at the manufacturer's instructions.
To remove a damaged bulb from the lamp, take a couple of needle nostril pliers out of your toolbox and continuously take hold of the metallic rim of the bulb's base; bend it slightly inwards in case you get a higher grip.
With your pliers firmly clutched directly to the damaged lamp bulb, try to lightly unscrew it. If it doesn't budge, repeat the manner of bending the metallic rim inwards till it begins to budge or the bottom breaks aside altogether.
Then pull out any remnants and throw them and the bulb in the trash. To make sure your lamp gives you excellent performance, regular care and maintenance are required.
If you clean your table lamp regularly, it's going to appear like new, durability may be accelerated and you can use it for a longer time.