The Best Cutting Board of 2023
Find the best cutting board that makes the hassle of cooking a breeze!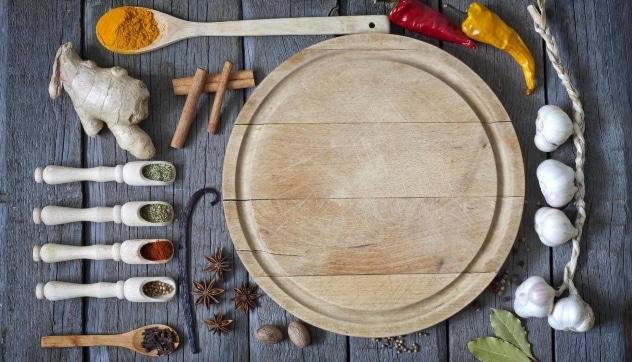 Whether you're a professional chef, an amateur cook, or simply a lover of food, everyone knows that a cutting board is an essential prep tool that's needed in any home.
There are thousands of different chopping boards, and we know that sifting through the web to try to find the perfect one can be tricky and most likely quite vexing.
We've done the legwork and spent time comparing a variety of different cutting boards to make your life a whole lot easier. These cutting boards are available in a variety of prices and styles. We spent time selecting only the most functional and cost-effective cutting boards.
We've also considered size, materials, color, and durability to help you find a cutting board that fits your lifestyle, budget, and kitchen needs.
How We Picked
Type of Material

Cutting boards are often made from wood, plastic, or rubber. Wooden boards are the most common because they are natural and preserve the edge of the knife. However, plastic and rubber boards are light, making them super portable. We have outlined a variety of cutting boards for all your particular kitchen requirements.

Durability

Durability is dependent on the material and self-healing properties. Wooden boards do last the longest. A cutting board is any kitchen's essential tool, and that's why finding one that's durable and strong will make the ultimate difference in your cooking experience.

Size + Thickness

While size is entirely subjective, thickness is determined by the material. A good rubber or plastic board should be no more than 1-inch thick, whereas a wooden board can be up to 2-inches thick. Furthermore, the size and thickness of a cutting board can have an impact on functionality and storage.

Price

Nobody wants to spend a lot to complete such a basic task as chopping. That's why we've outlined the most functional and cost-effective chopping boards we could find.
Our Top Picks
Best Pick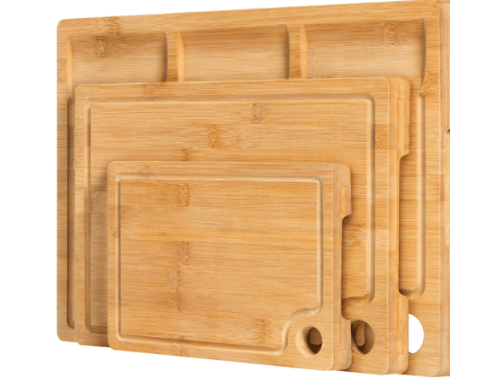 A set of three hardy cutting boards that will meet all your culinary requirements.
These bamboo cutting boards are durable, sturdy, and storage-friendly.
This multi-functional bamboo cutting board set comes in three different sizes based on your needs. These cutting boards are extremely durable and are designed with built-in juice canals to ensure zero mess for easy home usage and cleaning.

We recommend this product for those who are looking for a heavy-duty cutting board set that does the job. These products are designed to fit snugly into one another for maximum convenience in your kitchen.

Runner Up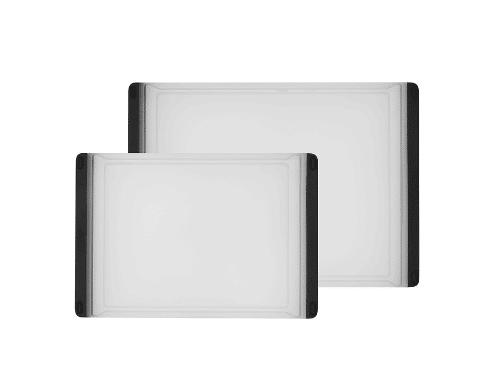 Ultimate classic that will get the job done.
The OXO cutting board set has been recommended by a wide variety of food critics for its sleek and simple design.
The OXO Good Grips cutting boards come with a variety of different perks; they are made from plastic, they are dishwasher safe, and they are equipped with non-slip feet for zero slippage while chopping. The boards also have integrated slip catchers to avoid mess.

They are certainly one of the more affordable cutting boards on our list, and they won't disappoint.

Most Cost-Effective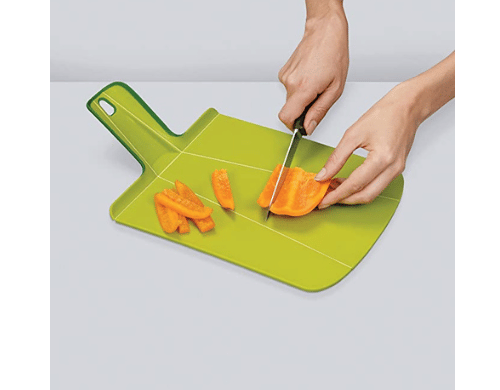 This award-winning cutting board will bring a pop of color into your kitchen.
The Chop2Pot cutting board is essential in any beginner or professional cook's kitchen.
This cutting board is durable, handy, and comes in a variety of bright colors. This product is essential to have in any kitchen and has been highly recommended by a wide variety of judges. This board brings a splash of color into your daily cooking experience.

The Chop2Pot cutting board is multi-functional and dishwasher safe.

Everything We Recommend
Best Pick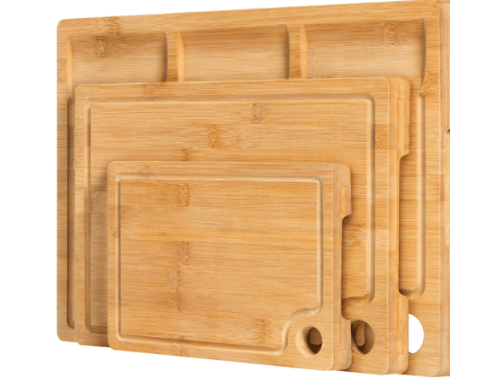 A set of three hardy cutting boards that will meet all your culinary requirements.
$23.97 ($7.99 / Count)
Runner Up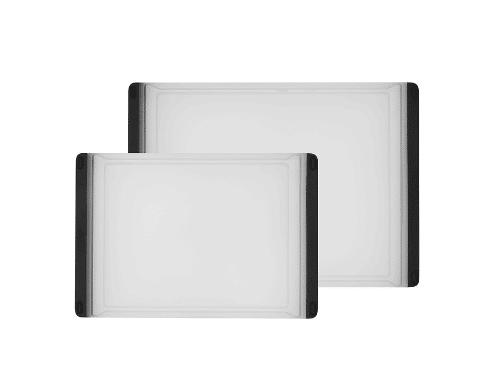 Ultimate classic that will get the job done.
$23.98
Most Cost-Effective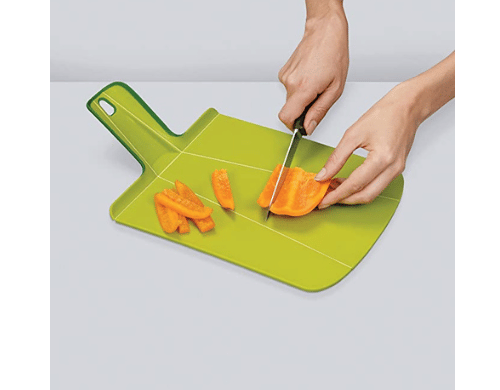 This award-winning cutting board will bring a pop of color into your kitchen.
$22.31
Who This Is For
Whether you're just starting your cooking journey, a student on a budget, a seasoned chef, a homeowner, or someone who just loves to cook, owning a cutting board is an essential tool that's needed for any kitchen.
Wood vs. plastic
When choosing a cutting board that works for you and your kitchen, it is important to consider which type of material will suit your needs best. There is a wide variety of different cutting boards, but the two most popular materials used are plastic and wood.
If you are looking for a chopping board that you can slide into the dishwasher for easy cleaning, you're probably going to want to buy a plastic chopping board. Plastic boards are great for chopping a variety of produce, mincing herbs and spices, and cutting meat.
They are easily washable in your dishwasher and very easy to handle and store. The downside of owning plastic chopping boards is that they have the tendency to be harsher on your knives over time, and the grooves are at risk of harboring bacteria.
Wooden chopping boards are definitely the more aesthetically pleasing choice and are great for not only chopping a variety of different ingredients, but they can also double as serving boards for charcuterie and party platters.
If you're looking for beauty, wooden boards are the way to go. They are sturdy, hardy, and less abrasive on your knives over time. The cons of owning a wooden chopping board are that the boards require a little more attention to detail than a plastic board.
Mineral oil is required to ensure longevity, and they aren't dishwasher safe, which makes cleaning a bit more of a hassle.
Do I really need a cutting board?
Chopping boards are specifically designed to make your cooking experience easier. They ensure zero mess and damage to your kitchen surface and are designed particularly for contact with knives, so you can have a streamlined and hygienic experience while you prepare your food.
We have selected a variety of boards, chosen to meet all kinds of particular needs.
Why You Should Trust Us
We have spent time researching and evaluating a variety of chopping boards we have found on the market. To make our selection, we researched various important factors to take into consideration when choosing a cutting board.
We have chosen only the most user-friendly, cost-effective, and durable boards we could find for your reading and shopping experience.
How We Picked
When making our selection, we took several considerations into account, such as size, thickness, durability, weight, price, design, and cost-effectiveness. It is important to choose a cutting board that is durable and lightweight for easy access around the home.
Size is a crucial factor to take into consideration since no one wants a cutting board that takes up the entire kitchen table and more. We have chosen a variety of cutting boards that can be easily manipulated around your kitchen with ease when they're not in use.
Other features we have considered are whether the boards include a groove around the border for catching juice and excess mess and if they come with tapered sides or handles for easy carrying.
Stability, stain, and odor resistance are also important deliberations we have taken, so we can assure you a cutting board that promotes longevity.
Care and Maintenance
We've outlined a few tips on how to give proper TLC to your wooden, plastic, or bamboo chopping boards to ensure they last for years. The first tip we can give you is to know when to replace your cutting board. If the board wobbles or gives you splinters, it may be time for a new one.
Another great tip is to store your cutting board in a hygienic place while it's not in use. Any cupboard or hook will work if your board has a storage handle.
For cleaning wood
For cleaning bamboo or wooden cutting boards, we recommend using dish soap and wiping gently with a sponge, but don't soak the board as this will cause it to warp. We suggest washing your wooden board immediately after use, so any pungent liquids or food residue won't penetrate the wood and leave odors.
After preparing raw meat, always sanitize your board with some white vinegar or disinfectant. Unlike plastic cutting boards, wooden boards require semi-frequent conditioning with appropriate mineral oil.
Conditioning your board provides a somewhat waterproof board, so it is less prone to absorbing odors and moisture.
For cleaning plastic
Plastic chopping boards are certainly the more popular choice, probably because they are less expensive and often more affordable than wooden ones.
To properly maintain your plastic chopping board, we suggest washing your board directly after use, and although they are dishwasher safe, we recommend hand washing to prevent warping.
This will lengthen the lifespan of your boards. To clean, we recommend mixing a teaspoon of bleach with a cup of water and wiping the board with a soft sponge, followed by a rinse with warm water.