The Best Cross-Training Shoes for 2023
These lightweight, breathable cross-training shoes will keep you comfortable on the go.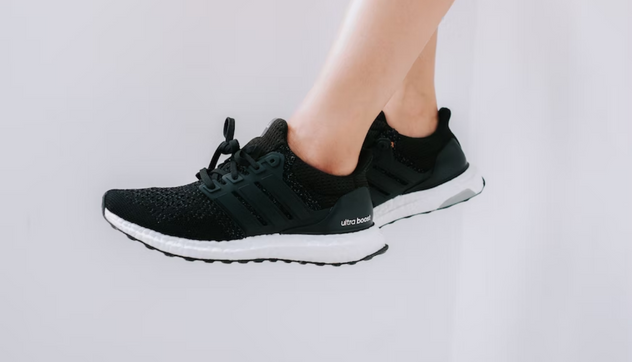 Finding your soul mate is difficult, but selecting the ideal pair of footwear is even more difficult. Regardless of whether you enjoy sports or the gym, your preferred footwear will undoubtedly be your priority.
Cross-training shoes are a type of training shoe that assists in different kinds of workout regimes or sports practice. They are crafted ingeniously to match rudimentary sports activities and exercises. All the advantages you might look for in a training shoe are coiled up in the cross-training shoes we looked up for you.
There are a plethora of shoes available with alluring designs, remarkable comfort, and claimed long lives. As a result, we are aware that it can be a little difficult for you to find a pair that fully satisfies your requirements. This is why we conducted research to assist you in choosing a suitable pair of cross-training shoes, taking into account all the fundamental and crucial factors.
How We Picked
Comfort

The most crucial aspect of any shoe is its comfort. This is especially important for training shoes because you must land evenly and correctly each time you exercise. So we looked for shoes that have proven to be reasonably comfortable.

Type of Sole (Insole, Midsole, and Outsole)

The sole is the key component of a good training shoe. It should be noted that when searching for it, the sole's shape, flatness, and firmness must all be taken into consideration. Wide soles are preferable because they improve stability.

Design

We would not let you miss out on the latest cut designs, which are not only visually appealing but also functional and affordable.

Price vs. Quality

Locating an ideal pair of cross-country shoes that will suit your budget and have picture-perfect quality can be tricky. As a result, we sought out shoes that are inexpensive while providing dependable quality.
Our Top Picks
Best Pick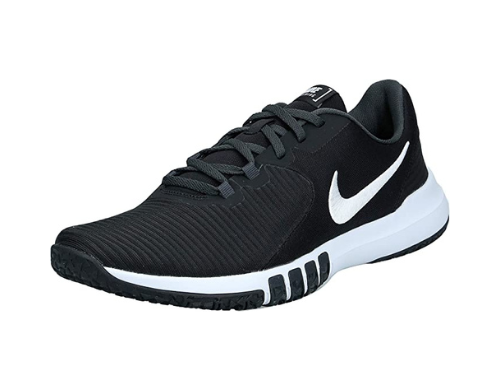 Looking for some voguish trainers? Look no further! The Nike Flex lets your foot move naturally.
The Nike Flex Supreme TR4 trainers are super stylish and feature a breathable upper knit.
This Nike TR4 piece is ruling over the hearts of its purchasers. It comes with super comfortable cushioning, which makes it an admirable choice. It is remarkably designed to look stylish and noteworthy. The breathable mesh upper will keep your feet cool.
Runner Up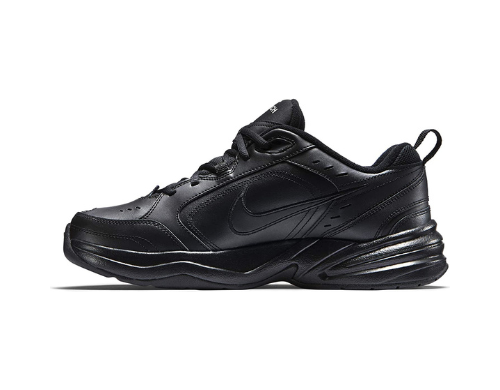 The Nike Air Monarch IV is a robust and extremely comfortable trainer.
This classic black pair is great for people looking for minimalism and functionality.
These trainers are extremely practical thanks to a flexible outsole that allows you to perform enjoyable exercises easily. They have a leather body that offers stability and support. Additionally, they boast a weightless midsole, which adds to their comfort and usefulness.
Most Cost-Effective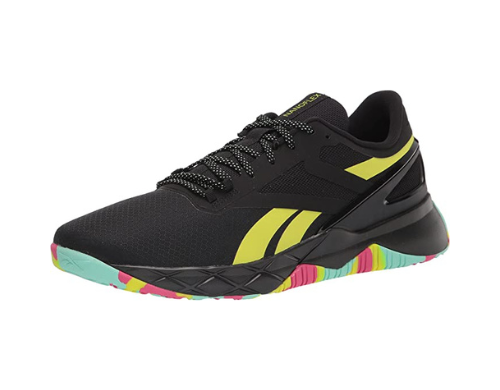 These trainers come in a wide range of sizes and color options.
Being thrifty is the new trend! Without wasting a minute, get your hands on these cheap and versatile cross-training shoes.
These trainers are inexpensive yet have a number of benefits. They have an upper covering that is porous, which keeps your feet dry. In addition to being quite comfortable, they are composed of durable leather.
Everything We Recommend
Best Pick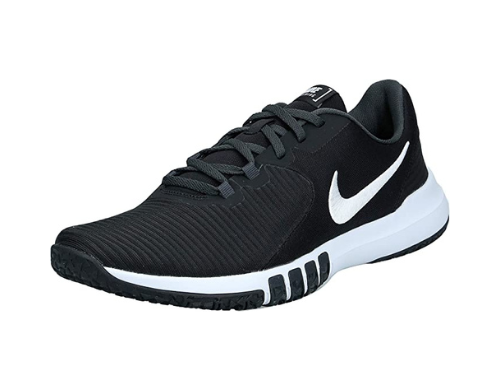 Looking for some voguish trainers? Look no further! The Nike Flex lets your foot move naturally.
$74.97
Runner Up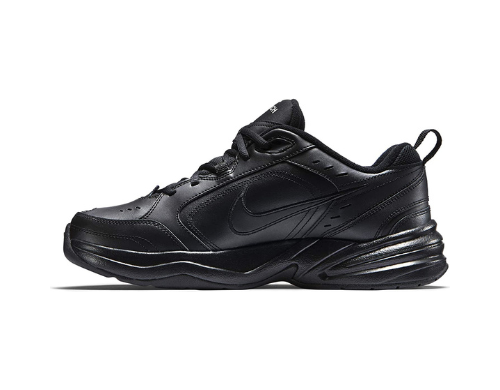 The Nike Air Monarch IV is a robust and extremely comfortable trainer.
$51.98
Most Cost-Effective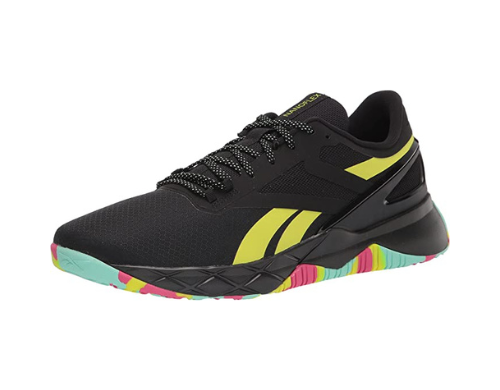 These trainers come in a wide range of sizes and color options.
$66.12
Who This Is For
For individuals looking to improve their workouts and training sessions, the aforementioned cross-trainers are ideal. The trainers on the list will prove to be a superb choice for a high-intensity weight maintenance program, HIIT training sessions, dancing lessons, running/jogging, and even yoga practice. These kinds of sporting shoes are made for side-to-side movements and are incredibly comfy. Who could reasonably reject such a lucrative offer at such a modest cost?
Running shoes vs. cross-training shoes
Running shoes are only designed for running. They are built to handle the considerable weight put on the ground with each stride. They function well as shock absorbers because of the type of foam and their slightly raised alignment. They are also lightweight, allowing for a trouble-free running experience. In comparison, running shoes are more breathable, in accordance with the demands. And the fact that these are specifically designed for heel-to-toe racing allows them to be suitable for running.
The revolutionary design of cross-training shoes, on the other hand, makes them far better for a variety of activities and sports. The comparatively flat sole of cross trainers helps the side-to-side movement. They are made with strong, sturdy materials to support effective workouts. Additionally, the flat sole makes the shoes more flexible and adaptable to a wider range of activities.
Why You Should Trust Us
We weighed the customer reviews of the products featured and made sure to select the top options for you. The items on the list contain all the qualities you would want and are supported by a large audience. Every aspect, from the degree of comfort and support offered by the trainers to the kind and caliber of materials being used, has been meticulously examined.
How We Picked
Fit
Fit is crucial, but it's also one of the components of buying footwear that is most frequently disregarded. It is worthwhile to spend a few minutes trying on different sizes at the store before making your purchase because a shoe that fits well will last much longer than one that doesn't.
Make sure your toes don't touch the shoe's end when you're trying them on. It's too big if your foot moves around in the shoe. Additionally, you ought to be free to move your feet from side to side and back and forth. If your foot is too small for the shoe, it will rub against the sides of your feet and cause blisters. If you have narrow or wide feet, try on shoes in different widths so you can find a pair that fits comfortably.
Comfort
One definite sign that you're wearing the correct training shoes is that they're comfortable. Cross-trainers that do not feel naturally comfy on your feet may be the wrong size or design for your needs. Even wearing the wrong type of trainers for a short period of time can cause pain and stress to your tissues, bones, and joints. However, comfy trainers should have a good innersole, midsole, and outsole to cushion the foot.
Fitting trainers should also help to align your foot as it meets the ground. These will keep your feet snug while participating in your sport or going through your training routine. Cross-trainers are vital for everyone, whether you're a professional athlete or just a gym-goer. They ensure that you can move freely without experiencing pain or discomfort in your feet. So, pay attention to the type of trainers you buy for yourself, and make sure they are quite comfortable.
Type of soles
Innersole
The most important factor in choosing a cross-trainer is innersole comfort. Supportive footbeds are the foundation of comfortable trainers. Your footbed should support your arch in addition to cushioning your foot from the shock of walking. It's conceivable that your existing shoes haven't adequately supported your arch if you feel any arch pain. A cushioned footbed is a key indicator of comfortable trainers because it can help reduce this strain and enable you to walk longer.
Midsole
A shoe's midsole is the material that separates the outsole (bottom of the shoe) from the insole (internal part of the shoe). In training shoes, midsoles will vary in regard to their stability and versatility. High-density foams that are difficult to compress under varying loads will be used to build more stable midsoles. More adaptable midsoles will be made of low- to medium-density foams and provide a somewhat more responsive fit and feel. A shoe's midsole can play a large role in its comfort and performance, depending on how you plan to use them.
CrossFit: Opt for a medium or high-density midsole for stability. Go medium-density if you like having a bit more responsiveness.
Lifting: Opt for a medium or high-density midsole for stability.
Gym classes/HIIT: Opt for a low or medium-density midsole for a more comfortable, versatile, and cushioned feel.
Outdoor training: Low, medium, and high-density midsoles can all work.
A little bit of everything: Opt for a medium-density midsole.
Outsole
How long a shoe lasts and how much grip it provides can both be greatly influenced by the outsole. Not all outsoles are made equal, and different manufacturers will utilize various tread patterns and outsole designs, which can affect a shoe's traction under certain conditions. If you know where you intend to use your shoes the most, you can check into outsole types that are most suited to your training environment.
CrossFit: Opt for full rubber outsoles or outsoles that are primarily all rubber. This will help with traction and durability.
Lifting: Opt for full rubber outsoles or outsoles that are primarily all rubber.
Gym classes/HIIT: Most outsoles will work here. If you're indoors, then you can get away with more exposed foam and if you're outdoors, then you'll want more rubber.
Outdoor training: Opt for full rubber outsoles.
A little bit of everything: Opt for outsoles that are primarily rubber.
Design
Cross-trainers come in various designs and styles. You should choose one that matches your tastes and preferences. The kind of attire that you normally wear can also help you with this choice. Ensure that the trainer will match well with your attire. Color, weight, and shape are just a few of the factors you will need to consider when it comes to design.
Price vs. quality
Cross-trainer prices can vary significantly depending on the brand, quality, design, and numerous other aspects. Budget for the ones you want to buy to reduce your options to those that are within your price range. The quality of the trainers is also crucial. Ensure that you go for the best quality in relation to the price tag. Excellent quality comes with high durability, which means the shoes will last longer. To assess the quality of the trainers, examine every part of them. These include the shoe's sole and the material used to make it.
Breathable fabric
Breathable trainers have materials and design elements that let heat escape, which helps control the temperature of your feet. Breathability is especially helpful in hotter areas, and people who lead active lifestyles will find breathable trainers particularly helpful because they help keep your feet well-ventilated regardless of the activity. Trainer shoes made of natural materials, such as leather, suede, nubuck, and canvas, are the best for sweaty feet because these fabrics are naturally breathable, as opposed to many synthetic ones. Trainers created with specific breathable technology are even better.
Care and Maintenance
How to wash
To let your trainers last for a longer time, it is crucial to frequently clean and maintain them superbly, at least twice a month, or when dirty. It is often questioned if washing the trainers in a laundry machine is up to scratch, and the answer to this is yes!
You can wash your trainers in a washing machine but opt for manual options instead. Firstly, remove any apparent dirt or grime with the aid of a mild-bristled brush. Then check for any loose dirt under or above the sole. Next, you can simply wash off the laces with a detergent solution separately or put your shoes in a detergent bath. Last but not least, let these dry naturally. Sun exposure is not recommended.
How to remove odors
You can get rid of any odor by sprinkling a generous amount of baking soda on it overnight, and then discarding the powder the next morning. Another way of avoiding odor is to put tea bags in them.
How to store
You should cover your training shoes under a piece of cloth or keep them in a bag when not in use. By following these simple steps and tips, you will be sure to be able to store your shoes for a considerable amount of time.