The Best Cornhole Board in 2023
Have you tried the most popular American game?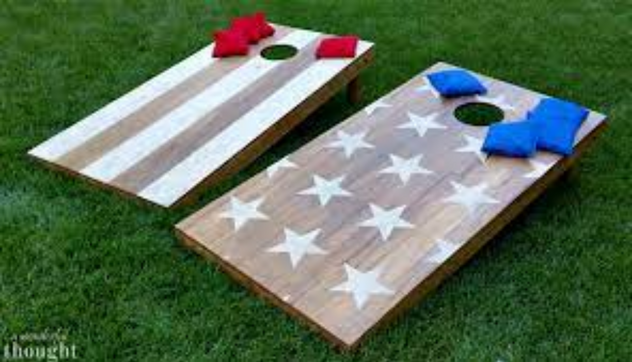 What do you like most in summer? Spend time with your friends and be outdoors? Probably yes!
So what can be more fun than play? And play cornhole? A game from popular American culture that has turned into an official game with its institution and rules?
Cornhole is an American lawn game for all ages and levels. To play you need 4 cornhole bags and 2 cornhole boards. The game consists of 2 players against each other pitching the 4 bags. Sounds competitive right?
To master the cornhole game you must learn the types of shots. There are 7: slide shot, blocker, airmail, push shot, bully shot and rolling shot. Are you ready to learn them all?
In this article we will cover the best cornhole boards. Keep reading to find more!
How We Picked
Purpose and Usage

The cornhole board can be for amateurs or professionals. Choose one according to your usage needs. Because the boards are incredibly expensive if they meet the standards.

Material and Durability

The recommended material by the American Cornhole Association for the board is plywood. Because it's resistant, smooth and it's tested that the bean bags will work properly on it.

Size and Thickness

The recommended size by the ACA for the board are length 47½ - 48in , wide 23½ - 24in, and the recommended thickness up to 1/2in. Because other dimensions will not support the game.

Cost-Effectiveness

If you're an amateur that will play from time to time in summer, look for beginners' boards or ask a local supplier to build one for you. Because the boards are incredibly expensive if they meet the standards.
Who This Is For
Cornhole is an American lawn game for all ages and levels. It's an outdoor game usually played in summer.
In its origins, cornhole was a sport part of American popular culture. It used to be associated with casual playing and drinking time. But nowadays the cornhole game is more than that.
Since 2003, there has been an official association behind it, the American cornhole Association, who organizes tournaments, leagues, and sets up the game rules.
To play cornhole you need 4 bags and 2 boards. You can place the game in your backyard, garden or parking lot. The game needs between 2 and 4 people for the most fun of it.
What is a cornhole bag board?
The cornhole is a fabric bean bag with a square shape. The standard dimensions are 6¼in per 6¼in. The weight has to be at least 14 oz and maximum 16oz.
Although they are traditionally called bean bags the recommended material for the filing is feed corn or plastic pellets. Sometimes the bags are a mix of these materials.
To play the game you need a total of 4 cornhole bags. This is 2 sets with different colors or patterns.
Can you use any board to play cornhole?
Is there a difference between a professional cornhole board and a wood plank with holes?
According to the American Cornhole Association you should use a non standard cornhole board.
The standards for the board are the following: length 47½ – 48in , wide 23½ – 24in, and thickness up to 1/2in.
Using materials other than wood, like plastic or steel, is not recommended, and in tournaments is forbidden.
The material of the board has to be plywood. The finishing is smooth and without blemishes. The wood can be painted with latex paint. If you use a non standard cornhole board the surface will not allow the bean bag to slide properly.
Said so, if you find a carpenter that can build for you a board following the standard dimensions and materials. Why not?
Why You Should Trust Us
National Today is a source you can trust. First, we check what users' reviews of major e-commerce are. Then, what the manufacturer says in their official channels. Last, we can create an opinion that gets supported with evidence. Like official statistics, tech/science online journals, or similar.
How We Picked
Dimensions
We check the American Cornhole Association (ACA) articles to find out about the standard dimensions and materials.
When it comes to a game that has regulated rules there is no mystery about choosing a product. If the manufacturer doesn't follow the recommended standards avoid this product. You can check this information either in the manufacturer product description or from main e-commerce reviews.
Besides the dimensions for the cornhole bag and board, there is another aspect to take in consideration, the court. This includes the layout, dimensions, pitchers' box and foul lines.
The court layout has to be: wide 8 – 10 ft and long 40 – 45ft. These dimensions have to shape a rectangular area.
The pitcher's box is a rectangle 4 per 3ft. This is the spot where the players stand when pitching the bag.
The foul lines vary according to age. These are imaginary lines that players need to respect when playing. For kids, between 12 and 15ft. For adults 27ft.
Design and materials
These days, there are a lot of designs and patterns to choose from. For both bags and boards. Just be sure that your manufacturer follows the standard dimensions and materials. And would be a great game.
The cornhole board is sold in pairs and typically has the same color or pattern. The design doesn't matter for the game rules or standards. What matters is the material. It has to be plywood to ensure the game goes smoothly. Even better, if this wood has weather-resistant finishing, because it is an outdoor game.
The cornhole bag is sold in pairs too, but you need 4, each pair with a different color or pattern. This is not a design choice but a game rule. If they're the same you couldn't distinguish between players' bags. The recommended materials are dual-sided, turbo weave and microsuede.
Both bags and boards are pretty expensive, so if you're not a professional, and will play a couple of times per summer, you're looking for a more casual product. Said so, the greater design and better materials might not be included in a low-cost cornhole
Care and maintenance
How to clean cornhole boards
You need to clean two parts, playing surface and frame.
After each use, gently wipe dust and dirt from your board. From time to time use soap and warm water to deeply clean up your board.
How to store cornhole boards
Like other products, proper storage is the key for keeping your item in good conditions for a long time.
You can store your cornhole board in any cool and dry place, such as your garage, basement, or a possible extra room at your home.
Because your board is made of plywood they can't be in contact with humidity or water.
For the best storage, you can buy a coating cover to keep your board protected and clean when stored.