The Best Cordless Leaf Blower for 2023
With a powerful cordless leaf blower, you can quickly clear leaves and grass clippings from your driveway and lawn.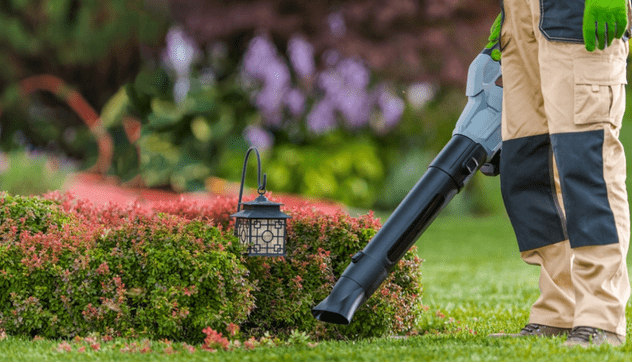 As beautiful as fall is, it's hard to find the bright side of raking a pile of leaves by hand. Neither is it convenient to traverse a large lawn while tethered to a power cable. That's why cordless leaf blowers are the best option for getting rid of leaves and other debris around your house.
Not only are they super portable and easy to carry around, but cordless leaf blowers also save you lots of elbow grease. In addition, their noise levels are much lower, making them convenient for use at any time of the day.
Typically, cordless leaf blowers are either battery-powered or gas-powered. This is why this article will be focusing on battery-powered cordless leaf blowers, which are much more convenient and require less maintenance.
How We Picked
Performance

Cordless leaf blowers don't end up in storage once the fall is over. Performance-wise, they should be able to power through layers of grass clippings, clear debris-strewn sidewalks, and even power through frozen leaves during the winter.


Comfort + ease of use

A good cordless leaf blower provides ease of movement by allowing you to clear large areas of your lawn or sidewalk without being tethered to a power cord. In addition, they must be light, compact, and portable.


Battery

As opposed to gas-engine blowers, battery-powered leaf blowers are much easier to use, as they don't require fuel. Furthermore, they don't emit any exhaust fumes, don't leave unpleasant odors on your clothes, and are much quieter.


Price

The price point is what often scares people away from making new purchases, and cordless leaf blowers typically run into hundreds of dollars. However, we were careful to find models that wouldn't be a pain to purchase.

Who This Is For
This article is for everyone, whether you have a large expanse of lawn or a tiny little patio. As long as you have a space to clean up, you'll be sure to find a product in here that's suitable for you!
Handheld vs. backpack
Whether gas-powered or battery-operated, handheld and backpack leaf blowers have their pros and cons. Determining which one is right for you depends on your unique preferences.
Handheld leaf blowers are those that are designed to be carried by hand. They are typically lightweight and powered by either gas or batteries. When it comes to maneuverability, they are much easier to use. However, they may cause more fatigue as opposed to backpack models, which are strapped to the back, taking most of the pressure off your arms. Backpack designs may also be gas-powered or battery-powered. Nevertheless, they generally pack a lot more power than handheld leaf blowers. However, when it comes to pricing, backpack models are usually more expensive than handheld ones.
Figuring out which is the better option must be done in a way that suits your needs. Do you prefer to put the weight on your arms or back? Are you comfortable paying more for a backpack version? Would you choose power over navigability? It's all up to you!
Cordless vs wired
Before the advent of cordless leaf blowers, wired, electric-powered blowers were all we knew. Connected to a power outlet by a long cord, it powers the leaf blower using electricity. On the other hand, cordless leaf blowers are either powered by gas or lithium-ion batteries. For the purpose of this section, we'll be considering battery-powered ones.
With regard to weight, corded leaf blowers are typically lighter than cordless ones as they don't require batteries to operate. In terms of comfort and ease of use, cordless blowers are the way to go. Most customers appreciate not having to deal with a long cord that tangles with obstacles and restricts their movement. When looking at power, although corded models typically have more power, the cordless models are catching up and providing equal performance.
However, corded leaf blowers still take the cake when it comes to run time, as the power is supplied as long as your electricity stays on. With cordless models, their batteries only last for limited periods before needing to be recharged. This leads to the maintenance aspect, with corded leaf blowers being cheaper to maintain since there are no expired batteries to be replaced. They are also much less expensive from the outset. Nevertheless, there's no beating cordless blowers when it comes to noise levels, as they are much quieter than the corded variety. Cordless models also have much higher cubic feet per minute compared to corded ones.
In summary, both corded and cordless leaf blowers have their pros and cons. Therefore, it's best to make a selection based on your peculiar needs and preferences.
Are these better for the environment?
Generally, corded electric leaf blowers are considered better for the environment than cordless leaf blowers. However, this depends on whether the cordless leaf blower is gas-powered or battery-powered.
Unlike their gas-powered counterparts, battery-powered leaf blowers don't require gas or fuel to operate, which means that they do not expel any exhaust fumes into the air. Exhaust fumes are believed to contain greenhouse gases that have harmful effects on the environment. Carbon dioxide, one of the gases released, is one of the contributors to the global warming crisis. It also leads to smog formation due to the release of other gases like nitrous oxide and hydrocarbons.
On the other hand, battery-powered leaf blowers do not cause any of the above. They only require you to slot in the batteries, and you can start working immediately. Thanks to their rechargeable nature, you don't have to worry about pollution caused by constantly throwing out the batteries when they expire. Therefore, battery-powered cordless leaf blowers and electricity-powered leaf blowers are much safer for the environment than cordless, gas-powered leaf blowers.
Why You Should Trust Us
It's easy to get lost searching through the countless thousands of cordless leaf blowers available online and in physical stores. They all look sleek, and shiny and promise to give you the best experience. However, the shiniest products aren't always the best.
That's why we've done all the work for you. After scouring dozens of product reviews and customer feedback, we've found products that deliver power, speed, ease of use, and comfort.
How We Picked
It's easy to get blown away by the technical grammar and fancy marketing surrounding most cordless leaf blowers on the market. Not us! While selecting our top picks, we paid careful attention to the performance aspect of each product.
Using previous customer experience, we found products that are versatile and capable of clearing a wide variety of surfaces. These include porches, garages, decks, sidewalks, patios, and lawns. In addition, our picks have been tested and are capable of clearing away leaves, twigs, and other debris that often litter the ground.
All of our recommendations are built with single-handed designs, so one of your hands is always free while working. Furthermore, all of them weigh less than 10 pounds, so you're not weighed down while getting yard work done. They all come with simple, functional, and adjustable triggers that anyone can master in a jiffy. You don't have to worry about the aesthetic aspect because every last one of our picks comes in visually appealing shapes, colors, and styles.
All our picks are battery-powered to ensure that you're keeping the environment safe while saving yourself the stress of pouring in gas and oil. We've also made sure that the price is right by finding you the best deals available online.
Care and Maintenance
Cleaning and maintaining a cordless leaf blower can be done in a few simple steps. First, start by checking the exterior to make sure that all parts are in perfect order. Next, begin cleaning by making use of a dry or damp cloth — depending on how dirty it is — to wipe down the outer parts. Check the cooling air intake grilles to get rid of any built-up debris and leaves. After each use, be sure to store your leaf blower in a cool and well-ventilated area.