The Best Cookbook Stand of 2023
Take your cooking experience to the next level with our top cookbooks.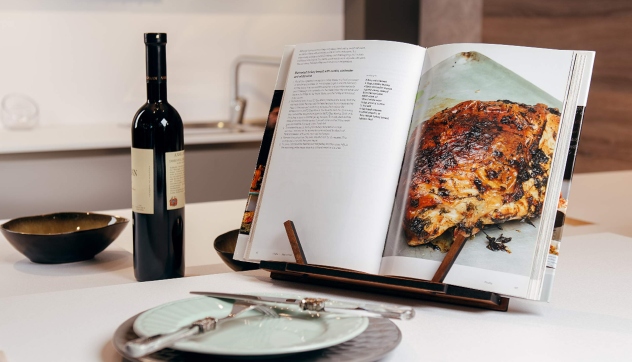 Anyone passionate about food and cooking will tell you how valuable their cookbook collection is to them. We all know that you're likely to touch your cookbook at some time with moist or sticky hands. When putting together your favorite cuisine, a few things may be as annoying as this.
So, how do you get rid of this problem? Well, getting yourself a cookbook stand is a great move. As you go through our review, we will reveal the best cookbook stand ideal for your kitchen. Although most people consider a cookbook stand unnecessary, they are wrong. This item will help make the cooking process less messy and keep your cookbook in good condition. Besides, a cookbook stand can also be a tablet holder in case you're watching a recipe video tutorial.
Our Top Picks
Best Pick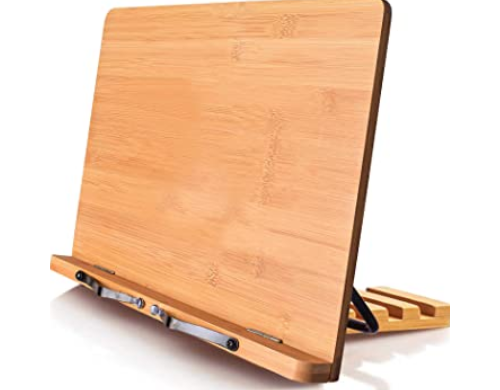 The Wishacc is durable and wipe-clean-able, making it particularly suitable for the kitchen or workshop.
$27.99
Runner Up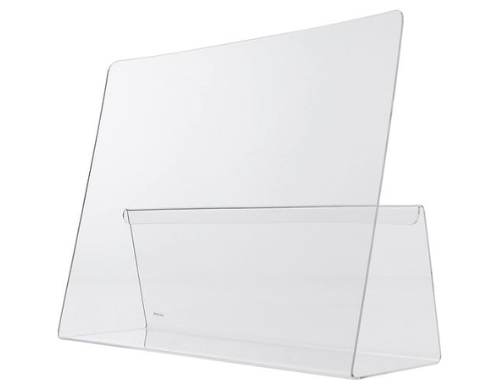 This option has a sufficiently large surface with a clear front.
$20.02
Most Cost-Effective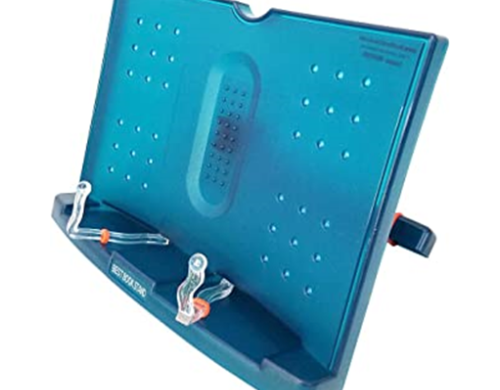 The budget-friendly Actto features eye-level reading for maximum comfort
$22.99
Who This Is For
These products are for all the cooking enthusiasts who regularly use a cookbook or tablet to work their magic in their kitchens. These products are ideal for newbies and professional chefs. If you use cookbooks or digital devices while cooking, a cookbook stand can make the task easier, less messy, and even more enjoyable.
Do I really need a cookbook stand?
You might wonder why you need to get a cookbook stand when you can always place your cookbook on the cooking counter. But if you wish to make scrumptious meals with ease while comfortably following the instructions in a cookbook, a cookbook stand should be an essential supplemental purchase for you.
A cookbook stand positions your cookbook to an appropriate height and is safe from countertop spillages. Furthermore, it will be easy to use your existing cookbook collection often rather than always searching for online recipes. The stands come in various makes depending on your needs.
Cookbook stands vs. one for electronic devices
Although some cookbook stands can even hold electronic devices, good cookbook stands must be adjustable to accommodate all types of books, regardless of size or weight. Electronic stands, on the other hand, will be compatible with most electronics because most electronics have nearly identical measurements.
Why You Should Trust Us
On various platforms, several cookbook stands are being advertised, many of which are expensive but of poor quality. To preserve your cookbooks from spills and to protect your spinal health, we have selected the highest quality and most efficient cookbook stands. These stands may be adjusted to fit your postures. Additionally, we sought products that would be simple to maintain while being strong and reasonably priced for all possible customers.
How We Picked
We considered the following factors:
Material
It is critical to consider the material of cookbook stands because they are available in a variety of materials such as cast iron, stainless steel, wood, plastic, or acrylic, among others. Metal stands are aesthetically pleasing and long-lasting, but they are less adaptable. They are heavy, and not always foldable.
Wood or bamboo supports are visually appealing, but they require extra care because they can be damaged by water or humidity. Acrylic or plastic stands may not be strong, but they are lightweight, user-friendly, and simple to clean.
Size
Your demands in terms of size should be clear from a fast assessment of your cookbook collection. Some cookbook stands have movable sections that may hold cookbooks of various shapes and orientations. Make sure to compare the size of the stand you are thinking about with the measures of your largest and smallest books.
Space
The amount of space you have on your kitchen counter is another aspect. A collapsible model that stores easily or one of the under-counter space savers may be suitable for smaller spaces. If you have a lot of room, you can consider investing in a statement piece that complements the design of your kitchen.
Design
In terms of design, there are several factors to take into account, with the main one being whether it has a splatter shield. A splatter shield is essential if you want to protect your carefully curated book collection from spills and stains. Page clips are another choice if you have books or loose recipes that need to be held together but aren't necessarily protected from spills.
Adjustable angles
A book that stands upright is ideal for reading while standing or sitting. It also relieves tension in the back and neck. Some stands include a height-adjustable reading surface that you can change to suit your needs. Cookbook stands have many heights back notches, and some are extremely portable and collapsible. Simply adjust and secure the backrest as desired.
Versatility
Look for a cookbook stand with a sturdy, stable base that can withstand the weight of a large cookbook or electronic device without tipping over. When using traditional cookbooks or the internet for recipes, choose a cookbook stand that can hold books as well as electrical devices such as tablets, Kindles, and iPads.
How We Picked
Sturdy Build

A good cookbook stand should safely hold into position your recipe books and electronic devices such as kindles, tablets, and iPads without any risk of falling off.



Size

It is important to consider the dimensions of your desired cookbook stand. We picked stands that do not occupy a lot of your working space.



Design

Always check the bottom shelf size to see if the cookbook holder can hold books of various thicknesses. Some stands have extendable shelves to hold small and big books. The shelf needs to be easy to operate for easy page manipulation.



Price

While quality material and design are important qualities in a good cookbook, its cost should be accessible to customers to make it truly the right choice.

Care and Maintenance
If you want to maintain cleanliness and hygiene, you need to clean your cookbook stand. Depending on the stand's material, there are several cleaning methods. Comparatively ‌, the acrylic and plastic cookbook stands are simpler to clean than the wooden ones. This is because wood that has been stained can be challenging to clean.
A washcloth and soapy water can be used to clean the stands before storing them. When working with wooden cookbook stands, it's very important to dry the stand before storing it. Never forget to handle plastic cookbook stands with extreme caution to prevent damage.