The Best Convertible Car Seat for 2023
Ensure your child's safety with the best convertible car seats for 2022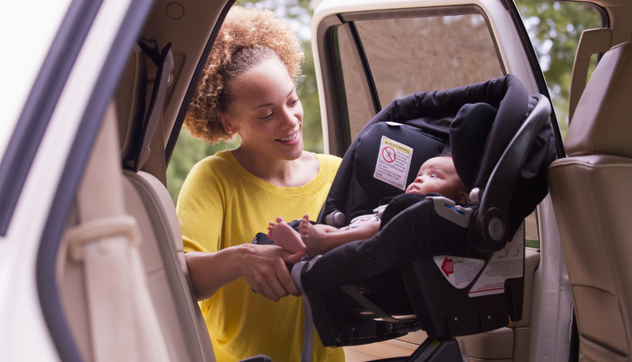 From baby-proofing your home to installing security systems, there are numerous ways to ensure a child's physical safety. However, a car seat is one of the very first child safety equipment every parent should have.
Car seats are rear-facing seats with designs that allow you to secure them to a passenger seat in the car. You can't leave the hospital with a newborn if you don't have a car seat installed. This shows how important car seats are. Most parents start with infant car seats for their babies. Eventually, the parents will replace the infant car seat with a convertible one.
Convertible car seats differ from infant car seats because they can change from a rear-facing to a forward-facing seat and offer a larger size and weight limit. You can't afford to skimp on a convertible car if you have a kid. However, the wide range of car seats on the market can make it challenging to pick a particular one. Therefore, we will help you make the right choice with our list of the best convertible car seats available.
How We Picked
Safety/Security/Support

You need a car seat because of your child's safety and security. Therefore, we cannot overemphasize our picks' security and support features.

Material & Comfort

The car seat you get has to be made from quality materials to ensure your child's comfort. We have selected picks that will ensure your child enjoys every second of the ride.

Style/Design

Buying a beautiful seat is one thing; using it is another. A beautiful seat with suitable features for easy installation and use is always preferred.

Cost-Effectiveness

It is always better to spend good money on a quality seat than to get a cheap one that doesn't last. Our picks offer essential functions and more at great prices.
Who This Is For
Road safety rules and regulations demand you buckle your young kids in an appropriate car seat fitting for their age and size each time they're on the road. They're the surest safety bet against car crashes and other harmful impacts. Therefore, convertible car seats are for all parents and caretakers responsible for kids and care about their safety while on the road.
What Age Should My Child Be In A Car Seat For?
Before using a convertible car seat, you must have used an infant car seat. You can replace your infant car seat with a convertible one when your baby clocks six months. Therefore convertible car seats are suitable for kids between six months old and whatever age they outgrow the seat (usually 10 years old).
How Do I Know The Right Size Car Seat For My Child?
The right car seat should fit your car, child, and budget and be easy to install. For the right size for your child, read the labeling on the car seat. All car seats have labeling on them showing their limits of stage, weight, and height. Your child should fall within all the requirements of your choice.
Why You Should Trust Us
We reviewed the N.H.T.S.A. (National Highway Traffic Safety Administration) available database of results for the performance of car seats. They have a list of car seats that have passed crash tests and met safety standards. We cross-checked their list with an extensive range of car seats available to consolidate our picks. We paid attention to reviews online and focused on essential factors such as quality of material, safety, security, design, and cost.
How We Picked
We started by looking at the safety of our picks, ensuring that they all have key safety features. Those key features include a five-point harness, easy harness adjustment, side-impact protection, and a higher rear-facing weight limit. Our picks have all passed the N.H.T.S.A. crash tests and safety standards. The higher rear-facing weight limit ensures that kids are comfortably rear-facing for the recommended four years.
We also chose car seats with built-in leveling systems, additional shock absorption, and a signaling system to show when they've been correctly installed. Our picks include seats that can fit a wide range of sizes, so you don't have to worry about replacing them soon.
We considered the user-friendliness of the seats for the kids and parents. Based on that, we selected seats that are easy to install, simple to adjust, clean, and offer the best support and comfort for kids.
To cement support, comfort, and safety, we selected car seats made from metal and alloy steel, both strong materials. We ensured the seats also had quality foam and more plush padding for some. Buying a more expensive car seat doesn't guarantee the most safety for your kids. Therefore we selected seats with great prices for the function they provide.
Care and maintenance
Convertible car seats can be a bit pricey. Given how much you're likely to spend, you don't want to buy a convertible car seat only to lose it to misuse and lack of care. Caring for and maintaining a convertible car seat does not go beyond using it correctly and cleaning it when you should. 
Car Seat Use and Maintenance
According to N.H.T.S.A. safety facts, 46% of people misuse car seats and booster seats in a way that could reduce their effectiveness and durability. Therefore, if you don't use convertible seats correctly, you're endangering your child's life. 
All car seats come with an instructions manual you should refer to for correct installation.

Ensure that you strap the seat in correctly to ensure security before driving. 

You should practice installing and uninstalling the car seat before your baby comes. 

Ask an expert to check the seat if you have any doubts about installing it. However, you can't always call an expert whenever you need to be on the road with your child. Therefore, you need to become an expert yourself. Take installation classes or teach yourself through online guides and the seat manual. 
Car Seat Cleaning
Kids are constantly changing and growing, but if there's something you can count on, it's that they make a lot of mess. It's not even a debate; whether it's muddy shoe prints or party snacks, they will mess up their seats. In addition to that, everything gets dirty at some point. Dirt reduces the durability of a convertible car seat drastically. You want to make sure to keep the seat clean. How often you clean a car seat will depend on your unique circumstances, but once every week or two weeks is ideal. You'll need to go over your instructions manual, but here are a few tips you can employ.
The Seat Cover 
Vacuum up the debris from the seat's cover. 

With a mixture of soap and water, scrub the stains with a small brush. Avoid getting soap on the buckles.

Use a damp cloth to mop up excess soap from the cover. You can stop at this point if you're only spot-cleaning easy messes.

For bigger messes, you'll need to wash the cover. First, check the manufacturer's instructions to see if the seat is machine-washable. Also, check to see what detergents are okay or bad for the cover.

If it's machine-washable, follow the instructions provided in the manual on how to wash it.

If it's not machine-washable, put in a mix of warm water and soap. Swirl it around or stomp on it, whichever works best for the mess. Then leave it to soak for 10 minutes and rinse afterward.

Even if the cover is machine-washable, it can't go in the dryer. You can make use of a drying rack to dry it. Make sure it's completely dry before putting it back on the seat.
The Shoulder Straps 
Remove the shoulder straps but take a picture first so that you don't find it challenging to put them back.

Dry-brush the shoulder straps.

If you must use water, never soak the shoulder straps. Instead, dip the brush in the water and use it. Avoid detergents too. 
The Frame
After you've removed the cover, vacuum up any debris on the seat frame.

Use a moist cloth to wipe any mess on the frame's surfaces.
You'll often need to uninstall and disassemble the car seat to do all the necessary cleaning. It would help to make a video of how you disassembled the seat your first few times. This way, you get to handle the intricacies of reassembly quickly. If in the course of cleaning you notice that the seat is broken, do not use the seat again. Ask around if you can repair it; you'll need to buy a new one if not. Your child's safety matters most.