The Best Computer Speakers for 2023
Upgrade your PC or Mac's audio output and enjoy an immersive listening experience.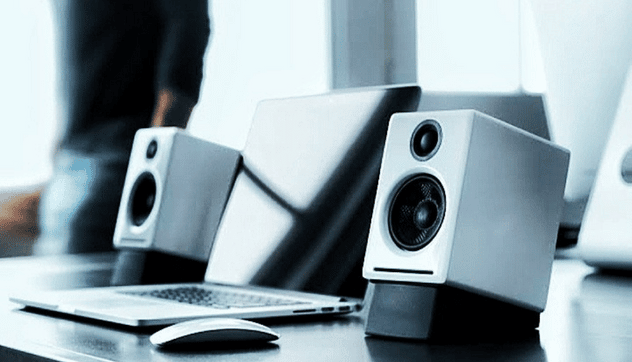 While computers have built-in speakers, the audio quality is not something to write home about. Computer speakers are output hardware devices that can be connected to a computer to help improve the audio quality. Whether you are working as an editor, playing video games, or listening to music, the quality of the sound originating from your PC or Mac is vital to your general experience.
The best computer speakers are designed to pair with computers and provide an amazing audio experience. Finding the most dependable computer speakers among the numerous options available can be difficult. To assist you in solving this puzzle, we looked for the best computer speakers to make gaming, listening to music, and watching movies more immersive. Let's dive in!
How We Picked
Audio Quality

The ultimate goal of every marketed speaker system is to improve your computer's sound quality. If the audio quality is poor and doesn't sound good to you, every other quality is of zero effect. It is important to select a speaker that gives you a noticeable leap in sound quality.

Size + Components

The size of your work surface or room will affect the dimensions of the speaker you will need. Some speakers offer flexible setups and may be wireless with dedicated volume and bass controls, audio input interfaces, Bluetooth connectivity, and a subwoofer either built-in or as an additional component.

User-Friendly

You may want to consider whether or not the speaker has easy-to-use features. Most speakers now come with remote controls and other accessories, making them very easy to set up and use.

Price

Low-cost computer speakers won't gratify you with that rich audio pitch. If you desire a pleasurable audio experience, you're going to have to spend up. You don't need to invest hundreds of dollars to reap the benefits that come from a good set of powered computer speakers.
Our Top Picks
Best Pick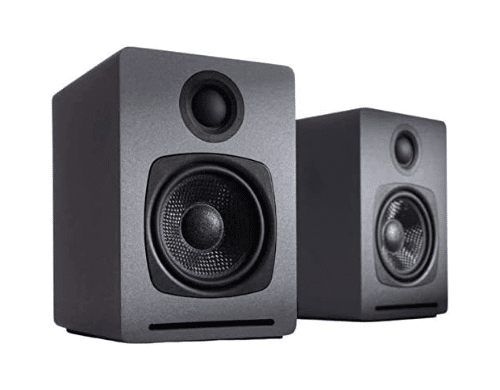 Enjoy a great audio experience with Audioengine's beast that has a wireless operation range of up to 100 feet.
Available in sleek black, Audioengine comes through again with top quality in this product. With 60W of audio power output, get ready to rock a clear and crisp sound that only gets better as you ramp up the volume.
Audioengine A1 Home Music System
Runner Up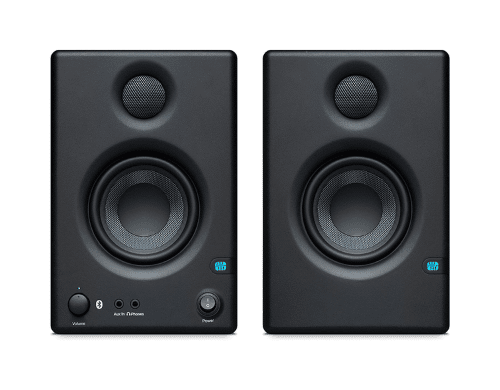 This is the perfect choice for you if you desire studio-quality sound with accurate frequency response.
PreSonus Eris comes highly recommended. You can't go wrong with these computer speakers. They are excellent for audio production, and just about everyone who has used them has fallen in love with them.
Your best bet for gaming and home video production is a Mac.
Most cost-effective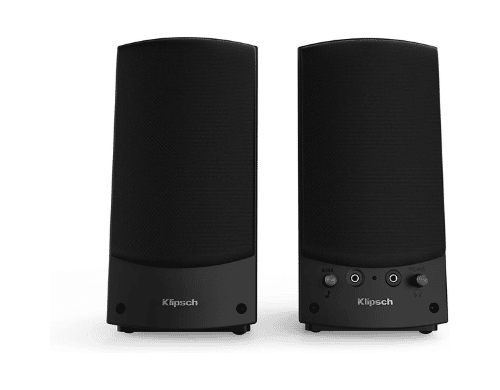 Klipsch promises you will get an incredibly immersive, audiophile sound quality from this one.
Ideal for your home office, desktop computer workstation, or gaming console system, this ultra-compact Bluetooth streaming, and high-performance sound system is extremely affordable.
Excellent sound and affordability meet in Klipsch!
Everything We Recommend
Best Pick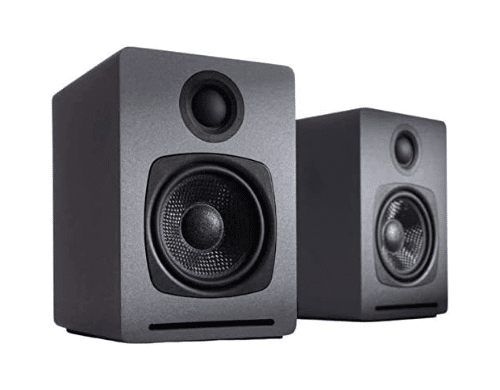 Enjoy a great audio experience with Audioengine's beast that has a wireless operation range of up to 100 feet.
$199.00
Runner Up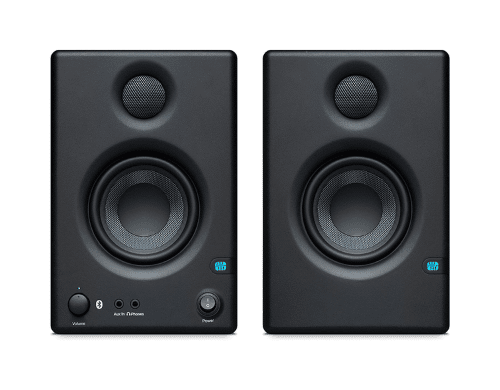 This is the perfect choice for you if you desire studio-quality sound with accurate frequency response.
$149.99
Most cost-effective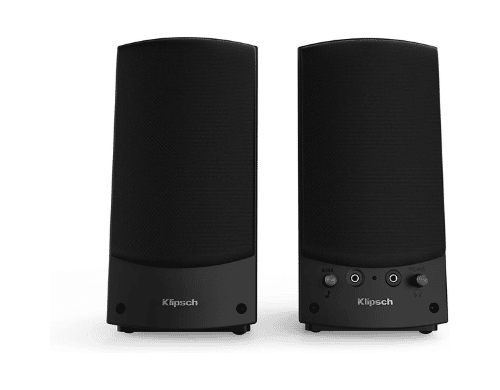 Klipsch promises you will get an incredibly immersive, audiophile sound quality from this one.
$87.00
Who This Is For
Computer speakers are ideal for any computer owner. Whether you are a gamer, an editor, or you enjoy listening to music or watching movies, you can benefit from owning an amazing set of powered computer speakers.
Speakers vs soundbar
A soundbar is a popular alternative to standard speakers because it offers high-quality audio and comes at a relatively affordable price. It is long, rectangular, and has multiple speakers built into it. In terms of audio quality, a set of speakers is better than a soundbar. Soundbars are often cheaper, more convenient, easy to set up, and a great choice for small rooms. Speakers, on the other hand, lack that flexibility, but they always offer a superior sound and are easy to upgrade. It ultimately comes down to which one will fit into your life and living space better.
Are they worth splurging on?
Nope. Do not spend your entire savings or try to take a loan to purchase one because there will be an updated version of the speaker that you have with each new year. Indeed, there's always going to be a degree of you getting what you pay for, and higher quality speakers may come at an added cost, but a lot of quality speakers can offer satisfying results for less than $200!
Will it support Bluetooth?
Some speakers are designed to receive digital audio wirelessly via Bluetooth when paired with any Bluetooth-enabled audio device, but not all computer speakers have this feature. If your desired speaker does not support Bluetooth, you can choose to purchase a small Bluetooth transmitter. You could even consider a good old wired audio cable.
Powered vs wireless
While we can't offer you a final answer when it comes to whether to opt for a powered speaker or a wireless one, we can offer you some useful insights on the benefits of each. Though powered speakers are considered out-of-date, they can be trusted to deliver a better and richer sound with zero fear of any disruption in the flow of the audio. We all know how annoying frequent cutouts can be when listening to any audio file, and this can happen with wireless speakers. On the other hand, wireless speakers are stylish, come with many placement options, and have a lower chance of getting damaged easily.
Why You Should Trust Us
When selecting our picks, we avoided speakers with poor audio quality, such as those that emit vibrations from the speaker cabinet or abrasive sounds at high volume, and we evaluated our top picks to make sure they were user-friendly, free of defects, and stylish. 
How We Picked
We read lots of reviews from verified buyers on Amazon to ensure an unbiased selection. When trying to make a choice, it's best to always go with mass reviews (not just what the tech enthusiasts tell you!) Across all of our choices, you'll find speakers that are convenient to use with computers and USB audio interfaces, less complex to set up, portable in size, durable, and of high audio quality. We discovered that average users of computer speakers like a solid amount of bass with a balanced sound that is clean and simple, so we selected only speakers that provide surround sound, which allows for deeper immersion.
All of our picks were selected with an aesthetic effect and futuristic design in mind to complement your desktop or home space. From scouring through thousands of reviews, we discovered that larger speakers have better bass, performance, and sound quality, though this depends on the make and model, and many smaller speakers by outstanding brands are great too. In addition, not all expensive speakers provide the best performance, so don't let your wallet limit your choice as you don't need to spend a fortune to purchase an excellent computer speaker. Not when you have us doing the research for you!
Care and maintenance
Always keep your speakers dust-free! To do this, place them in parts of your room where dust can't easily get into their interiors. If possible, use a vacuum cleaner to clear out the dust at least once a month. Clean your speakers as often as is possible for you and always, always keep them away from static electricity! In addition to this, some speakers lack thermal protection, exposing them to direct sunlight for prolonged periods is not advised.
Lastly, provide sufficient ventilation after each use, and place your computer speaker out of reach in a place that is neither cold nor hot when not in use.