The Best Compression Socks for 2023
Improve blood circulation around your legs with the perfect compression socks.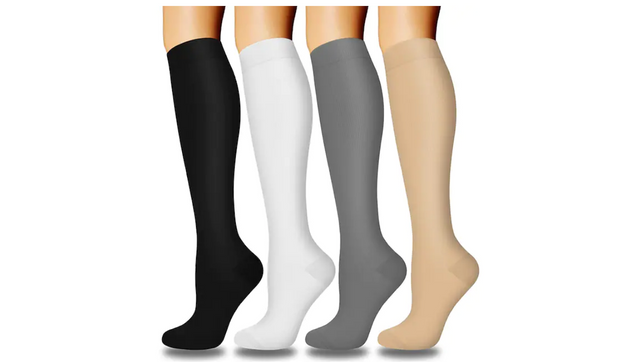 Compression socks started as a gimmicky item but science, and reviews proved their benefits. If you work out a lot, spend a lot of time on your feet, or have foot/leg aches then you should probably think of getting compression socks. They work by squeezing the walls of the veins and leg tissues. This helps your blood work its way against gravity to your heart. Compression socks also improve lymph fluid. With all these benefits, we wanted to share the joy of compression socks with you. We've compiled a list of the best compression socks available on the market.
How We Picked
Fit and Compression

Compression socks without compression defeat their purpose. That is why the fit and the compression are so important.


Material - Comfort, and Breathability

Because compression socks are very fitted, the material must be comfortable and breathable.


Style/Design

Beautiful designs and styles make compression socks more fun to wear and easy to match with the rest of your outfit.


Cost-Effectiveness

While compression socks are heaven-sent, there is no need to break the bank to get a pair. We wanted to recommend those that are within a reasonable budget range.

Our Top Picks
Best Pick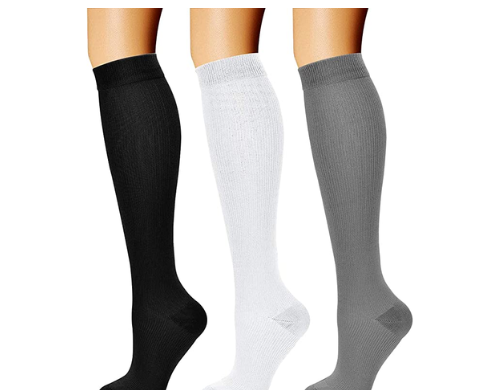 These are lightweight compression socks that are both comfortable and effective.
A fantastic starter option that can be worn daily. They offer low compression strength and are made of breathable and comfortable material. They are lightweight and very stretchy making them easy to put on and keep on throughout the night or day. Designed to promote blood circulation, they are ideal for pregnant women and flight crew.
These socks come in a range of neutral colors, and they are also unisex, comfortable, and effective.


Runner Up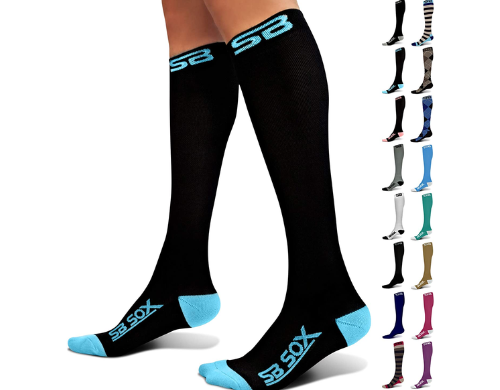 These socks are unisex and offer a higher level of compression than option one.
SB SOX Compression socks are well-priced for the quality they provide. They're perfect for those who want stronger compression and are familiar with and comfortable with compression socks. They are also breathable and comfortable, meaning women further along in pregnancy will enjoy the benefits without feeling restricted.
These socks are made with durable and breathable materials, making them ideal for all-day wear.


Most cost-effective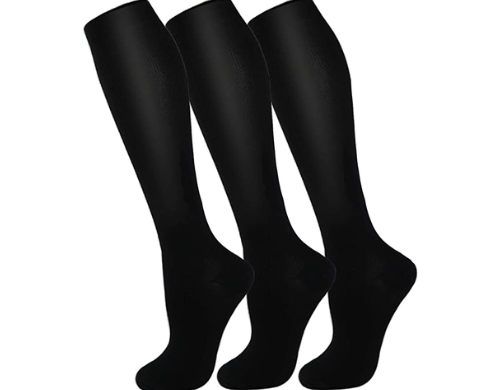 These offer mild compression that is effective and comfortable.
Runners, teachers, and other athletes will love the FuelMeFoot compression socks. You get three pairs for a low price, and they last you several months. These socks offer medium compression strength and are made 100% of breathable nylon. You can wash them in the machine, and they won't lose their shape or compression strength.
If you tend to lose socks soon after purchase, these all-black socks are a great idea.


Everything We Recommend
Best Pick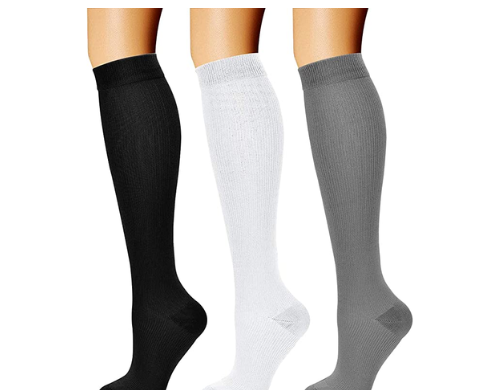 These are lightweight compression socks that are both comfortable and effective.
$13.99
Runner Up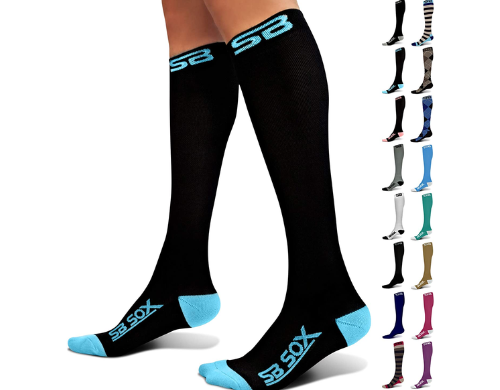 These socks are unisex and offer a higher level of compression than option one.
$26.95
Most cost-effective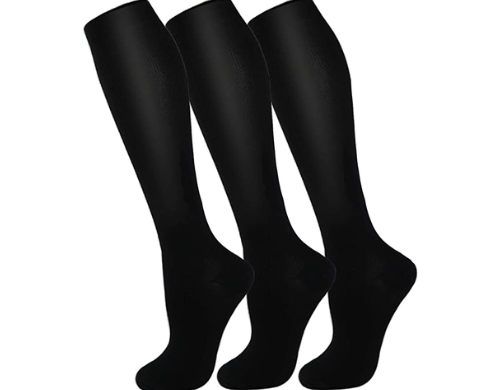 These offer mild compression that is effective and comfortable.
$13.99
Who This Is For
Compression socks are a great investment for athletes, especially runners, pregnant women, and those suffering from diabetes or varicose veins. They are also good for those who struggle with swelling in their feet and calves, as well as those with edema, phlebitis, and thrombosis. Wait staff, teachers, inspectors, flight attendants, and anyone else in a profession that requires staying on your feet for long periods of time could also greatly benefit from using compression socks.
What are compression socks?
Compression socks, also known as compression stockings, are specialized socks that apply gentle pressure to the legs and ankles. They are used to improve blood flow from the legs to the heart. The gentle pressure applied to the legs reduces extra fluid in the legs, reducing inflammation and improving blood flow. made available in a variety of compression strength levels. The most common compression socks come in mild (8–15 mmHg), medium (15–20 mmHg), firm (20–30 mmHg), and X-firm (30–40 mmHg). These range from the least compression strength to the most compression strength offered by the sock.
Why You Should Trust Us
We know the pain and discomfort caused by fluid retention and blood flow restrictions in your legs. This is why we wanted to offer an accessible solution to our readers. We scoured the internet for the best-reviewed compression socks and ensured they met our strict criteria so we could also give you options.
How We Picked
Fit
We wanted to have compression socks that came in a variety of sizes. The wider the size range, the better the chance you will find compression socks that fit well.
Compression strength/mmHg
The fit of the compression sock is important. The higher the compression strength, the tighter the fit. We wanted to recommend compression socks for everyday wear, athletes, and more. While stronger compression socks are usually only available by prescription, we wanted to be able to recommend some that could work for a variety of health needs, so we went with 15-30 mmHg compression socks.
Comfort
While compression socks are meant to be slightly uncomfortable due to their purpose, they need not be agonizing and hard to keep on. Your comfort is important to us, and we wanted to recommend compression socks that you could commit to wearing because they are comfortable.
Breathability/material type
Compression socks are already quite tight, so we wanted to find those made from breathable, durable materials. We want your feet to be able to breathe and your legs to feel lush and relaxed in the compression socks.
Style/design
Beautiful designs always make something easier to wear, especially if it's a prescription. We wanted to offer our readers stylish options for those who have to wear compression socks for long periods, with outside clothes.
Price vs. quality
Compression socks are not a luxury item. For those who need them, they are essential to their health, recovery, and well-being. This is why we wanted high-quality compression socks at reasonable prices. There is no need to break the bank while you try to heal your body.
Care and maintenance
Getting the right size and compression for your feet
To get all the medical benefits from your compression socks, you must wear the right size and sock type for you. The easiest way to do this is to ask your GP for measurements and the right sock type. If you're an athlete, your physiotherapist or coach may be able to help you get the right measurements.
If you choose to measure yourself, you need to get the circumference of your calf and your ankle. You should either find a sock that meets those measurements exactly or try a size down. A size up will most likely not provide you with the full benefits of compression socks. Check that your compression socks are not too tight and are not restricting blood flow. Tightness is subjective, but if you feel a lot of pain, switch your compression socks for a bigger size. Do not use them if they are too tight.
Washing, drying and storing advice
You should care for your compression socks the same way you would any other athletic apparel. Either hand or machine wash them in cold water and let them air dry. Once dry, fold them appropriately and store them in a cool, dry drawer. Avoid spinning or wringing them so as not to destroy their shape and fit.