The Best Comforter for 2023
Dreamers achieve, so snuggle under your comforter right now and never stop dreaming!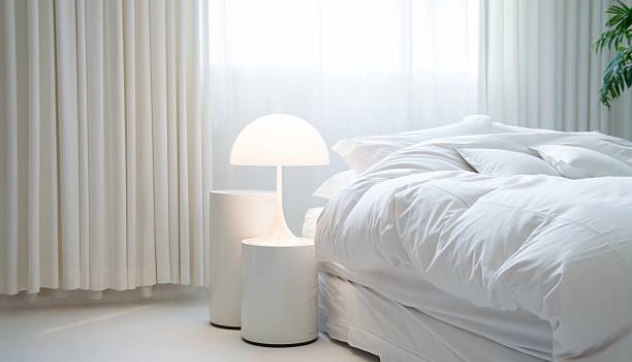 The importance of a good night's sleep cannot be underestimated. During sleep, your body is healed and everything from muscles to neurotransmitters is repaired. Your heart and other organs rely on sleep for rest and repair. Sleep deprivation also correlates with an increased risk of obesity.
Everyone needs a decent, warm night's sleep regularly, which is where bed comforters come in. Comforters provide toasty insulation on chilly evenings, and excellent ones may make getting out of bed difficult; but, terrible ones can feel lean, clunky, or oppressive, so we researched to help you choose the finest bed comforters for you and your family.
How We Picked
Size

Size is one of the main considerations when buying a bed comforter. The size of your bed will be the most important factor in determining the right size of comforter for you, but if you prefer a more snug feel, or if you share a bed with a blanket hugger, you can increase the size of your comforter. This is why we have picked comforters that offer different sizes.



Material/Comfort/Filling Type

The materials/filling is the most important thing to check in a comforter. Not only does it affect how warm your comforter is, but it also plays a big role in determining the comfort of your bed, especially for those who want a very fluffy bed.



Weight

Weight of a comforter can determine how hot or cold you feel when you sleep because, to be clear, the heavier the comforter, the warmer it is. So we picked weighted comforters that are sure to provide maximum comfort while you enjoy your beauty sleep.


Cost-Effectiveness

Just because you pay more for a comforter doesn't mean you get better quality. So we have selected comforters that are of good quality and reasonably priced.


Our Top Picks
Best Pick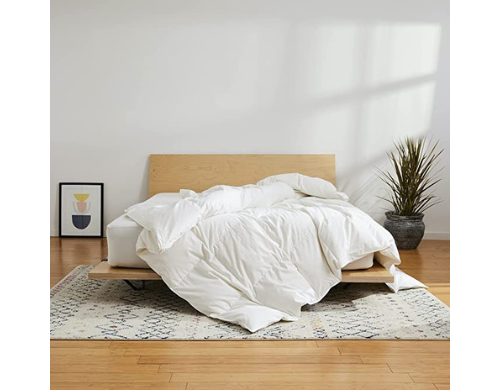 This pick might be costlier than the others on this list but it is worth every penny
Heavy weighted, all-season comforter


Any hot sleeper ought to adore the cotton sateen shell of Brooklinen's All Season Down Alternative Comforter. It seems like you are sleeping under a cloud of comfort since the comforter is soft without being overly thick or heavy. Because of the comforter's exceptional breathability, even when placed inside of a cover in the early spring, it wouldn't become overly warm. It includes baffle box paneling to neatly divide it into squares, making it highly airy and ensuring that the fill is dispersed properly.

Runner Up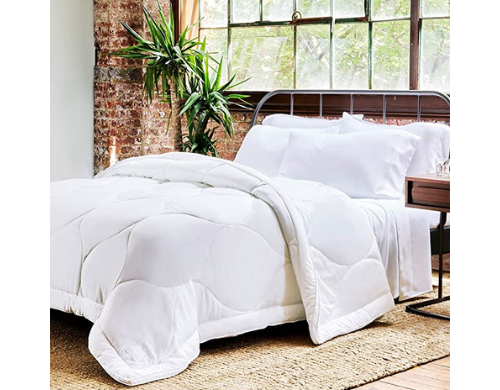 This pick offers both beauty and softness.
Cloud-like Comforter.
Made of eco-friendly materials, Buffy Cloud Comforter presents a down alternative that offers soft, all-year-round and affordable comfort. Buffy obtained GRS-certified recycled fiber that is regenerated into marshmallow-soft fill fibers for pro-earth plushness. They cover it in their recognizable eucalyptus fabric, which is softer and more environmentally friendly than regular cotton.

Most Cost-Effective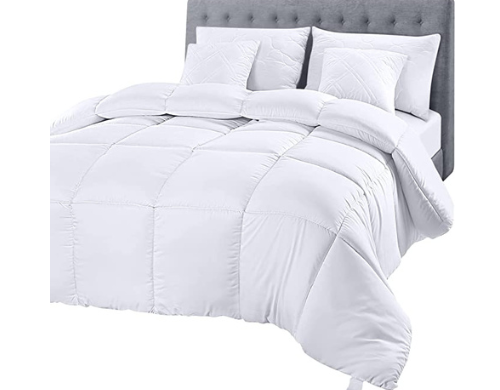 Chic and easy on the pocket.
The best breathable and affordable comforter you can get.

Breathable, extremely affordable, and machine washable comforter with loop attachments for securing inside a duvet. The quilted comforter from Utopia Bedding can be used with or without a cover. It has a plush surface that feels good against the skin. It has a silicone fiber filling to help it keep its shape, but it might not be hefty enough for people with cold personalities. This comforter can be washed on the gentle cycle.

Everything We Recommend
Best Pick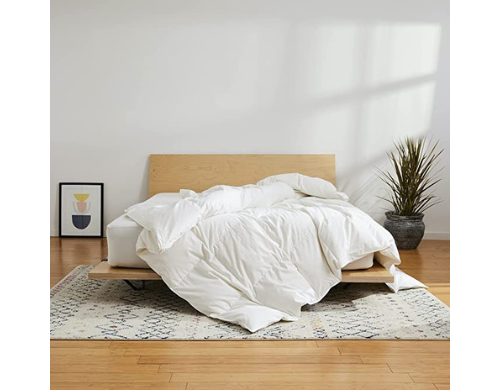 This pick might be costlier than the others on this list but it is worth every penny
$359.00
Runner Up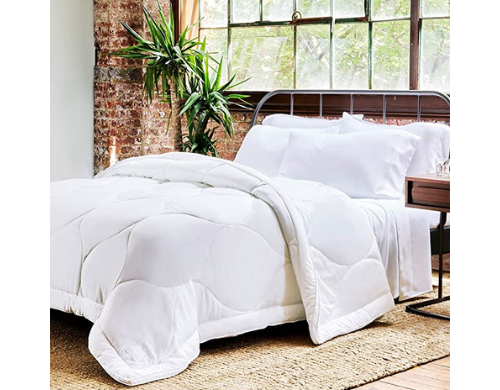 This pick offers both beauty and softness.
Most Cost-Effective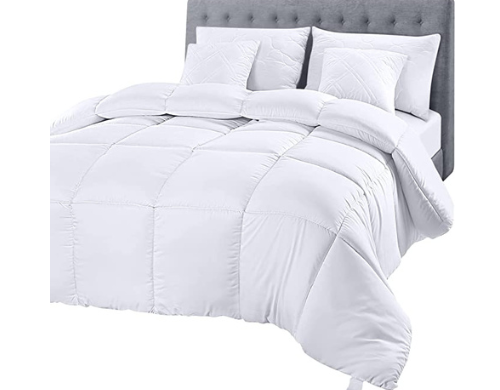 Chic and easy on the pocket.
$26.99
Who This Is For
The products reviewed here are aimed at people who love their beauty sleep and are looking for beddings that will provide maximum comfort.
What Is A Comforter And How Is It Different From A Blanket Or A Duvet?
Comforters are fluffy, thick decorative blankets used as bed top covers. Sheets or additional thin blankets can be used under them. Comforters are usually filled with synthetic fiber materials such as polyester and cotton blends and are usually quilted or sewn in a particular pattern to ensure that the material is safe and evenly distributed.
Comforters are usually sold in bedding sets or bed bag sets along with other coordinating pieces such as sheets and pillowcases made to fit the same bed size. They are intended to be the last piece and may not be covered with anything or combined with additional accessories. This makes it very easy to decorate your bed.
The main difference between a comforter and a blanket or duvet is that a comforter is just a bedding set, whereas a duvet requires two separate parts, an insert, and a cover. Comforters are usually quilted with evenly distributed fillings, but duvets have interlining that acts as a filling. The insert fits in the duvet cover like a pillowcase.
The comforter is ready to use as soon as you purchase it, no duvet cover or other type of cover is required. However, you can also use a duvet cover over the comforter if you prefer. You can do this if you want to protect your comforter from dirt.
Are Comforters Good For Babies Or Young Children?
According to the American Academy of Pediatrics, sleeping on loose blankets and comforters is not safe for first-year-old babies. Sleeping with comforters, loose blankets, or other soft objects such as sheets, quilts, and stuffed toys increase the risk of injury or death to your baby.
For example, Sudden Infant Death Syndrome, choking, and strangulation are associated with bedding and soft objects. Also, your baby should not sleep in areas with soft or loose items such as duvets, blankets, and pillows made for adult beds.
However, to keep your child warm while they sleep, there are wearable baby comforters you can get.
Why You Should Trust Us
There are lots of bed comforters advertised on the Internet today, each one serving different warmth and designed for different bed sizes. Due to the variety in brand, filling, and quality of these bed comforters, we have conducted research to select quality, durable, healthy, and affordable bed comforters just for you!
How We Picked
To pick the right bed comforter that is suitable for you, we did in-depth research on bed comforters. We made inquiries from experts and past users to get their opinions and experiences on bed comforters.
We scoured through customers' reviews on Amazon to get their first-hand opinion on each comforter picked.
We searched for comforters containing natural materials such as cotton and wool because while cotton comforters are fairly breathable, wool ones are great for experiencing extraordinary warmth in cold weather.
We also considered synthetic fillings such as polyester and microfiber. These synthetic fillings make the comforter light, washable, durable, and work well in both winter and summer. The comforter's structure was also chosen based on the warmth of the comforter, as it also plays an important role in determining how it works.
Sewing techniques help ensure that the padding is evenly distributed throughout the comforter, which promises uniform warmth. When you creep into bed for the night, there's nothing like the feeling of being completely wrapped in your comforter as you drift off to sleep. However, if the comforter isn't big enough and your feet or hands stick out, that sensation is ruined. Therefore, we searched for comforters of different sizes so that you could choose one that is slightly larger than your bed size to get additional coverage.
Studies have shown that weighted comforters have a significant impact on adult anxiety and insomnia, so we chose a weighted comforter. Also, a weighted comforter makes it easier to fall asleep and makes you feel better in the morning.
We chose microfiber comforters because they are easy to wash with a machine. Given the current lifestyle, washable beddings are the preferred and most hygienic choice. Because of allergies, We chose hypoallergenic comforters for a good night's sleep.
Paying more for bedding doesn't mean they're of greater quality, that's why we chose high-quality comforters that are of reasonable prices.
Care and Maintenance
Comforters come in a variety of styles and materials, so it is important to follow the manufacturer's precautions. The filling usually falls into one of several categories: down, down alternative, wool, cotton, or silk.
Down feathers are filled with goose or duck feathers, while alternative down feathers are usually filled with polyester or rayon.
Fortunately, the procedure for down feathers and other types is very similar so you can treat them the same way.
Bulky sheets, comforters, and duvets should be cleaned 2-3 times a year. It is advisable to do this when the seasons change, that way, you can always remember and be consistent. Doctors also recommend cleaning all linen after someone gets sick. This is especially important in the days of Covid 19.
Putting a cover on the comforter
We recommend that you turn the duvet cover over and then place the comforter on top. Attach the duvet cover, then tie it to the corner tab of the comforter to form a 'burrito'.
Roll the duvet cover and the 'burrito-like' comforter toward the zippered or buttoned comforter opening. Fold the duvet cover opening it at each corner and secure or button it. Return the bundled comforter to the opposite end.
How to prevent the filling/softness from being damaged or lessened by washing
The only way to prevent the filling of your comforter from lessening or damaging through washing is by washing and drying it correctly.
We recommend taking it to a professional dry cleaner for a thorough wash but if you prefer to do it yourself, here are some tips to help you;
As with any bedding laundry, check and repair any rifts or loose seams before washing the comforter. Carefully pre-treat the stain so that the stain remover does not enter the downfill too much.
For best results, use a large-capacity front-loading washing machine. Remember that bulky bedding needs room to move to be completely cleaned. If your washing machine isn't built for this, read or consult a commercial laundromat washing machine that can do the job easily.
Select a hot water setting and a gentle or gentle cycle, add detergent, and put the comforter in the washing machine. If your washing machine has additional rinsing options, use it to ensure that all detergents and stains are completely washed away. For a Top Load Washer, slide the feathers into the washing machine and make sure they are distributed as evenly as possible and completely submerged. Add 3 tennis balls to the wash to prevent the down from settling.
Tennis balls provide more movement to remove debris and evenly distribute the downfill. Wet down is heavier than many fills, so be careful to avoid damage when removing after washing.
The slight musty odor is normal when wet and disappears when dry. Down comforters should be dried in the largest possible dryer. Place the duvet in the dryer with the three tennis balls to help the down dry evenly.
You can also add a dry towel to absorb excess water and remove it when fluffing the comforter. Remove the down feathers and lint about every 3 minutes to allow the down filling to spread and allow the down feathers to dry faster. When redistributing the downfill, make sure the heat is not too hot.
Otherwise, the delicate down may burn. It may take several hours to dry the down comforters. If possible, remove it from the dryer with slight dampness and hang the comforter outside to allow it to dry naturally. In any case, it is important that the downfill is completely dry to prevent odors and mold growth.
Preventing stains and/or washing them out
As with any dirty laundry, the dirt should be pre-treated before washing the comforter.
By pretreatment, the stain remover begins to break down the stains, loosening them from the fibers and allowing the wash water to wash them away. Spread the comforter on a bed or a large, clean table or counter to make each stain easily visible, then tap an enzyme-based stain remover or strong laundry detergent on each stain.
Use a soft bristle brush to apply the stain remover to the cloth, turn the comforter over, and repeat this process on the other side. Before washing the comforter, leave the stain remover for at least 15 minutes (or as indicated on the label).