The Best Cold-Brew Coffee Maker for 2022
Power through your day with a freshly brewed cup of coffee using these cold-brew coffee makers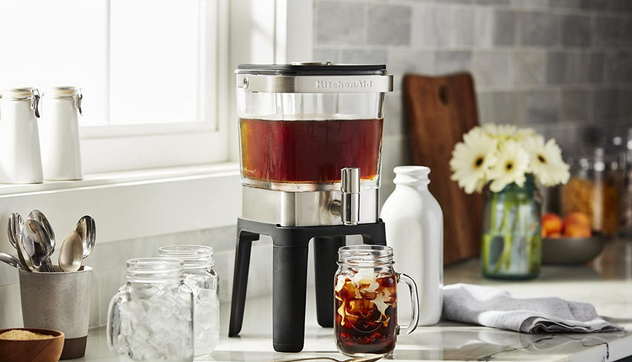 It's that time of year when the weather begins to warm up, and what better way to start the day than with a fresh iced brew cup of coffee? The best part about using a cold-brew coffee maker is that you will not have to make coffee runs before going to work. Brewing your coffee at home allows you to make it exactly the way you like it. Cold-brew coffee is a simple method of making coffee that is low in acidity and has a strong flavor. The type of equipment you use has an impact on the coffee's taste in addition to the coffee itself. So, to enjoy your coffee, it's crucial to get the right coffee maker.
How We Picked
Cup Size

The right cup size for your coffee maker depends on your consumption of coffee. Though there are many small and compact coffee makers, you should look for one that can produce enough for the entire week. Avoid selecting an overly large one because it will be difficult to place it in the refrigerator.

Speed and Noise

There are two types of cold-brew coffee makers. Electric options, which take one or two days to make, and non-electrical, which is faster and usually makes coffee in under an hour. Electric coffee makers are usually not noisy, except for the occasional humming sound.

Quality of Coffee Produced

The quality of coffee produced depends on a few factors, such as the type of coffee you use. Cold-brew coffee makers typically produce coffee with a rich, robust flavor.

Cost-Effectiveness

Although some cost more, the majority of cold-brew coffee makers are reasonably priced. A good cold-brew coffee maker will cost you less than a hundred bucks. However, those that pack all the bells and whistles can cost more.
Our Top Picks
Best Pick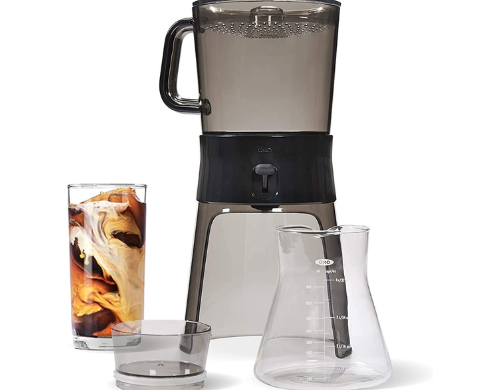 The best cold brew coffee, made with the press of a button.
This coffee maker comes with a calibrated carafe, which is ideal for those who keep track of their coffee consumption.
This exquisitely crafted stainless steel coffee maker ensures that your delicious beverage is prepared to perfection. The large rainmaker showerhead allows for even dispersion of water, while the high-quality cold brew concentrate will leave you with a delicious cup of coffee — even if you're running late.
Runner Up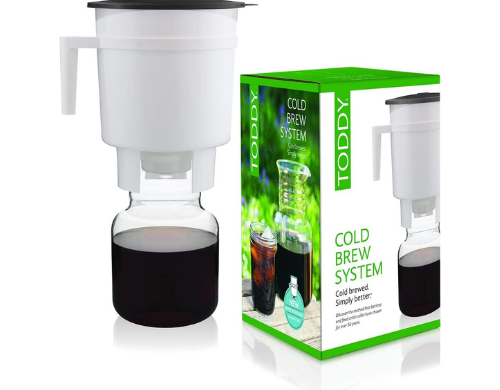 Produces a strong, smooth concentrate perfect for iced coffees and cocktails.
The fact that this coffee maker doesn't produce any coffee particles in the cold brew is another fantastic feature for people who enjoy clean-cup coffee.
The patented brewing process uses coarse grounds and cold water to extract all the delicious flavor from your favorite beans, delivering a superior cup of cold brew every time. Plus, the separated brewing process means that you can store your cold brew in the fridge without worrying about any funky flavors mixing in.
Most Cost-Effectiv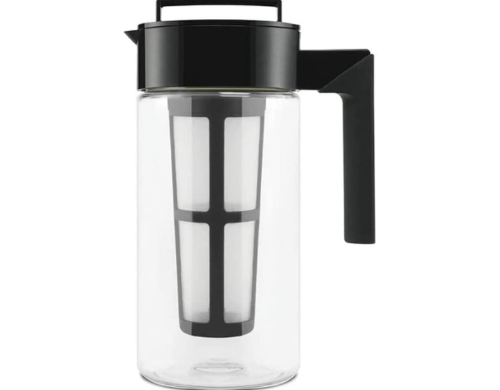 It's compact and suited for people on a tight budget.
The patented airtight, leak-proof lid locks in freshness and flavor so you can take Takeya Cold Brew anywhere you want to go.

The Takeya Cold Brew Iced Coffee Maker is one of the most versatile ways to make delicious cold brews. Simply add ice and water to the reservoir, let it sit for several hours, and then add your favorite flavored syrup or creamer.
Everything We Recommend
Best Pick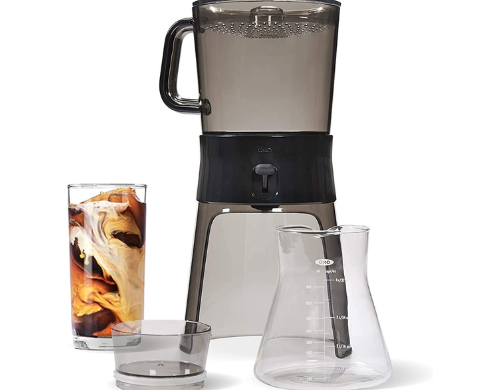 The best cold brew coffee, made with the press of a button.
$51.99
Runner Up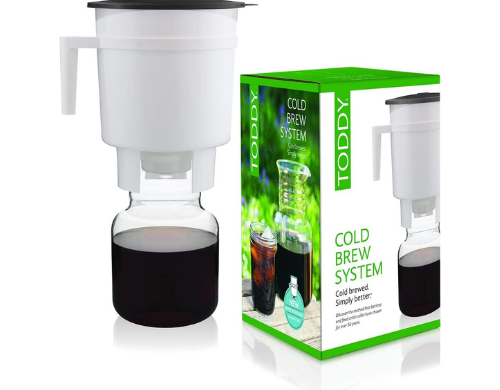 Produces a strong, smooth concentrate perfect for iced coffees and cocktails.
$39.50
Most Cost-Effective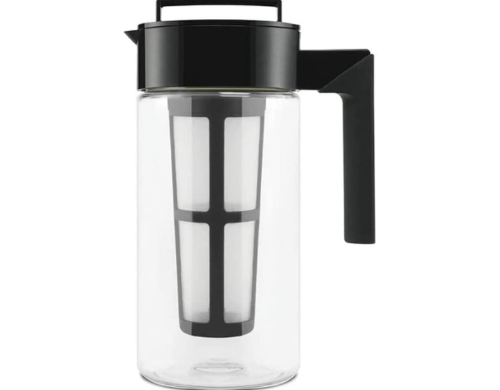 It's compact and suited for people on a tight budget.
$27.99
Who This Is For
Cold-brew coffee makers are not only for coffee enthusiasts but also for those who enjoy a rich and flavorful cup of coffee now and then. These machines are an absolute game changer, especially in the summers when the weather warms up. Cold brew coffee may sound similar to iced coffee, but it is entirely distinct. Anyone who values the authentic flavor of well-brewed coffee should consider the products listed in this article. These cold-brew coffee makers can be used by anyone.
Can you make hot coffee with a cold-brew coffee machine?
Unbeknownst to many, cold brew concentrate can be used to make hot coffee, but you should expect a noticeable change in flavor. The difference in flavor between cold and hot brewed coffee is caused by the temperature of the water used in the cold brewing procedure. To make a good warm cup of coffee, just mix a few ounces of your concentrate with boiling water. Heated cold brew coffee is ideal for individuals who do not have time to make a fresh hot cup of coffee every morning.
What is cold brew coffee?
Until now, cold brew coffee was frequently confused with iced coffee. The main reason for this is that, until recently, cold brew wasn't readily available. Cold brew coffee is a unique type of coffee that has a rich, low-acid, and refreshing taste. Although the process of making cold brew coffee is incredibly simple, it requires a longer steeping period of 12 to 24 hours. It is made with cold water and medium-to-coarse coffee grounds.
Why You Should Trust Us
The market is flooded with many cold-brew coffee machines. Although some of them are marketed as being of the highest quality, they sadly fall short of your expectations. To make sure you don't purchase the wrong machine, we have conducted extensive market research, gone through a large number of reviews, evaluated each product's functionality, and analyzed general user feedback before compiling the list of only the best products below.
How We Picked
There are several cold-brew coffee makers available, but a few factors make a coffee maker worth purchasing. We paid attention to all these factors and shortlisted the best cold-brew coffee makers.
The first factor was the size of the machine and, more importantly, the size of the carafe. Many coffee makers are very large and cannot be placed in cabinets or even countertops, while others have massive carafes that are difficult to store in refrigerators. For the most part, we preferred compact cold-brew coffee makers that could handle large batches of coffee at once.
Smaller cold-brew coffee makers will have lower water tank capacities, but the good news is that the carafe can fit easily in the refrigerator. You shouldn't search for a certain capacity because there isn't one. This solely depends on how much coffee you drink each day. For those who consume less coffee each day, a 16-ounce coffee maker is great, while a 32 or 56-ounce coffee maker is perfect for those who require more coffee or who store up on coffee for the week. It is recommended to use filtered water, but if you do not have a filtration system installed at your home, then you can refer to the manufacturer's manual to see which portable water filters are compatible with your coffee maker.
There are two types of cold-brew coffee makers: electric and non-electric. Non-electric is the most commonly used. The two primary methods of brewing fall under the non-electric category, which are immersion and slow drip. In immersion-style cold-brew coffee makers, the grounds are placed in a filter that is submerged in cold water for an extended length of time, typically 12 to 24 hours. Whereas, in slow-drip cold-brew coffee makers, the person often releases a stopper to allow the infused water, also known as cold brew coffee, to drain into a different container after the cold water and grounds have initially soaked together.
Electric cold-brew coffee makers strive to speed up the slow brewing process by steeping and stirring the grounds to extract flavor as quickly as possible. Even though they save time, electric cold brew brewers can't produce the same intensely flavorful brews as non-electric ones. There are two options for electric cold-brew coffee makers: wired and wireless. Both are good and quick. If you want to avoid the hassle of charging, then wired coffee makers are a good choice. However, if you want a portable machine, then you should consider wireless coffee makers.
The majority of cold-brew coffee makers are quite simple to use and clean. They have labeled displays and explicit instructions. Furthermore, cold-brew coffee makers are usually portable and small, unless you choose a big coffee maker. They are also lightweight, although this does depend on the brand and a few other aspects of that particular machine. Additionally, coffee makers don't make a lot of noise when they're running, except for the occasional humming sound. Some cold-brew coffee makers have a timer, which is a terrific feature because it allows you to simply customize the brewing time to suit your preferences and eliminates the need for constant monitoring of the clock. cold-brew coffee makers typically don't cost a lot and, with proper care, can last for several years.
Care and Maintenance
Most cold-brew coffee makers are easy to clean and even dishwasher-safe. However, some of them have small components that must be cleaned individually. Before you wash your machine, remember to read the manufacturer's instructions. Paper filter coffee makers require only regular filter replacement, whilst other coffee makers with infusers require frequent infuser cleaning. All coffee makers require routine deep cleaning in addition to the removal of exterior debris, stains, and dust. In particular, their internal water heating systems must be routinely descaled.
Cleaning your coffee machines on a regular basis is crucial to prevent odors and stains. As soon as your cold brew is finished brewing, pour it into a new container and discard the coffee grounds. By doing this, you may immediately clear it up and prevent the growth of mold in the filter.
Though it may seem ludicrous, the quality of your water influences the taste of your coffee. To get the desired coffee flavor, it is recommended to use filtered water. A water filter can be added to some machines. Be sure to read the manufacturer's manual to learn more.