The Best Cocktail Shaker for 2023
These shakers will ensure that your cocktails have a smooth and consistent taste.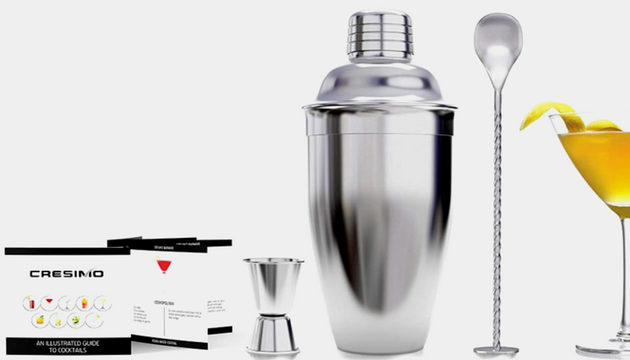 Whether you are a bartender, you enjoy the adventure of trying out new drink combinations, or you aspire to be a mixologist, finding the right shaker should be a priority. As you sharpen your skills every time you try out a new combination, you need a shaker that you can trust, that is easy to use, and that provides excellent grip to minimize mishaps. In the world of entertainment, mixologists have always been highly admired and respected for their unique crafting skills. Assuming you also want to follow suit, then take your time to invest in the right cocktail shaker.
Different types of shakers require different levels of skill, experience, and technique when used. We have taken the time to surf through endless lists of shakers in the market to bring you a comprehensive list that encompasses everyone, whether a professional, beginner, or explorer. We have you covered.
How We Picked
Material

A stainless steel shaker will be a lot more hygienic and easier to clean compared to a plastic one. Stainless steel also tends to be more effective when it comes to the aeration of the drink or cocktail you are mixing.
Finally, glass shakers are obviously a risk in case you drop the shaker by mistake, so it is important to think of where your shaker will be used.

Size & Shape

Cocktail shakers in the current market are more or less similar in shape. One needs to hold the shaker with their hands as they shake the drink. As such, the conventional shape is mostly preferred.
The size of the shaker you pick also matters. If you are confident that you can handle a large shaker, then you can purchase one, For beginners, we suggest you pick a light shaker before opting for a larger one.

Design/Style

Again, the design of the shaker you choose should be guided by your level of experience mixing drinks or cocktails. A shaker can be the Boston, the Cobbler, or the Parisian (or the French). Each has its own pros and cons when it comes to functioning, so consider this as you make the purchase.
If you are looking for a unique style, the Parisian shaker is often preferred due to its uniqueness.

Cost-Effectiveness

A cost-effective shaker should definitely serve you well. Considering the price tag of each and every choice on this list, weigh the purpose it serves depending on your needs. What one person may consider cost-effective may not be what another person considers cost-effective.
Nonetheless, we guarantee you that we have something for everyone who is interested in purchasing a shaker.
Who This Is For
This review is for anyone and everyone looking to purchase a shaker or martini mixer. You may be a professional mixologist already and be looking for a signature shaker, or looking to replace one and upgrade; either way, this list will definitely impress you. If you are a beginner and wondering which is the best shaker to start with, then we recommend the Simple Modern Boston mixer that will teach you everything there is to know about shakers then you can later choose to switch to another type of shaker.
We very much understand how confusing and hectic it can be to choose the right tool for a job, especially when it is online, with the uncertainty of whether it will get the job done or not. This is why we took the time to surf endless lists and pages of shakers in the current market to find something for everyone. No matter your level of experience, you are guaranteed to find the right tool for the job.
Why is a shaker important? 
This closed vessel helps you mix ingredients while keeping them chilled at the same time because you repeatedly expose your ingredients to the surface area of the ice at a very fast rate hence your drink lowers its temperature quicker than when you stir.
Why You Should Trust Us
We very much understand how confusing and hectic it can be to choose the right tool for a job, especially when it is online, with the uncertainty of whether it will get the job done or not. This is why we took the time to surf endless lists and pages of shakers in the current market to find something for everyone. No matter your level of experience, you are guaranteed to find the right tool for the job.
How We Picked
There are various parameters we had to consider as we made our selection. Each choice on this list was a carefully considered and well-thought option that stood out among the rest considering the purpose we envisioned it serving. Some of the things we considered include:
Material
The material that your shaker is made of is an important factor to consider, especially when thinking long-term. Color-plated metals can have the color flake off after a couple of years of use due to continuous wear and tear. If you plan to continuously use the shaker, such as in a busy bar, it is wiser to pick a purely stainless steel or glass one.
Glass also has its cons; if the shaker is not shatterproof, it poses a health risk to your consumers. Keep in mind that if the glass shaker falls, you will most likely no longer have a working shaker.
Versatility
A more versatile shaker is definitely more desirable in any case. You'll want to make a small drink at times and a larger one at others. Shakers that allow you to make various sizes of drinks, such as 28 ounces or 18 ounces, are lifesavers. If you are a mixologist looking to purchase a mixer, then a versatile shaker is what you need.
Durability
Shakers are constantly subjected to vigorous actions such as shaking, constant washing, etc. You will need a durable shaker that can see you through the years while maintaining its shape and functionality. The shaker will need to retain its ability to lock tightly and prevent leaks.  It is also important that it gives you the right type of drink you are aiming for; mostly, we prefer a shaker that does not over-dilute or over-aerate the drink inside. The shaker should also allow for easy and thorough cleaning to avoid a buildup of dirt or stains. 
Size and Shape
As stated earlier, the size and shape of your shaker matter a lot. Large shakers tend to be more labor-intensive, meaning you will have a very hard time working a very long shift with a shaker in hand that is very heavy. Most mixologists prefer a standard-size shaker that is easy to handle and use. The shape of the shaker depends on your taste; you can always go for something unique as long as it gets the job done.
Leak-proof
A shaker that spills drinks all over the counter or all over you when mixing is definitely something you'd want. It goes without saying, all the contents should remain inside until poured out when desired. A leaking shaker is the first sign of a bad shaker, and it is probably time to purchase a new one.
Design/style
There are three known designs/ styles of shakers;
The Boston shaker is usually the popular choice for professional bartenders and mixologists. It consists of a large shaker tin combined with either a small shaker tin or a pint glass that fits inside it. Leaks are common if the fittings are not properly installed.
There is also the Cobbler shaker, which is most preferred by beginners because it's easy to use and includes everything you need to make a drink easily. This shaker type has a tin, a lid with a built-in strainer, and even better, a cap to prevent spills when you shake.
Finally, we have the French shaker, which is basically a hybrid of the Boston and Cobbler cocktail shakers. Its pieces fit together well, and therefore you're less likely to have problems with leaks than with the Boston shakers. It has a shaker tin and lid like the Cobbler shaker but without the built-in strainer.
Price
Depending on how much you are willing to spend, different shakers have different price tags. It is all up to you to decide what fits your budget. As such, we have different options for you to choose from on this list as you deem fit.
Easy to use
The ease of use of any tool primarily depends on experience. These shakers are simplified as much as possible when it comes to design. We firmly believe that practice makes perfect, so worry less about the ease of use because soon enough it won't even bother you that much. You will have mastered your shaker and will be making amazing cocktails in no time.
Care and maintenance
How to clean and dry
Cleaning and drying a shaker is just as easy as doing it with your other dishes. Clean your shaker thoroughly and carefully, especially in the hard-to-reach areas, to prevent the buildup of stains. The shaker should then be left to dry normally.
Is it dishwasher-safe?
The shakers listed above are completely dishwasher-safe. You can easily mix it up with your other dishes as you clean them without any consequence or health risk.
Where and how to store when not in use
You should store your shaker in a clean and dry place whenever it is not in use. Keep it out of reach of children to avoid damage and injuries too.
Will it catch rust?
All the food-grade materials used to make these shakers do not rust. Using materials that can rust poses a health risk to the consumer, and as such, stainless steel and glass are the most common materials out of which shakers are made.