The Best Clothing Steamers for 2023
Remove all wrinkles from your clothes in seconds with our pick of the best clothing steamers.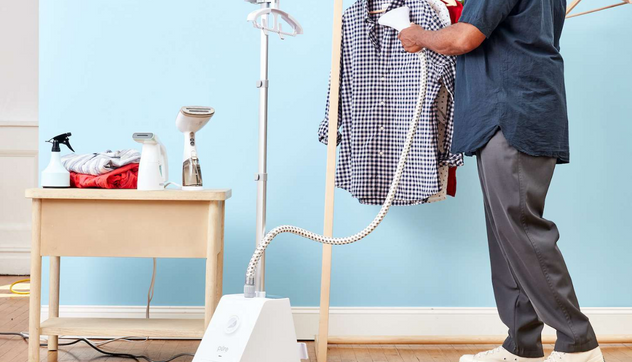 Would you like your clothes to be spotless all the time without having to spend hours ironing? Then a clothing steamer is for you. This type of appliance allows you to smooth your clothes with a steam jet in just seconds, which will help you save time every day and avoid annoyances after a long day of work or laundry. We must add that conventional irons are not always effective at removing wrinkles from difficult or delicate fabrics, and if we insist, they can damage them irreparably. For these and many other reasons, it is recommended to have a clothing steamer. To save you a lot of time and trouble in pointless searches, we have organized a list with the best clothes steamer in the market, as well as the buying criteria that we took into consideration for such a choice, and that can help you to choose a different model. Don't forget that you must choose a model that meets certain performance criteria, as not just any clothes steamer will do, and you need to choose one that fits your budget, lifestyle, and needs.
How We Picked
Heat-Up Time/Speed

This feature is essential, as it reduces the time needed to use your clothing steamer and with it, the time required to enjoy your clothes perfectly and wrinkle-free.

Type of machine

There are two types of clothing steamers, handheld or portable and freestanding or vertical. Handheld models are lighter and easier to carry with you. Vertical models tend to be heavier, but offer a higher steam flow.

Adjustability of steam

This feature allows you to regulate the amount of steam expelled. It is a vital feature to adapt the process to different types of fabrics.

Cost-Effectiveness

This is a critical factor when choosing an appliance. The equipment must offer excellent performance and long life for an affordable price. It is not enough to be guided by well-known brands, but by the comments and experiences of other buyers and the opinions of experts on the subject.
Who This Is For
The garment steamer is a modern ironing tool that brings many advantages, in contrast to its counterpart, the traditional iron. Especially for those who like practicality, but don't like the poor look of wrinkled clothes. That is why it is important to explore the different options that the market presents us with, and clothing steamers are one of the best.
If you like to wear your favorite clothes to make an impact, you must make sure to quickly and efficiently remove all the wrinkles and do it in such a way that you do not alter the delicate fabrics. A clothing steamer can help you with this task, as with steam, it removes wrinkles and folds in the fibers and leaves your clothes impeccable without damaging or burning them.
It is also an excellent implement when it comes to ironing sheets and curtains without unhooking them or removing them from the bed, as some of them can be used both vertically and horizontally.
Another of the great advantages of these devices, which they share with traditional irons, is their ability to eliminate bacteria, germs, bed bugs, and many other pests that can attack our sheets, curtains, and clothes. If you are concerned about hygiene and cleanliness in your home and want to avoid diseases and pests, this equipment is an exceptional option for you.
Likewise, a garment steamer is a great alternative to an iron to eliminate wrinkles and renew garments without the need to wash them again. It is perfect for garments made with very delicate materials or designs such as flowing skirts, silk garments, suit jackets, and other garments that require special handling or cannot withstand the weight and high temperature of ordinary irons.
Clothing steamers are also excellent companions for the frequent traveler, as they don't take up too much space in your suitcases and don't add too much weight. We all know that clothes lose their freshness and good smell in suitcases. A clothing steamer recovers it easily, eliminates any bad smell, and allows you to dress fresh and elegant regardless of the long hours of travel.
Different Types of Clothes Steamers
There are two main types of garment steamers: handheld and stand-up or vertical. Handheld models are portable, smaller, lighter, and more convenient than upright models. In fact, handheld models weigh between one and two kg, while upright models weigh more than seven kg. That is why it is advisable to choose portable models if you travel frequently or do not have much space at home. This type of steamer has the shape of a shower head, and others are more similar to a kettle.
Vertical steamers are bulkier and have a large water tank at their base, so they will allow you to steam large loads of clothes for long periods. These steamers also include a hanger and usually have more power.
Ideal Wattage For A Clothes Steamer
Power is one of the most important features to consider when buying any appliance, and clothing steamers are no exception. The volume of steam per minute that the appliance can expel will depend on the power, and this factor depends on the quality, and speed of the ironing.
For clothing steamers, you should pick equipment with a power higher than 800 or 1,000 watts. If you have doubts about several devices, and you do not know which one to choose, always choose the one with more power. If you use it frequently, you should select an appliance with at least 1,500 watts or more of power, since this factor will determine the steam flow delivered.
In case you will use the equipment sporadically, you can select a compact model with a built-in tank. These are low-powered machines but are highly recommended for delicate garments and fabrics that are not very difficult to iron.
Why You Should Trust Us
When looking for the best clothing steamers, we carefully researched all the criteria that affect their performance and increase their efficiency to choose only the best possible equipment. We have focused our evaluation on those devices that are easy to transport, with high power and, of course, with high-capacity tanks and easy handling, as they are perfect both for constant use at home and by frequent travelers who want to look impeccable, either to enjoy a new country or to attend business meetings and appointments.
We also consider the comments of users who have already purchased the equipment, as only they can confirm its good operation and performance in removing wrinkles and refreshing garments, as well as verify its useful life and report on possible failures or common problems of certain equipment.
How We Picked
To choose the best clothing steamers, we considered the following criteria:
Speed of Steam
This characteristic is expressed in grams per minute and corresponds to the amount of water that is converted into steam per minute. Steam is your main ally when it comes to removing wrinkles, so the higher the speed, the more efficient the equipment will be. The speed of steam should be at least 35 grams of steam per minute for the appliance to be effective. However, equipment with a production of 30 g/min is also recommended. If you are looking for more power, a 42 g/min device will be more than sufficient.
Heat-up Time
This is the second feature you should be interested in, as it should be perfectly adapted to your needs. If your daily life is hectic, and you have little time to devote to the care of your laundry, your machine must be able to offer an optimal heating speed, which generally averages between 30 and 75 seconds, a time that is more than acceptable.
Type of Machine
Clothing steamers come in two versions, vertical or manual. Vertical models are very similar to ironing centers and tend to take up a lot of space. Nowadays, it is important to save space and avoid large appliances. At the same time, our lifestyles have changed and travel is more frequent, which is why manual equipment is much more necessary than vertical ones. For these and many other reasons we have chosen a selection of manual clothing steamers, as they have enough capacity to remove wrinkles from your garments at home or in a hotel, are easy to transport and have excellent power and efficiency of operation, which makes them the ideal tool for one person or a couple.
Adjustability of Steam Settings
To the speed of steam you need to add a variable steam setting because, if you plan to use your steamer for different types of fabrics and garments, it is necessary to adjust the amount of steam according to their characteristics so that the equipment works at maximum efficiency, protects the fabric and, in turn, removes wrinkles without problems. For example, you can use large amounts of steam for cotton, but you should use smaller amounts for silk, polyester, or wool.
Another feature you can look for in a machine is the descaling function. This allows you to use tap water without fear of damaging the machine. This function is usually only present in vertical standing irons, although there are high-end portable models that incorporate it.
A common issue with all types of irons is condensation. The best models of vertical irons have systems that prevent condensation and prevent water from dripping on the clothes. It is also important to choose an iron with an automatic shut-off, which switches the appliance off if it is not used for some time.
Price vs Quality
This is a fundamental aspect to consider. Many well-known brands overcharge because of their reputation and not because of the efficiency or quality of their equipment. That is why it is essential to evaluate all possible equipment and consider all user comments before deciding on a piece of equipment. A good clothing steamer can adapt to your needs and budget while having an excellent lifespan and quality.
Style/Design
A good manual clothing steamer should have an ergonomic design, i.e., it should be easy to hold in your hand and should not be too heavy when the tank is full of water.
Many manual models have a very elegant design that is not only easy to maneuver but leaves enough space to have a water tank of good capacity to ensure the generation of enough steam to remove all the wrinkles from your garments.
It is also advisable to choose a model with a transparent tank, as it will allow you to easily know when you will need a water refill.
Ease of Use
The ease of use of a clothing steamer is not only determined by its design, but also by certain extra functions. For example, it is recommended that your steamer has on/off controls, this allows you to control the steam output and prevent it from being lost while you are changing the garment or not using it. The more expensive models have an "on hold" mode, while those designed for steaming long loads of clothes have a trigger lock that releases constant amounts of steam without you having to press the trigger, which prevents your hand from getting tired.
Safety
You should evaluate that your equipment has certain safety features, such as the equipment automatically shutting off when not in use or when the water tank is completely dry.
Water Tank and Autonomy
The greater the autonomy, the more clothes you can steam in a single charge. For manual steamers, we recommend equipment with 5 oz or more capacity, which will provide about eight minutes of autonomy. For vertical models, a 40 oz tank can provide an autonomy of 24 minutes.
You should also check that the water tank can be refilled while the equipment is in use. Some models require that the water in the tank be brought down to temperature before refilling.
Additional Attachments
Both vertical and manual clothing steamers have various attachments that allow you to steam different types of garments or enjoy different functions. Among the most common are:
Brushes
Brushes are ideal for removing lint from your clothes, and they are also ideal for removing dirt easily thanks to steam.
Steam gloves
These are gloves that guarantee your safety while using the clothing steamer. It is important to emphasize that to use a steamer you must hold it with one hand and point it to the garment while with the other hand, you are stretching the area to steam, this can increase the risk of accidents, so it is advisable to use protective gloves.
Cord or Cordless
It is indispensable to evaluate the extension of the power cord, as it will define the level of freedom you will have while steaming your clothes. It is essential to note that there are no cordless models and that stores that claim to have them only remove the power cord from the picture or remove it from the equipment before taking the picture. Some online stores also classify manual steamers as cordless.
Steamers require high levels of power to operate, a power that can only be obtained through large batteries and would, of course, require constant recharging, which would make the equipment inefficient and non-ergonomic.
Care and maintenance
Heat care advice
Vertical steamers, like traditional irons, can also burn. They emit water vapor at high temperatures, so we must take certain precautions, such as not approaching them while they are working or aiming the steam jet at any part of our body. For the steam to be effective, we must stretch the garment a little with one hand, while the other hand holds the iron. To avoid getting burned, it is advisable to buy a thermal glove if the iron does not include it among its accessories.
How to clean a vertical clothing steamer
Clothing steamers should always be cleaned according to the manufacturer's instructions. Many do not recommend using anti-limescale products or vinegar for cleaning, as they can damage the iron. The best-rated models have descaling systems, in which you simply open the tank and shake the appliance to remove any limescale residue.
Different fabrics require different temperatures and intensities
Each garment requires a different heat intensity, so before starting the steam process it is recommended to consult the label and know the type of fabric of the garment to be worked on.
How to know the ideal conditions for a specific item of clothing
It is advisable to consult the label of each garment to know its requirements when ironing, as each fabric has its own characteristics and heat resistance. However, some garments do not usually come with instructions for steaming, so you can be guided by these basic data:
Natural or organic: these are fabrics that come from animals (such as wool, leather, and silk) or plants (cotton, linen).
Artificial: these are those whose base is a renewable natural product, but whose filament is artificial. This is the case with rayon and acetate.
Synthetic: these are produced entirely from a non-renewable natural product derived from petroleum. Polypropylene and polyester are the most common.
Once you have identified the fabric of your garment, you should apply the following temperature for ironing and steaming:
70 and 120 °C (150 °F-248°F): acetate, rayon, acrylics, elastane, polyamide, polypropylene.
100 and 160 °C (212 °F-320°F): cupro, polyester, silk, triacetate, and wool.
140 and 210 °C (284 °F-410°F): cotton and linen.
Cord maintenance
The cord is a vital part of any electrical equipment, and they are the first to fail when we do not use them properly. The first thing you should consider is proper handling when storing or transporting the steamer. Avoid knots and strange shapes, and simply wrap them around your hand or arm gently. It is also important to unplug carefully, never pull the cable, get close to the plug, and pull it from the reinforced area designed for this purpose. At the same time, avoid pulling the equipment using the cable or letting it hang from it.
It is advisable to clean the cable frequently, especially if it is in an area where it can become dirty with grease and dust. To clean it, simply dampen a tissue with soapy water and rub gently along the cable, then rinse with a cloth dampened with water and let it dry. Needless to say, this process should be done with the equipment disconnected from the power supply.
How to avoid damaging clothes
According to professionals, it is advisable to separate garments by fabric to avoid damaging them. To remove wrinkles from delicate clothes, it is sufficient to hold the clothing steamer two or three centimeters away from the fabric. The equipment should only come into contact with the garment if it is made of thick and resistant fabrics, such as bed linen, tablecloths, or curtains. In these cases, it is recommended to pass the iron on both sides for a better finish.
As for the functions, to take care of the garments, we recommend using a good quality steam iron that produces uniform steam, as they do not overheat or cause bad practices that can lead to damage to the garments.