The Best Clothes Iron for 2023
Enjoy perfect and wrinkle-free clothes with the best clothes irons.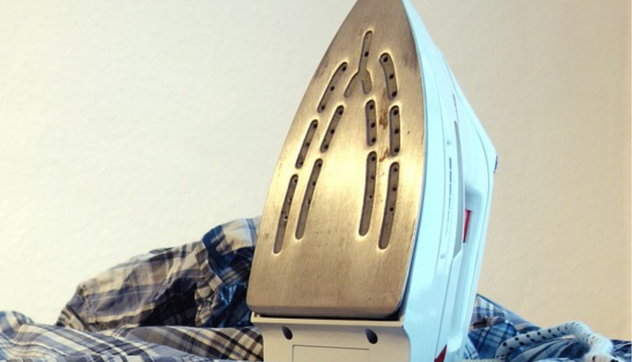 We consistently make the same error while looking for a new clothes iron: we focus solely on the price and brand. Although these are essential elements in choosing models that are perfect for our budget and trustworthy, they are not related to the ironing quality or the ease and efficiency.
Other qualities define an excellent clothes iron: steam pressure, water capacity, size, ease of usage, safety, heating time, and more. These factors will define the ironing quality and reduce the amount of time and energy spent on ironing clothes. If you follow our advice and choose one of the recommended models, we assure you that your investment will be worth it.
How We Picked
Steam Pressure

The ironing quality and the time it takes to iron depend on the steam pressure. The higher the p.s.i., the better the finish and the faster the ironing. It is best to choose models with 70 p.s.i. and higher.


Water Capacity/Size

Water capacity limits the ironing range. A good-sized tank will allow you to iron longer without refilling.


Heat-Up Time

This factor is determined by the power of the iron. Choose models that exceed 1800 watts of power. Nowadays, it is possible to find models with 2200 watts and 2400 watts.

Cost-Effectiveness

Irons are usually relatively inexpensive appliances. However, it is advisable to choose models that, for a fair price, guarantee a long life and a good ironing finish.
Our Top Picks
Best Pick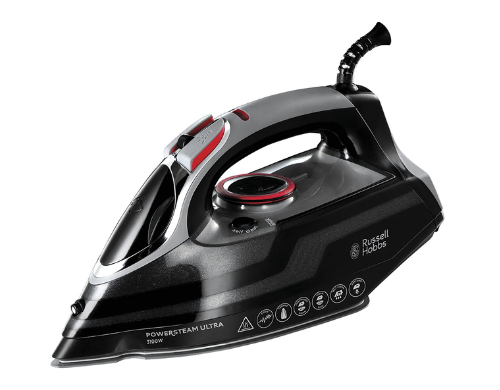 This iron has a triple-action self-cleaning system that extends the life of the iron and keeps it clean.
Regardless of whether you like to iron or detest it, you'll adore the PowerSteam Ultra's freshly pressed results. Utilizing 3100W of power, it heats up 15% more quickly so you can do the work faster. It boasts an incredibly smooth ceramic soleplate that effortlessly removes wrinkles from even the most stubborn creases.
The Russell Hobbs Powersteam Ultra has continuous jet steam for fast ironing.


Runner Up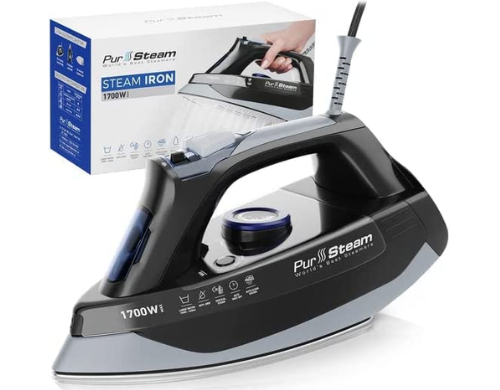 The PurSteam iron is an exceptional deal and has improved features in addition to impressive steam capabilities.
With increased features such as a sharper precision tip and ergonomic controls, the PurSteam iron offers amazing steam capabilities at an exceptional value. In addition to a more contemporary overall look, the new PurSteam iron has been improved in crucial areas demanding the utmost control and precision.
PurSteam Professional Grade promises to reduce your ironing time by half.
Most cost-effective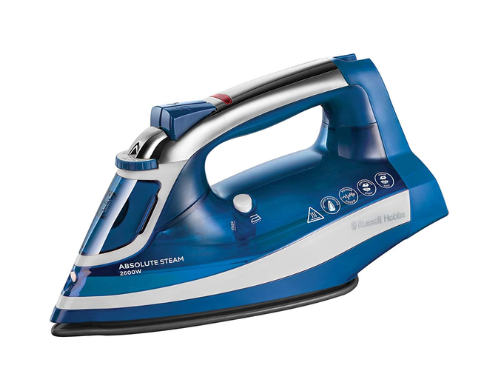 This iron releases just the right amount of steam for each setting.
You will appreciate that the Absolute Steam provides the features you require at an affordable price when you need to buy your first or next iron, regardless of whether you enjoy ironing or consider it to be a duty you put off. It has been created and constructed to perform at its highest level, ensuring that every use produces a high-quality outcome.
The Russell Hobbs 200 offers a perfect self-cleaning and anti-calc design.


Everything We Recommend
Best Pick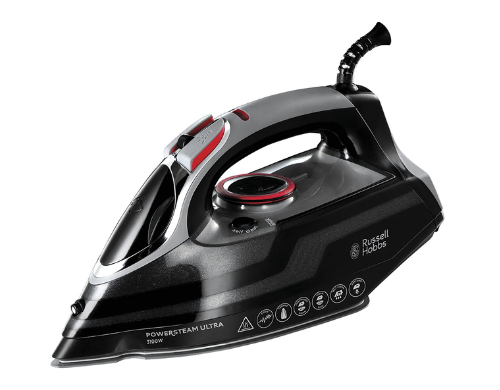 This iron has a triple-action self-cleaning system that extends the life of the iron and keeps it clean.
Runner Up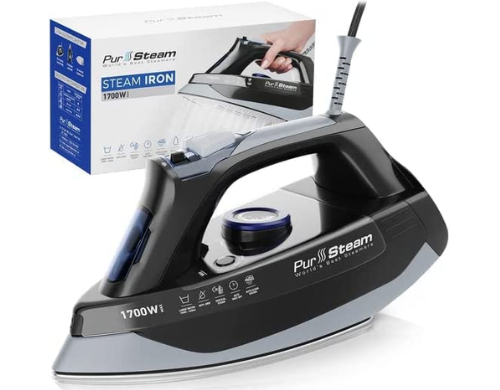 The PurSteam iron is an exceptional deal and has improved features in addition to impressive steam capabilities.
Most cost-effective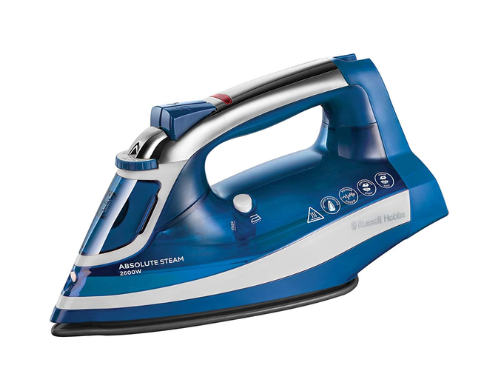 This iron releases just the right amount of steam for each setting.
Who This Is For
This is for everyone who needs to maintain the perfection of their attire. Whether you're ironing multiple loads for your family or your own clothes, you need to get a top-notch iron.
How do clothes irons work?
Irons are one of the most widely used household appliances, originally used to remove wrinkles and old marks and to prevent the transmission of infectious diseases by eliminating bacteria and viruses through intense heat. Irons remove wrinkles from your clothing by smoothing out the bonds between the long chains of polymer molecules existing in the fibers of the material. The heat and weight of the iron cause the fibers to expand and assume their new shape when they are cooled. Some types release steam, which weakens intermolecular interactions and enhances ironing quality. Steam irons are powered by three key elements, the power cord, the thermostat, and the heating element.
The thermostat controls the temperature of clothes irons; this feature is crucial because it enables the device to reach the required temperature to evaporate the water by raising wattage or, on the other hand, it reduces energy level to lower temperature and iron more delicate clothing. The thermostat works thanks to a metal plate leading to the clothes iron, consisting of two thin, elongated blades with different charging modes and a dial at the top to control the temperature. When you turn the dial, you will cause them to touch each other, generate heat and bend in a curve; this bend will allow them to touch the resistor, and it will reach the indicated temperature levels. When you turn off the iron, the thermostat plates separate and prevent electricity from flowing.
Irons vs. clothes steamers
Ironing is a very uncomfortable task but unavoidable if we want wrinkle-free clothes. The tool of choice to achieve this is the iron; however, others can be used, such as the clothes steamer. A clothes steamer offers excellent advantages. You can use it on clothes placed on hangers. When the steamer reaches the right temperature, the steam pressure is the proper one to remove wrinkles from your clothes. Repeat on the wrinkled areas after passing the steam jet over the entire surface. The clothes should be hanging so that gravity helps to stretch the fibers while the steam smoothes them and eliminates any unpleasant odor. In addition, steamers are ideal for garments with decorative details, such as sequins and embroidery.
A clothes iron is a traditional iron used for many years. In the 1st century B.C., as discovered by archaeologists, small metal containers in which hot charcoal was placed were used as irons in China. In turn, a board of varying size, or a table, for ironing clothes accompanied them. Today's irons have some upgrades, such as ceramic bases, containers to hold water and steam it, and thermostats that ensure better temperature control. They are also affordably priced.
Why You Should Trust Us
We have chosen for you the best irons on the market, considering the most important factors for both their functionality and your experience as a user. A good iron is one that not only transmits heat to your clothes and smoothes wrinkles, but also saves you time and easily removes wrinkles while preventing them from returning because it can generate high steam pressure and work at high power.
At the same time, we have made sure to choose irons with a long life span and systems that prevent calcium build-up and thus the transmission of dark stains that can damage your clothes forever.
How We Picked
To find the best clothes irons on the market, we evaluated the following aspects:
Steam pressure
The quality of the jet steam you can produce depends on how powerful your iron is. To iron curtains without taking them down, the steam can be released either vertically or horizontally. Additionally, there are irons with steam nozzles. The most frequent steam rate to look for is constant steam, which is 30 g/min; however, some models also offer the well-known steam blast, 80 g/min, to get rid of the deepest creases. The steam pressure must also be taken into consideration. Steam pressure is expressed in psi, and models with 70 psi or more are recommended. Additionally, pay attention to the number of holes in the base, as they guarantee consistent steam output.
Water capacity
The recommended water capacity ranges from eight ounces to 13 ounces. Your choice will depend on the amount of laundry to be ironed and your personal preferences. You should examine the size of the opening to refill; the moment of refilling can be dangerous, so choose a good-sized entrance that avoids spills, models with a level indicator, and a transparent tank.
Cord flexibility
The power cable should be at least eight feet long to provide the user with enough flexibility and mobility. This will allow you to work along the full length of the ironing board and, if you're tall, will make it easier for you to use the iron. Also, if your outlet is far from the table, a lengthy chord will be quite helpful. A cable can prevent any copper core fractures, failures, and potential accidents with a flexible and resilient cover.
Pivoting connector
The connection point to the clothes iron is the weakest part of the iron. Constant movement can weaken connections, causing failures and accidents. That is why it is advisable to choose a pivoting connector; it will ensure that you can use the iron freely, whether left- or right-handed, without tangling and without endangering the connection.
Time to heat up
This is determined by the wattage. The higher the wattage, the faster the heat-up time, and thus, the less time you spend ironing clothes. If you want to touch up your clothes before you leave, the fastest irons will reach the desired temperature within one minute.
Top temperature
The materials to be ironed will define the temperature selected for your clothes' iron. In the case of denim, linen, and cotton, it is advisable to choose the highest temperature, between 400 and 446 °F; therefore, choose models that can reach this temperature.
Adjustable temperatures for different fabrics
Your iron should have an adjustable temperature setting because choosing the appropriate temperature to iron your clothes at is important. When ironing, arrange your clothes from the coldest to the warmest setting and use the lowest setting on your iron.
You should start with the following textiles:
Acrylic, acetate, nylon, and beaded fabrics: These are the most susceptible to burns and damage. They require temperatures between 230 °F to 302 °F. You can protect these fabrics by putting a cotton cloth between the garment and the iron. Steam should also not be used.
Silk, polyester, satin, and wool: These fabrics withstand medium temperatures between 230 °F and 302 °F. Satin, wool, and silk should not be steamed or dampened. Polyester can be dampened with a spray before ironing.
Cotton, linen, and denim: These fabrics can have large wrinkles; therefore, they will require high temperatures, between 302 °F and 392 °F or higher. It is recommended to use steam.
Price vs. quality
The price-quality ratio in irons is usually good. Slightly more expensive irons often offer good quality and different options for each type of textile you want to iron. However, it is possible to find inexpensive irons with excellent performance and quality. We select high-quality models at reasonable prices for you.
Durability
Irons are usually household appliances with good durability. The most durable models are those with a ceramic base and anti-scaling systems; this will protect the life of your iron and your clothes while ironing. At the same time, it is convenient that the frame of your iron is made of resistant material such as ABS plastic, one of the most common in this sector. Another aspect that will define the durability of your iron is the maintenance and care dedicated to it. If you are attentive and follow the manufacturer's instructions, your iron will have a long useful life.
Style/Design
The style and design of the plates are very similar; the only thing that varies is the number of holes in the base and its material and weight.
Ceramic base: The new griddles have ceramic sole plates. They are more resistant and non-stick; this prevents holes in the clothes during ironing and speeds up the ironing process. We recommend that the sole plate has as many holes as possible so that the steam output is uniform.
Aluminum base: These are common in inexpensive irons. Over time, they can stick to the clothes, which can cause wrinkles while ironing.
Coated non-stick: Does not become sticky because it glides on clothes. It prevents wrinkling and pulling while ironing.
Stainless steel: Glides smoothly over the clothes and disperses the heat evenly over the surface. However, they can scratch if you run them over metal buttons and zippers.
Polished stainless steel and non-stick, coated sole plates are the softest; they barely generate friction against clothing. They work similarly to ceramic models.
Overall power/wattage
The higher the power, the faster the iron will heat and the more steam it will generate. For common use, 2000 W would be more than enough. If you have large loads of laundry, it's advisable to choose 2200 or 2400-watt models. There are also models with a lower wattage but with a great sole plate design and tremendous pressure and steam generation, making them perfect for everyday use.
Ergonomic handle/design
Ergonomics is the quality that ensures not only the user's comfort but also the proper use of the equipment and the prevention of accidents and injuries if you use the iron for long periods. Weight is one of the most important characteristics when selecting an iron. The weight helps remove wrinkles easily but shouldn't be uncomfortably heavy. The best weight is between 0.88 pounds and 2.20 pounds. The ergonomic handle should allow you to comfortably hold the iron and glide it smoothly over your clothes without causing accidents. Most irons comply with this feature.
Non-stick elements
Today's irons have treatments on their sole plates that prevent them from sticking to clothes, causing holes and wrinkles. They also contribute to much smoother and faster ironing.
Care and maintenance
The operation of the iron and our safety depend on the cord. If its outer layer is compromised, we can come into contact with the inside and suffer an electric shock. In addition, if you use it without proper care, it can come loose, both from the connector area and from the inside of the iron, and cause failures such as the iron not heating up sufficiently and turning on and off during ironing. To avoid all this, it is advisable to check the integrity of the exterior of the cord and clean it every week to avoid the accumulation of dust and grease. To achieve this, you will need a cloth, a brush, vinegar, water, baking soda, and the juice of a lemon.
Mix half a cup of vinegar with half a cup of water, two tablespoons of baking soda, and the juice of a lemon. Then unplug the cable and spread it on a table. It is advisable to protect the table with plastic or newspaper; then gently scrub the cord with the brush to remove the dirt, moisten a tissue in the mixture, and rub to remove all the grime. To finish, just let the cord dry, and you will be able to use your iron freely. You should not use water to clean the cables; it can be dangerous.
Other tips you can consider for taking care of the clothes iron cord are not to pull it, avoid holding the weight of the iron with it, or leave it hanging or bent. It is advisable to let it rest on the table in a natural position without bending.
Cleaning and general maintenance of the clothes iron
To avoid leaving unwanted stains on clothes, it is advisable to clean the sole plate with a mixture of water and baking soda. You should dampen the cloth in this mixture and rub it gently on the base; rinse with a clean damp cloth, let dry, and iron. It is also essential to read the manufacturer's instruction manual for recommendations regarding water usage. Clothes irons last longer if you use soft water and perform proper maintenance and limescale cleaning. If you don't, you may experience water leaks, clogging, unwanted stains on your clothes, and more.
If you wish to improve the iron's performance and prolong its life, choose a model with a self-cleaning function and an anti-scale filter. This will prevent limescale from your tap water from building up in your iron, clogging its ducts and shortening its life, or worse, creating permanent stains on your clothes.
Today's irons can be used with tap water and no longer require distilled water; with rare exceptions, it is convenient that they're equipped with an anti-scale system that prevents the accumulation of particles that clog the steam ducts. These self-cleaning models work by expelling a jet of air through the steam ducts to remove accumulated dirt and limescale particles, thus avoiding possible blockages and leaks through clogged holes.
Some manufacturers incorporate extra special functions against limescale:
AntiCalc System: ion exchange system in the tank that reduces the hardness of water with limescale.
Calc'n'Clean: in this system, the steam chamber is filled with water to perform a rinse, dragging the limescale particles that may be in the chamber.
4AntiCalc: this is a system that combines self-cleaning, steam chamber rising, an anti-scale filter, and a special descaling liquid.
Warning of having water around electronics
Irons are usually located in household laundry rooms, the space used for washing clothes and appliances such as the washing machine and dryer. It is advisable not to place the iron in this place to keep it in good condition for much longer and keep it away from contact with water, at least on its outer surface.
Water is an excellent conductor of electricity; however, a steam iron must be. Its water tank contains this liquid to vaporize and smooth out wrinkles with it. Because of this, it is vital to check that the contact between the water and the devices responsible for vaporizing it is watertight and does not present leaks that represent a risk of electrocution. Furthermore, you need to unplug the iron while filling the water tank or emptying any excess water.
We must add that the irons must comply with the country's electrical safety regulations. You should choose models that offer additional safety features, such as:
Auto shut-off or automatic shutoff: which allows the iron to turn off automatically if it remains stationary, resting on the sole plate longer than normal, usually 30 to 60 seconds.
Overheat protection: this type of system stops the operation of the iron when it reaches a high or dangerous temperature.
Operation light: this is a small light that turns on when you plug in the iron and turns off when the iron reaches the set temperature.
Placement of iron when not in use or cooling down
One of the most dangerous moments of ironing is when you let the iron cool down after using it. For this, the best thing you can do is to have a metal stand on which you can rest the iron and keep it away from the surface of the table. Some stands are screwed to the wall, while others rest on the ironing table. If you have children at home, it is advisable to choose models that allow the iron to rest on the wall away from their reach, thus protecting them from high temperatures and accidental falls.
Do not touch the iron plate when it is on or cooling down
To prevent yourself from touching the iron plate while it is hot, many irons include a small light to indicate that they are on. However, when it is off and cooling down, it is impossible to tell if it is still hot, in which case it is advisable to wait a moment until you are sure it is safe to touch or handle it.
Be careful of hot steam when the iron is heating up
It is common that while the iron is heating up, we test its temperature by giving it a quick touch with a moistened finger. This practice may seem very safe; however, it's not recommended. Do not touch the sole plate while it is heating up or in operation, as steam can escape and burn you even if you position your hand at a distance you consider safe.