The Best Christmas Tree Stand for 2023
Get ready for the holiday season with one of these Christmas tree stands so you can show off your beautiful decorating.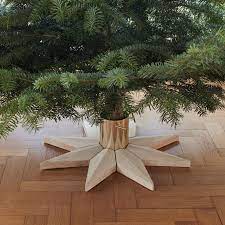 Christmas is starting to knock on the door and what better way to prepare than to get a nice stand for your tree? It's the most colorful and exciting time of the year and it's only right that not only your tree, but its stand too, shows that. Christmas tree stands come in a variety of shapes and are made from a range of materials like metal and wood so you can be sure your preference is satisfied.
Tree stands help keep trees upright and sturdy and also hold enough water to keep them alive and well. Synthetic trees are not left out; the right tree stand works well in saving them from tilting, falling over, and sagging towards one side. Different trees require different stands, and different stands promise different levels of effectiveness and durability. Our list will help you find the best.
How We Picked
Sturdy and Stable

To avoid Christmas disasters, accidents, and injuries, we looked for tree stands that can stay straight and upright whilst holding up even the heaviest of trees.


Size

Trees come in different sizes and as such we prefer tree stands that are adjustable or available in many different sizes to match a wide range of trees.


Design

Christmas is a time of beauty and aesthetics and tree stands should be held to these standards too.


Price

A whole lot of spending goes into Christmas prep and tree stands may be lower on the list so we looked for tree stands to fit flexible budgets.

Our Top Picks
Our Top Pick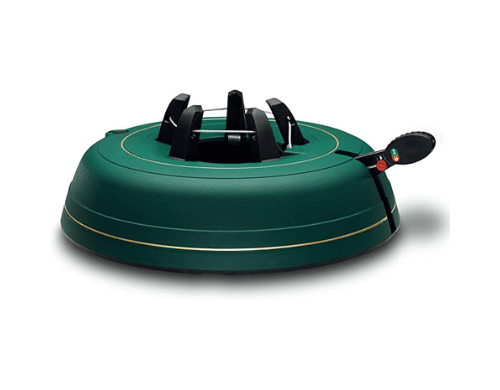 Krinner tree stands feature a pedal-controlled easy setup routine.
The Krinner Tree Genie, when compared to other tree stands, almost feels magical. It provides the biggest assurance that your tree makes it to Christmas and beyond straight and sturdy as when you got it. Sellers, users, and reviewers cannot get enough of its modern touch and you can rest assured you won't need to spend money on a replacement or repairs any time soon.
Despite being more expensive than others, this stand is far superior to others.
Our Runner-Up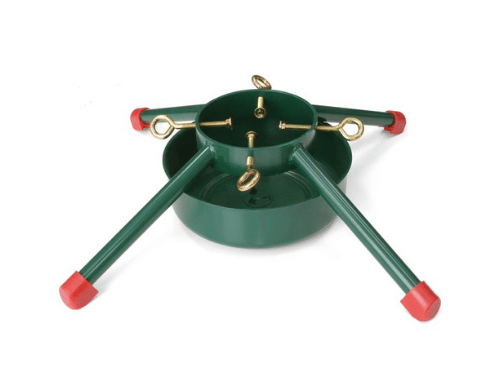 Jack-Post tree stands require no assemblage and kill any chance of your tree wobbling.
This Jack-Post stand is perfect for holding your Christmas tree up on Christmas day and for as long after as you wish. It's made of heavy-duty steel and is highly unlikely to be shaken or damaged by anything that's not a truck or natural disaster. The days of your pet knocking over your tree are in the past now.
This stand's attractive, curly design makes it a great fit for most home decor.
Most Cost-Effective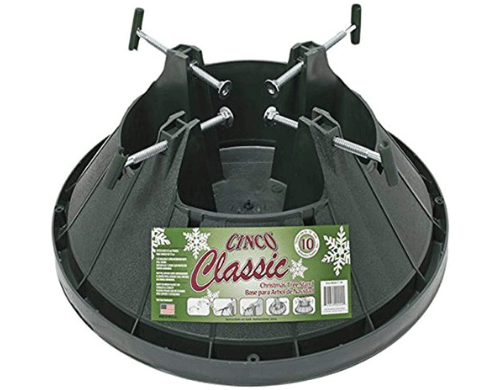 This Cinco tree stand is great for your tree and pocket.
This Good Tidings stand ensures you're not left out even if you're micromanaging your spending. Only a few bucks and you get a competent, strong plastic stand with an expansive water reservoir and the build to stay new and effective for more than one festive season.
Proof that budget-friendly doesn't always equal bad.

Everything We Recommend
Our Top Pick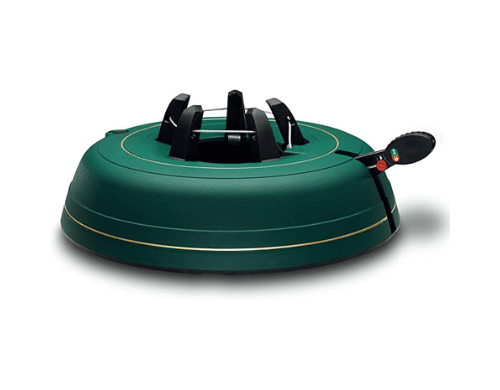 Krinner tree stands feature a pedal-controlled easy setup routine.
$109.47
Our Runner-Up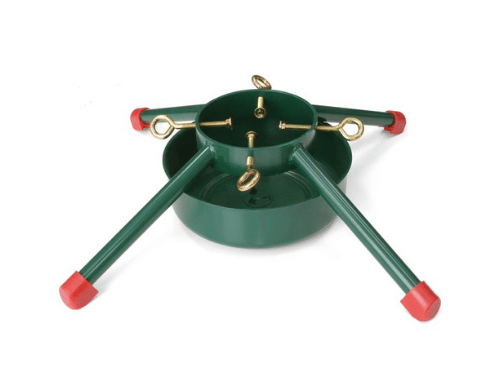 Jack-Post tree stands require no assemblage and kill any chance of your tree wobbling.
Most Cost-Effective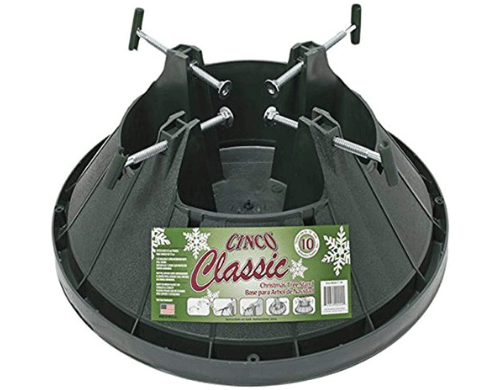 This Cinco tree stand is great for your tree and pocket.
$40.43
Who This Is For
These tree stands are for everyone who wants a seamless Christmas and trees that stand tall on Christmas day and long after.
Do I Really Need One?
A Christmas tree stand performs a lot of crucial roles. It could be the key to getting your trees to last more than one Christmas cycle. It could also stop your tree from crashing down after an erroneous jam from one of the many overzealous kids running around your home on Christmas night.
Why You Should Trust Us
Our guides help many people like you wade through an ocean of dross, overhyped products, and frauds and find products that provide excellent value for money and service that lasts far more than they predicted.
How We Picked
Finding the right Christmas tree stand for you was no easy task. We came up with a sorting system by combining characteristics and features that collectively make up great Christmas tree stands. We also compiled and examined customer experiences and expert reviews to bring you the very best.
One of the biggest needs for a tree stand is to increase the stability of your precious Christmas tree so why not ensure you get the strongest, sturdiest, most stable stand? It's only right and that's why it's the first thing we search for. Because of the wide array of Christmas tree sizes, we searched for stands with customizable or adjustable sizes, or brands that offer brilliant tree stands in various sizes. Water reservoirs provide a super easy means of hydration to keep trees alive. The larger the reservoir, the more water it holds and the longer it can go before needing a refill. Also, large enough reservoirs eliminate the need to religiously water your Christmas tree so that one or two days of forgetfulness don't cause the leaves of your tree to start losing their color.
In all of our quest for strong, sturdy, and effective stands, we didn't forget to look out for stands that are nicely built and designed to slot seamlessly into all kinds of looks and fit the festive theme of Christmas. We ensured that the stands we picked are not heavy enough to provide you with a legitimate logistical dilemma. We ensured all of our picks are built to withstand even the heaviest of trees and last through many Christmas cycles. Also, we ensured the price is right with all of our picks.
Care and Maintenance
In the postseason or when not in use, vacuum out all glass, leaf remnants, and dust from the tree stand. Where residue persists, wipe across with a paper towel and a solution of water and baking powder. In case of wetness or moisture, dry out with a towel or equally soft piece of cloth to prevent rusting. Oil any bolts and moving parts to keep them at optimal function and store them in a dry, waterproof, and sealable polythene or plastic container until it's time to bring it out again.