The Best Chest Freezer for 2023
With one of these efficient and handy chest freezers, you can keep your food items organized and fresh for longer.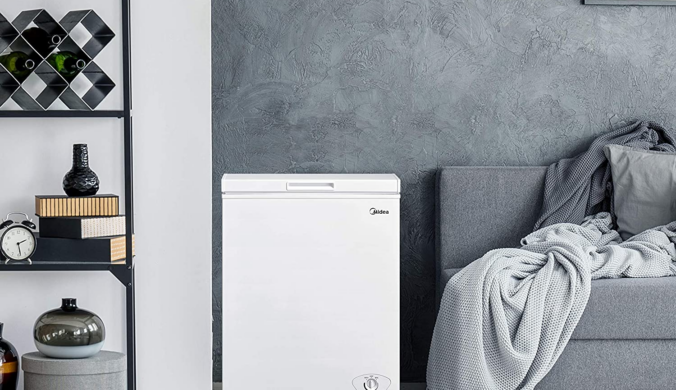 Having pre-made dishes is always a good idea if you frequently have guests over or cook large quantities of food when you have the energy. Furthermore, there is no better location to keep your batch meals than in a chest freezer. Almost anything can fit in a chest freezer, including pints of ice cream, food cans, beer cans, and entire jointed animals. They come in various sizes, makes, and designs, but the one thing they all offer is convenience.
You can store groceries frozen, and all you have to do is defrost them to make a nutritious meal. Plus, we all know that there is never enough ice. We take a look at various chest freezers to help you decide on the one that will suit your needs.
How We Picked
Size and Capacity

You want a chest freezer that will accommodate your storage needs, depending on what they are, and your housing or building space as well. The larger the freezer's storage capacity, the more things you can store there.

Min. Temperature

You need a freezer to be a freezer, and that is why the minimum temperature is important. The lower the minimum temperature, the better the freezing result you will get.

Energy Efficient

Chest freezers help you cut your energy expenditure almost by half when compared to upright refrigerators. Some cut down the green footprint by even more than this, depending on your usage.

Cost-Effectiveness

You don't have to go over budget when you can get good value for your money. Most chest freezers are affordable and have great functions.
Our Top Picks
Our Top Pick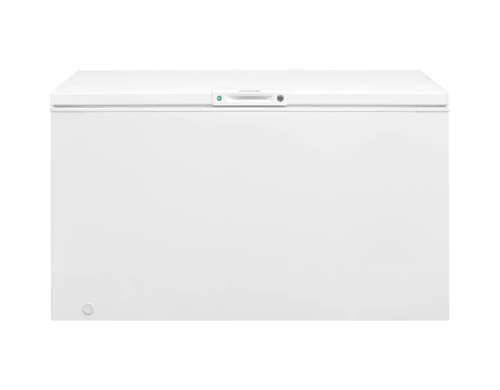 This freezer comes with two removable baskets to help store small food items conveniently.
The Frigidaire has a large holding capacity of 14.8 cubic meters, which offers great space for all your bulky items that need freezing. It also includes a light to help you see the inside of the fridge better, and this is just one of its functions, all for a very good price. You don't need to break the bank for this great buy.
If you require a large-capacity chest freezer for perishables, this is the model for you!
Our Runner-Up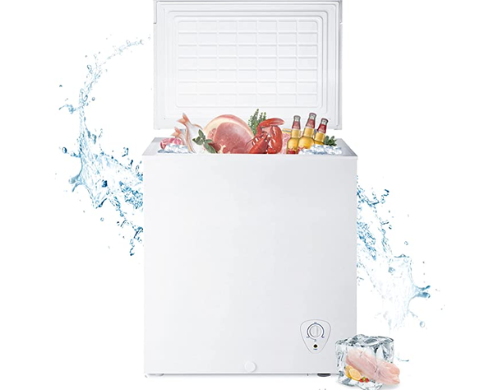 This is the perfect freezer for midrange needs, including a good retail and maintenance price.
This freezer is ideal for smaller spaces because it has a reasonable holding capacity of 5 cubic meters. Chest freezers can be a nightmare when trying to get through all the frozen foods; however, they are more manageable if you organize them well, and this freezer helps you attain just that with its movable racks and compartments.
Due to its great compartments and movable trays, this freezer is ideal for someone who values organization and a sense of order.
Most Cost-Effective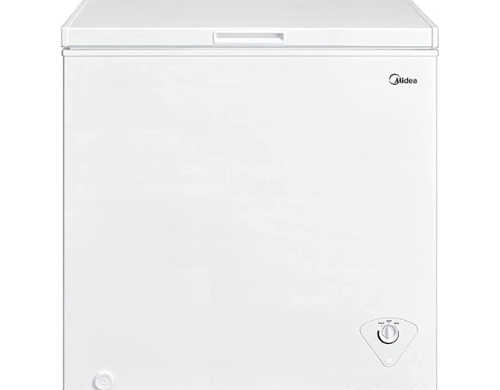 This portable chest freezer is a great space saver.
This Midea Chest Freezer is designed to meet the demands of even the most demanding consumers. With flexible interior organization, you'll have plenty of space to store your favorite meats, vegetables, and more. The adjustable thermostat ensures a proper temperature level for you to store your food. Designed for maximum comfort, it also has a recessed handle for effortless operation.
This Amazon best-seller is an excellent choice if you want to save money while still receiving premium services.
Everything We Recommend
Our Top Pick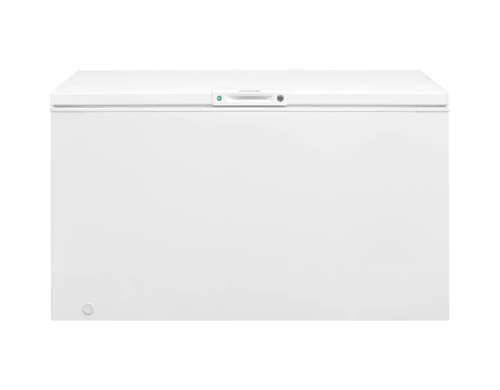 This freezer comes with two removable baskets to help store small food items conveniently.
Our Runner-Up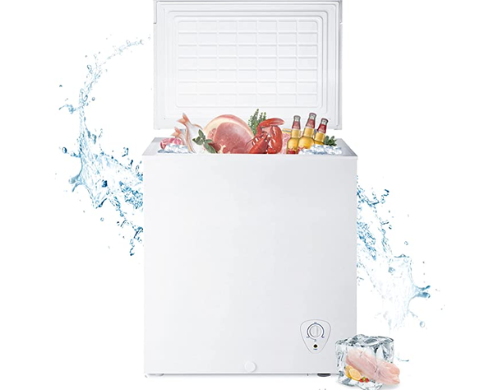 This is the perfect freezer for midrange needs, including a good retail and maintenance price.
$369.00
Most Cost-Effective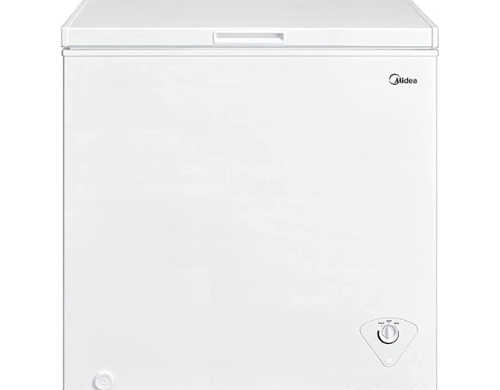 This portable chest freezer is a great space saver.
Who This Is For
If you are big on homemade meals, then a chest freezer is necessary for you. If you do your shopping in bulk for your family, for parties, or for your business needs, a chest freezer allows you to store as many items of different shapes at a time. This purchase would take your mind off worrying about your food going bad.
What is a chest freezer?
A chest freezer is a rectangular cooling box that opens from the top and has a lot of storage space for your foods. It keeps food fresh for longer because of its design, which allows less air circulation. Most chest freezers do not defrost on their own, and this further guarantees that food will be kept fresh. If there is a power outage, then your food will still be safe because of the frost in the chest freezer.
Is a chest freezer more energy-efficient than other freezers?
As compared to other freezers, a chest freezer can cut your energy expenditure costs by half because a well-used and well-maintained freezer doesn't need much energy to run. Other freezers use almost double the energy because of their designs and the auto defrost mechanism.
Why You Should Trust Us
We take the time to research and compare various reviews from the best sites, which then guide us as we compile this article. Our process involves reading the product reviews of various appliances and comparing those to expert opinions, which then help us conclude what, in our opinion, are your opinions of the best deep freezers on the market.
How We Picked
A great freezer is budget-friendly, from its initial cost to its energy usage. You can get great quality from your freezer without breaking the bank, and it reduces your energy consumption by almost half of what an ordinary freezer consumes, therefore reducing your power bill.
The size of the freezer determines how much space it will occupy in your house and is sometimes a good indicator of the capacity of the freezer. The bigger the capacity, the more food you can store. Just make sure to consider your actual needs to avoid purchasing a chest freezer that is too small or too large.
A freezer that has an airtight rim on the lid makes it easy to access the contents inside it while keeping the cool air trapped. This design is very important, mostly for the ease of use that it provides. We factored in other designs, such as the hidden handles or the temperature indicator lights, while we came up with this compilation since the design must allow for optimum utility. A light that is inside the freezer is also very convenient because you can easily see what you have in there.
The temperature of the freezer must be low, and this is why the minimum temperature was a great indicator of how efficient the freezer is. The lower the minimum temperature, the more frost there will be, and the longer you can store your items without them going bad, the better.
As much as a self-defrosting freezer is not such a great idea, you still need to find one that easily defrosts when you set it to do so. This will further smooth your user experience and even ease the extraction of items that are often fully frozen.
Care and Maintenance
Chest freezers are long-lasting home appliances. They can last from 12 to 20 years, depending, of course, on their brand and design. Generally, they are built to last, and if you take care of them properly, then you should expect a long and happy freezer life.
A great chest freezer also contributes to saving your energy expenditure, which you can check for while shopping around by reading the user manual, checking the energy sticker that would be on top of the freezer, or checking the website of the design that you settle for. This energy expenditure should be in line with your home electric system so that you don't have power surges and should also be in line with the appliances used in the house unless you choose to install a circuit breaker for the freezer.
Once you have settled on your freezer of choice, measure its height, width, and length when the lid is fully open. Next, compare these dimensions to the space that you have picked out, ensuring that the freezer will fit comfortably and still have space around it. Next, ensure that it is in a space that has a power outlet. You will need to purchase an electronics guard according to your freezer's manual.
After you make a purchase, recruit the help of an electronics specialist who will install the freezer correctly. If you would rather do the installation yourself, follow the instructions in the manual to the T so that you can fully enjoy your freezer at its optimal performance. Be sure to place your freezer in a room with enough space and protection from direct assault from weather elements. Please note that some freezers are only designed to work in cool environments. This information can be found in the user manual or on an information sticker on the freezer.
A chest freezer should be cleaned out twice a year. You cannot avoid the frost buildup, as that is what makes the freezer a freezer, but you can ensure that your food is stored in a sanitary space. You can defrost your freezer if the buildup is too much by unplugging it from electricity and leaving the lid open. This may take time, so if you need to speed things along, place an open container with hot water inside the freezer, close the freezer top, and only open it to change the hot water until the frost is completely gone.
While your chest freezer is defrosting, you might as well clean it with a mild detergent or a homemade solution of baking soda, vinegar, or lemon. Use the solution to wipe the inside of the now-defrosted freezer, and if there is a stubborn smell, place the baking soda and vinegar or lemon solution inside and close the lid for some time. That should eliminate the odor.