The Best Checked Luggages for 2023
Time to travel the world with some trendy luggage.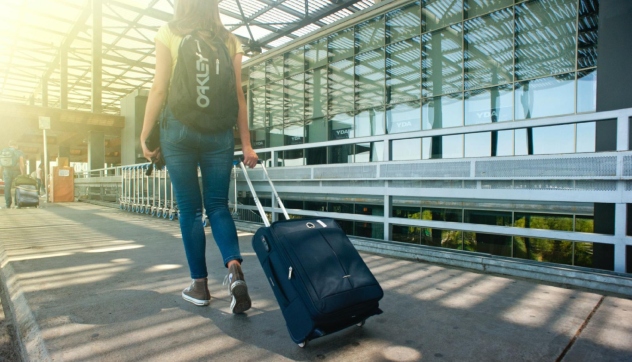 Who doesn't love a vacation to Maldives or Bora-Bora right? A week or two spent tanning on the beach, eating local cuisines, and attending night-long festivals. Away from work and other tedious chores. The only stressful part is the packing. While a carry-on or a handbag would suffice for some people if they are traveling for a few days or on a business trip but if you are planning to go on a vacation you need a luggage large enough for all your clothes and essentials. Moreover, you need a luggage that complies with airline regulations, is durable enough for travels and most importantly maneuverable.
Like most travel accessories, you get what you pay for, especially when it comes to luggage. If you don't invest a little money in the right luggage, you risk losing items, breaking them, or having to make distressing transfers. Unfortunately, there isn't a one-size-fits-all solution; depending on where you're going, how long you'll be there, and what kind of vacation you have planned, every traveler will have different needs.
This is where we come in, we have meticulously created the following list of checked luggage that will withstand all your travels around the world.
How We Picked
Material

The two most popular luggage materials are polycarbonate and ABS. The former is lightweight and resistant to extreme temperatures while the latter is scratch resistant and often cheaper. However, polycarbonate luggage is preferred because of its durability.





Size

Generally, 25 – 27" (in height) is the most popular size of luggage. This gives you enough room for all your necessities and belongings you will need during your travel. If you need more space, you can choose a 28-32" luggage, but you may have to pay an additional cost.



Durability

The durability of the luggage depends on the amount you have invested in the luggage. Cheap hard-shell luggages can fracture or break under pressure while cheap soft-shell luggages can easily tear up.



Price

The price of the luggage mainly depends on the size and material. A good quality checked luggage will cost you anywhere around $100-$1000.


Our Top Picks
Best Pick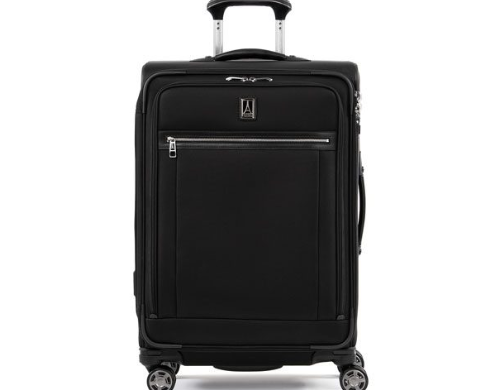 Stylish and functional.
Travel in style with this classy luggage that's perfect for you!

Whether you're on a trip or in a faraway place, you can take this luggage with confidence. With a generous capacity and suitability for frequent travelers, the Travelpro Platinum Elite Expandable Spinner is the best luggage to invest in.
Runner Up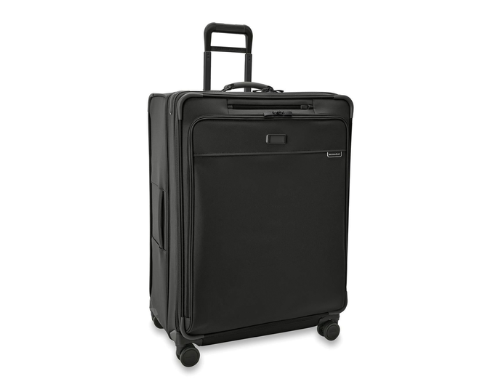 Durable and spacious.
Throw away your old broken luggage and get this absolute gem!
The Briggs & Riley Baseline Expandable Spinner is sure to be your new travel buddy. With its minimalistic design and its spacious interior that can fit all your clothes and essentials, it is a great luggage to buy.
Most Cost-Effective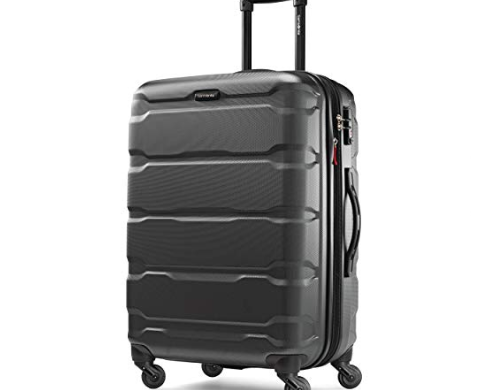 Lightweight and reasonable.
Want a luggage that promises performance and durability? Look no further!

Who said luggage can't be reasonable and luxurious at the same time? The Samsonite Omni expandable luggage is one of the best luggages on the market. It offers style, adequate space and quality while being fairly priced.
Everything We Recommend
Best Pick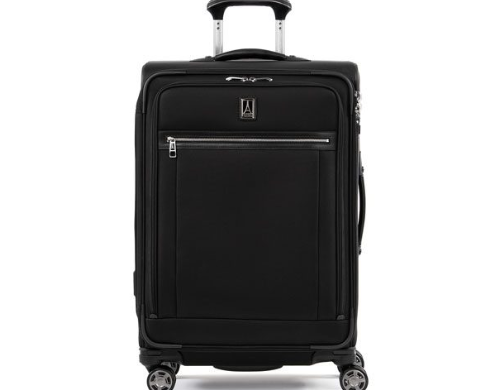 Stylish and functional.
$365.49
Runner Up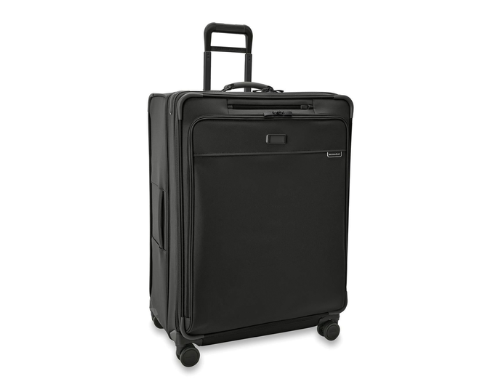 Durable and spacious.
$699.00
Most Cost-Effective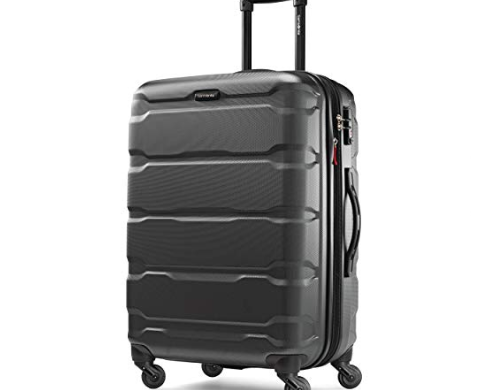 Lightweight and reasonable.
$129.00
Who This Is For
All of us whether young or old have traveled at least once in our life and hence we know that travel gear especially luggage is not a choice but a necessity. Unless you plan on going on a business trip for a few days or a short getaway vacation within your country, you will need checked luggage. This means a luggage that is larger than a handbag and spacious enough for all your clothes and other items that you may need during your travel.
We have created this list of the best luggages for anyone that is a frequent traveler or an occasional traveler. Having the right luggage makes a lot of difference while traveling. You do not need to be stressed about packing overweight or not having enough space to pack all your belongings.
Checked baggage vs carry on
A carry-on is essentially a smaller bag that you can bring with you on the airplane. All airplanes have compartments above the passenger seat where you may keep your carry-on whereas a checked luggage has to be checked at the airport and goes into the cargo area of the plane. Many travelers opt for a carry-on only and while this may seem convenient at times it still has a few drawbacks.
The debate over whether to check bags versus carry-on luggage has strong arguments on both sides. But before you make your final decision it's best to know about both the options.
A carry-on, due to its smaller size, only allows you to carry basic items and nothing extra. This might be a problem if you are going on a long vacation. On most airlines the weight limit for a carry-on is much lesser than a checked luggage, this again restricts you to pack only what is absolutely necessary. As opposed to this, you can usually fit all of your possessions in checked luggage without exceeding the weight limit. Some airlines may charge you extra for checked luggage. If that is the case then opting for a carry-on will save you some money. While not having to wait for your checked luggage at the destination may save you time, carrying a carry-on may not be practical, especially if there is a transit in between.
In conclusion, you don't have to choose a side and stick to it for the rest of your life. You may opt for a carry-on when going on a business trip and opt for a checked luggage when going on a long trip. It is entirely up to you and how you prefer to travel.
Hard shell vs cloth
There are two types of checked luggage: soft-shell and hard-shell. Both are quite different from one another, and while one may appear to be more durable than the other, the truth is that durability is determined by how much you invest in it rather than the exterior. Having said that, it does not imply that you must go overboard and spend a small fortune on luggage.
Hard-shell luggage has a sophisticated look. Hard-shell luggage is considered to be more lightweight and durable than soft-shell luggage. This ensures that all of your belongings are secure because the shell absorbs the impact of bumps. This is a great perk if you intend to pack fragile objects. Additionally, because of the construction of the thin plastic shell, it offers maximum packing space. The major drawback is that hard-shell rarely has an expander section.
On the other hand, a soft-shell luggage has multiple compartments inside, allowing you to arrange your belongings however you like. Similarly, they have pockets on the outside. This is perfect for storing little items, although it may not be completely secure. They feature expanded portions, making them adaptable to different excursions. Soft-shell suitcases are more flexible and can handle being packed more tightly. This is excellent if you tend to pack excessively or purchase items at the airport. The only two drawbacks of this kind of luggage are that since it is made of fabric, cleaning it is more difficult than cleaning hard-shell luggage, and it may tear more readily if the fabric is of poor quality.
There is no right or wrong when choosing a luggage. You might find a hard-shell luggage to be more suitable for your needs and vice versa.
Is it worth splurging on?
No matter how tempting a $50 luggage may seem it is totally not worth it. Cheap luggage will be of poorer quality and will not last long. This implies that it would not withstand long travels and break before you travel again. Eventually, you would have to go on a hunt for new luggage all over again. Instead, it is preferable to make a single investment in a high-quality luggage that you may use for several years before having to replace it.
Why You Should Trust Us
Unfortunately there are many products online that are falsely advertised. These products almost all look promising however only a handful of those live up to the expectations. This makes buying something such as a decent checked luggage challenging. We meticulously compiled the following list of checked bags based on our thorough market research, going through dozens of reviews, evaluation of each product's functioning, and analysis of general customer feedback. These are the best items, and you won't regret investing in them.
How We Picked
Choosing the right luggage is not a simple task. There are numerous aspects to consider, as well as numerous options to choose from. To make this procedure easier for you, we carefully choose the products after many hours of research. We considered a number of factors when evaluating the products.
The material was one of them. Though luggage is typically categorized as either hard-shell or soft-shell, there are many material variations available for each. For instance, polycarbonate is quite durable but also very pricey, whereas ABS is relatively lightweight but not great for long-term travel.
Similarly, nylon and polyester are both incredibly lightweight and durable, but they are also a little costly. The most important thing to remember is that the more you invest in the material, the greater the quality you will get. We focused on finding the best materials at an affordable price.
The size is another essential consideration. The size is mainly dependent on the rules of the particular airline you choose. Normal checked luggage sizes range from 21 inches to 32 inches, however, keep in mind that some airlines may charge you more if your luggage is larger than 29 inches. While we are on the topic of sizes, another crucial point to bear in mind is that, because you would have more room to pack, a larger luggage size would require you to be more careful with the weight.
You don't need to pay hundreds of dollars to buy good quality luggage that is durable. The durability of a luggage depends on its ability to withstand pressure, roughness, and how long before you have to replace it. That being said, the higher the quality is the more durable the luggage will be. We specifically choose only the most durable luggage available on the market.
Luggage's also come with some great features that come in handy. One of them is a security lock. Before buying a luggage you should check if it has a security lock. This is very important for the safety of your belongings. To help you manage all of your possessions, pockets and compartments are also a helpful feature. Some luggages also have handles on the side which can come in handy if you have to carry your luggage when using the stairs. Pick baggage with sturdy handles that can support the weight of your possessions.
Care and Maintenance
The cleaning instructions may vary slightly depending upon the material of your luggage.
Soft-shell luggage is generally made of nylon or polyester, but if your luggage is made of leather, you must clean it the same way you would other leather items. To clean the exterior, use a lint roller to remove any fabric or soft particles. Then proceed to use a fabric cleaner and use a brush to scrub on any dirt patches. According to the directions on the packet, leave the cleaning agent on the luggage before removing it as directed by the instructions.
Clean any other luggage parts with soapy water before letting it dry naturally in the sun. For the interior, remove any removable pockets that can be machine washed. Use a wet cloth to wipe the inside of the luggage and then leave it open to air dry.
Cleaning hard-shell luggage is relatively easier. For the exterior, use dishwashing liquid with water and gently wipe down. If it leaves no marks then move on to scrubbing with a soft brush. Once done, wipe the shell with a dry cloth to ensure all areas are clean. To clean the interior, detach any detachable parts and wash them separately in a machine if applicable. Then use a wet cloth to wipe the inside of the luggage and finally leave it open to air dry.
When you aren't traveling, you can keep smaller bags in your luggage or use it to store items that aren't used frequently.