The Best Cheap Mini Fridge for 2023
Mini fridges are small in size but big on convenience. Invest in one today.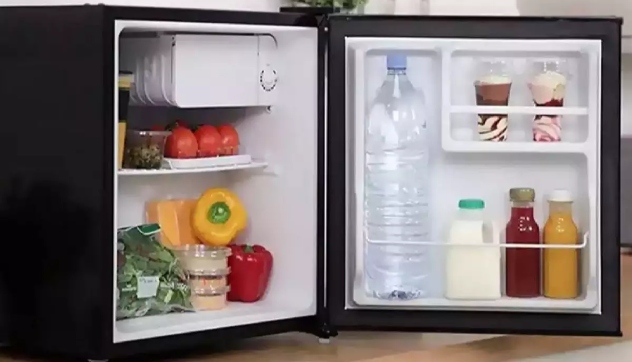 A mini fridge is a great addition to your home, especially if you're constantly running out of space in your full-size refrigerator or you live in a small apartment and don't have room for a full-sized fridge. Not only are mini fridges more compact and easier to fit into small spaces, but they are also incredibly convenient.
They can be easily moved from room to room, making it easy to keep drinks and snacks within comfortable reach. A dependable mini fridge does not have to be expensive; there are several cheap mini fridges that do the job.  
When selecting a mini fridge, there are a number of factors to consider. We've written this guide to make it much simpler for you to make an informed buying decision.
How We Picked
Size

The ideal mini fridge should be perfectly sized to fit whatever room or space you plan to put it in. Therefore, it is vital to consider size when deciding.


Cooling Capability

What good is a mini fridge that cannot cool your food items effectively? The cooling capacity of a mini fridge is a significant factor to consider before making a choice.



Number of shelves

It's crucial to consider whether your perfect mini fridge will comfortably fit the products you wish to store in it. When choosing a refrigerator, consider how many shelves it has because this affects its capacity.



Price

One of the most essential characteristics of great products is affordability. We prioritized price among other key considerations to find the best mini fridge possibilities.


Our Top Picks
Best Pick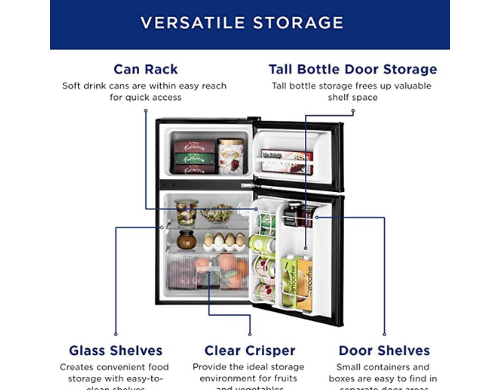 Purchase this mini fridge for dependable and convenient food storage.
Offers plenty of storage space for frozen and fresh foods in separate compartments.

Any dorm room, workplace, bedroom, or apartment would look great with a GE Double-Door Compact Refrigerator. The separate freezer compartment fits all of your frozen products, and the compact yet capacious freestanding refrigerator offers plenty of room for produce, snacks, and drinks.

Runner Up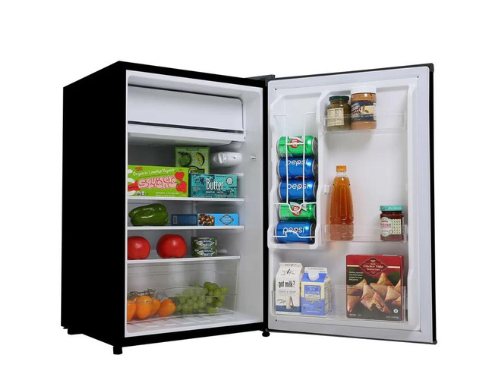 This mini fridge has outstanding features that redefine premium food storage.
Has a small footprint, making it appropriate for placement almost anywhere when space is constantly at a premium.

When a full-sized refrigerator just cannot fit in a space, the Black & Decker small refrigerator comes to the rescue by efficiently storing and maintaining the coldness of your essentials. It is also perfect as an overflow fridge for the holidays and special events.

Most Cost-Effective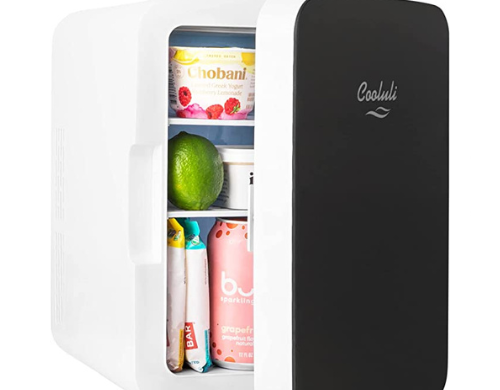 This highly durable and affordable mini fridge is an all-purpose wonder.
The Cooluli 10L2W Infinity Retro Mini Fridge boasts efficiency and durability in one stylish, compact unit.


The Infinity-10L Cooler/Warmer Mini Fridge is a stylish, compact appliance that combines efficiency and durability. The all-purpose thermoelectric Infinity has upgraded foam for better insulation and can be switched from cooling to warming.

Everything We Recommend
Best Pick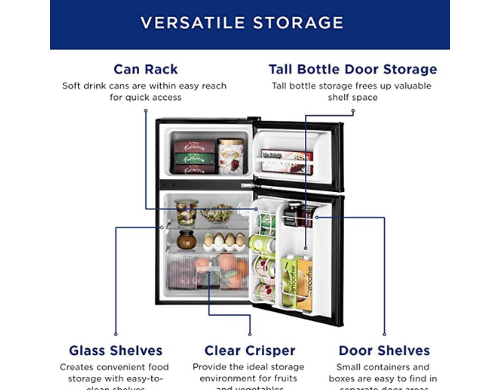 Purchase this mini fridge for dependable and convenient food storage.
$517.91
Runner Up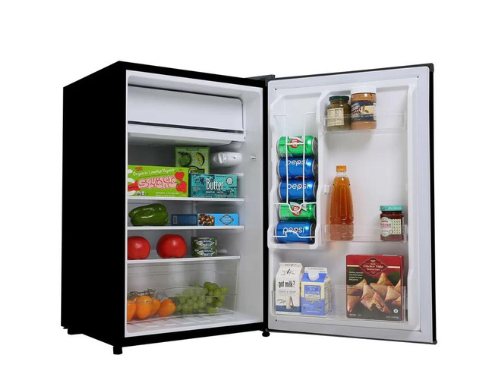 This mini fridge has outstanding features that redefine premium food storage.
Most Cost-Effective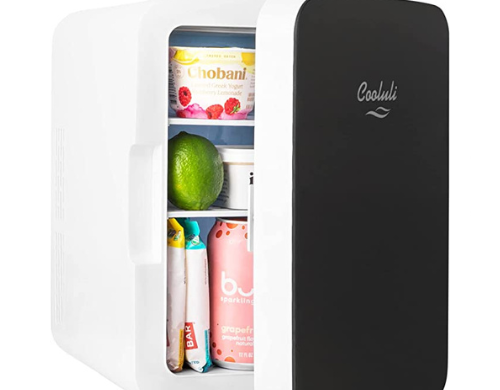 This highly durable and affordable mini fridge is an all-purpose wonder.
$79.49
Who This Is For
A tiny fridge is unquestionably the solution if you need some more storage for your snacks and beverages outside of your main refrigerator. It will be especially helpful if you're a college student living in a dorm room or if you have a small apartment.
Mini fridge vs. compact fridge
A mini-fridge is also known as a compact or portable fridge. It is technically a refrigerator, except that it is smaller and made to fit in areas where larger refrigerators and freezers cannot.
What are some of the limitations of mini fridges?
Mini fridges have a lot of benefits, but some of the models on the market have some limitations. Some of these drawbacks can be avoided, but it's crucial to make the right choice to make this possible.
Their cooling effect is not as long-lasting
Several mini fridge designs have come under fire for not being able to keep their contents chilled for extended periods. The answer to this is not to spend money on an appliance that can't fit a freezer. Although pricey, models with tiny freezers have a lot to offer in this regard.
Thermostatically adjustable appliances are another great option, as these are useful for maintaining the proper temperature for food and beverages. Selecting a model made of non-conductive materials, such as polypropylene plastic, also contributes to keeping the stored food items cool for longer periods.
Less consistent temperatures
A normal refrigerator has a more dedicated circuit than a mini fridge, which enables it to keep a constant temperature and tolerate temperature changes. Mini refrigerators lack the strength to endure the effects of temperature changes in this manner.
They don't last as long as standard refrigerators
Refrigerators often have a longer lifespan than mini-fridges and other household appliances. Standard refrigerators are supposed to last 13 years; however, mini-fridges are only expected to last five years. This is because mini refrigerators are made using less expensive parts than standard refrigerators.
If these restrictions conflict with your preferences, a regular refrigerator might be a better option.
Why You Should Trust Us
We have created this guide to help you make an informed decision on the best mini fridge for you. We researched several models of mini-fridges, taking into consideration a good number of important factors that will ensure complete satisfaction during usage. We also ensured to consult online user reviews to get a first-hand report from users about the performances and suitability of our suggested options.
How We Picked
It is critical to evaluate multiple criteria in order to make the best product choices. The same is valid for mini-fridges, so we gave the following factors higher priority to assist us in compiling our selection for you:
Size
You should think about the size of your selected mini fridge before you buy it, depending on how big or small your room is. A mini fridge's size will determine whether it can hold the number of products you want to store in it. This is why, when we recommended our top selections to you, size was a crucial factor.
Cooling capability
A mini fridge is only as good as it can cool your food items; obviously, no one wants a useless appliance. We considered the cooling capabilities of different mini fridge brands before deciding on the best and presenting them as our top picks for you.
The number of shelves
You'll want to ensure that the mini fridge you end up with has enough space and shelves to accommodate the food items you plan to preserve within it. It is important to consider the number of shelves of any brand of mini fridge you're considering investing in. It's also a good idea to note if the shelves in the mini fridge can be removed to create more space for taller items.
Price
When making any purchase, price is one of the most important factors to keep in mind. As good as any product may be, it serves limited purposes if it's too expensive to access. As a result, we made certain to recommend options with reasonable prices and excellent value for money.
Warranty
Searching for a mini fridge with an extended warranty makes sense. To ensure that you, as a user of this guide, get the most value out of whichever one of our top selections you decide on, this is one of the aspects we took into account.
Extra features
As with any product, we constantly look to add as many extra benefits as possible because that is one indication of a product's high value. This is why, during our search, we took into account whether the mini fridge had any additional functions, such as a freezer, that might make using it entirely desirable and more satisfying.
Care and Maintenance
How to clean your mini fridge
Maintaining your mini fridge is essential to keep it working properly and ensuring that your food and beverages are always available when you need them, just like you would with your larger appliance.
If you're wondering how often to clean your mini fridge, the following instructions will help you:
Wipe down the internal surfaces of your mini fridge at least once a month. You can do this easily with a baking soda solution. To make this solution, pour one or two tablespoons of baking soda into a quart of warm water. From top to bottom, clean the surfaces with the mixture, taking care to wipe the shelves. Move goods from one shelf at a time, then clean the visible sides and shelves of the refrigerator rather than unloading the whole refrigerator before cleaning.
It is highly recommended to clean the exterior of your mini fridge weekly. Make sure to do this with a cleaner suggested by the manufacturer of your specific appliance. Additionally, always remove handprints and stains on the exterior as soon as possible.
Every month, unplug the mini fridge and clean its coils and vents. Attach your vacuum's hose attachment, and suction the vent and coils to ensure that dust, pet hair, and dander don't reduce the fridge's energy efficiency.
If you plan to stay away from your living space for a few weeks, remove and throw away all perishable products in your mini fridge. Remove any food and beverages, clean the refrigerator's interior and exterior, and unplug it if you need to relocate it or you'll be gone for a while. Place a towel inside the refrigerator and under it to absorb moisture from runoff for 24 hours while you prop open the door. Before leaving, take away the towels or move the refrigerator.
You need the following cleaning materials to get the best results when cleaning your mini fridge:
Baking soda
Rags
Buckets
Bleach
Dish detergent
White vinegar
Old toothbrush
Important note: Never combine bleach with ammonia or cleaning solutions that contain ammonia, as the fumes could be dangerous.
You can clean your mini fridge by following these easy steps:
Fill a cooler with ice packs or a layer of ice. If required, unplug your mini fridge so that it can defrost. Reduce the temperature if it doesn't need to be defrosted to save electricity and save you from being too cold while cleaning it.
One by one, take each item out of the mini fridge to inspect it. If bottles and containers are sticky or have droplets, wipe them with a moist cloth. Throw away anything that smells wrong, appears to be going bad, or has passed its freshness expiration date. Place the cooler with everything that is still edible. Put the cooler away after closing it.
Remove the movable racks, shelves, and drawers. Afterward, wash them in the sink using hot water and dish detergent. To a gallon of warm water, pour one spoonful of bleach. After washing the removable components in the bleach and warm water solution, leave them to air dry.
Combine warm water and white vinegar in an equal ratio in a container. Dip a rag into the solution, then squeeze off the excess liquid. Clean the front and back of the mini fridge's handles and the entire interior and exterior. For any creases or challenging regions, use an old toothbrush.
Apply one or two teaspoons of baking soda to any stuck-on food bits or tough stains on the mini-fridge. Use a toothbrush or towel dipped in vinegar and water to scrub it away.
A different rag should be dipped into the water and bleach mixture. Rinse it thoroughly, then clean the mini fridge once more. Air-dry the mini-fridge. If you disconnected it or adjusted the temperature, plug it back in.
Change the shelves, drawers, and other movable components. Reset the refrigerator's temperature by closing the door. For an actual time estimate, consult the instructions for your model. It can take about two to three hours to return to a temperature that is safe for food.
Once the mini fridge gets cold, put your food and beverages back.
It is also important to note the following tips for general maintenance of your mini fridge:
Place the mini fridge away from any heat source, such as a hot water heater, a furnace, or a range, as well as from direct sunlight. If your mini fridge has a freezer compartment, keep it out of places like garages or other unheated areas where it gets lower than 60 degrees Fahrenheit. The compressor won't run as frequently in these conditions and won't be able to keep your food or ice frozen, so you risk losing food or ice.
Make sure the small fridge is not leaning in any direction and is placed on a level surface.
If the refrigerator has a programmable thermostat, set it to the medium-cold position when you initially plug it in. You can avoid accidentally freezing or hastily thawing food by starting at a reasonable temperature. Depending on the weather and the contents of the mini fridge, you can always adjust the thermostat later.
Avoid packing the mini fridge too tightly; always leave some space when stocking the fridge. Overcrowding should be avoided since cold air has to circulate freely to keep food properly chilled.
How to get rid of odor
Combating unpleasant odors can be quite a challenge with mini-fridges, as with your regular appliance. However, the following simple tips should help you navigate this successfully:
Place an open box containing baking soda in your mini fridge to help prevent the development of odors.
Put a cotton ball in a small dish or cup and add a few drops of vanilla extract to it. Put it in the mini-fridge for at least a full day.
How to protect and store your mini fridge cord
It is also important to protect and store the cord of your mini fridge properly to ensure its safe and long-lasting use. Keep the following in mind:
Watch out for lint and dust, which frequently collect behind and beneath the mini-fridge. This accumulation may make the area surrounding the electrical components more dangerous. Exposed wires, which may occur if the cord is accidentally rolled over, can also create a risk of an electrical fire.
Cleaning beneath and underneath your refrigerator on a regular basis will help you avoid this common safety risk. If you move the mini fridge to clean it, remove the dust and lint gently while being mindful of the cord. To reduce the chance of a fire and prevent compressor failure, ensure that the coils of your refrigerator remain clean.
Make sure to consult the user manual for the manufacturer's instructions on the best ways to protect your mini fridge cord.
How to clean vents
The vents on your mini fridge are critical for keeping the freezer temperature stable. Therefore, it is necessary to clean them occasionally, especially if they are covered in ice. To do this, heat the ice with a blow dryer until it melts (avoid getting the dryer wet). Use a sponge to wipe off the water afterward. Use a toothbrush to dislodge any food hanging between them.
From that point forward, pay attention to the vents. Ensure that food doesn't cover them and don't let them become covered in ice. You will hardly experience any more issues with your vents if you make an effort to avoid packing any food close to them and allow them enough room to circulate the cool air throughout the mini-fridge.
How to check the fans
Inside a mini fridge, there are several fans operating, and if any one of them experiences trouble, complications could arise. You can quickly inspect the two significant fans in your mini fridge to discover if they're malfunctioning and then fix them on your own or call in the pros.
If your mini fridge's condenser coils are underneath it rather than behind it, as is the case with certain models, there will probably also be a fan there. These fans may need to be cleaned because they might accumulate dust and debris.
Second, check and wipe out the evaporator fan inside the rear panel of the mini-fridge. If a fan blade is broken, the complete device needs to be replaced.
How to check the compressor
The compressor, which forces the gas through the condenser coils, is a crucial component of the refrigerator. Check to see if there are any problems with your fridge, because if the compressor itself isn't working, your fridge won't either.
You'll need a new compressor if the old one isn't working or creating an odd noise. At this point, you would be better off purchasing a new mini fridge and sparing yourself the headache because the compressor is among the most expensive parts of a fridge and can't be replaced so easily.