The Best Cheap Mattress of 2023
These cheap mattress offer you the most comfortable rest available on the market at the most affordable prices!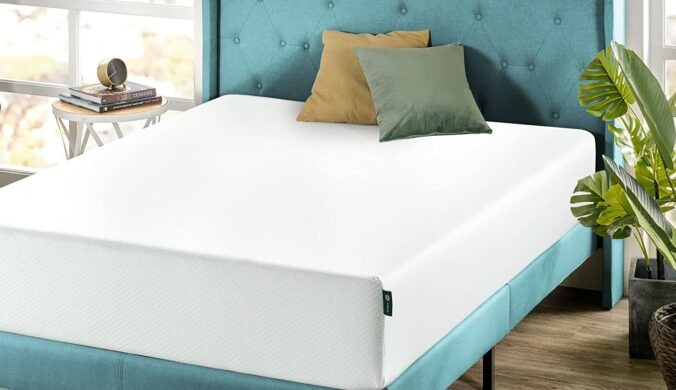 The cost of comfort shouldn't have to be outrageously expensive. Mattress prices are determined by their type, size, and material, and if you've ever gone mattress shopping, you know how expensive these items can be. However, with our cheap mattress options, you get top-tier comfort at a low cost!
We understand that, while your regular bed should be as comfortable as possible, there may be times when you require a cheap mattress as a temporary solution. As a result, we wrote this article specifically for you! And lucky for you, cheap doesn't always mean low quality. Through several tests and thorough research, we have selected the best cheap but quality mattresses on the market to aid your decision-making process.
How We Picked
Comfort

The whole point of getting a mattress in the first place is for the comfort it provides. Comfort is key, and if a mattress doesn't meet its number one goal, it will not be

Size

Do you own a twin or queen-sized bed? In any case, it shouldn't have to be a major concern because many brands offer mattresses in different sizes ideal for different needs and bed sizes.

Material

One of the major things that impact the comfort of a mattress is the material used to construct it. That is why we placed heavy consideration on this very important feature.

Cost-Effectiveness

The goal of this review is to enable you to find the most affordable mattress options. So if it isn't cost-effective while also offering premium quality, you can be sure that it would not have made our list.
Our Top Picks
Our Top Pick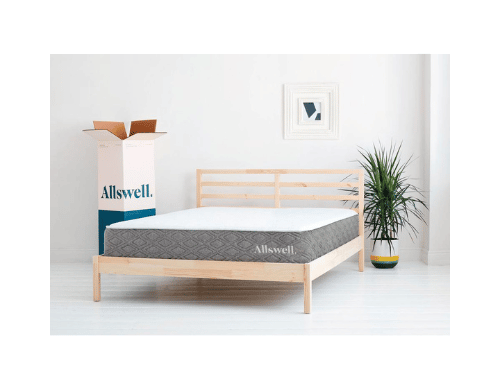 This mattress offers exceptional support, plushness, and comfort at a lovely price tag.
Hybrid mattresses are usually the most expensive kind of mattresses on the market, but that isn't the case with the Allswell Mattress. It provides the firm support you need, while its quilted top cover gives the plush feeling of luxury you deserve. This mattress is available in different sizes and is worth all the hype.
The most affordable and best hybrid mattress option on the market.
Our Runner-Up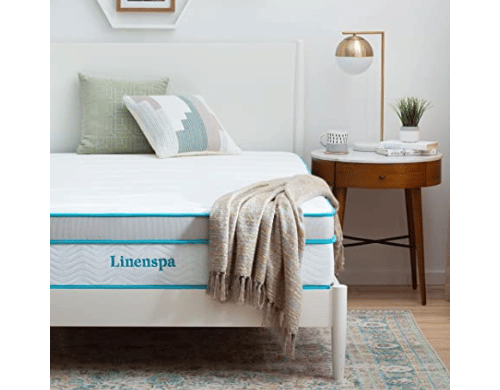 A firm, supportive base and comfortable, soft topper all in one affordable mattress.
If you love sleeping on your side, but hate the potential discomfort it could bring to your shoulders, hips, and knees, then this 12-inch memory foam hybrid mattress from Linespa is your perfect match. This mattress features a six-inch steel spring layer that minimizes motion transfer, topped with a two-inch layer of memory foam that contours to your body's shape. This means that it offers luxury plushness and firm support for its users, specifically those that sleep on their sides.
The best, most affordable choice for side-sleepers looking for comfortable support.
Most Cost-Effective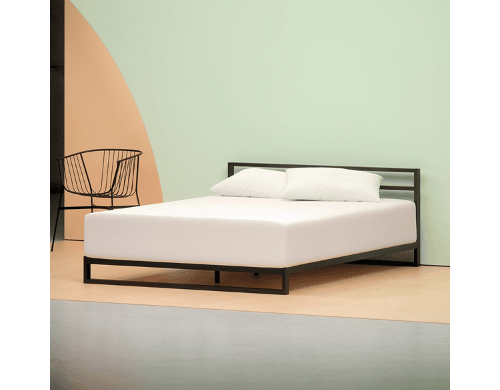 A great choice for side-sleepers, offering head-to-toe relief thanks to its memory foam.
This mattress was made to truly help you relax and take the edge off. It is perfect for people working with a tight budget, but still desire to get the best value for their money. The Zinus Green Tea Memory Foam mattress provides more than decent comfort for its price range, and its green tea infusion naturally controls odors and bacteria while creating a lasting cooling, toxin-free effect.
The budget-friendly, antioxidant bio foam option offers head-to-toe pressure relief.
Everything We Recommend
Our Top Pick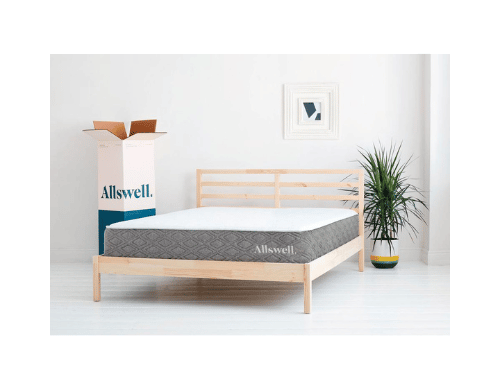 This mattress offers exceptional support, plushness, and comfort at a lovely price tag.
Our Runner-Up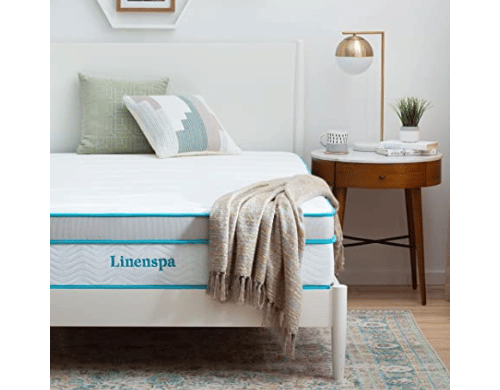 A firm, supportive base and comfortable, soft topper all in one affordable mattress.
Most Cost-Effective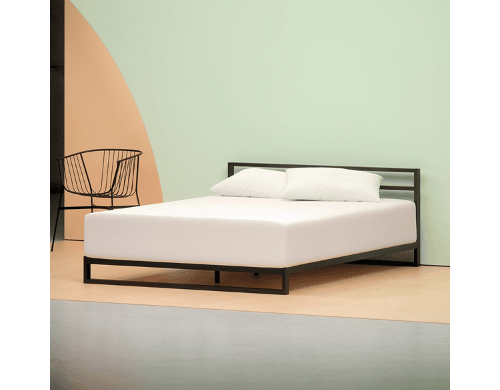 A great choice for side-sleepers, offering head-to-toe relief thanks to its memory foam.
Who This Is For
These products are for anyone looking to obtain a new mattress on a smaller budget. If you are searching for affordable, yet durable, reliable, and comfortable mattress options then our picks are right up your alley.
Spring vs Foam Mattress
When you're on the hunt for a new mattress, there are two major categories that you would find — spring and foam mattresses. The difference between both lies in the materials used in their construction. Foam mattresses feature a blend of one or more types of foam — polyurethane (poly) foam and memory foam — and other materials like latex or gel, while spring mattresses contain dozens to hundreds of metal springs/coils to provide an underlying layer of support. The latter offers better weight support and bounce, while the former offers more head-to-toe pressure relief and softer comfort.
Determining which type of mattress is for you, generally depends on preference, sleeping style, weight, and body support needs. Individuals that require point pressure relief, contouring comfort, and minimal motion transfer will most likely opt for foam mattresses. On the other hand, if you prefer your mattress to give more bounce, require support without particular pain-point relief, and like to sleep cool, then you would love to own a spring mattress. Side sleepers often prefer the uniform contouring and pressure-relief quality of foam mattresses, while people that sleep on their back and stomach like spring-based support.
Some other factors to consider are; that spring offers more initial support for heavier individuals, however, foam mattresses are generally more durable. Spring mattresses also offer more bounce and more affordable options than foam mattresses, although both options have low to high-quality selections. Foam mattresses are also better for uniform pressure relief and minimal motion transfer as they mold into your body's shape, while spring mattresses are better for hot sleepers as there is more cooling room between the springs.
Why You Should Trust Us
Not only do we understand how the right mattress goes a long way to provide the support and comfort needed for a good night's rest and an even more productive day, but we also understand the need for affordable products that offer good quality and top-tier features. That is why we have gone above and beyond to make sure we suggest only the best of the best cheap mattress options available on the market.
How We Picked
There are a couple of important factors we considered while making our selections for this purpose. Here are some of them:
Comfort
If a mattress does not offer premium comfort, it doesn't deserve to be on our list, let alone your bed. Comfort is the number one objective of any mattress, and that is why we prioritized this feature in our selections.
Firmness
The right mattress offers a nearly equal amount of comfort as it does support, and firmness is one of the factors that determine this. We made sure to select products that are firm enough to relieve pressure, but not too firm to have you waking up with aches and pains.
Material
Allergic reactions are among the major fears individuals have when getting a new mattress. Our picks are made with the best, toxin-free materials that will eliminate all your allergy-related fears.
Softness
This is one of the most important factors that contribute to the comfort of a mattress. Your bed doesn't have to be hard to provide adequate support, and our choices prove that with their unique blend of softness and firmness.
Size
Just like us, mattresses come in different shapes, sizes, and colors. We have selected mattresses that include a wide size range to fit users of all needs.
Price vs Quality
Cheap doesn't mean low quality, and you should never have to sacrifice one for the other. Our chosen options give your money's worth by providing ample quality features in affordable price ranges.
Style/Design
The design of a mattress is what differentiates the most wanted from the least wanted. It isn't enough that it is made up of the right materials, but how those materials are uniquely combined and constructed are what make our suggestions stand out amongst their competitors.
Sleep Trial
A lot of times, you don't know what you like until you try it. That is what makes this factor so important when selecting your next mattress. Sleep trials allow you to test out the mattress for a certain number of days before making the final decision on if it's the one for you.
Durability
Nobody wants a product that requires a replacement not long after you get it. Our mattress options are durable and will stay with you for years to come.
Weight
Are you on the lighter, average, or heavier side of the weight scale? With the right mattress, it shouldn't have to matter. The right choice should be able to support users of most, if not all, weights.
Care and Maintenance
Although our above choices are durable and stay useful for several years to come, a lack of proper care and maintenance can lead to an untimely exit of your mattress. We have put together some tips and tricks to help along the way.
Potential Risks or Issues With Cheap Mattresses
Before we get into care measures for your future mattress, we must also mention that nothing good comes easy, and just as with most things, cheaper mattresses also have their risks and challenges. Although these products, particularly our suggestions, offer good quality features at lower costs, they still cannot be compared to the comfort and support given by more expensive, and higher quality mattresses as the years go by. As cheaper mattresses wear out over time, they could lead to joint/muscle pains and possible sleep issues caused by discomfort which in turn may lead to increased stress levels. However, with our suggestions, you would not need to worry about these for several years to come.
Caring For Your Mattress
Asides from the obvious care method which is always using a covering sheet on your mattress, there are other ways you can maintain your mattress. One of which is cleaning it:
Strip your beddings and cover sheets off the mattress.
Wash your beddings either using a washing machine or by hand, whichever is preferable to you. We recommend doing this bi-weekly or weekly if possible.
Crack open your windows to boost airflow, and vacuum your mattress using your vacuum's upholstery attachment to remove dust and mites.
Prepare your cleaning solution using cold water, gentle bleach-free detergent, and enzyme cleaner or dish soap.
Spot-clean your mattress in stained areas using a rag/cleaning cloth and your cleaning solution. Do not apply the solution directly to the mattress but rather on the cloth.
Use another cloth damp with clean water to soak up the cleaned areas
Sprinkle baking soda all over the surface of the mattress to absorb moisture and remove odors.
Let it sit for a few hours — the longer it absorbs the better. We recommend at least five hours, or better yet, overnight.
Vacuum thoroughly.
Flip and repeat steps one to nine.
Cover your sheets using a mattress protector and bedding, and enjoy a refreshed night's rest.
We recommend a thorough cleaning of your mattress bi-annually, or quarterly if possible.
How Long Do Mattresses Last?
The lifeline of mattresses differs due to the materials used in making them, their quality, and other individual factors. However, the average lifespan of a good mattress is approximately eight years but can be more or less depending on its quality and how well it is cared for. The warranty time is also a telltale sign of how long you should expect your mattress to last. We know your next question is "How do I know it's time to change my mattress?" Well here are a few signs that show you may need a new mattress:
Saggy, lumpy, or asymmetrical shape.
It's noisier than usual. This is usually caused by worn-out springs.
It is worn out and possibly irreparably damaged in some areas.
It feels a lot harder or softer than it did at the initial purchase.
You wake up with joint and muscle soreness, stiffness, or pains.
It takes you forever to sleep and you usually feel restless before you eventually do.
You tend to sleep well everywhere, except your house.
You're experiencing an increase in allergies or breathing problems.
You can feel the next person moving. This is a sign that its motion transfer quality is weak.