The Best Cheap Earbuds for 2023
Enjoy the convenience of listening to audio via earbuds, even on a tight budget!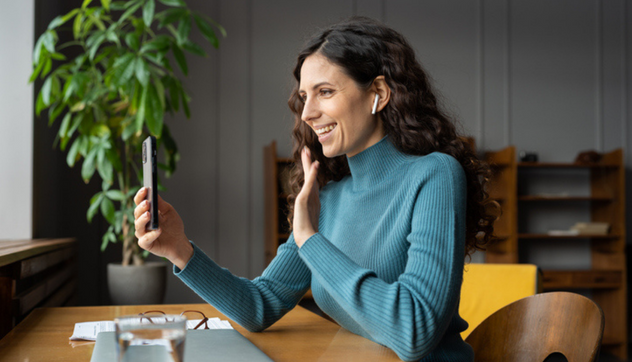 Holding your phone to make or receive phone calls can sometimes be difficult, especially when your hands are occupied. When driving, riding, or holding groceries, you will have a hard time getting your phone out of your pocket. It is during such moments that you opt to miss calls and return them later.
Missed calls and holding your phone to receive and make calls are a thing of the past with earbuds. You only need to attach them to your ear and press the button on their front to receive calls. You also do not need to have your phone with you, but it must be within close range.
How We Picked
Sound Quality

While these are budget buys, that doesn't mean the audio quality should be terrible. A good pair should offer decent audio quality, especially if you plan to use them to listen to music.

Fit and comfort

Just like any other wearable, properly fitting earbuds will ensure a comfortable user experience. Luckily, most earbuds come with earplugs of different sizes, and you should have no trouble finding those that fit perfectly.

Battery Life

The longer the battery life, the longer you get to use your earbuds without recharging. With a long-lasting battery, you can go about your day without having to carry your charger.

Price

The ideal earbuds should be inexpensive to buy and maintain. The price should match the quality of the earbuds to give you value for your money.
Our Top Picks
Best Pick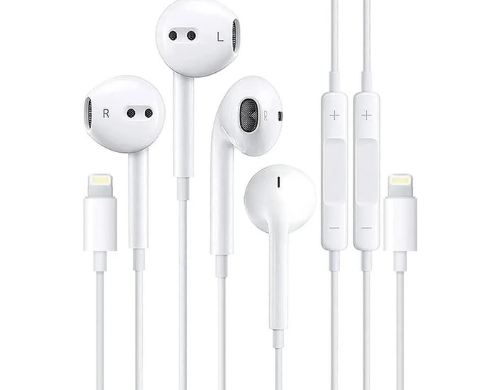 These wired earbuds are compatible with devices with a lightning connector.
These earbuds allow you to listen to your media with crisp sound.
CTEX earbuds come with a remote control button along the cable to make it easy to control different functions. You can use the remote to adjust the volume, answer phone calls, or control the playback. They also produce high-quality sound with top studio-quality performance. It, therefore, lets you listen to your media with crisp sound and produces high-definition music.
Runner Up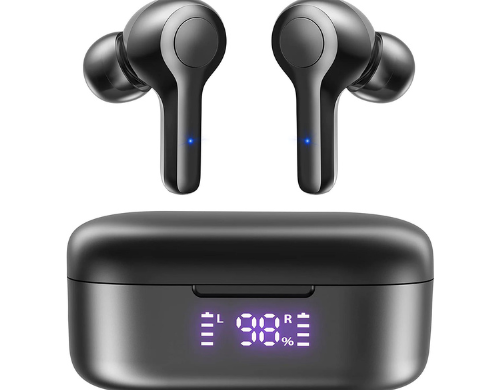 These noise-canceling earbuds allow you to listen to sounds with no background noise.
A real-time LED power display shows the battery consumption and real-time battery percentage.
Mozoter earbuds are available in five different colors. Some of the colors are masculine, others feminine, and others are neutral. Therefore, these earbuds accommodate users with different tastes. You can thus get a pair for any of your family members or friends.

Most Cost-Effective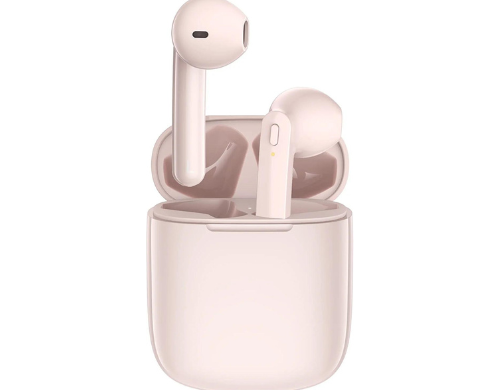 These wireless earbuds are compatible with both iPhone and Android devices.
A built-in microphone lets you make and receive phone calls hands-free.
BEBEN wireless earbuds come in different sizes; mini, medium, and large. They are, therefore, ideal for people of different ages and sizes. Ten different colors give you the liberty to choose one that matches your taste. These colors are attractive and give you a touch of style.
Everything We Recommend
Best Pick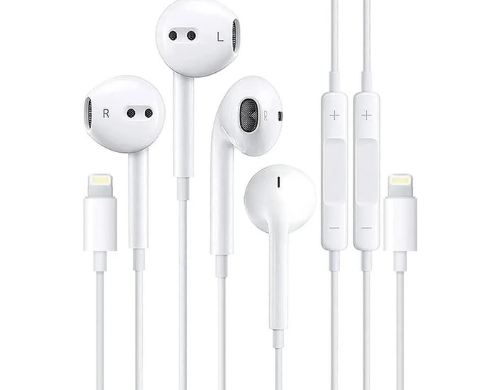 These wired earbuds are compatible with devices with a lightning connector.
$22.99
Runner Up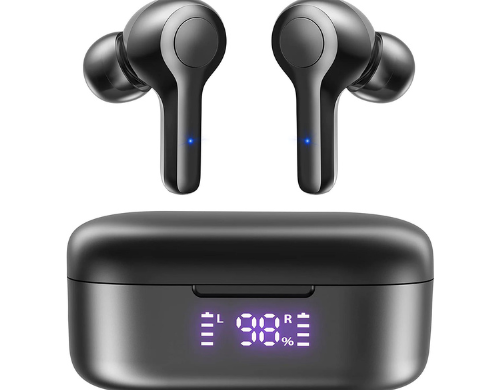 These noise-canceling earbuds allow you to listen to sounds with no background noise.
$17.99
Most Cost-Effective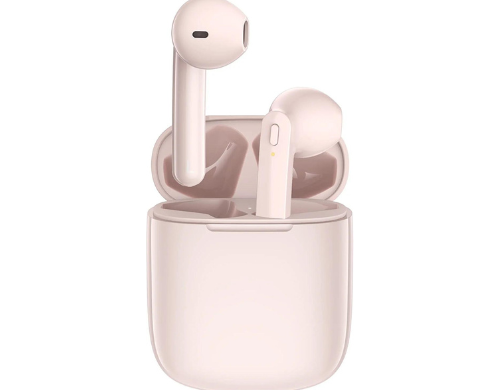 These wireless earbuds are compatible with both iPhone and Android devices.
$11.99
Who This Is For
The earbuds picked and discussed here are ideal for any person of any age. You can get any of our picks if you love picking and making calls hands-free. We have chosen both wireless and wired options to accommodate different users with different preferences.
Cheap earbuds vs high-end – are they worth the splurge?
Getting cheaper earbuds does not necessarily mean that they are cheaply built. All you need to do is evaluate their features to ensure they are high-quality. In the same vein, spending too much on high-end earbuds does not mean that quality and performance are guaranteed. Therefore, regardless of your budget, examine all the features and only pick the one with the best features and efficiency. That said, cheaper earbuds can easily be worth the splurge if they meet your expectations, and are high-quality and effective.
Do they feature noise-canceling
Some earbuds on the market have a noise-canceling feature. Such earbuds block background noise, allowing you to focus on the sound. However, noise-canceling earbuds can also make you oblivious to your environment. Consequently, dangerous things can happen around you without your knowledge. Therefore, only get noise cancellation if it is totally necessary.
Why You Should Trust Us
We are a trustworthy site that aims to provide shoppers with the best shopping recommendations. We do not endorse brands or advertise specific products. All the products we pick and review are efficient, cost-effective, and high-quality. We evaluate their various features and different customer reviews to come up with the best picks. We then recommend products that we find worth splurging on, those that will serve you well and give value for money. 
How We Picked
In line with our mission, we evaluated different features to come up with the most effective products. We examine the material used to make different earbuds. We then picked those made of high-quality materials. All our products are, therefore, sturdy and durable. They will stand the test of time and will serve you for many months without breaking apart.
Some of our picks have noise-canceling features. You can, therefore, use them in noisy environments without getting bothered. The other picks with no noise-canceling features are ideal for use in environments where you need to be alert. They allow you to hear all the noises in your background and act on issues that need to be settled.
We also ensured that all the earbuds we picked and reviewed could be used in any environment. They are all wet and sweatproof and can be used underwater. You can, therefore, listen to your media in the shower, in the rain, and while swimming.
All our picks feature ear-detection sensors. The sensors detect when the earbuds are in and out of your ears. When inside the ear, the earbuds automatically play your media and pause when you take them out of your ears. This feature makes the earbuds easier to use, requiring less energy and manual involvement.
Additionally, our picks are available in different sizes. The sizes provide different fits, making them ideal for users of different ages and sizes. They are all soft and smooth, making them comfortable against your ears. With high sound quality, all our picks provide clear and crisp sound. You, therefore, get to listen to your media and phone calls clearly and without strain.
We aim to provide recommendations that give you the best value for your money. We, therefore, picked and reviewed cheap earbuds that cost just a little money to own and use.
Regardless of the earbuds you pick from our list, you will enjoy long hours of playtime. They all have long-lasting batteries that support continuous use for long hours without running out of charge. The batteries also charge fast, allowing you to use your earbuds sooner. The modern and stylish design of our picks improves your style. You will look stylish and up-to-date with fashion once you buy and use any of our picks.
Care and Maintenance
It is recommended that you clean your earbuds once a week. However, dirt and germs can cause infections in your inner ear. Therefore, ensure that you wipe your earbuds every time before inserting them into your ears. Use a clean, damp cloth to wipe them off. Also, add a disinfectant to the cloth often to kill all the present germs. If they are wired, remember to wipe the wire too to keep it clean and healthy.
Most modern earbuds come with a charging case. When not in use, put your earbuds back in the charging case. Then store the case in a safe place away from heat and water. Even if your earbuds are waterproof, liquid can get into the charging case and spoil the charging system. Consequently, you will need to buy a charging case to keep using your earbuds.
Your earbuds will run out of charge after using them for a while. It is advisable to charge them every time the charge drops below 20%. However, you can recharge them earlier if you intend to use them for a longer period than the available power can handle.