The Best Charcoal Grill of 2023
Give your food that fine smoky flavor and juicy taste with the best charcoal grills.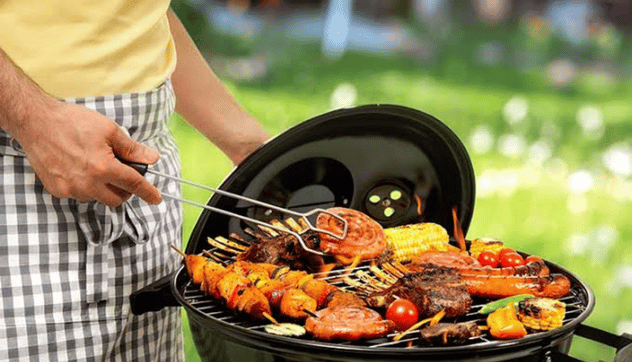 Every meal does not have to be prepared in your kitchen. Outdoor grilling is a great option, especially with friends and family. A good charcoal grill can cook almost anything, from chicken to ribs to salmon and vegetables.
In comparison to other burners, charcoal grills impart a distinct smoky flavor to food while also ensuring even cooking. While firing up a charcoal grill, managing the heat, and cleaning up afterward requires significantly more effort than with a gas grill, the overall experience and results are well worth it.
This guide is all you need to figure out which charcoal grill deserves a spot in your backyard or patio
How We Picked
Size

Charcoal grills are constructed in different sizes. If you plan to barbeque a lot alongside family and friends, you should opt for a bigger one. However, if it's for occasional use, a small one would suffice.

Easy to Clean

Cleaning a charcoal grill is not fun. However, you need one designed in a way that the parts can be detached for easy cleaning. Much like other cooking utensils, cleaning your grill after each use will maintain its beauty and practicality.

Style

Depending on your cooking style, you can choose between a kettle, a barrel, or a ceramic charcoal grill. Luckily, you can use any of the grills for grilling, smoking, or barbecuing.


Cost-Effectiveness

Charcoal grills are an investment. You don't want to splurge on a feature-rich one if you grill on occasion. There are tons of grills that offer all the bells and whistles at affordable price tags.
Who This Is For
You should probably use this guide as necessary if you want to start using charcoal grills so that you can enjoy the complete grilling process rather than just the eating aspect. You're also on the right track if you want to improve your charcoal grill cooking and acquire the best flavors possible from your meals.
What is a charcoal grill?
A charcoal grill is a form of cooking grill that is typically used outside to prepare meals (especially meat). In contrast to the gas grill, it employs lump charcoal as a heating source to cook meals. A gas grill will cook your food with a cleaner flavor, whereas a charcoal grill will impart a smoky flavor. Typically, the charcoal fuel is under the grill grates, and the hot coals are lit with wood chips and lighter fluid. Pellet, kettle grills, ceramics, and barrel grills are just a few of the many shapes that are available for charcoal barbecues.
Different styles or types of charcoal grills?
For the sake of this guide, we'll examine the four main types of charcoal grills that were previously listed: kettle, pellet, ceramic, and barrel grills. 
Like a barrel turned on its side, barrel grills are broad but shallow. They use many kinds of briquets and can cook a large quantity of food at once due to their large surfaces. However, because they tend to burn out more quickly, they are better suited for straightforward outdoor feasts like hamburgers than more elegant gatherings.
Kettle grills are among the most well-known varieties of charcoal grills. The portability of this kind of barbecue is one of its key advantages. To maintain an even airflow over the coals and allow ash and other cooking waste to fall freely away from the heat source, charcoal is placed at the bottom of the grill. It is raised on a small grate.
Clay and ceramic materials are used to make ceramic grills, commonly referred to as "Kamado," which are better than metal at withstanding heat and moisture. These materials are presented in an oval shape by each design, which also features a rounded bottom and a domed lid. Use one of these devices to smoke, grill, or barbecue food. By using them, you may broaden your grilling options to include briskets, pig butts, and turkeys. However, they are cumbersome, necessitate the use of numerous briquets, and often have a small cooking area.
In addition, the pellet grills use wood pellets as fuel, which are put in a hopper that is inserted into the firebox of the grill, which is normally at the bottom of the grill. Unlike other designs, an electric igniter begins the burning of the pellets, which are then controlled by an electric auger and thermostat until they are reduced to coal. The pellet grills are more practical, particularly for longer cooks like brisket, ribs, and big roasts, since they let you let the meat cook without constantly watching it. This sort of grill does need a power supply because of the electronic controls, and it must be connected throughout the full cooking and cooling procedure.
Why You Should Trust Us
Aside from the obvious flavor-enhancing benefits, cooking with charcoal grills is enjoyable. However, a lot of people continue to have poor equipment experiences. To uncover the issues related to their use and ultimately develop solutions, we conducted a study on charcoal grills. So far, we've discovered that some models don't cook meals evenly, make noise, emit thick, dark smoke, and occasionally aren't as efficient as the maker said. We were able to identify the best models by using these issues as a reference for our specifications. Following that, we had a meeting with a few authorities on charcoal grill cookery. We were forced to follow their instructions and give heed to their guidance. 
No piece of equipment can be 100% effective and satisfactory, but we carefully considered each of our original recommendations to come up with the top four options for you.
How We Picked
Size
You must think carefully about how much room you have available for grilling. You still need to manage your space even if your compound is large enough. Think about how much food you will be grilling frequently as well. For instance, 65 to 80-square-inch grills may suffice if you are grilling for a small household. If you are cooking for a larger group, you should think about getting a larger grill.
Capacity
Most of the time, we assume that larger grills must also have larger capacities. It isn't always the case, though. In actuality, even a very large grill may not have the capacity you require for grilling. Before making a purchase, it is crucial to carefully inspect the cooking area of your charcoal barbecue. You can't tell how big the grilling area is just by glancing at it from a distance. Also, take into account how frequently your grill will be used. This is crucial since it will let you know how much food you can grill at once and prevent uneven heating.
Max. temperature
Your charcoal grill must reach a specific level of strong heat to be able to cook tougher foods like steaks, which require high heat to cook evenly and thoroughly. For quick and efficient cooking, your charcoal grill's peak temperature should be around 700 degrees. However, your charcoal has reached its maximum temperature when it is reduced to blazing embers, which is at 1,200 degrees Fahrenheit.
Heat Management Controls
In contrast to gas grills, which have adjustable flame controls that let you change the heat source, charcoal grills are typically difficult to operate. Charcoal grills typically have a damper control that lets you modify the amount of oxygen and, consequently, the amount of heat and fire in the grill. However, customizing the heat to your preferences requires more care than a simple turn of a knob. We were able to modify the heat supply quickly and effectively by discovering models that had enhanced control knobs.
Heat source
For lighting charcoal lumps or briquettes, a chimney starter or charcoal chimney is preferred. The best grilling accessory you can have is a charcoal chimney starter since it makes lighting charcoal so much more fun. It is made up of a metal tube that has a grate for holding charcoal. It is simple to use and fully does away with lighter fluid. The little grate keeps the fire starter (newspaper or cardboard) and coals apart so you can light one with the other. For anyone using a charcoal barbecue, a chimney is advised to start the fire more quickly and effectively.
Fuel type
It's crucial to be aware of the kind of fuel source you have before you start grilling. This is because each fuel heats up differently; some take longer to transfer heat throughout the system. In either case, it comes down to personal preference.
The hardwood charcoal briquettes practically burn hot, but they also burn out almost as rapidly. They are nearly identical in size and form, making it relatively simple to make a smooth bed of coals. They tend to transmit heat to other members efficiently and hold onto heat for a very long time because they are of an even shape and size. As a result, charcoal briquettes should be your primary fuel source if you want to grill for an extended period or are likely grilling for a living.
The lump charcoal heats up similarly to the charcoal briquettes but faster. However, as soon as they reach their peak heat, they start to lose their heat even more quickly than the charcoal briquettes. This is because, in contrast to charcoal briquettes, they are not uniform in size and shape. They may, however, produce powerful heat that can quickly scorch and brown the top of your food. Therefore, you can think about using lump charcoal if you don't want to grill for a long time, perhaps more than an hour. But if you do decide to grill for a very long period and you just have or like lump charcoal, be prepared to continually restock the charcoal to maintain a constant temperature.
Price vs. quality
In the long run, quality will guarantee your contentment, not price, which is crucial now. You should always choose a model that is economical, but does that guarantee effective grilling? Instead, seek out a reputable company that sells a convenient, pleasurable grilling product. Therefore, if you run a restaurant or other food-related business and utilize charcoal grills, you should probably choose the highest-quality brand, regardless of price.
Safety features
While grilling, it's crucial to protect your skin from serious burns. To achieve this, the lid's handle should be enclosed in wooden material and made to appear to be made of metal. Additionally, as wood and plastic are poor heat conductors, the handle of your grill box should be enclosed with one of these materials.
Ventilation
No matter how your charcoal grill is made, the area where the charcoal is placed needs to have adjustable holes in the bottom or the sides, depending on which way the charcoal is positioned. This will allow you to control how much fresh air is allowed into the chamber, ensuring that the fire can burn properly.
Easy to assemble and set up
You shouldn't need more than 20 minutes to set up your charcoal barbecue, which should be pretty simple. However, it is generally best to prepare all the necessary ingredients before cooking; doing so will help you save time and feel less frustrated.
Easy to use
Charcoal grills add even more flavor to food, even though they aren't as simple to use as gas barbecues. But if you start with a charcoal chimney and then arrange your ready-to-use coals in your grill, you may be able to make things a lot simpler. For a better experience, if you are using a charcoal grill for the first time, it is recommended that you ask a professional for help beforehand.
Care and maintenance
Do not use indoors
Grills with charcoal should never be used inside; they are only intended for outside use. In addition to combustion gases, carbon monoxide, an odorless gas, is also produced during the burning of charcoal. Since the grill has no chimney, when it is used indoors, the gases cannot escape but instead reach the surrounding air. The occupants of the space then automatically breathe in carbon monoxide through their regular breathing afterward.
Ensure adequate ventilation
As much airflow as you can give should be provided around your charcoal grill. This is crucial to do when grilling to prevent explosions and overheating, which might seriously damage your grill.
Adding and using different fuel types
Make sure you have a sufficient quantity of the fuel you plan to use before you start grilling. To prevent the heating process from being disrupted and the rate at which your food cooks reduced, this is to prevent grilling while improvising for a new sort of fuel. Additionally, if at all possible, ensure the charcoal box is completely free of the previous fuel before using a different fuel type.
Heat safety advice
Generally speaking, always read the handbook before using any equipment, like a charcoal grill. Never use or install a charcoal grill inside, on a boat, on an enclosed porch, under an overhang, or near anything that could catch fire. To avoid the unit tipping over while in use, always place your charcoal barbecue on a firm surface before setting it up and using it. Never handle charcoal while grilling if you aren't sure if it's lighted or hot; instead, use tongs and wear heat-resistant BBQ gloves to protect your hands.
Do not touch the grill directly
Because your charcoal grill's entire system becomes extremely hot while you're cooking, you must avoid touching any component of it with your bare hands lest you suffer severe skin burns.
Use tongs to handle food
In addition to risking serious skin burns, handling food with your hands can make it unclean and contaminated with germs. It is therefore advisable for you to use a tong.
How to clean
When brushing your grill and grates, use a light touch. If the grates have an extreme amount of grime and grit, use Goo Gone Grill & Grate Cleaner. Any flaking paint should be removed with a putty knife or stiff-bristle brush. After cleaning every part of the grill, put it back together.
How often to clean
Even while you might not have the time to give your charcoal a thorough cleaning, particularly if you use it frequently, you can simply ensure that food doesn't adhere to the grate by brushing it off after cooking. To clean your charcoal grill thoroughly, use hot, soapy water and a stiff nylon brush or scrub pad. This should be done at the start and end of each grilling season, or at least once a year if you grill all year long.
Keep out of reach from children and pets
Keep your charcoal grills out of the reach of children and animals, especially when grilling, to prevent severe burns and injuries to their skin and fur, respectively. This is a safety and health practice.