The Best Cat Litter Mat for 2023
With these useful cat litter mats, you can put an end to litter tracking all over the house.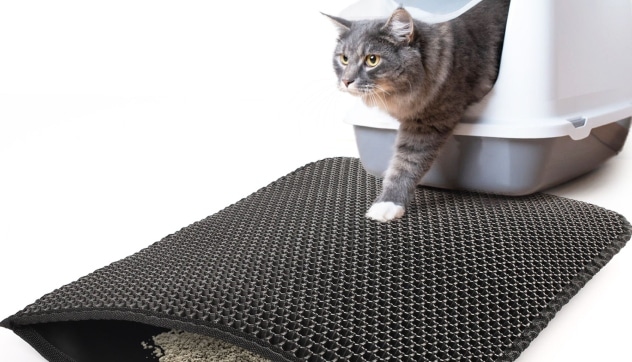 Various ancient societies revered animals and some were classified as gods. This is true of so many pets, with cats being the perfect example. They were revered in ancient Egypt because they were thought to be lucky symbols. They were so unique that only the goddess Bastet could take on these felines as reincarnations.
When cats died, they were mummified, and when alive, they were treated like royalty. They were adorned in jewelry and given delicacies as treats. Most cats are indoor pets. They are trained to use litter boxes, which give them a spot in the house where they can comfortably relieve themselves.
The downside of the litter boxes is the tracking that comes with their usage. Most litter boxes contain either clumping clay, sand, or cornmeal. Whatever lines your box, the cat's paws, or their fur pick it up and end up spreading it around the house every time they use the litter box. This is where a cat litter mat comes in handy, as it is designed for the particular purpose of keeping your house free of cat litter.
How We Picked
Easy to Clean Material

A great cat litter mat is easy to clean since its primary purpose is to help maintain a clean home. It not only protects your house from tracking but also comes in handy if your cat has an "accident" and misses the litter box.


Durability and Thickness

Given the frequency of usage that the mat is exposed to, you need one that will last for a long time while still offering quality service. The thicker your mat, the easier it is for the cat to use because it will not move, and its weight will help to stabilize it when picking it up when cleaning.



Size

The size of the cat litter mat is dependent on how big your cat is and how wide the litter box is. You need a mat that will catch as much dirt as possible from the cat's paws.


Cost-Effectiveness

It is always important to take the cost of your purchases into account when comparing it to the amount that you can spare for them. Within a good price range, you should be able to still get a decent cat litter mat.


Our Top Picks
Best Pick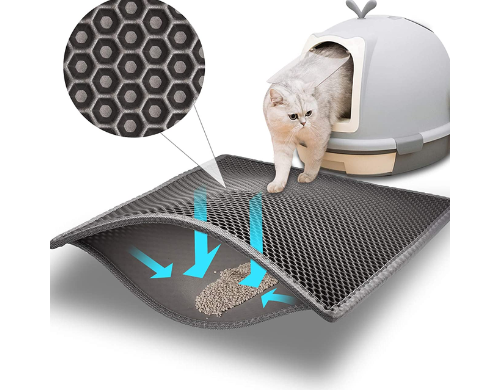 This is the best seller on Amazon for cat litter mats.
Thanks to the soft EVA construction material, this mat is super gentle on the cat's paws.


This mat has a double-layered design that allows you to pick up the mat after it has collected litter and then put the litter back into its box; this allows for recycling! This efficient trap is made possible by the honeycomb-shaped holes that pick up a lot of loose litter, reducing tracking.

Runner Up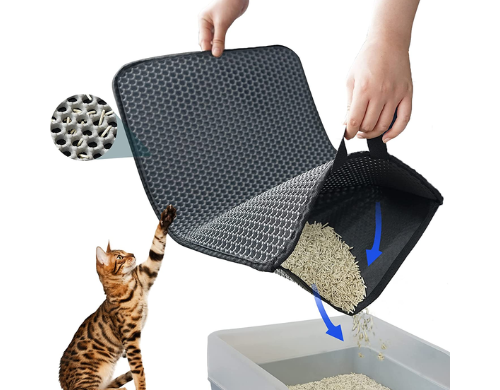 The fact that this mat comes with a handle that can be hidden makes it much easier to use.
Not only is it in a great price range, but it also ensures that you can clean up easily.


The holes on the honeycomb surface are large enough to allow for optimal litter collection while remaining small enough to prevent your cats' paws from becoming trapped. During the cleaning of your litter mat, you can just pour out the collected litter and then reuse it.

Most Cost-Effective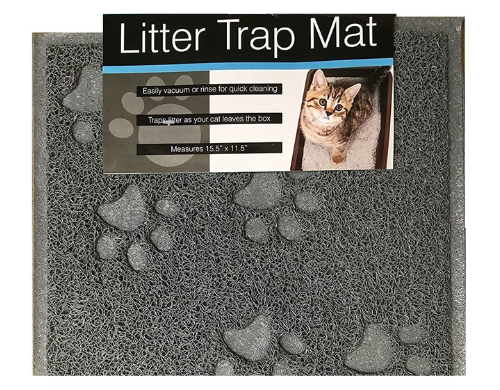 At its amazing price, you can afford to purchase this mat in multiples.
If you are looking for affordability and usability, then this is for you.
The base of this cat litter mat is made of a non-slip material that keeps it in place. The mat can also be placed under feeding bowls to collect spills. We love the multipurpose nature of this product, particularly because it offers all the necessary services while still being pocket-friendly.

Everything We Recommend
Best Pick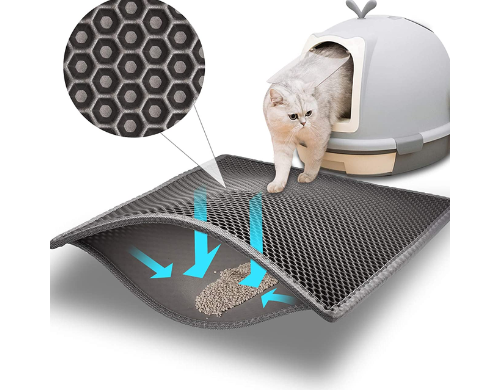 This is the best seller on Amazon for cat litter mats.
$16.99
Runner Up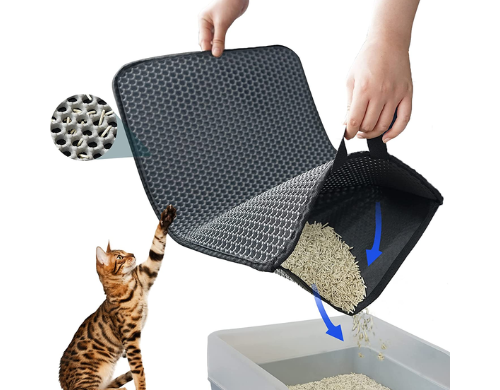 The fact that this mat comes with a handle that can be hidden makes it much easier to use.
Most Cost-Effective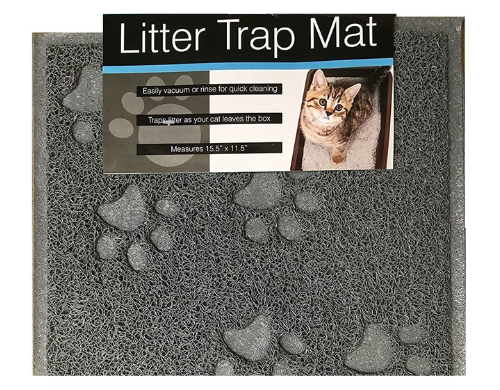 At its amazing price, you can afford to purchase this mat in multiples.
$6.13
Who This Is For
Assume you're walking from point A to point B in your house. Your cat passes you, and as you continue walking, your feet are pricked by something, and you immediately know, even without checking, that it is from the litter box. You now have to sweep up. This can all be avoided when you purchase a cat litter mat. If you are a feline owner or your friend is, then this is a worthy buy.
Is a cat litter mat worth it?
The cat litter mat is a worthy buy since it makes work easier for you on various levels. Not only will you be able to clean up after your pet, but you get to prevent spillage and the spreading of grit all over your house.
Different types of cat litter mat materials
Cat litter mats are generally made of two materials: PVC or rubber. While both are designed to hold the dirt on the cat's paws, they are differently priced, with PVC being a bit more expensive as compared to those made of rubber. That said, the two materials get the job done.
Why You Should Trust Us
We have taken the time to consolidate the products recommended by cat owners and then reviewed them. We also looked up the best-rated mats in online stores, compared the reviews with the information we already had, and made a list of what we saw as the best products.
How We Picked
The size of the cat litter mat is determined by the size of your cat and the size of its litter box. You want a mat that can also collect litter in the event of spillage. You need a flexible mat that you can easily pick up from the floor and get rid of the collected litter.
The design and material must allow for easy cleaning; otherwise, the dirt will cling to the mat and further dirty your house. This is why most mats are made of PVC or rubber. These two materials are waterproof and thus urine-proof, and some are even odorless.
When cats step on something that irritates their paws, then they will either jump over it or avoid it together. That is why the mat must be comfortable for the cats' paws, and they might even use the litter mat as a scratch or play mat.
Most cats will not only use the litter mat for its intended purpose but also play, and as such, it needs to be made of durable material so that it lasts for long periods. The mats also need to be thick so that they are not only durable but easy for the cats to use, as they will not easily slip during usage. Strong mats are essential given that they will also make it easy to clean them up.
Very many cat litter mats can be found at affordable prices, so everyone can have access to them. You don't need to sacrifice quality because even affordable mats can offer quality services.
As long as you take note of the design of the mat, make sure to check that it allows for optimal litter collection and reduces the spread of the same.
Care and Maintenance
Cat litter mats are generally easy to clean and take care of, provided you correctly read the user manual and then follow the correct cleaning methods. Some can be cleaned in the washing machine or dishwasher; just make sure your mat can be cleaned in this manner.
Whether using a machine or hand washing your mat, ensure that you dust it out as often as you please and then proceed to wash it. You can also use a vacuum cleaner, which will suck out all the loose hanging dirt. We recommend that you combine the vacuum cleaning method with the washing as well.
If you are hand washing your mat, scrub gently on the ridges and the under the mat to ensure that you do not hasten the wear and tear on it. After washing your mat, hang it out so it can air dry. A well-air-dried mat also ensures that your mat doesn't retain a bad odor. Also, make sure your detergents are not too harsh, as cats will avoid them if the smell is altered or chemical-like.
To prevent odors, ensure that you not only clean the litter box daily but that you also clean your litter mat with the same frequency. If the smell is too strong, we suggest that you sprinkle baking soda on the mat and the litter box to neutralize the otherwise "ripe" smell that might develop around your mat.
You can always spray enzymatic materials that fully absorb the smell. These sprays are recommended as opposed to ordinary smells that will definitely deter your cat from using the mat, and this will counter the whole purpose of getting this litter mat.