The Best Cat Litter Box for 2023
Get your fluffy friends the 'purrfect' litter box and enjoy an odor-free home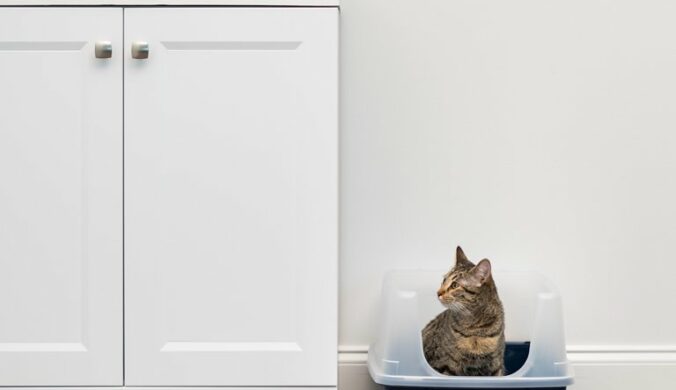 Research has shown that cats spend 80% of their day grooming. This shows how much they love keeping themselves clean and comfortable. Cats are generally very clean and pretty private when doing their business, hence the desire to bury their litter. In addition, they like to hide their scents from other animals.
Cats can be quite finicky, so they need to have a comfortable space to relieve themselves. As such, you need a 'purrfect' cat litter box that is safe to use. Litter boxes help keep your cat's bathroom messes contained in one place, allowing you to clean up easily since you aren't constantly scooping litter. Cat litter boxes come in different sizes and shapes, covered or uncovered, and disposable or self-cleaning. This list is sure to help you pick the 'purrfect' litter box for your fluffy friends.
How We Picked
Tall walls with an accessible entrance

To prevent litter from spilling out of the box, it is important to consider picking a box with three tall walls (sides) and also a lower side for easy accessibility and cleaning


Depth/Capacity

What is worse than a cat litter box that cannot hold a large quantity of litter? To avoid this, we looked at litter boxes with high depth and capacity


Covered or Uncovered

This quadrant depends on your cat's preference, some cats find covered boxes uncomfortable while some adapt easily to it. To be on the safe side, it is better to pick a litter box with a detachable cover


Cost-Effectiveness

As much as you love your felines, you will still prefer not to spend too much on litter boxes. Therefore, we picked cost-effective litter boxes while also maintaining their quality

Our Top Picks
Best Pick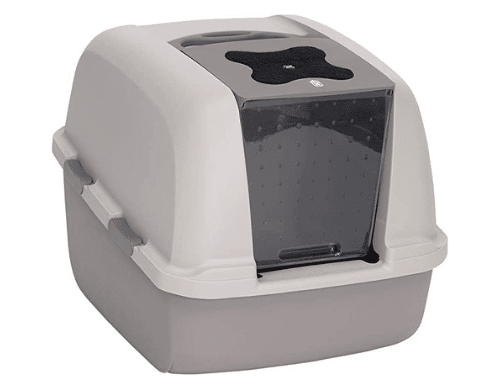 You won't regret splurging on this
Made from BPA-free materials, this litter box is spacious and cleverly designed to make for easier scooping and cleaning. It also includes a carbon filter for masking foul smell.

This pan may be costlier than the others on this list but it is worth every penny. The Catit jumbo hooded cat litter pan gives your cat room for both privacy and comfort.


Runner Up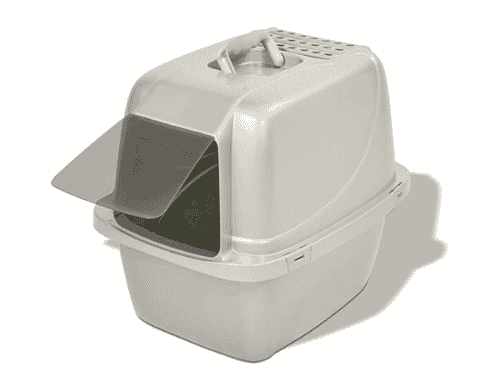 Elite when it comes to odour control
This cat pan, complete with a removable lid, comes with a zeolite air filter ensuring the air in your space remains clean. Durable and well-built, it is convenient for those pet owners who are short on time.

With a detachable lid, this litter box can be used as a covered and an uncovered pan. Van Ness odor control cat litter pan is easy to use and also odor resistant. It also offers more depth and capacity compared to other litter boxes on the market.
Most Cost-Effective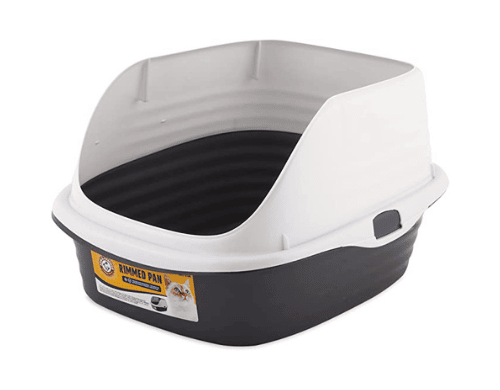 Perfect for petite cats
Compact and safe to use, this aesthetically pleasing litter box comes with built-in antimicrobial products to keep your kitty's safe space clean and odourless. Easy on the pocket yet surprisingly durable.

Designed with built-in antimicrobial products for protection against stain and odor-causing bacteria, this cat litter pan is worth purchasing. This litter box is designed with fine materials that make it durable and easy to clean. The reinforced bottom and rim give the litter box extra strength and durability.
Everything We Recommend
Best Pick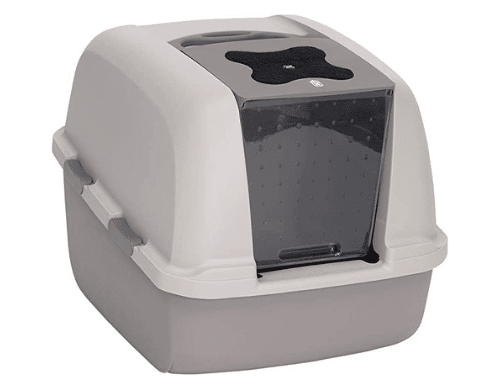 You won't regret splurging on this
$43.19
Runner Up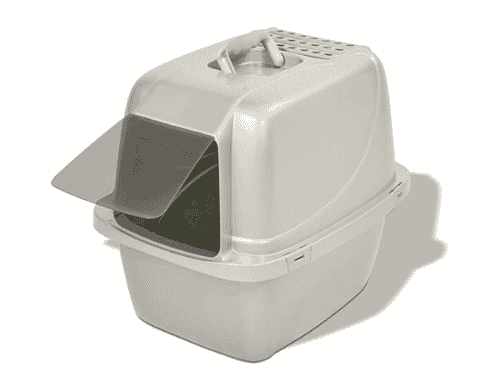 Elite when it comes to odour control
$19.41
Most Cost-Effective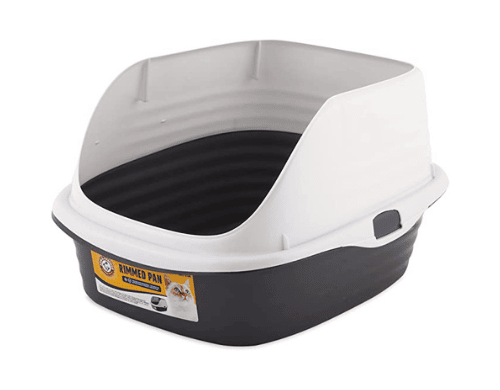 Perfect for petite cats
$19.99
Who This Is For
The products reviewed here are for cat owners and also anyone looking for a gift idea for their loved ones that own cats.
How many litter trays should you have?
We recommend having one litter box per cat, plus one extra to give your cat space and privacy. Having to share a litter tray can be uncomfortable for your feline and the extra tray is for emergencies. You can have the extra litter box in a separate corner in case your cat needs an alternative.
Manual Litter Trays vs Automatically Cleaning Litter Trays
Choosing between manual litter trays and automatic cleaning litter trays can be tricky therefore you have to put some things into consideration. Having an automatic cleaning tray can make things easier for you as you do not have to worry about cleaning the tray frequently since the machine can do that for you, unlike the manual litter tray that requires you to scoop every time. Automatic litter trays are lifesavers as they help cut down on cleaning stress and time. But then, they also have their cons which can give the manual litter box an upper hand. Besides automatic cleaning litter trays being quite expensive, they also require regular maintenance like removing clumps from the rake and emptying the waste receptacle. Research has shown that most cats prefer manual litter trays over automatic cleaning litter trays because of the small size, appearance, and also humming sound of the machine. Generally, both litter boxes are good depending on your budget and preference.
Why You Should Trust Us
There are lots of cat litter boxes on the internet today, each serving different purposes and designed to cater to different cats. Due to the variety in brands and quality of these litter boxes, we have conducted research to pick quality and affordable litter boxes just for you!
How We Picked
With such a wide, intimidating range of cat litter boxes available on the internet, picking the right litter box for you is not an easy task. To make the evaluation easier, we read through past customers' experiences with different litter boxes and evaluated them based on their opinions and ratings. Ranging from the level of comfort the litter boxes provided to their cats, how easy it is to use, how easy it is to clean, and the quality of the materials used to design the litter boxes. Judging by cat owners' opinions and experiences, you can trust our evaluation and pick the 'purrfect' litter box for your cats.
We researched various brands that produce litter boxes and their most sought-after models. While picking, we looked for litter boxes with three tall walls and an accessible entrance to keep the litter inside the box without spraying while also giving you and your cat easy access to the inside. We considered boxes with decent depth and capacity to give space for your cats and also be able to hold more litter granules. We checked for both covered and uncovered boxes since both options are cool depending on your cat's preference. And most especially, we searched for litter boxes that are affordable while also giving you the quality you deserve. I mean, you do not have to break the bank to own a litter box, 'Purrr'! Another thing we put into consideration while making our picks is the location. We checked for litter boxes that are available in any country or better still can be shipped worldwide.
Care and Maintenance
Cleaning a litter tray
How often to clean a litter tray
Where to put my cat's litter tray?
Using litter tray liners
Using cat litter spray
Cleaning a litter tray
A clean cat is a happy cat. Cats are naturally very clean creatures hence they spend 80% of their day grooming. Cleaning your cat litter box regularly is a given way to keep your cat happy and your home clean!
How often to clean a litter tray
We recommend cleaning your litter box daily by scooping out litter, disposing of it outside in a sealed bag, washing the litter scoop, and cleaning the edges of the box and the lid with soap and water.
Where to put my cat's litter tray?
The cat litter box should be placed in a discrete corner to give your feline some privacy. Preferably, adjacent to a wall to give the cat a heads up in case of any danger. It should be placed in a quiet area far from food and drinks.
Using litter tray liners
We strongly recommend using a litter tray liner to line the bottom of the litter box for easier cleaning. Litter tray liners make it easier to keep litter in place and for easy dispensation.
Using cat litter spray
We suggest using an antibacterial spray perfume to mask the smell of your cat's urine and litter.