The Best Carving Knife and Fork for 2023
Carving knives and forks are useful for cutting through large pieces of meat and poultry.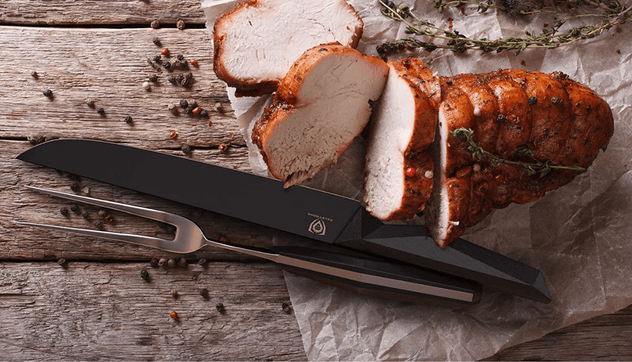 After working hard on the grill, the last thing you want to do is the struggle with cutting the meat. You would rather be done with slicing quickly and get to the fun part — enjoying those tasty, sizzling roasts. That's where carving knives and forks come in. These tools make cutting large portions of meat a breeze. Whether you have roasted meat, poultry, smoked pork, or smoked fish on the menu, there are carving knives and forks for every use. Similarly, these tools come in various designs and prices to suit different preferences. Are you ready to have a more enjoyable time slicing and serving your roasts? Dive into our guide with carefully selected tools just for you.
How We Picked
Sharpness of Blade

The sharper the blade, the easier it is to cut up meat. Tougher meats like ham will need a sharper blade as compared to softer meats like fish.


Material and Grip

The best carving knives and forks have slip-resistant handles to give you a firm grip while slicing meat. The blades and prongs should be made of durable, heat-resistant materials.

Style and Size

The bevel on the cutting edge of a carving knife affects how sharp the blade is. If you mostly work with tough meats, a carving knife with a lower bevel degree is a better choice. Longer blades and prongs are ideal for large chunks of roast.

Cost-Effectiveness

The price tag alone is not the best deciding factor when shopping for carving knives and forks. Instead, go for tools that are durable, easy to use, and easy to maintain to give you the best value for your money.
Our Top Picks
Best Pick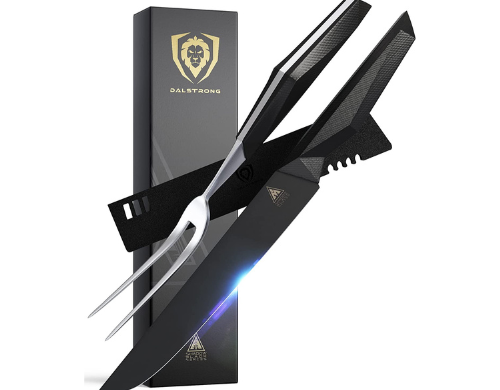 The ideal blend of stunning design, sophistication, and functionality.
The hand-polished knife spine enhances comfort across varying grip preferences, making it extremely easy to use.
Are you looking for a carving knife and fork set to make a bold statement in your kitchen? Your search has come to an end with these tools from Dalstrong. They will make you the center of attention at your next family gathering. But these utensils are not only pretty to look at — they are expertly designed to give you the best possible experience while slicing those delicious turkey, chicken, or ham roasts. This kit is a real pleasure to have in your kitchen.
Runner Up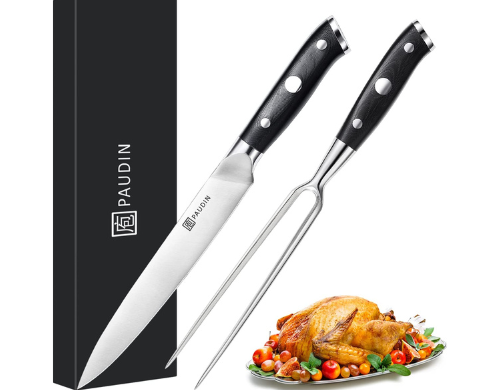 With this carving set, you can achieve the smoothest cuts possible.
If you'd like to get this kit to gift a friend, the exquisitely designed packaging box serves that purpose perfectly.
This carving set from Paudin will take your meat serving to the next level. Slicing your brisket, beef, roast, turkey, ham, or other delicacies will be a breeze thanks to the extremely sharp knife blade. The knife and fork handles offer excellent hand control, agility, and comfort for a seamless carving experience. Consider adding these utensils to your culinary arsenal.
Most Cost-Effective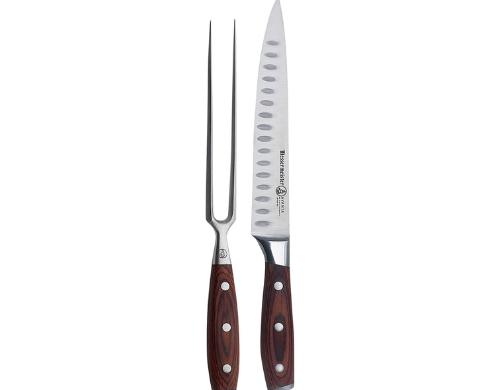 Getting fantastic meat carving tool sets doesn't always mean blowing your budget.
The Pakkawood handles have a decent density and provide an easy grip while handling meat.
The Avanta kit from Messermeister is perfect for those searching for affordable tools with no compromise on quality. The combination of excellent materials, high performance, and a reasonable price is hard to beat. This tool set comes highly recommended by chefs, which speaks volumes.
Everything We Recommend
Best Pick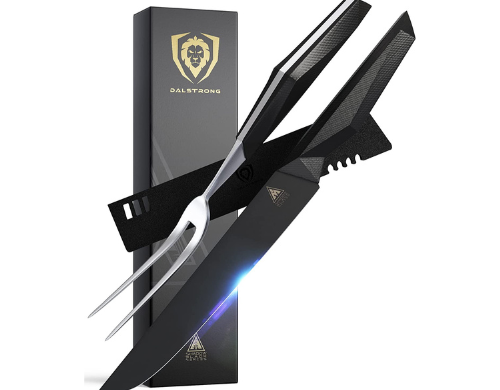 The ideal blend of stunning design, sophistication, and functionality.
$110.00
Runner Up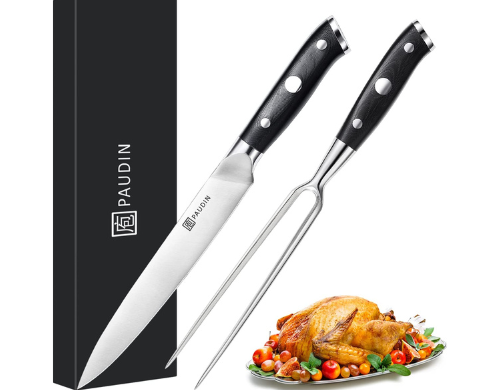 With this carving set, you can achieve the smoothest cuts possible.
$65.99
Most Cost-Effective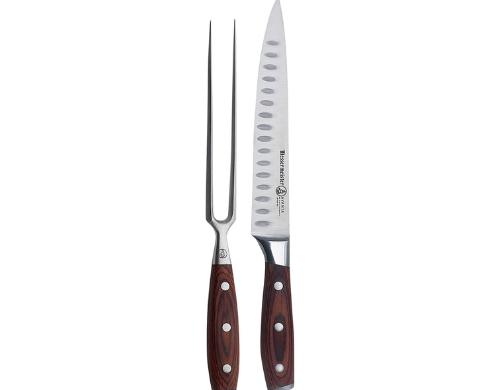 Getting fantastic meat carving tool sets doesn't always mean blowing your budget.
$59.95
Who This Is For
Working with and serving large portions of meat can seem like a daunting task, especially if you're a home cook. If you're looking for tools to ease the slicing and serving of turkeys, pot roasts, fish, tenderloin, and other delicacies in a jiffy, consider investing in a carving knife and fork. They will have you handling your dishes like a professional.
What is a carving knife?
A carving knife has a long, narrow blade that allows you to cleanly cut through the meat. It also features a pointed tip to maneuver around bones. In addition, the steel blade is flexible to make following the curves of a turkey carcass or a crown roast much easier.
Depending on the blade profile, a carving knife can also be used to cut large melons, starchy tubers, and winter squash, or to slice bread, baguettes, or layer cake.
A carving knife is used for cutting portions of meat before serving, while a steak knife helps you cut your steak into smaller pieces while eating.
Why You Should Trust Us
Our guide is the result of in-depth research evaluating numerous brands of carving tools. We also looked at real-life customer reviews to get a sense of how the tools work for different people. All the tools featured here are worth considering if you're looking to upgrade your meat-serving experience.
How We Picked
A good carving knife has a blade that is long enough to create large slices of meat. Short blades might force you to make a sawing motion while cutting, resulting in uneven and less appealing slices of meat. Conversely, a blade that's too long can be slightly clumsy to use. The same goes for the length of the carving fork.
Carving knives with the best performance usually have a blade thickness of 0.5 inches and below. This helps achieve a clean slice.
Sharper blade edges will cut more smoothly, but they also require more frequent sharpening to hold their edge. The type of meat you prepare the most should guide you in picking the level of sharpness that suits your needs.
Carving knives and forks vary in price and quality. Before making a purchase, look at all the features that the utensils have to ensure they are worth your money.
Our research covered different styles of utensils to present you with sufficient options to choose from. Carving tools designed with comfort in mind give you an enjoyable experience while handling meat. Carving knives have blades whose profile is long and thin, allowing them to slice through meat without tearing the flesh and achieve precision cuts. Diverts along the blade create air pockets between the metal and meat that help reduce friction, allowing the blade to glide through easily.
All carving knives have steel blades, but they vary in quality. Steel is an iron alloy with a small percentage of carbon in it. The more carbon a blade contains, the harder it is and better able to hold a sharp edge. In addition, your carving tools should have slip-resistant handles to give you a firm grip while slicing meat. This gives you more appealing cuts of meat and prevents injuries to your hands.
Serrated edges are not ideal for carving meat as the blade may tear or shred the meat instead of making clean slices. Instead, go for knives with smooth blades to deftly slice through skin and flesh and avoid shaggy cuts.
A good carving knife will feel balanced during use. The knife's weight should balance at the bolster (where the handle connects to the blade). The bolster should be sturdy enough to give the knife enough weight to move the blade through the meat. The selections in our guide are well-balanced to offer you the best possible experience while carving.
Your carving knife and fork should be comfortable to work with for long hours. The handles play a big role in the ease of use of these tools. Top-quality meat carving tools will have ergonomically shaped handles that conform to the contours of your hands. Our top picks are some of the most comfortable tools to work with.
Care and Maintenance
To sharpen your carving knife, you can use a handheld sharpener or an electric countertop sharpener. These are inexpensive and easy to use. If you're more of a purist, wetting stones are available.
Avoid using your knife and fork if they are broken or have any splinters. Pieces of the utensils could find their way into your food and cause choking hazards.
Cleaning your knife regularly will keep the blade in good condition for years to come. We recommend washing them after every use to remove the residue that's stuck on the blade. To clean your carving knife, use hot, soapy water and a soft cloth or sponge and wipe the blade gently until all food scraps are gone. Then rinse with clear water before storing it in a dry place.
If there happens to be some food dried on the blade, soak the knife in shallow water for a few minutes. Scrubbing away at the stubborn bit increases the risk of your hand slipping and being injured.
For stubborn stains and rust, white vinegar comes in handy. Submerge your carving knife in a glass of vinegar and let it soak for 15–30 minutes for minor rust. For more damaged blades, you'll need to do this overnight. Next, scrub the blade with a soft sponge to remove rust spots. After the rust stains have been removed, wash with soap and water and dry thoroughly using a paper towel or dishcloth.