The Best Car Vacuums for 2022
Keep your car's interior fresh and dirt-free with a high-performing car vacuum.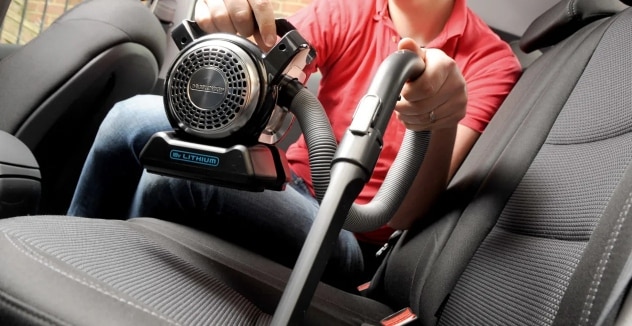 A clean car certainly makes driving more comfortable and enjoyable, we're sure you'll agree! As such, you'll need to maintain a tidy interior in your car, and to do this, you should consider investing in a car vacuum. Cleaning the inside of your car is considerably quicker and more effective with the right car vacuum.
If you've tried buying a car vacuum in the past, you'll understand how overwhelming it can be to be faced with the sheer amount of options in the market. Comparing one brand to another is one thing, and there are also numerous factors to consider. Which type—corded or cordless—should you choose? Would you be needing a vacuum that can handle wet spills as well?
We understand this situation, it happens even to the best among us. That's why we've compiled this guide to answer all your questions and help you make the right purchase.
How We Picked
Suction Power

Suction power is the most important factor to consider when purchasing a car vacuum cleaner. It will be pointless to purchase a car vacuum if it can't properly suck up dust and trash from your car.

Cord or Cordless

It's also important to consider whether a corded or cordless vacuum will best suit your needs. Each option has different beneficial features, but it all depends on your individual need


Size/Weight

Handheld car vacuums have to be relatively portable and lightweight, so size and weight are important factors to consider. These factors affect usability and maneuverability, and this is why it's important to prioritize them.


Cost-Effectiveness

As with all equipment, it's important to consider the cost of the brand you decide to choose. A good question to help you decide on a pick is if its value and quality measure up to its monetary cost.

Our Top Picks
Best Pick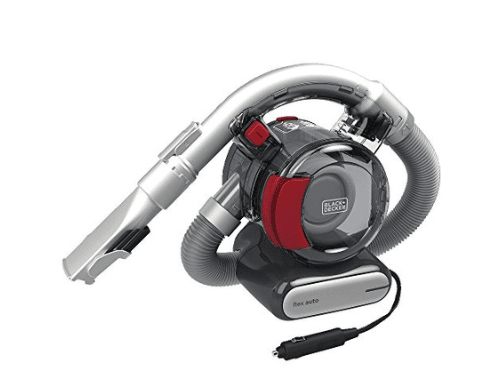 A highly efficient corded car vacuum for easy cleanup that ticks all the right boxes
This vacuum weighs 3.3 pounds and comes mostly put together
The BLACK + DECKER Flex car vacuum will essentially tick all your boxes. It comes with great suction power, effectiveness, great design, portability, and ease of use among many other qualities. It removes dirt, dust, and debris from vehicles with ease, vacuuming inaccessible regions such as underneath and between car seats. Additionally, it rotates debris away from the filter so that the suction power is kept at its peak.

Runner Up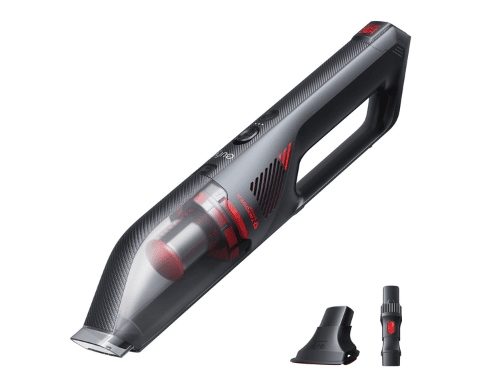 Incredible 80 AW/16kPa suction power delivers extra strength to effectively clean up debris
This cordless vacuum offers the adaptability required for thorough interior cleaning in all types of vehicles.

The eufy HomeVac H30 Venture car vacuum is the best cordless option due to its immense suction power, and ultra-lightweight which ensures portability, as well as maneuverability. With this car vacuum, you can select from various tools, including the multi-surface tool and 2-in-1 crevice tool, to handle various messes. Per your needs, you can also switch between its Eco and Max mode.
Most Cost-Effective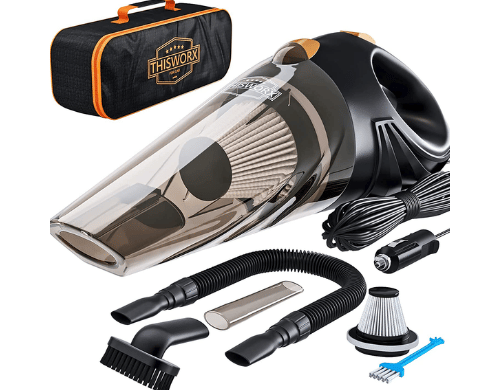 A mini vacuum for car or truck that is compact, lightweight (2.4 lbs), and easy to use.
This vacuum cleaner scores high points for usability, maneuverability, and easy setup.
For quick and easy cleanups, the THISWORX Portable Car Vacuum Cleaner is the most affordable corded car vacuum option, offering great value in terms of suction power and portability. This compact dustbuster has a HEPA filter and is equipped to handle spills of ash, dust, or fast food. It's the perfect, fully equipped, ergonomically designed car vacuum.

Everything We Recommend
Best Pick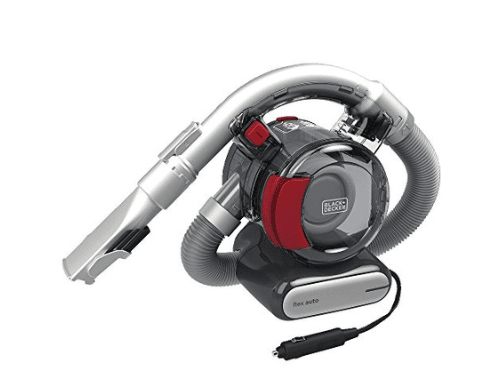 A highly efficient corded car vacuum for easy cleanup that ticks all the right boxes
$65.99
Runner Up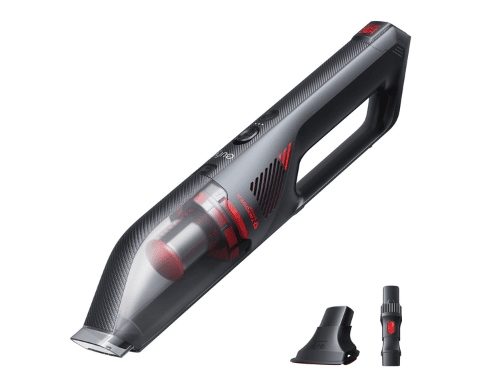 Incredible 80 AW/16kPa suction power delivers extra strength to effectively clean up debris
$99.99
Most Cost-Effective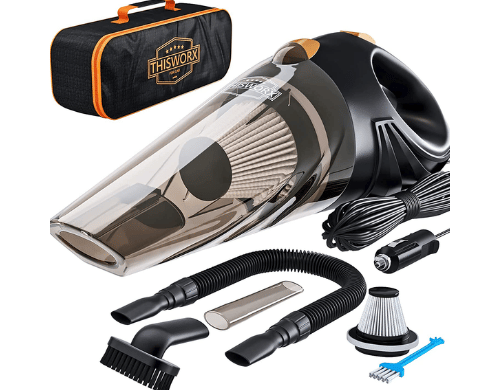 A mini vacuum for car or truck that is compact, lightweight (2.4 lbs), and easy to use.
$24.99
Who This Is For
We could liken a car vacuum to that luxury item you originally thought you could live without until you ended up purchasing one. What we're saying in essence, is, as long as you own a car, you need a car vacuum
Do I Need A Different Vacuum For My Car?
Your first thought is maybe you can just use my household vacuum to clean your car. And, depending on the vacuum, it might truly work just fine. However, even though some cordless household vacuums are available now and have a range of attachments, they will never be as practical as a car vacuum.
To help clean your automobile, an upright or canister household vacuum will need — at the very least — a hose attachment, and a stick vacuum will likely not be useful at all. Large household vacuums are all heavy and unstable, making it more difficult than necessary to clean the inside of your car.
As you might expect, household vacuums are made to rapidly and effectively clean huge surface areas. While they might do a decent job cleaning the floors and floor mats in your car, some household vacuums may struggle to enter tight spaces.
A car vacuum is thus advised to help you keep your cabin spotless since, as with most automotive tasks, the proper tool is required.
Difference Between A Wet/Dry Vacuum And A Standard Dry Vacuum
A wet-dry vacuum can be used to clean both wet and dry areas of your interior, as suggested by its name. To prevent wet materials from ever passing through any mechanical or electrical components, a wet-dry vacuum incorporates a bucket or a collection chamber. So, if you're concerned about having to deal with wet or muddy floor mats, spills, and carpeting, a wet-dry vacuum is appropriate.
Additionally, practically all wet-dry vacuums have a blower mode that enables you to quickly expel air. For blowing away dust or other debris from your inside, this might come in handy.
Standard (dry) vacuums, on the other hand, lack the safeguard of a bucket or a collection chamber, so attempting to suck up moisture can cause them to short circuit. Any liquid you vacuum could leak into its electrical components and could even start a fire because a standard dry vacuum is not designed to contain liquid.
Depending on your demands and the types of messes you encounter frequently, you should decide whether to choose a wet/dry vacuum or a dry-only vacuum.
Why You Should Trust Us
While compiling this review, we did a lot of research on the best features that make up a good car vacuum, and we made sure to prioritize these criteria during our selection. We also conducted in-depth research, consulted with various credible online sources as well as online user reviews to assess all the products available in the market, and which ones would work best for you.
We also narrowed down the top car vacuum options because there are just too many of them on the market. To do this, we took into account the opinions and reports of credible reviewers, looked at automobile websites, and visited vacuum-specific websites.
How We Picked
We were able to ascertain the features customers appreciate most in a car vacuum after researching through reports from the vacuum and car industry experts. As such, we considered the following important factors when suggesting our top picks for car vacuums:
Suction Power
To have enough suction to finish the work quickly, power is essential. We're sure no one wants to keep vacuuming the same mess over and over until it is cleaned up thoroughly. This is why suction power is an essential factor that we considered when suggesting car vacuum options in this review.
Power is measured differently by different manufacturers (in amps, air watts, and/or airflow). In this review, we looked at corded car vacuums with motors that had at least 4 amps as well as cordless vacuums with a range of 15 to 35 air watts, which represents the number of watts it takes to move a single unit of air through the vacuum.
Cord or Cordless
Considering whether a corded or cordless vacuum will best suit your needs? It all just depends on your situation. A corded vacuum may be appropriate for you if you're cleaning your car in your garage with an AC outlet close by. The vacuum won't need to be charged, nor will you need to be concerned about the car vacuum losing power while you work (this is one concern that many users have voiced about cordless, battery-charged car vacuums).
Cordless vacuums, on the other hand, are typically more expensive but more convenient because they don't require a cord or a power source. Of course, the drawback is that they frequently have lower power and require charging after usage.
You should however consider that while they might initially appear to be the ideal choice, corded car vacuums frequently lack the power and convenience of cordless vacuums.
You will need to decide between corded and cordless options when deciding on a car vacuum. Some of the factors you'll need to consider that will help you make informed decisions are battery life (for cordless options) and cable length (for corded options).
Power/Battery Life (if cordless)
When looking for a cordless vacuum, it's important to pay particular attention to the weight and battery life that are advertised. How long can a cordless vacuum operate before it will need to be recharged? Will it be enough time to clean your car completely before it shuts off?
Most batteries can power the vacuum steadily for around 10-15 minutes in total. Cordless vacuums with smaller batteries will typically prevent you from fully cleaning your automobile on a single charge if you have a larger vehicle.
These were all factors we considered when suggesting cordless car vacuums for you. Deciding on cordless options means you have to prioritize battery life because the power needs to last long enough to complete the cleaning.
Cable Length (if corded)
For corded car vacuum options, one major feature to consider is cable length. We're sure you don't want to end up with an option that has a too-short length, thus limiting mobility and reach while vacuuming your car.
This is why we reviewed options that had sufficient cable length to offer maximum convenience during usage.
Filtration System
It goes without saying that a car vacuum's filter becomes clogged up rapidly. Filters can be quickly clogged by sucked-up tiny particles such as dust, dirt, and sand, which reduces the vacuum's ability to suction. Washable filters on car vacuums make maintenance simpler and reduce the need for regular filter replacement.
This is why we considered the effectiveness and ease of maintenance of the filtration system when suggesting the available our top picks for car vacuums. A car vacuum's functionality is important, but how easy it is to maintain is also another important factor to think about.
Size/Weight
Before you make your purchase decision for a handheld cleaning instrument like a car vacuum, weight is an important factor to consider. The majority of models, especially corded ones that aren't loaded down with rechargeable batteries, need to be fairly light. In contrast, cordless vehicle vacuums and those that have a variety of accessories may weigh a little bit more and be a little more difficult to handle when cleaning.
This is why we looked at the size, weight, and maneuverability of each car vacuum because car vacuums must be portable and lightweight to enhance usability.
Durability
It's important to prioritize durability as an important criterion when deciding on the right car vacuum for you. As we're sure you'll agree, it makes no sense to decide on a car vacuum that you'll have to replace in such a short time just because it's not a lasting product.
When comparing vacuums, you should also pay special attention to the guarantee that is provided during purchase. When buying a product from a well-known brand, it can be worthwhile to pay a little bit more because you'll get warranty coverage in case something goes wrong with the product.
Tank Capacity
Tank capacity is a factor that is frequently disregarded when choosing a car vacuum, and this is not the best. You might be able to get away with a smaller canister if you're using a more compact, smaller vehicle. However, if you drive an SUV or a minivan, you should make sure you don't have to frequently empty the canister when cleaning your vehicle.
This will mean that you should consider the tank capacity of your pick before making a final decision, as this is crucial for convenience and ease of use.
Price vs Quality
Once you've decided on whether you want a corded or cordless option, you'll need to verify that the choice you've picked works fine with your budget. At the same time, you'd understandably want to be assured that the quality of your choice is worth its cost, and you'd be enjoying your money's worth.
This is why we suggested options that offer great value for their market price. We also made sure to suggest affordable options that do not compromise on quality.
Style/Design
Many people may not care much about the style or design of their car vacuums as long as it gets the job done. Nonetheless, we still made sure to research the best options that had great designs while offering high and satisfactory functionality.
Ease of Use
Another important thing to consider when choosing the right car vacuum to buy is how simple or challenging it is, both to use it to clean your car and to clean the vacuum itself. The vacuum you choose shouldn't be difficult to dismantle and maintain.
This is why we researched car vacuum options that are present with the last challenges during usage, ensuring as much convenience as possible.
Easy to Empty
Apart from being easy to use, your car vacuum also needs to be easy to empty after usage, so you may want to keep this in mind when making a final decision.
Noise
No matter how good a car vacuum is, its desirability considerably drops if it operates with a noticeable noise level. This is why we suggested options with low noise levels to make usage much easier and more convenient.
Care and Maintenance
Changing the filters
For information on the kind and position of filters on your car vacuum machine, consult your owner's manual. Filters can often be hand cleaned with cold water. Handle them gently; don't wring or twist them to keep their form and efficacy. Before reinstalling the filters in the filter holder, allow the filters to air dry for 24 hours.
If your vacuum has a paper filter that is replaceable check it each week when you inspect the vacuum bag. Numerous filters can be washed, dried, and used again.
Replace any filter that is severely damaged or filthy. A clogged filter will also obstruct the vacuum's ability to draw air through it freely. Also, make sure to use the vacuum only with the filter in place. Observe the manufacturer's directions if you're using HEPA filters.
Cord maintenance (if not cordless)
If you opt for a corded car vacuum, it's important to prioritize careful usage and proper care. People frequently pull the plugs of their car vacuums out of walls by jerking on the cord itself.
The metal prongs that go into the socket may break as a result of this, thus damaging the cord. Ensure that you hold the real plug when withdrawing your vacuum from an outlet to protect its health.
Additionally, winding the cable of your car vacuum from the machine to the plug or vice versa with the plug still in the outlet will lead to an unsightly twist in the cord. The cord won't be able to straighten itself back to normal if you coil it using one of these two techniques.
The correct technique is to disconnect the cord from the wall and start coiling it from the machine side first. This will free the plug to move around freely as it isn't attached to anything.
Car vacuum cord damage is typically preventable with the right techniques. Make sure to take your cord to your nearby vacuum repair shop if it ever has visible wires, is torn, or gets hotter than usual. This can be risky, but if dealt with quickly, it's usually simple to correct.
Clearing out the bag without making a mess
It's crucial not to let the bag or bin get completely overloaded, whether you're working with a bagged or a bagless vacuum. This can cause dust and other particles to be released back into the air that you breathe in your car, in addition to blocking the vacuum's internal components, including its motor.
It's best practice with bagless vacuums to empty the trash bin after each use. If you can't make emptying the bin a regular part of your vacuuming practice, most machines have a limit line that acts as a helpful reminder. You should also put the vacuum bag inside a large garbage bag, close the bag with one hand, then shake the vacuum bag vigorously with the other hand to help limit the spread of dust and minimize any mess it might make.
Regarding vacuum cleaners with bags, some manufacturers offer a full-bag indication that lets you know when the bag needs to be emptied. If you're working with an older machine that doesn't have this feature, you'll have to rely on the squeeze test. Another indication that the filter bag is filled is a notable decrease in suction force.
Do not use a standard dry vacuum for liquids or any wet flooring
Just like we stated earlier in this article, ensure that you don't use a standard dry vacuum to deal with liquid messes in your car.
While wet-dry vacuums can typically be used to clean both wet and dry areas of your car's interior, standard (dry) vacuums lack the safeguard of a bucket or a collection chamber, so attempting to suck up moisture can cause them to short circuit.
Charging a cordless vacuum
When the power of your cordless car vacuum is low and you need to charge its battery, the LED light at the handle's end will flash. Directly attach the charger to the charging port on the machine's handle base. Additionally, you can connect to your dock in the manner described in the installation manual that came with your dock.
When charging, the blue LED light at the handle's end will pulse; when fully charged, the light will be off.
Your battery may need up to or more than four hours to fully charge. Your battery is intended to be charged while not in use.