The Best Camera Backpack for 2023
Our recommended choices will enable you to carry your camera gear in the backpack intended for them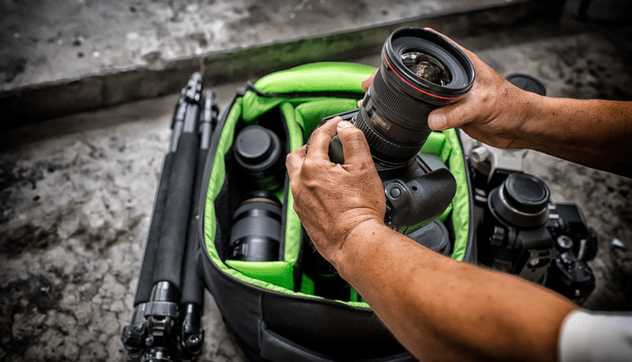 One of the more challenging buying situations a photographer may encounter is shopping for a camera bag. Choosing the best camera backpack can be challenging due to the proliferation of these products on the market and the introduction of new features.
The finest camera backpacks include a lot of extra space for accessories and distribute weight properly. They often have weatherproof exteriors and padded interiors to prevent the contents from banging against each other or the ground.
You may anticipate spending a few hundred dollars on one of the best camera bags, which will be multifunctional, durable, and trustworthy. However, you shouldn't skimp on protecting your camera equipment, so it's wise to spend money on a camera backpack that can hold all of your photographic gear and endure for years.
In this article, we'll take a look at some of the best camera backpacks on the market right now and discuss the features that may make one of them ideal for you.
How We Picked
Size & shape

Shape is provided by the frame, which also aids in carrying and distributing weight. While internal frame packs have become the norm, external and frameless packs are not completely obsolete. This distribution affects the size and the weight which we considered to make sure that it was large enough without being too cumbersome.


Design/style

Never let trends be the sole deciding factor when purchasing a backpack, but don't disregard them, either. Although a functional bag is important, its lack of aesthetic appeal may discourage you from wanting to use it regularly. Therefore, the design and style were considered when making our recommendations.


Comfortable to carry

Your camera backpack will be what you will be hauling whenever you want to go out with your gear. For that, it needs to be comfortable enough not to be a burden since you intend to use it for years.


Cost-Effectiveness

The cost of purchase and the availability of a warranty were also factors that we considered. Camera backpacks are usually expensive, but this does not mean they are all of excellent quality. Therefore, we crossed out the extravagant options to provide you with the best cost options.

Who This Is For
As a photographer who understands the importance of transporting your equipment from location to location without incident. You know that the most practical and secure method of carrying and storing your photography equipment is in a backpack. So, if you're a photographer looking for the best camera backpack to bring all your photography gear with you on your next spectacular excursion, we've got you covered with the finest backpack options and all the criteria to think about before making your purchase.
Camera backpack vs regular backpack — what's the difference?
Instead of a single huge storage compartment, the best camera backpacks feature multiple smaller ones, all of which are tailored to the unique dimensions and storage needs of photographic gear. Each accessory is kept safely away from the others by padding walls and dividers.
The very best camera backpacks feature dedicated sections for a laptop computer and a tripod in addition to ample space for your camera, lenses, cables, and other supplies. Shoulder straps also allow you to carry your camera bag like a standard backpack, distributing the load evenly across both shoulders.
Remember that the best camera backpacks will give you more freedom and storage capacity than a conventional camera bag, which is usually slung across your shoulders and has a place for your camera and perhaps an additional battery or two.
Is it worth splurging on?
When it comes to securing your camera and other gear, a backpack may not seem like an obvious place to splurge. However, it is prudent to invest in a sturdy camera bag with several separate sections.
There are a wide variety of camera bags available, from compact sling bags to big backpacks. To protect its contents from being damaged by accidental bumps or drops, you should choose a container constructed of thick and durable material. Expert photographers advise that you should not use a regular backpack to carry your camera gear, even if you are just beginning your photography journey. You run the danger of breaking the internal components and fittings, which could lead to costly repairs or replacements.
Does it have different compartments for equipment?
This is the single most crucial factor to consider when choosing a camera bag. Most backpacks have foam inserts that you can attach with velcro, giving you a variety of storage options. Keep in mind that your camera equipment will grow and evolve with time, necessitating a bag that can adapt to these changes as they occur. If you know you'll need a lot of space to carry miscellaneous items, check the bag to see if it has many little interior pockets and exterior slip pockets. If your luggage doesn't have a lot of compartments, small items like batteries, filters, S.D. cards, and lens covers will quickly disappear.
Why You Should Trust Us
Experts in the respective fields and experienced users were enlisted to help with the information we needed to compile our reviews. Our reviewers tested each of the selected bags to see how they fare in terms of carrying capacity, durability, weight, and other factors that we used to evaluate them, like whether or not they conform to airline carry-on dimensions. To ensure that we only recommend products that we believe in and use ourselves, we based our recommendations on what we've learned through testing and evaluation after which we went through online reviews to see what content creators had to say about the bags and what opinions sellers had about why some were preferred above others.
How We Picked
Comfortable to carry
Even a DSLR camera body and a lens on their own might weigh several kilograms. You'll be toting this bag around for hours on end, and with its own weight and whatever else you throw in there, it may get very heavy. Choose a bag that has wide, padded straps that won't cut into your shoulder if you have to carry it all day. With particularly heavy loads, a waist belt can redistribute the load to the hips, relieving strain on the lower back. Since you probably won't always have more than 10 kg in your luggage, it's wonderful if the waist belt can be detached. Since they add bulk to suitcases, the option to remove them is welcome when traveling light. Some bags feature metal bars that greatly aid with posture, and a padded back panel will contribute to the comfort level.
Size
Different-sized and sized-capacity camera backpacks will have different weights. You should evaluate the size of the backpack you need concerning the camera and equipment you usually carry. A larger bag will provide more space for your accessories, which is important for professionals who use a lot of them. The larger the bag, though, the more it will likely weigh. While flying, it's important to think about the carry-on size limit set by airlines, as well as smaller alternatives.
Shape
The shape of the backpack is a visual representation of the contents it's meant to carry. The clearer the language, the more specialized it is to a particular occupation. Bags that appear like active bags and are good on the shoulder but are difficult to use in their intended role are becoming increasingly common as a result of current trends, further blurring the line between urban and backpacks. We considered shapes to settle in for ease and professionalism.
Design/style
This is the most subjective aspect of purchasing a camera backpack, hence there are no hard and fast guidelines. These days, camera backpacks are versatile enough to double as regular bags for your daily commute. In other cases, aesthetics have been prioritized over practicality, leading to bags that no longer resemble traditional camera backpacks. Don't be fooled by its stylish exterior; if you choose a trendy bag over a more classic one, ensure that it still serves all the purposes you need it to.
Price
Cost is always a relevant factor in any purchase. When buying your camera backpack, you should consider your needs and the reason for buying the bag. If this is something that will need you to make an upgrade in the future, you may want to consider buying one that will be used in that timeframe. Also, it would be wise not to be extravagant or settle for poor quality because you want it cheap. Therefore, we made sure to settle for quality and cost on the middle ground.
Durability
The selection of a bag that can withstand the elements and the accumulation of dust should be prioritized. If you believe you'll need it, or even if you don't, a bag with shock resistance is also something to keep an eye out for.
Type of material
Selecting a sturdy and long-lasting material for your backpack is crucial. Check out not just the exterior, but also the lining, the base, the straps, and the padding. Make sure the seams are strong and well-sewn at all times.
Type of straps
Single- or double-strapped options are available for camera backpacks. Backpacks with two straps are bulkier and can come with a waist strap for added stability. In general, smaller, single-strap bags are more convenient for people who want to carry fewer items. This is especially true for those who plan to bring cameras and lenses with lower sensor sizes. However, you may discover that carrying these bags causes greater strain on your shoulder because they only have one strap. When compared to double-strapped bags, single-strapped bags provide easier access to all of the bag's compartments without having to remove them completely.
The number of compartments
You should put compartments at the top of your list of priorities. Countless bags are available with a wide range of sizes and numbers of storage pockets. Take into account the dimensions of your camera and any additional equipment you plan on bringing with it to help you decide on the ideal size and number of storage slots. Keep in mind that you'll probably need space to keep things like cords, spare batteries, the camera body, lenses, and an action camera. Some bags include dedicated storage spaces for electronics, documents, or makeup. Make sure you can always get the photo on time by giving some thought to how readily you can access the compartments and whether or not you'll wish to put some goods externally for quicker access.
Waterproof
You should look for a waterproof bag first and foremost. Waterproof bags are always a good idea because you never know when you'll get caught in the rain, and they can help prevent any spills that may occur. In addition, you should think about the bag's seams and zippers, as here is where the most moisture can enter and damage your camera and other equipment. The zippers and seams of some bags are guaranteed to be watertight as well.
Care and Maintenance
How to wash & dry my Camera backpack, and how often?
The frequency with which you carry it, the places you go, and the conditions it is left in all play a role. Your bag will need to be washed more frequently if you use it for daily excursions to a sandy beach than if you use it for weekly excursions to a studio. However, once every few outings are what we suggest.
Experts advise against using washing machines for camera bags because of the risk of water damage. It can be machine-washed, but it needs to dry in the air for quite a while thereafter to prevent any mold or mildew from forming.
Start by giving the inside thorough vacuuming to remove any accumulated dust or debris. Scrub the exterior of the bag with a soft washcloth or sponge and a mild detergent. You should then lay it out to dry after wiping it down. To begin spot cleaning, you should wipe down the camera bag with a dry cloth. As soon as you've wiped it off, you'll be able to see exactly where the stains are, and that's where you should apply a mild cleaner, scrub, and then allow it to dry.
Where to store when not in use
Placing a backpack in a climate-controlled space with clean, dry paper is the best approach to keep it safe from moisture and extreme temperatures. It's crucial to clean your backpack before storing it. Your backpack has to dry off entirely in a dry, low-humidity environment. Take a time to put desiccant packages in the pockets if you plan on storing your backpack in a less climate-controlled space, like an attic, cellar, storage unit, or even a closet. These silica-filled packets act as a moisture barrier, preventing the growth of mold and mildew in damp, stuffy storage areas.
In case of rips or spills
If you are unfortunate enough to spill any liquid on your backpack, make sure to spot-clean it immediately or wash it as soon as possible. In the case that your backpack is ripped, make sure to contact an expert for repairs, or consider getting a new one if you're up for it.