The Best Cake Pans for 2023
Wondering what pan is best for baking a cake? This buying guide will help you decide.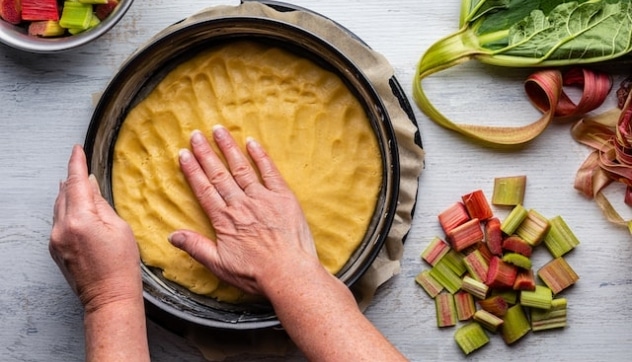 Cakes are the quintessential part of any major celebration, and if you want to ensure that yours doesn't fail, you'll need to start by having the best cake pan at your disposal.
Baking is a very precise art form that requires the correct utensils, ingredients, measurements, and most importantly, the correct cake pan and size. The proper size ensures your cake will bake evenly, that it will have an exterior that lifts easily from the pan, and that it will have straight lines that are ready for frosting.
The type of material your cake pan is made of, as well as its thickness, will largely depend on what you intend to bake. It's a good idea to have a variety of cake pans for all of your baking needs.
A well-made cake pan makes all of the difference in the baking process, so we've compiled a list of the best cake pans for 2022 for you to choose from!
How We Picked
Shape + Size

The right shape and size of a cake pan ensure that the cake will bake evenly and at the right temperature. We've looked at a wide range of cake pans to see which ones suit the right cake.

Durability

There's nothing worse than having a cake fail because the batter leaked out of the cake pan. To avoid this, we've looked at the most durable and reliable cake pans for your baking needs.

Type of Edges

Similar to the shape and size of a cake pan, the type of edges will help to determine the straight lines of your cake. The correct type will prevent your cake's edges from hardening.

Cost-Effective

Cake pans are made from all kinds of materials, and this affects their cost. We've looked at the most cost-effective ones to help make your baking process a valuable one.
Our Top Picks
Best Pick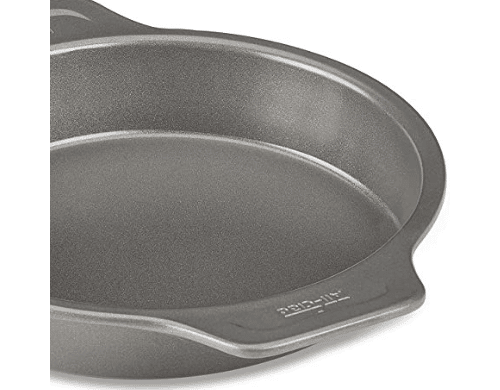 This choice may take a big bite out of your pocket, but it is worth it.
A cake pan that is durable and able to withstand anything.
The All-Clad Pro-Release 9" Pan's proof is in the pudding, so to speak! From incredible durability to being made of aluminized steel, it's the perfect solution to all of your baking needs.

The PFOA-free non-stick coating, along with its ceramic reinforcement, ensures this pan will withstand scratches and stains.

Its wide handles make it easy to carry around the kitchen and lift from the oven. High customer reviews and feedback applaud this pan for being sturdy and easy to clean.
Runner Up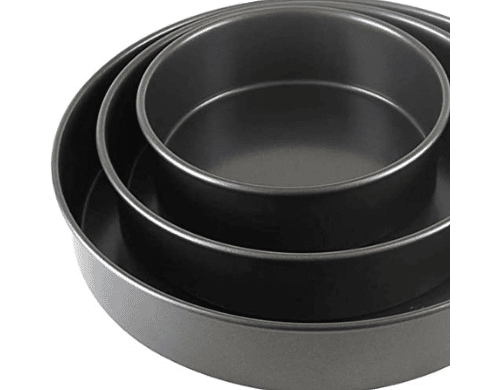 Chicago Metallic's 3 pan set boasts a non-stick coating and even heat distribution.
Thrice as nice and nearly half the price, this deal is a sweet one.
The versatility of the Chicago Metallic Non-stick 3-Piece Set already makes it worth every dime. You can bake everything from tiered cakes to pies of various sizes and more.

The non-stick coating makes for cakes that slide out easily. All three pans are dishwasher-safe, and the heat distribution is consistent. Customer reviews rave about the pan's great quality and cost-effectiveness.
Most Cost-Effective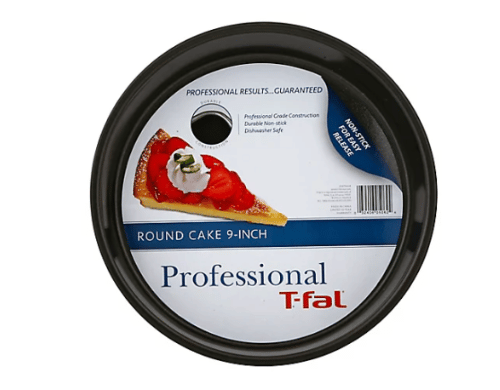 Want to bake without breaking the bank? You're in luck!
T-fal provides a cost-effective one-pan solution to your baking needs.
This lightweight pan boasts hand holds for an easier grip, and its non-stick coating makes for easy cleaning. Made for the serious baker, the T-Fal Professional 9" Round Cake Pan is a great addition to your kitchen. Its lack of rolled edges ensures no rust will occur due to water hoarding. It's cost-effective and gets the job done!

Everything We Recommend
Best Pick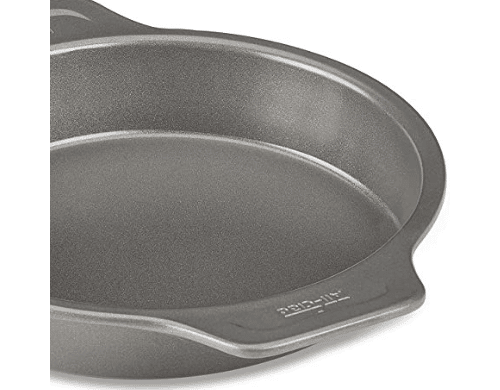 This choice may take a big bite out of your pocket, but it is worth it.
$27.99
Runner Up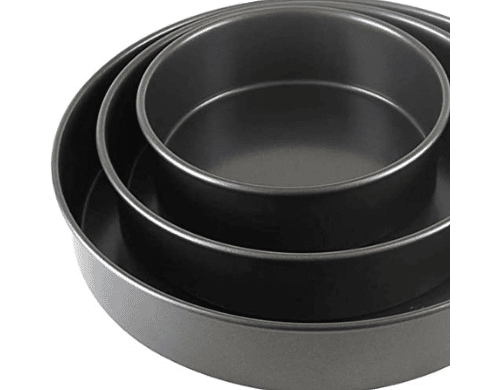 Chicago Metallic's 3 pan set boasts a non-stick coating and even heat distribution.
$19.65
Most Cost-Effective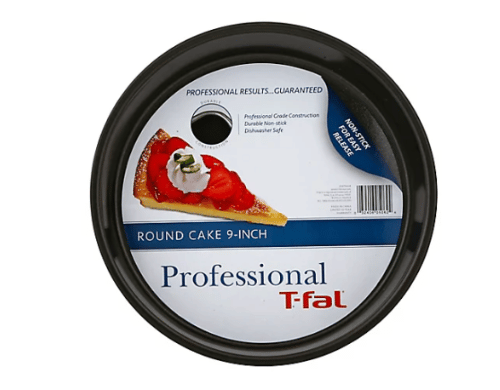 Want to bake without breaking the bank? You're in luck!
$6.99
Who This Is For
The products advertised here are for all bakers, professional or amateur, who are looking for the best cake pans to realize their sweetest dreams!
Which type of cake pan should I buy?
To ensure that your cake is evenly baked, complete with a sweet browning, and can be lifted easily, you will need a sturdy cake pan.
You'd want to go with steel or aluminum cake pans with handles to carry them easily. They should also have a non-stick coating and be easy to clean.
Do I need a nonstick kind?
A non-stick cake pan isn't crucial to your baking process because you can just as easily grease a pan for your needs.
However, to save time, speed up your baking, and save you the trouble of hours of scrubbing, a non-stick cake pan is the way to go.
Why You Should Trust Us
Many expensive cake pans are marketed toward professional bakers or large distribution baking companies. As such, we have found the easy-to-access, easy-to-buy, and most cost-effective cake pans for professionals and amateur bakers.
How We Picked
Choosing the best cake pan for you was as difficult as choosing which flavor we preferred between chocolate and red velvet! With so many great features and brands to choose from, the choices were tough ones.
We scoured over previous customers' reviews of the cake pans they have used and what their baking experience with each product was like.
These experiences ranged from how well the cake pans endured high temperatures, to how easy it was to remove the baked cake, and how easily the pan could be cleaned after the baking process.
We searched through various products made from various materials, including aluminum and steel, to find the best size, shape, and durability for you! When making our picks, we looked for cake pans with extra features like the right types of edges and sufficient weight.
Across all of your choices, you'll find an astute assessment of the pans' capabilities, the level of easiness to help remove the cakes in one smooth move when they are baked, the virtues of anti-stick coating, and how the design or style of the pan best suits your needs.
We are mindful of making your purchase worthwhile. So we have searched for the best quality products at the best price.
Care and Maintenance
Since most of these cake pans are coated in a non-stick coating, which can vanish after too many washes, we do not recommend putting them in a dishwasher.
You would do well to wash these pans by hand and leave them to air dry or dry them thoroughly with a non-abrasive cloth.
Clean these cake pans immediately after baking with hot soapy water and a microfiber cloth to avoid crumbs sticking into the crevices of the pans.
Do not use any scratchy pads or steel wool for cleaning your non-stick cake pans. You can remove cooked-in grime with a mixture of baking soda and water or olive oil.
To keep your pans working smoothly, good oiling after every use and wash is a good idea. A teaspoon or half a tablespoon of oil should be enough.
For storage, you'll need plenty of cupboard space for single cake pans. Avoid stacking pans that are not of the same size or shape to prevent scratches.
If you do need to stack your cake pans, do so by layering them with a dry, clean washcloth or reusable paper towel to avoid damage.