The Best Built-In Refrigerator of 2023
Spruce up your kitchen with one of these best built-in refrigerators that seamlessly fit into existing cabinetry.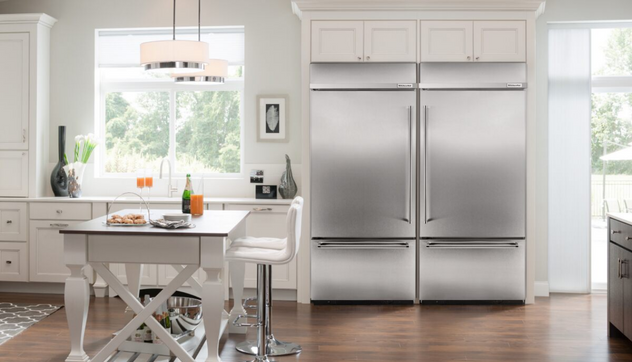 A good built-in fridge is one of the distinguishing fixtures of an ultra-modern kitchen. Unlike standalone refrigerators that protrude beyond counters and cabinets, built-in refrigerators align with cabinetry. Built-ins are characterized by their straight lines, smooth surfaces, and right angles. Usually, they are made of polished stainless steel, and if not, they come panel-ready, which means you can join panels to merge your built-in with your cabinets.
Taking into account all the important considerations, we examined some of the best built-in refrigerators. This list will greatly assist you in choosing a good built-in refrigerator per your requirements; let's have a look.
Who This Is For
This review is aimed at people looking for the best built-in refrigerator that delivers outstanding performance and is affordably priced. There are numerous inexpensive built-in refrigerators on this list.
Built-in refrigerators vs. freestanding refrigerators
Built-in refrigerators are one of the most popular pieces of refrigeration equipment. They are more expensive than freestanding refrigerators are bulky and occupy more space. The demand for built-in refrigerators is significant among homeowners who adore a smooth, upscale kitchen layout. In general, built-in refrigerators are taller than freestanding ones and provide you with more freedom to customize your kitchen's interior. You can select the refrigerator that complements the design of your kitchen.
Do they perform just as well?
Built-in refrigerators are built of higher quality and usually survive longer than ordinary refrigerators, which usually last a decade or so. Despite costing more than other fridges, built-in refrigerators have a lifespan that is two to three times longer.
Are they more high-maintenance?
Due to the higher-quality materials and components utilized in their construction, built-in refrigerators often last twice as long as freestanding ones. Of course, they require routine maintenance and regular repairs.
What if I move houses?
Having a built-in refrigerator can make moving a bit difficult because of the accompanying cabinetry it has. Before you start displacing the refrigerator, it is recommended that you lay down a floor protector, a slender board, or planks to let the fridge move without scratching the floor.
Why You Should Trust Us
To gain a clearer understanding, we took the initiative to sift through an extensive number of reviews and customer feedback. By considering indispensable factors, such as performance, size, affordability, design style, and finishing, we were able to compile a list of the best built-in refrigerators available on the market.
How We Picked
Size
It is important to determine the size of your cabinet to ensure that your built-in refrigerator will fit in that space. Built-in refrigerators' standard depths allow them to fit inside standard cabinetry. Our picks are available in many sizes that can be tailored to your requirements.
Design/style
Built-in refrigerators come in a wide range of styles. For instance, you can choose between textured wood and polished stainless steel. To get the best built-in refrigerator, make sure you investigate all the latest styles that are available on the market. We took many design options into consideration when compiling our list.
Finishing
Most built-in refrigerators are made of stainless steel or panel-ready materials. The latter refers to modifying your built-in with a panel that matches your cabinetry. A panel-ready refrigerator makes it blend so well that it appears almost invisible. However, the steel finish looks great in modern kitchens with stainless steel accents. To meet your needs, we have chosen a range of items with various finishes.
Performance
A good performance indicates superior quality. It should be taken into consideration, and careful comparisons of the chosen model should be carried out without any bias. We have chosen the built-in fridges that offer the best performance.
Durability
Even though built-in refrigerators are expensive, one of the main benefits they offer is durability. The typical lifespan of a freestanding refrigerator is 10 to 15 years. A built-in refrigerator, on the other hand, can last up to 20 to 25 years, which is twice as long.
Warranty
Every built-in refrigerator manufactured by reputable firms usually comes with a warranty. This covers manufacturing errors and other problems. All our picks come with proper warranties.
How We Picked
Size

It is one of the most important factors to consider. Any model you select should fit properly in your kitchen space. Our list presents you with picks that are available in a variety of sizes and can also be customized to meet your requirements.


Design and finishing

A good built-in refrigerator should be functional as well as aesthetically pleasing. When choosing one, its design and layout should be given careful attention. We took these factors into account when compiling our list.


Performance

A good built-in refrigerator should provide stellar performance, be durable, and require little maintenance. We have chosen the built-in refrigerators that live up to your expectations and requirements in this area.


Cost-Effectiveness

A reliable and long-lasting built-in refrigerator need not be extravagantly expensive. It can be well within your budget, too. To help you get a good quality and affordable built-in refrigerator, we have selected the one that offers the best balance of price and performance.

Care and maintenance
How to clean – exterior and inside
Use a solution of one part baking soda to seven ounces of water to clean the interior of your refrigerator. Commercial refrigerator cleaners should be avoided since their smell may contaminate food. Work your way down to avoid drips landing on already-cleaned surfaces. To get into nooks and crannies that a cloth can't reach, such as valves and other components, use a toothbrush or a toothpick.
With a fresh towel, dry off everything. A thorough outside cleaning keeps your refrigerator sparking and clean. Simply wipe with a towel dampened with an all-purpose cleaner, paying special attention to the handles because they are prone to accumulating filth. Keep in mind to clean the refrigerator's top from time to time as well.
To help get rid of blotches and fingerprints, cleaning a stainless-steel refrigerator requires some special care. Gently rub the surface with a moist cotton towel first, then let it dry. Rubberized alcohol can also be used to remove hard stains and dirt. Rub the stains with a delicate cloth dampened with a couple of drops of rubbing alcohol. Always scrub with the grain while polishing stainless-steel gadgets.
How often should I have it serviced?
Your refrigerator requires regular maintenance. A thorough cleaning should be performed every three to four months. That entails loading the cooler with your entire food supply, shutting it off, taking out the shelves and drawers, and giving them nice, soapy water cleaning.
Ensure to mop up messes before they dry during cleanings and take out any food that has gone bad or expired.